Birthday Dinner at Miku Restaurant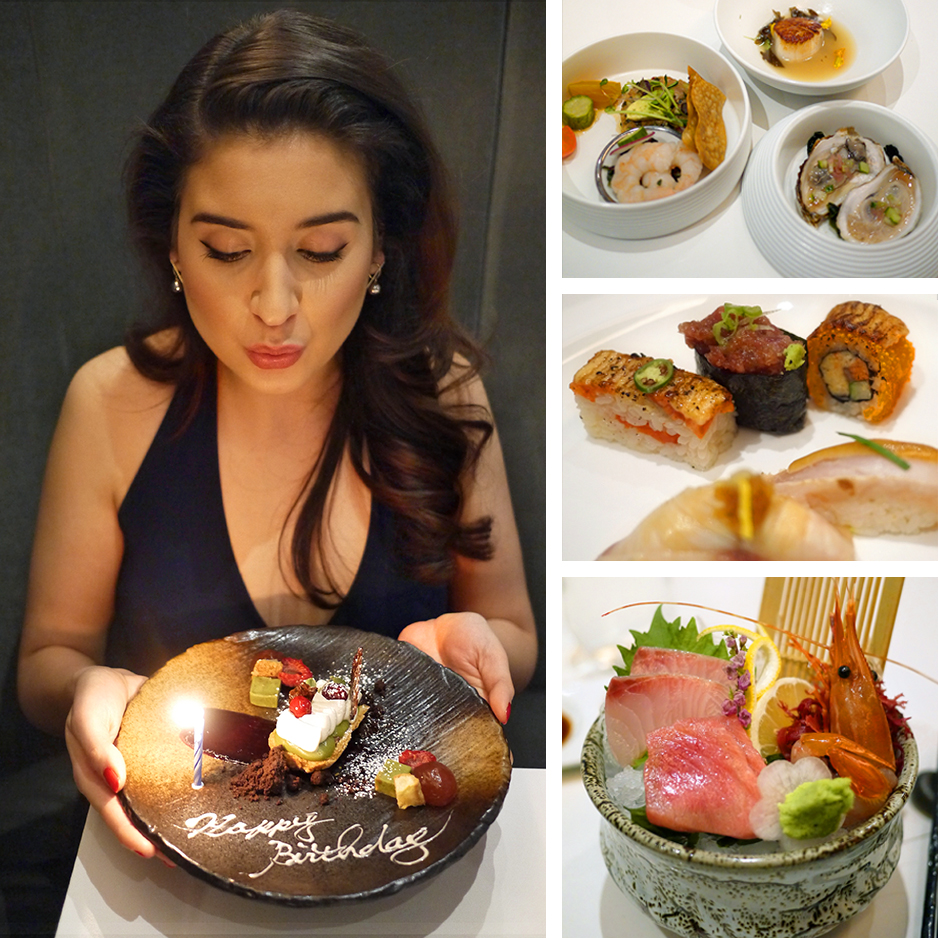 After the two-night birthday whirlwind on Friday and Saturday, celebrating with friends, it was time for the final celebration with my parents. Having seen the new Star Wars in 3D with my dad earlier in the day (which we both loved!), we picked up my mom and headed to Miku restaurant in Toronto, for a Japanese fine dining experience unlike any other.
We made reservations for their chef selected, five-course tasting menu, something none of us had ever done before. I've never let anyone order for me, let alone had an experienced chef design what I eat over the course of an evening. This was definitely going to be a unique experience.
Welcome to Miku.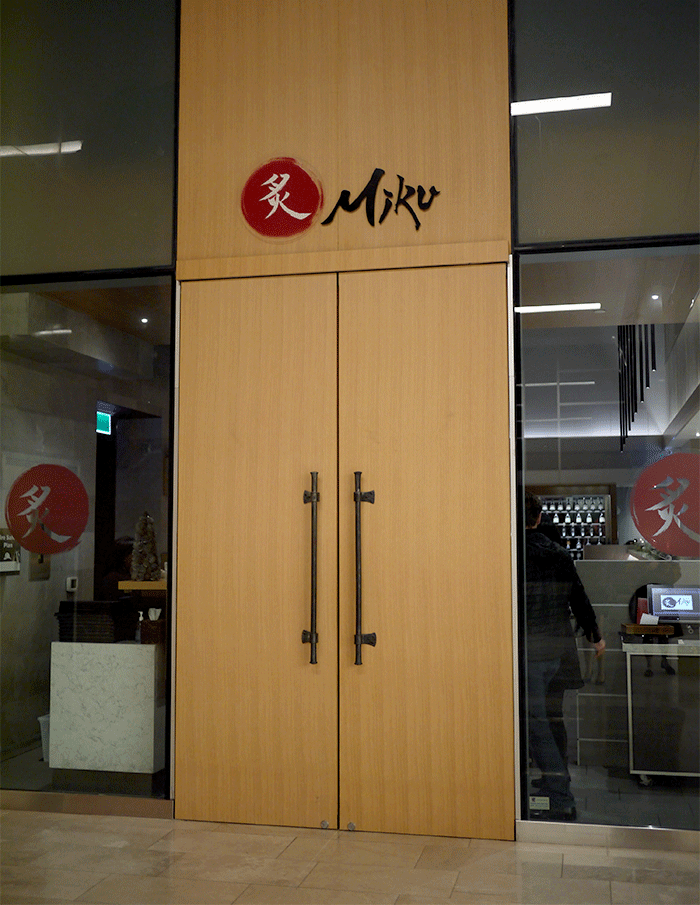 Upon entering, you're met with a friendly Japanese greeting by the chefs. These people are absolute masters at their craft.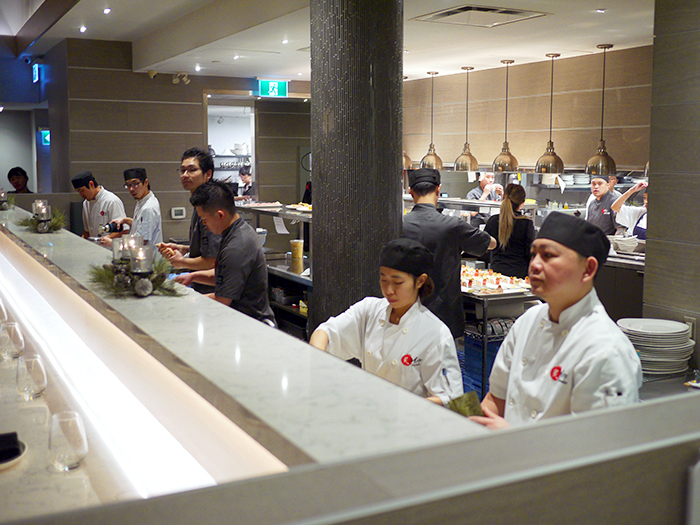 The interiors are beautiful and vast, with a gorgeous bar area, tables, and private booths, where we were seated.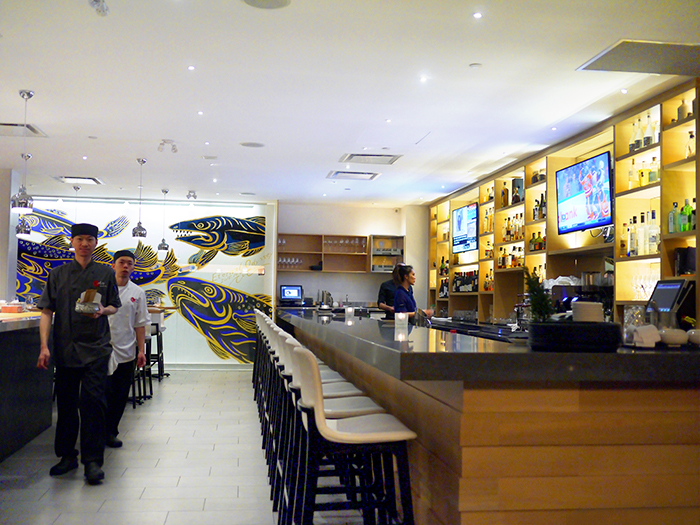 There's also quite an impressive collection of sake bottles on display.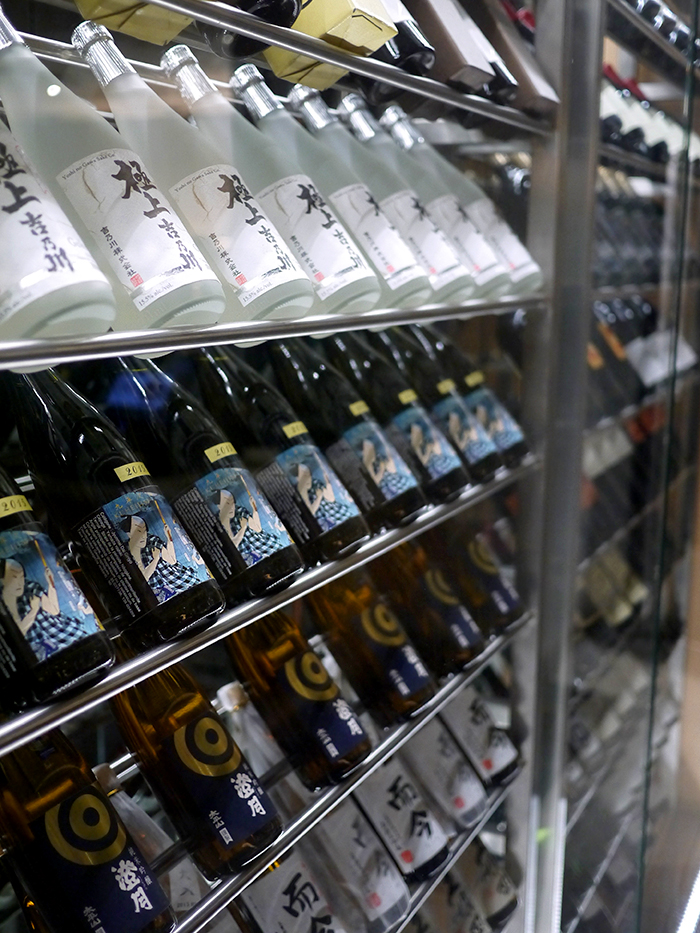 We made our reservation for before six, so when we arrived the restaurant was fairly empty, though it quickly filled up.
One of the walls is adorned with a gorgeous blue and gold mural of fish. You bet your ass I googled the interiors ahead of time and picked a dress that matched it.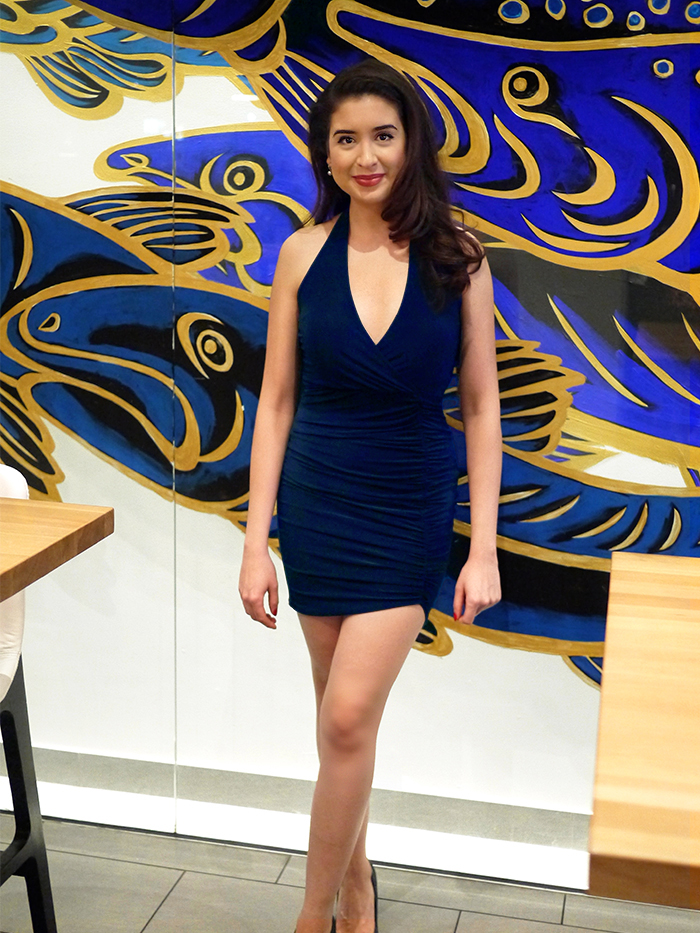 Photo op accomplished, we readied ourselves for the first course to be brought out, and ordered drinks. After two days of drinking with friends, I needed to take a breather, so ordered this refreshing (virgin) Grapefruit Basil Smash, with fresh grapefruit juice, spiced honey, basil, and ginger beer.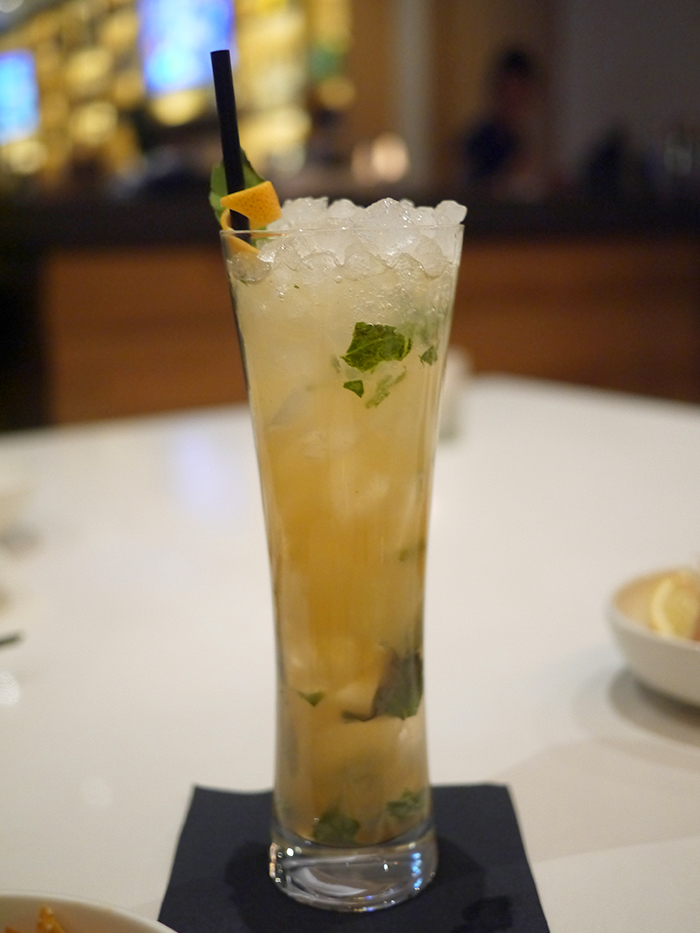 As the first course – sashimi – was brought out and set in front of each of us, we were stunned. The presentation of the chef-selected fresh sashimi was beyond anything we expected, served over a beautiful bowl of crushed ice. Even the wasabi sat upon a pretty daikon flower.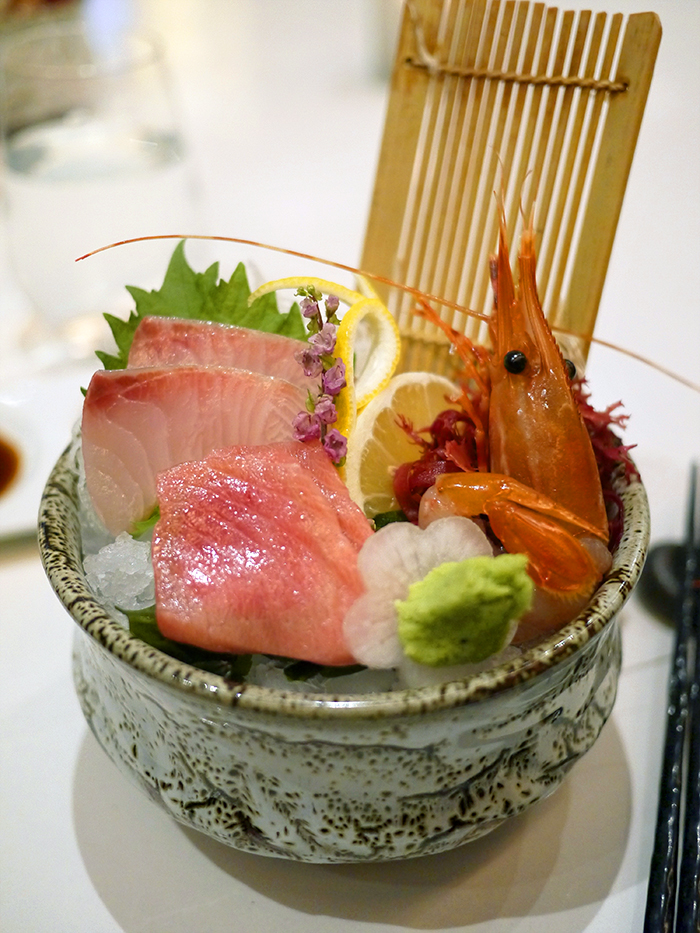 The servers told us what everything was, but since I have the memory of Dory (is a Finding Nemo joke inappropriate in this context?) I only remember that the sashimi in front is melt-in-your-mouth tuna belly, and that that's a B.C. King Prawn…I think? The other type of sashimi was also delicious, but the tuna belly was definitely the favourite for all of us.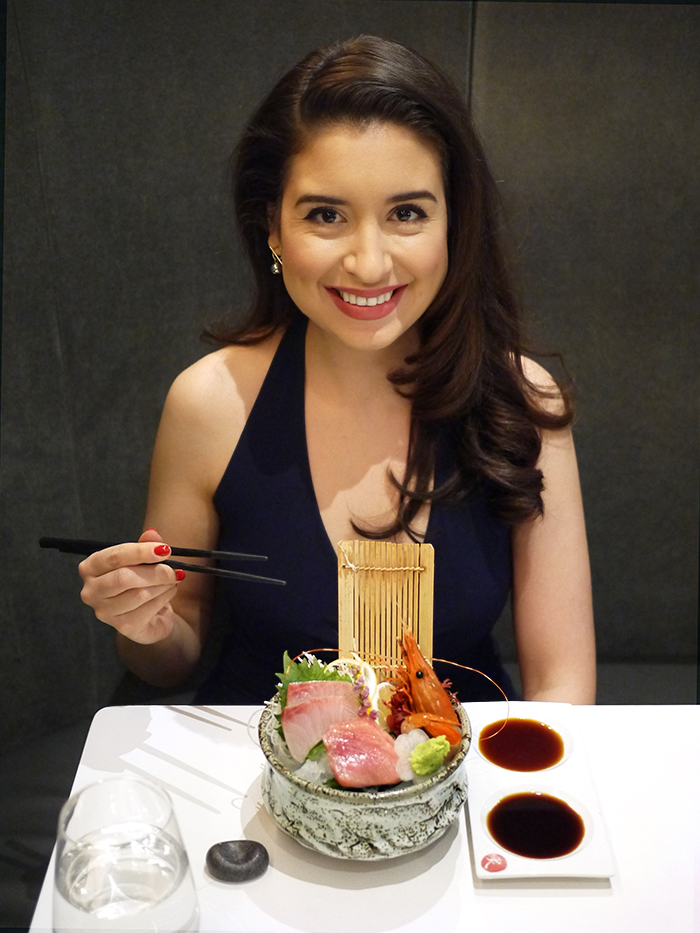 The sashimi is served with two types of soy sauce – one sweet and one salty.
They told us after we were done with the prawn they would batter and deep fry the head for us! I've never eaten the head of a prawn before, so I didn't know the proper way, but I ate it all. If someone knows, please tell me in the comments below lol.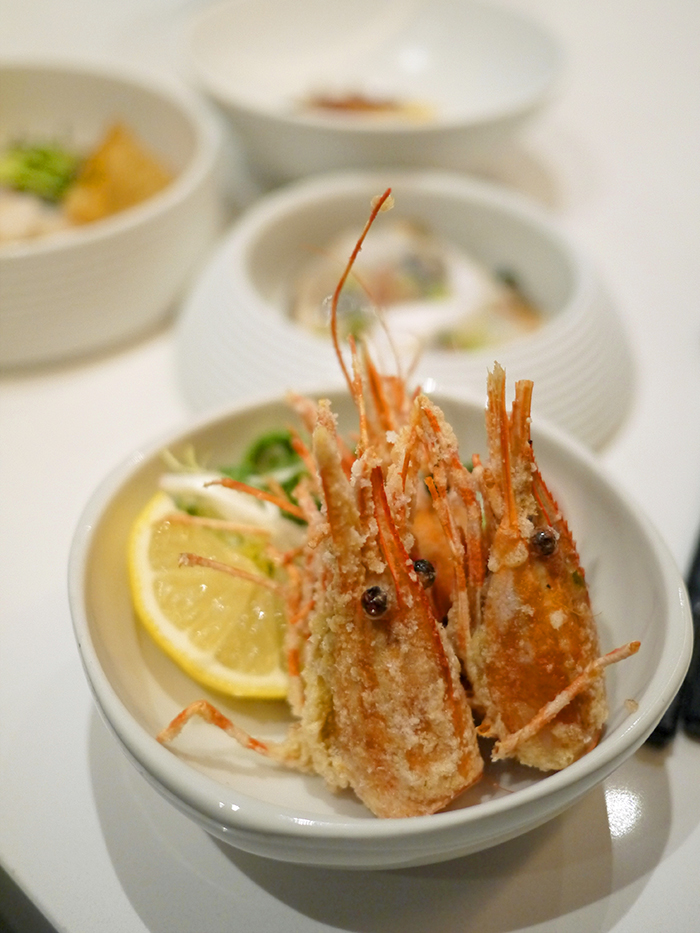 And then the Death Star arrived.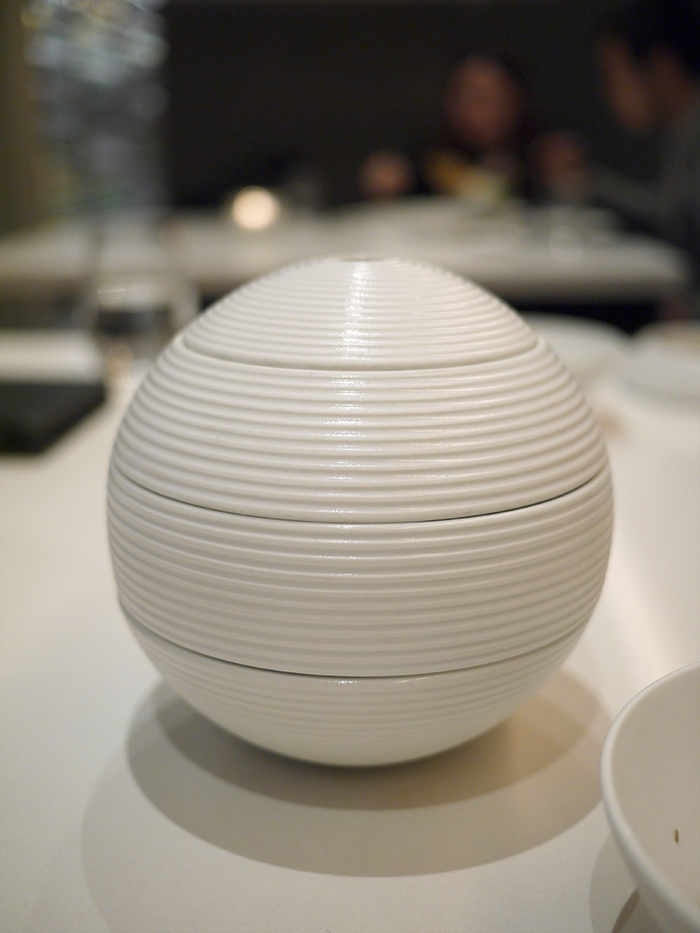 This unique piece of Arita-yaki pottery, sourced from the artisan town of Arita in Kyushu, Japan, opened up to reveal three separate dishes, making up the second course of the meal: the kaisen kaiseki.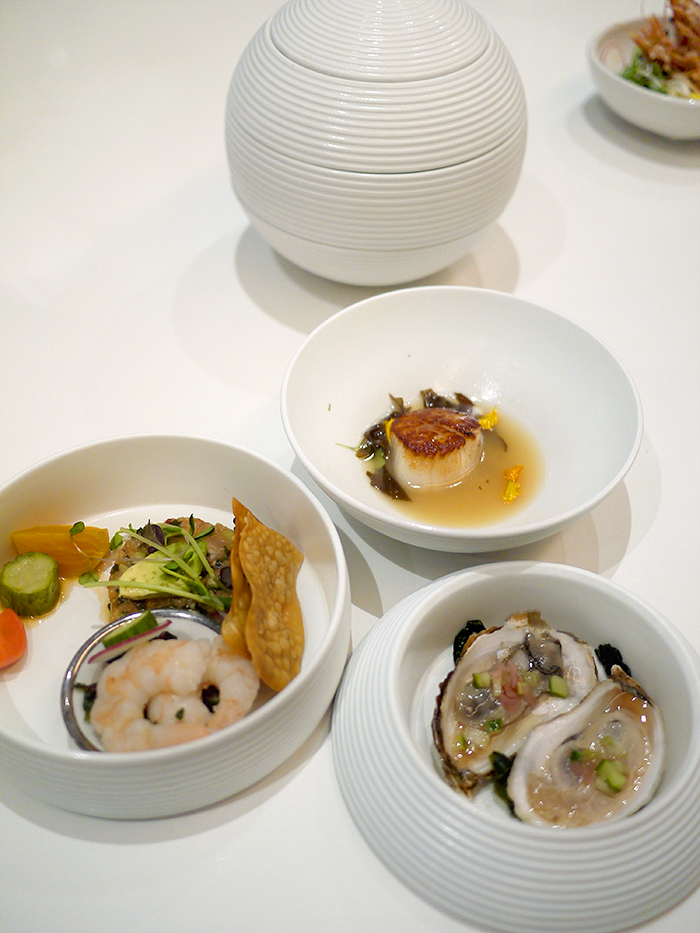 There was a beautifully seared scallop, sitting in a delicious miso kombu broth with dulse chips; (anything to do with scallops reminds me of Hell's Kitchen), tuna tartare and king prawn sunomono, served with sesame wonton crisps, avocado, baby greens, and seasonal pickled vegetables (called tsukemono); and two oysters with kabosu mignonette.
This broth was unexpectedly stunning – I could have eaten a big bowlful of it. The tuna tartare paired wonderfully with the crunchy wonton crisps. Each dish had such a wonderful balance of flavours and a variety of textures, too.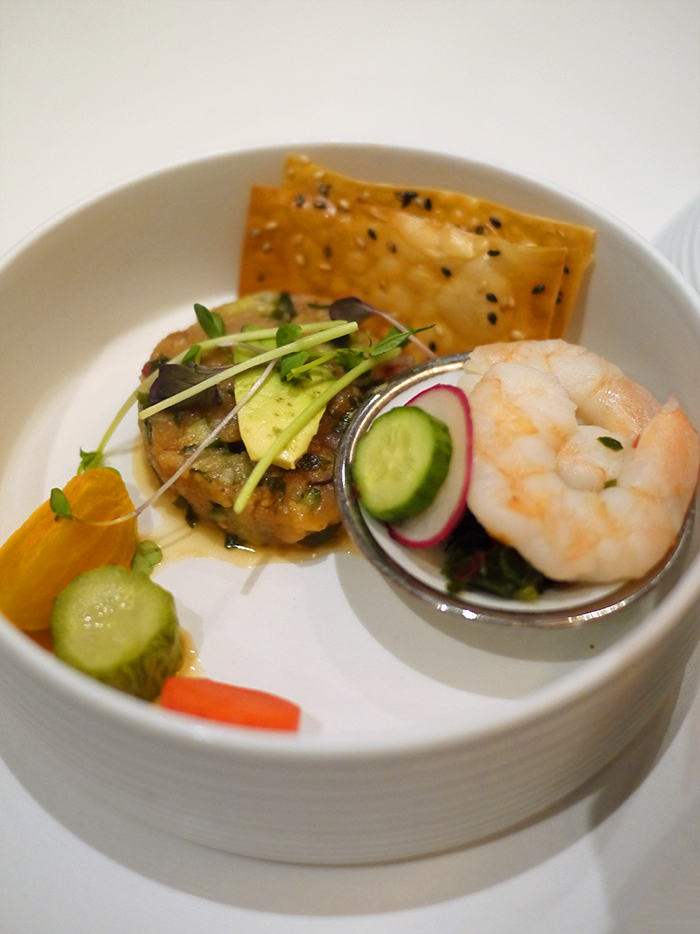 I didn't know where to begin! (Shoutout to my dad for reassembling his dishes into the full sphere for these photos. You da real MVP.)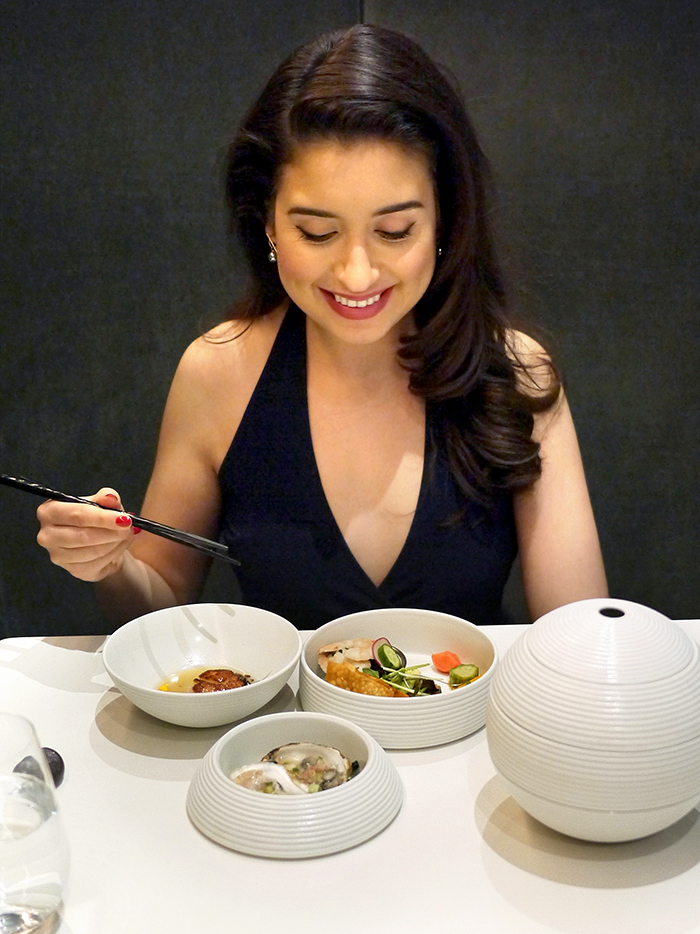 Oysters always seemed so strange to me, and I only tried my first one about two years ago – but I quite like them now! They're so different than any other food and taste like the sea, in a good way.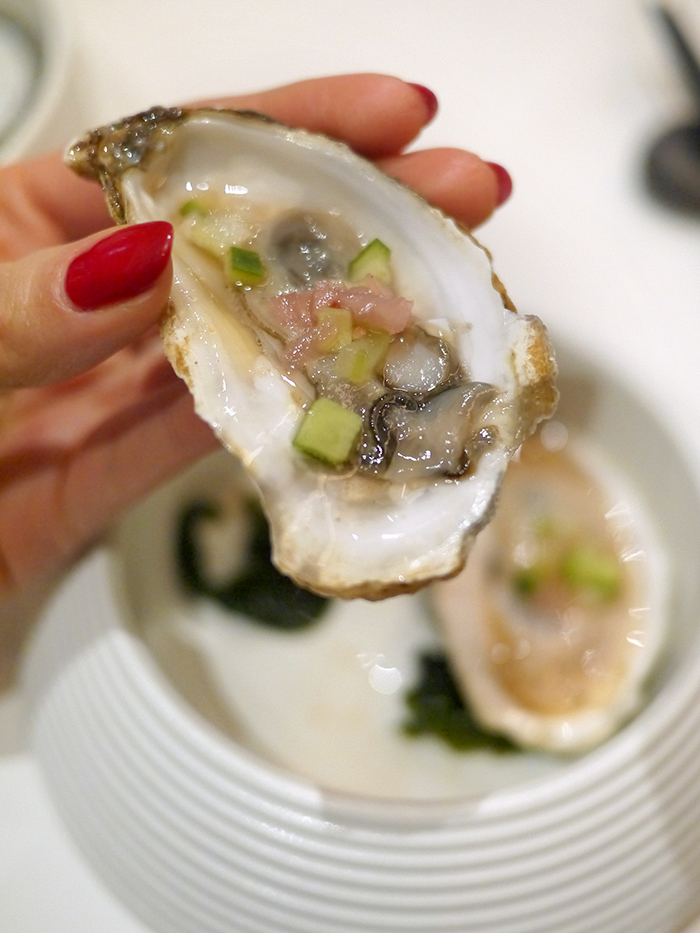 The next course – shusai – was a hearty one. A five-hour slow roasted AAA Sterling Silver prime rib with brown butter sauce, horseradish, and a side of wild mushrooms and market baby vegetables. It was definitely not a plant-based eating day.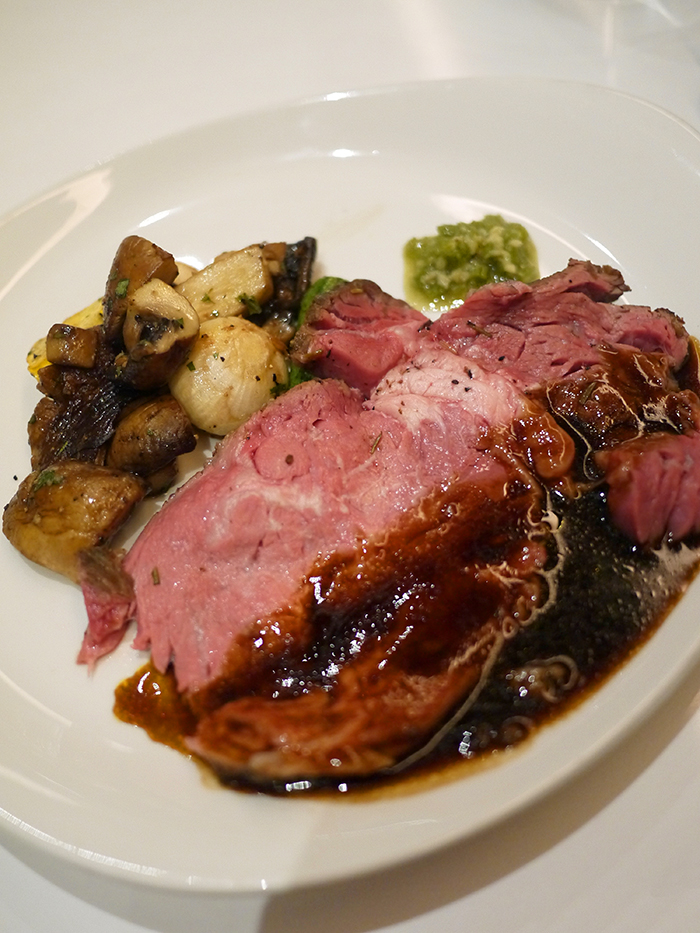 I tend to prefer my meat a little on the rare side, so this suited me perfectly. It was juicy and flavourful, and the rich brown butter sauce complemented it perfectly.
We were all surprised by the generous portions at Miku restaurant, since fine dining tends to charge a lot but leave you hungry and hitting up a fast food place afterwards. We were already satisfied at this point and there were still two delicious courses to go!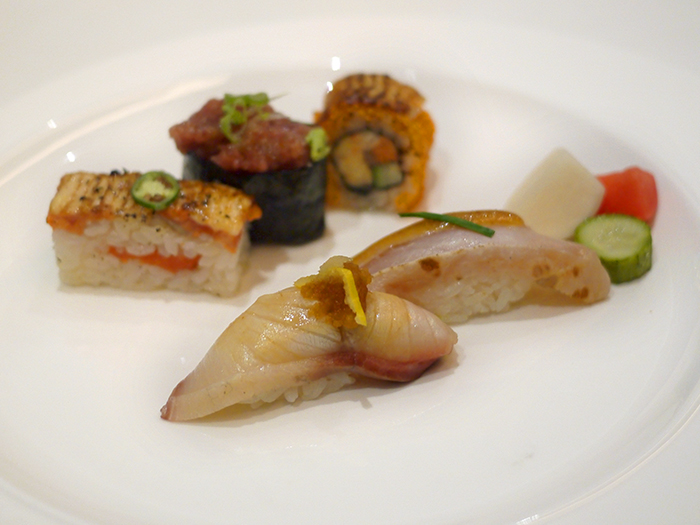 Where's the sushi? This is a Japanese restaurant! Well here it is, course four, and features the chef's selection of aburi oshi and nigiri sushi.
Aburi – meaning flame-seared – is a type of sushi that uses heat to transform the sushi's flavour, and is a speciality of Miku restaurant.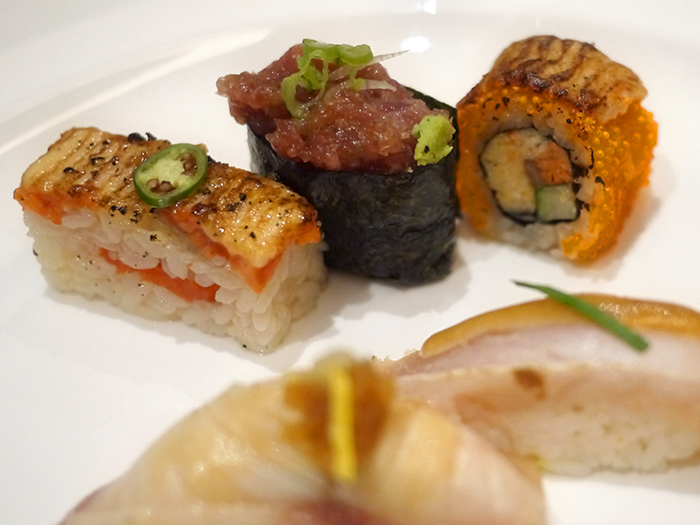 Unfortunately I can't remember what types of fish the nigiri were, but the aburi sushi on the left is salmon topped with jalapeño, the middle sushi is tuna belly, and the one on the right is an aburi sushi with snow crab, cucumber, and tobiko (flying fish roe).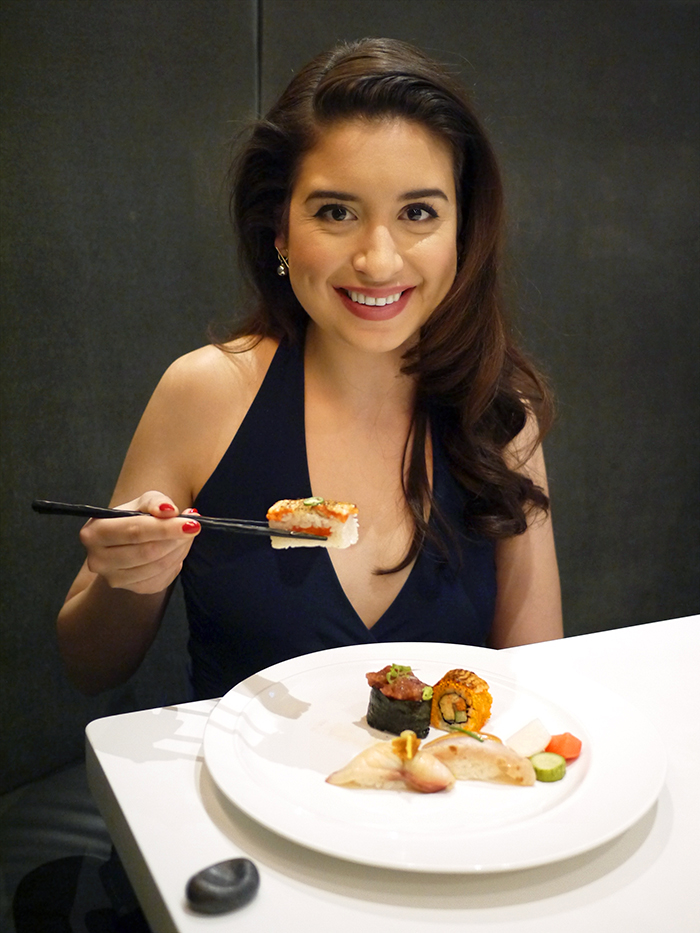 All five of them were delicious, but the two aburi sushi pieces were definitely my favourite of the bunch. You can't go wrong with salmon and snow crab!
Finally, the fifth and final course was brought out: dessert! A matcha eclair with matcha pastry cream, caramelized pecan, hazelnut whipped cream, cacao nib dentelle, poached cranberry, and matcha chocolate truffle.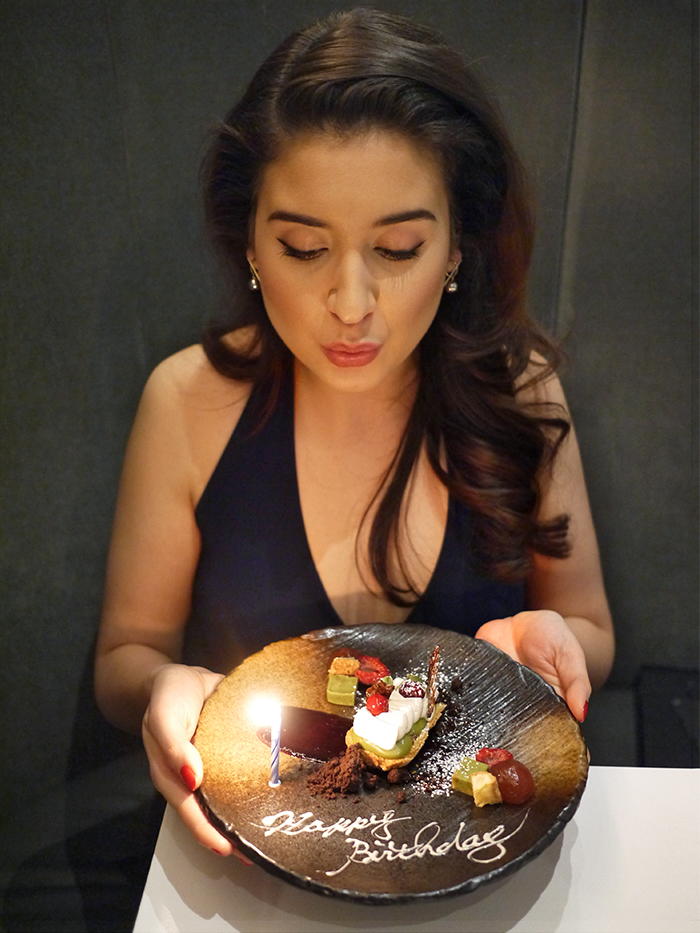 Absolutely sublime, and the chefs were sweet enough to write Happy Birthday on mine, with a candle.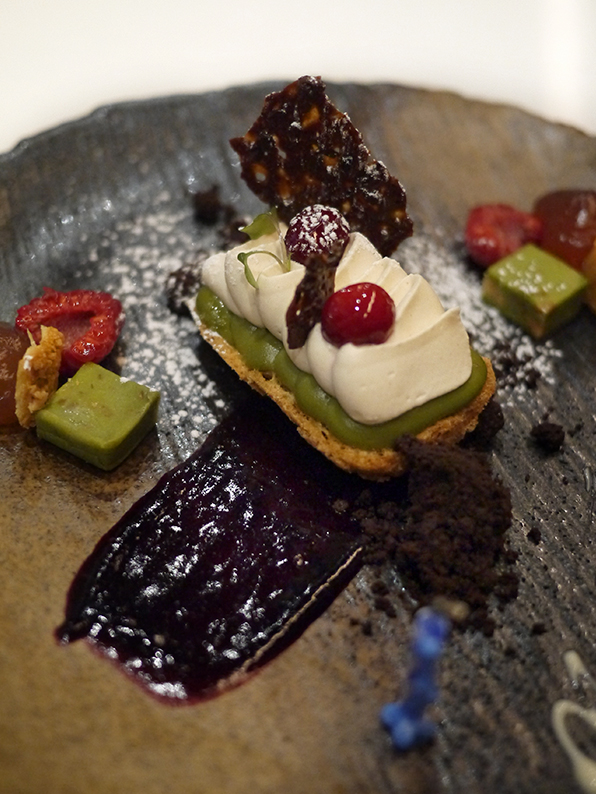 Every dish we tasted was stellar, and I can't recommend Miku restaurant enough. At $98 per person, this tasting menu is certainly pricey, but perfect for a special occasion you'll dream about for years to come. I'm so grateful I got to experience it, and if the 5-course dinner isn't for you, you can also try their aburi-style sushi à la carte!
All in all, it was a spectacular birthday weekend, surrounded with love from my friends and family. I couldn't have asked for anything better.
And in a few days, it's Christmas!! #morefeasting
– Sara
Stay updated with Facebook • Twitter • Instagram • Pinterest • Bloglovin