Lara Croft Tomb Raider Costume / Cosplay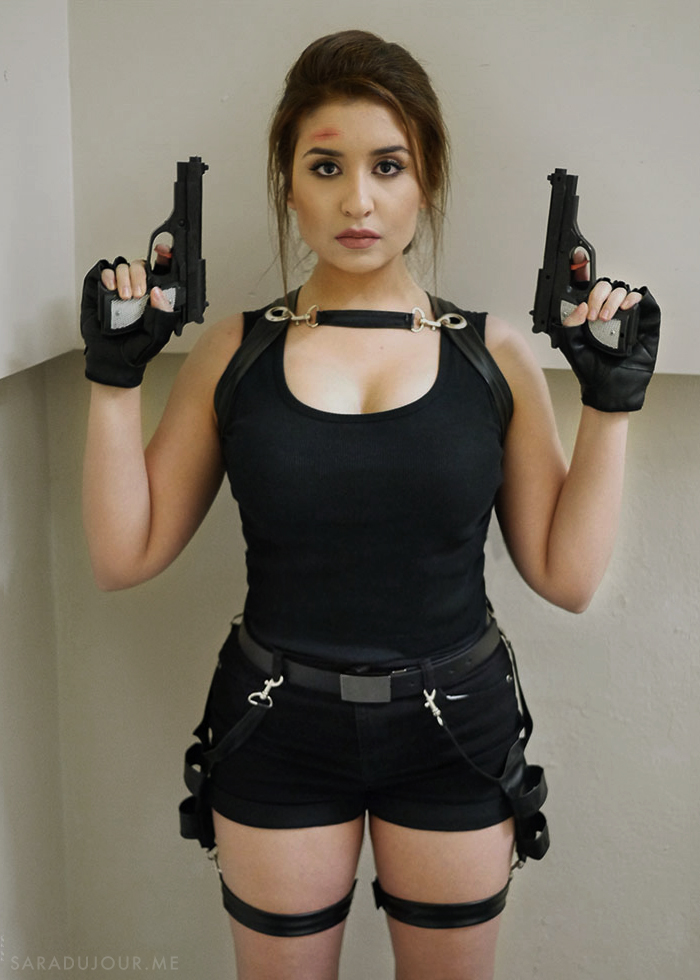 Last year, at Halloween, I dressed up as Disney's Belle, from Beauty and the Beast, and Audrey Hepburn as Holly Golightly from Breakfast at Tiffany's. The year before, I went as Hermione Granger. This year, I continued my trend of dressing up as my favourite fictional females, and went as Lara Croft: Tomb Raider from the video games and films.
Lara Croft and I go way back. I was a quiet, deeply shy, and fantastically uncoordinated kid. My teachers in elementary school gave me good grades in gym class simply because they took pity on me. They could see I tried very hard, but I was just…really bad. Shockingly bad. I couldn't even do a cartwheel.
Lara Croft was everything I wasn't, but wanted to be. She was badass, in charge of her life, smart, and a capable fighter. I actually don't remember whether my first exposure to her was from the films (Angelina Jolie as Lara Croft was a gift to us all) or the video games, but I do remember enjoying both immensely. I guess you could say she was a feminist icon for me, before I even knew what feminism was. Sure, she was beautiful, but she very rarely ever used that to get what she wanted. She used her abilities and her brains to achieve her goals – and that was something I could aspire towards.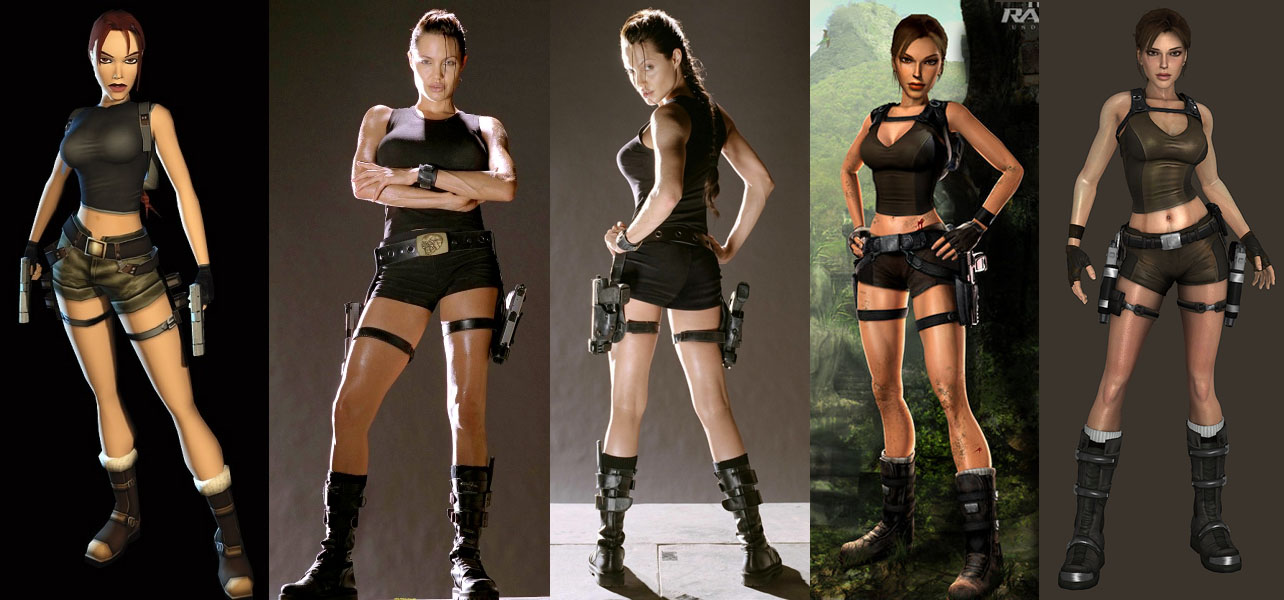 I'd like to tell you I grew up into this super co-ordinated, athletic adult, but the fact is, I still can't do a cartwheel. The only marathons I do are on Netflix. All Lara Croft and I have in common is that our first names rhyme. Which is why Halloween is so much fun. For one magical night, you get to transform into someone you're not. And this year, I couldn't have gone much farther out of my comfort zone.
For the skim-readers, here's my Lara Croft Tomb Raider Halloween costume (or cosplay) breakdown:
Black Ribbed Tank | Shorts (similar) | Belt | Guns/Holsters/Backpack | Gloves | Boots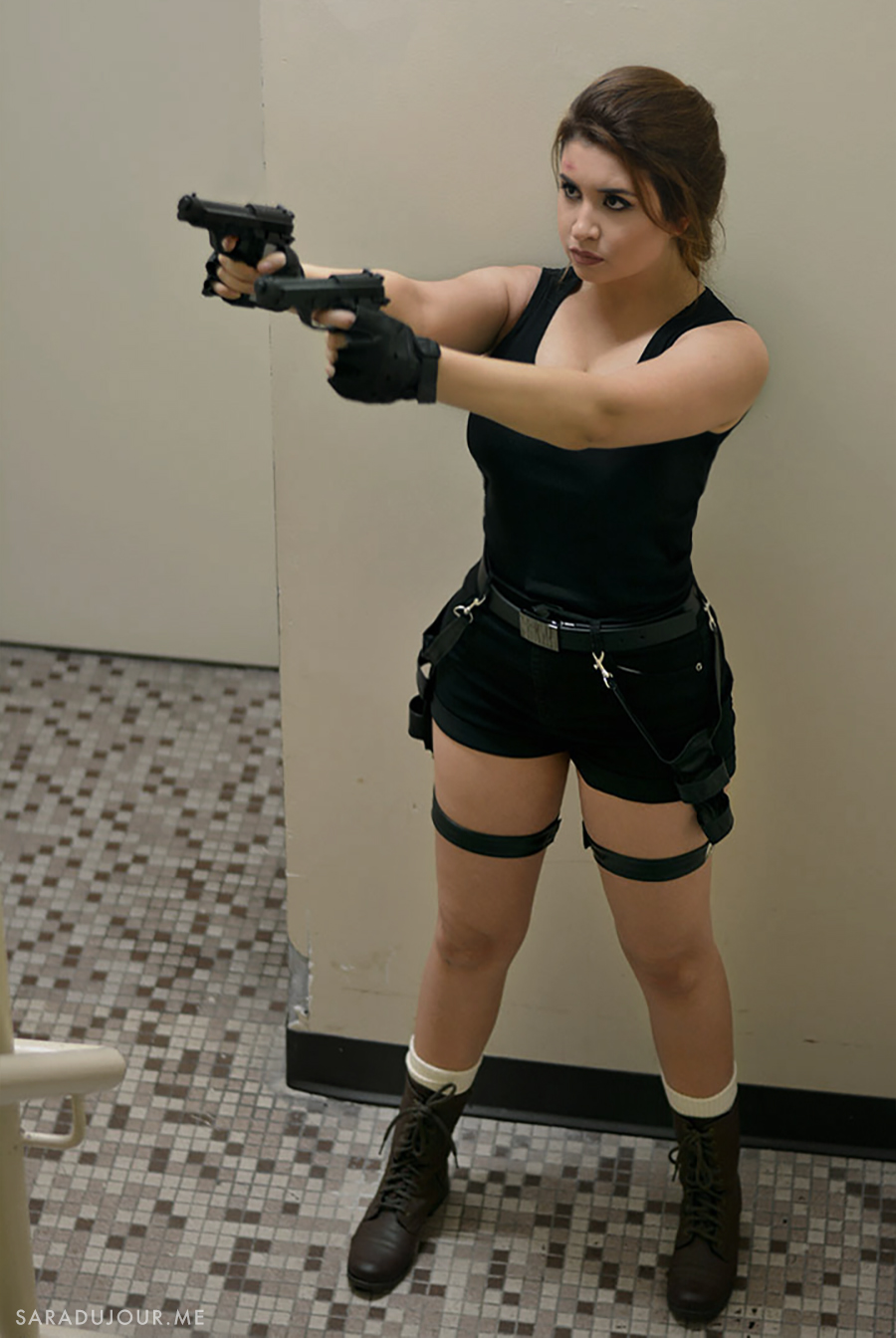 I messily French-braided my hair down my back (I've been running around jungles and through ancient temples, after all – it's not going to be neat!) and pulled out a few shorter pieces in the front to more closely match the video game character.
I've been wanting to cut a few inches off my hair for months, but forced myself to grow it out until Halloween was over, just for this. That's the extent of my dedication, folks.
Speaking of dedication to the role: I even tried to work out to get into better shape for this…but unfortunately that lasted all of three days before I re-discovered my love for Nutella. Oh well, I guess I'm not exactly a method actor.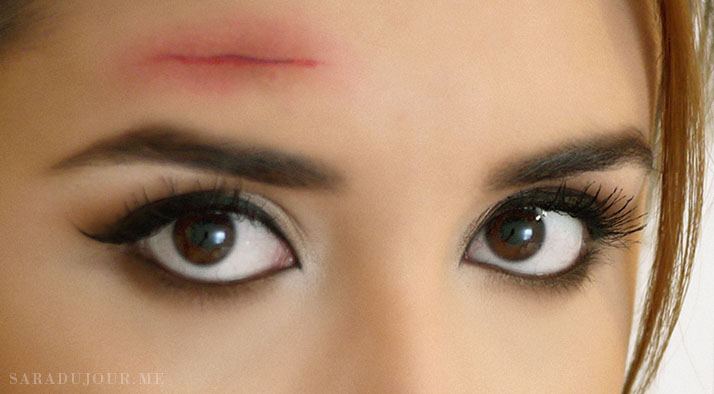 As for my makeup, though it would make sense that Lara Croft didn't wear any for her adventures, the video game character always seems to have some kind of black eyeliner/slightly smokey eye thing going on, so that's what I did. I paired that with a nude lip, using MAC Warm Me Up lipstick (discontinued – similar here) and Too Faced bronzer.
To make her/me look a little tougher, I used a bit of lipstick and eyeshadow to create a fake cut above my eyebrow. (Step 1: dab a bit of red lipstick on your forehead. Step 2: dab a bit of matte brown eyeshadow on top. Step 3: use a thin lip liner/eye liner brush to create a line of red lipstick through it. Step 4: Do the same thing, with the same brush, except using black eyeshadow, applying the line right beside the red one. Done!)
I like Halloween costumes to look as realistic as possible, so I try to use and combine actual clothing items, rather than plastic or spandex-based impersonations of clothing (which is what so many pre-made costumes are made of, unfortunately).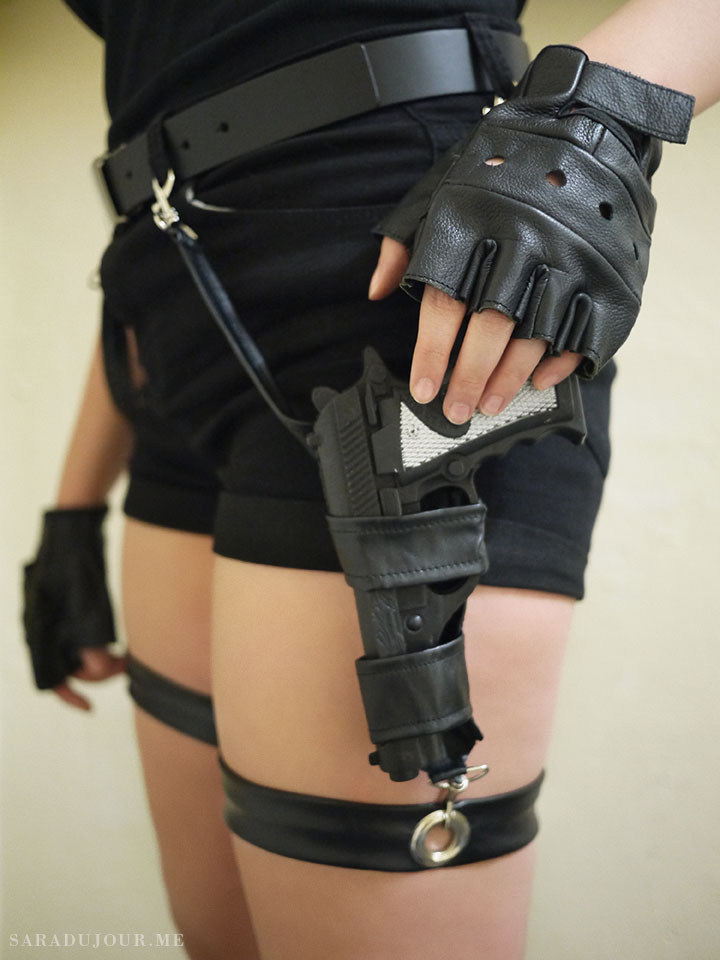 The black denim shorts were something I already owned, along with the basic black ribbed tank and cream knit socks, but what I still needed to complete my costume were combat boots, the right belt, gun holsters with plastic guns, and fingerless leather motorcycle gloves.
I searched high and low for Lara Croft-inspired thigh gun holsters, and finally found the perfect set. Unfortunately, they also came with a "complete costume" that I knew I wouldn't use, including a shiny spandex crop top, minuscule spandex booty shorts, and a cheap, stretchy belt.
The good news was, it also came with two matching plastic guns, and a Lara Croft Tomb Raider backpack with chest strap, so I took what I could use from the costume and incorporated it with my own pieces.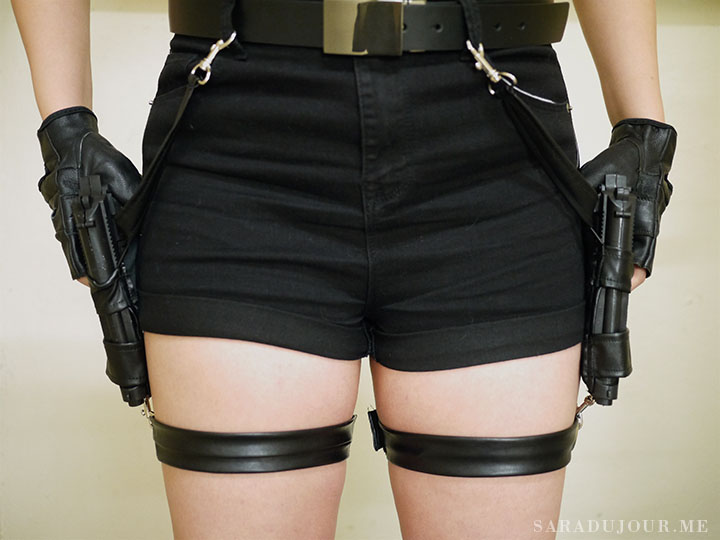 I wanted a belt with a rectangular belt buckle, and found this great, inexpensive men's belt by Kenneth Cole online. I unclasped the holsters from the elastic belt it came with, and instead hooked them onto the belt loops in my shorts (which, to the untrained eye, appeared to be attached to the belt itself). Problem solved!
If you're working on a budget, you can DIY your own gun holsters through clever use of black duct tape.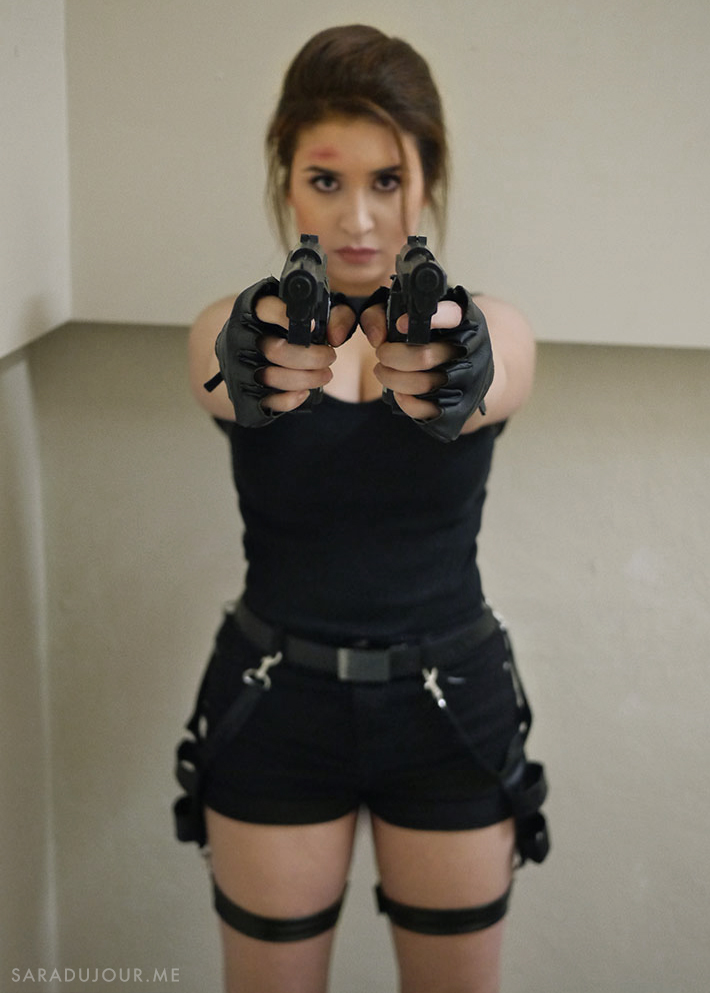 I found the ideal pair of fingerless motorcycle gloves, but made the mistake of reading (and trusting) the reviews, all of which said to size up one, even two sizes! So I did, and got them way too big. If you buy them too, I advise you to buy your regular size.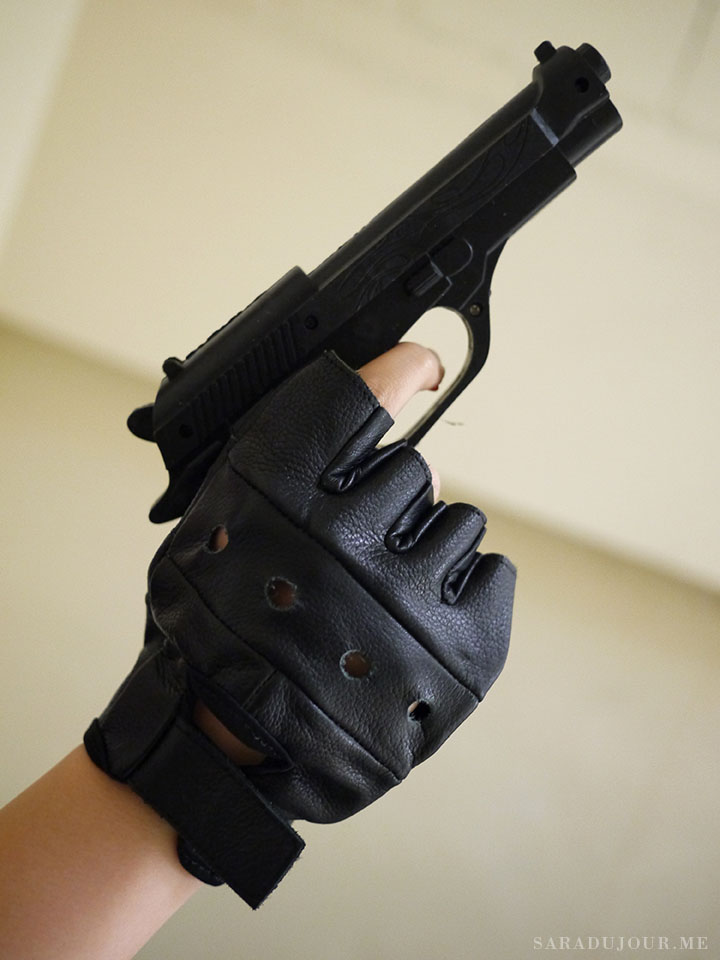 A quick note on guns/plastic guns. These ones came with bright orange triggers and orange nozzles (which I removed for the photos) in order to differentiate them from real guns. If you're school age, I'd recommend you still don't bring any toy guns to school, as you can be suspended for it (not to mention cause people to panic unnecessarily). Your costume will still look great without them!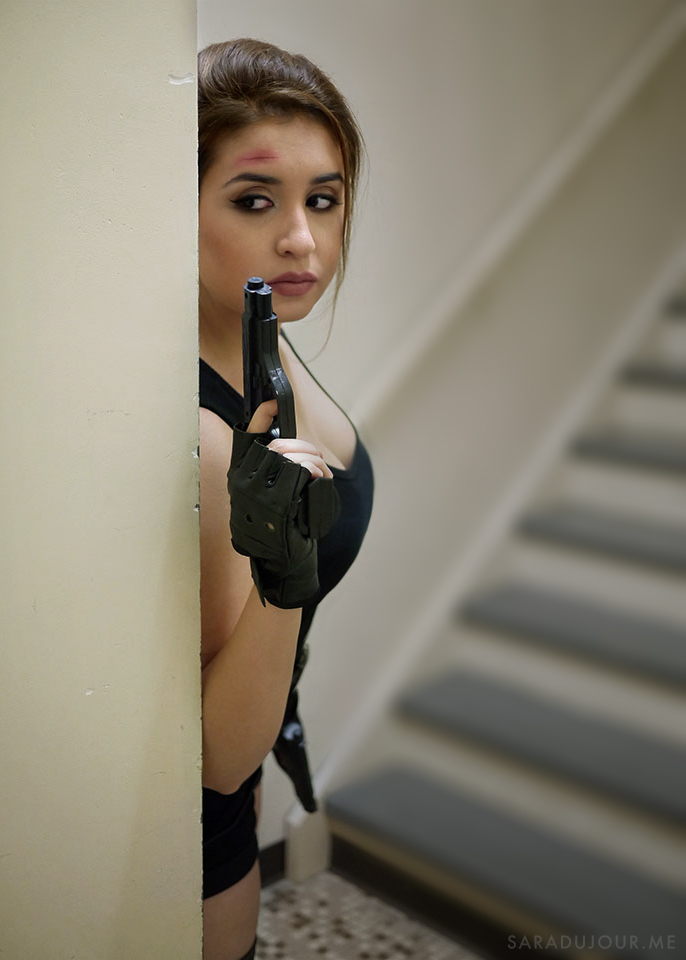 As for the boots, if you already own combat boots, then you're good to go. Combat boots aren't something I normally wear, so I had to buy them especially for this costume, and wanted to spend as little as possible on them.
When I saw these Blake boots from JustFab for just $39.95, I was sold. They come in both black and brown, but I chose brown because they more closely reminded me of the pair Lara Croft wears in the video game. I finished the outfit with cream-coloured knit socks poking out above the tops of the boots, and my costume was complete!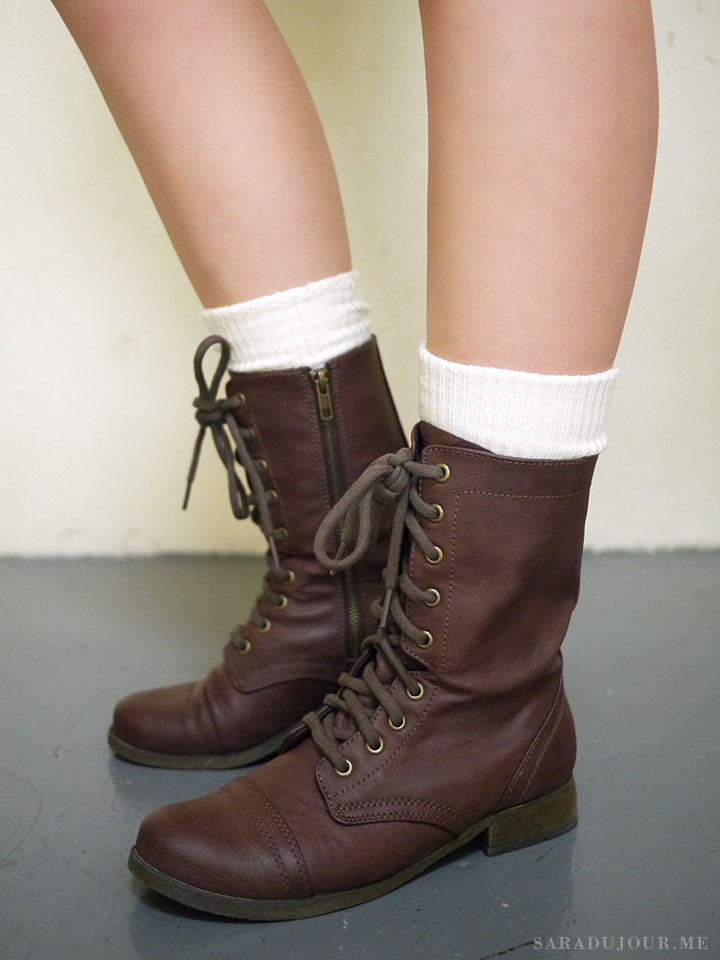 If you're spending Halloween outdoors and need to make your costume a little more suited to the cold, you can always replace the shorts for form-fitting leather pants and throw a biker jacket over your tank. The best part is, you're wearing comfortable shoes, so you can party the night away blister-free.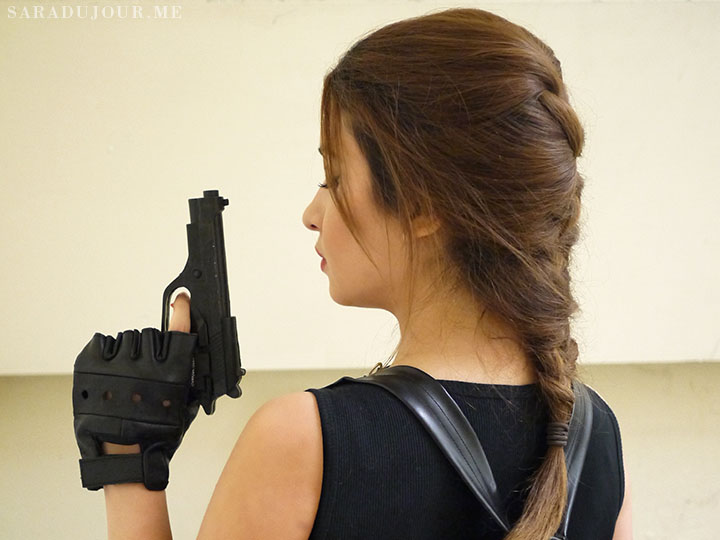 Happy Halloween, everybody! I hope you have a fantastic, spooky, and safe night. Time for me to start planning next year's costume. I don't mess around with Halloween! xx
– Sara
Stay updated with Facebook • Twitter • Instagram • Pinterest • Bloglovin