Sephora Haul: Skincare Hits & Misses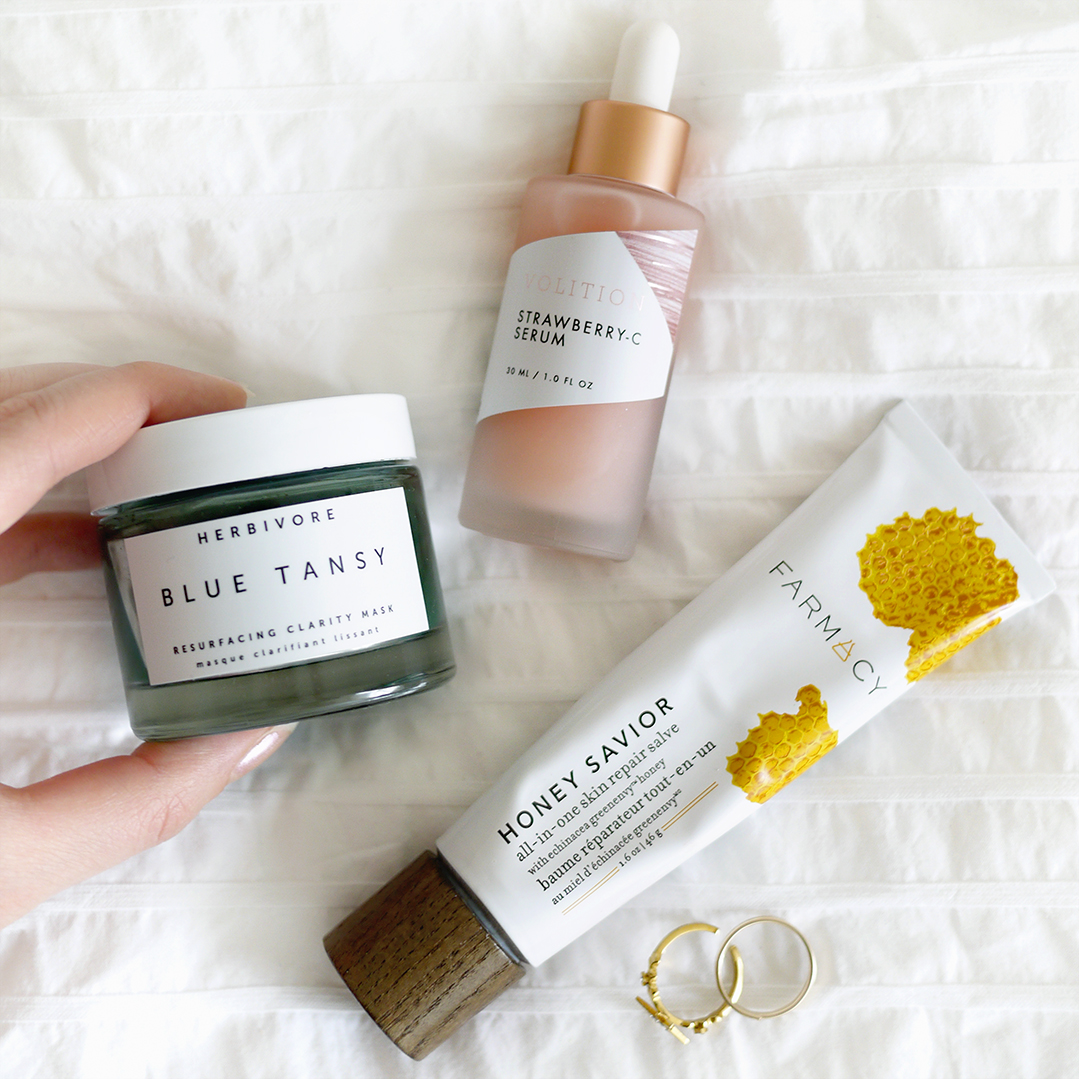 Have I been online shopping too much lately? Yes. But Flint still doesn't have clean water, fascism is on the rise again, an orange sock puppet is the head of the most powerful nation in the world, and we've caused irreparable damage to the only habitable planet we have. So you gotta get your kicks where you can, ya know?
While I don't have much control over any of those horrible things, I do have total control over my skincare. Anything to ward off the creeping existential dread, right?
So anyway, here's my review of some overpriced skincare products I've put to the test recently. (I am the "This is fine" meme.)
I have normal to dry skin, and skin that is extremely prone to rage. What I mean by that is, I have to be really careful with the skincare products I use because just about everything causes me to break out. So I'm trying to use more natural products in my skincare routine. All three products featured in this post have the "Clean at Sephora" seal.
Products with Sephora's Clean Seal are formulated without sulfates SLS and SLES, parabens, formaldehydes, formaldehyde-releasing agents, phthalates, mineral oil, retinyl palmitate, oxybenzone, coal tar, hydroquinone, Triclosan, Triclocarban. All skincare, hair, and makeup brands with the Clean Seal have less than one percent of synthetic fragrances.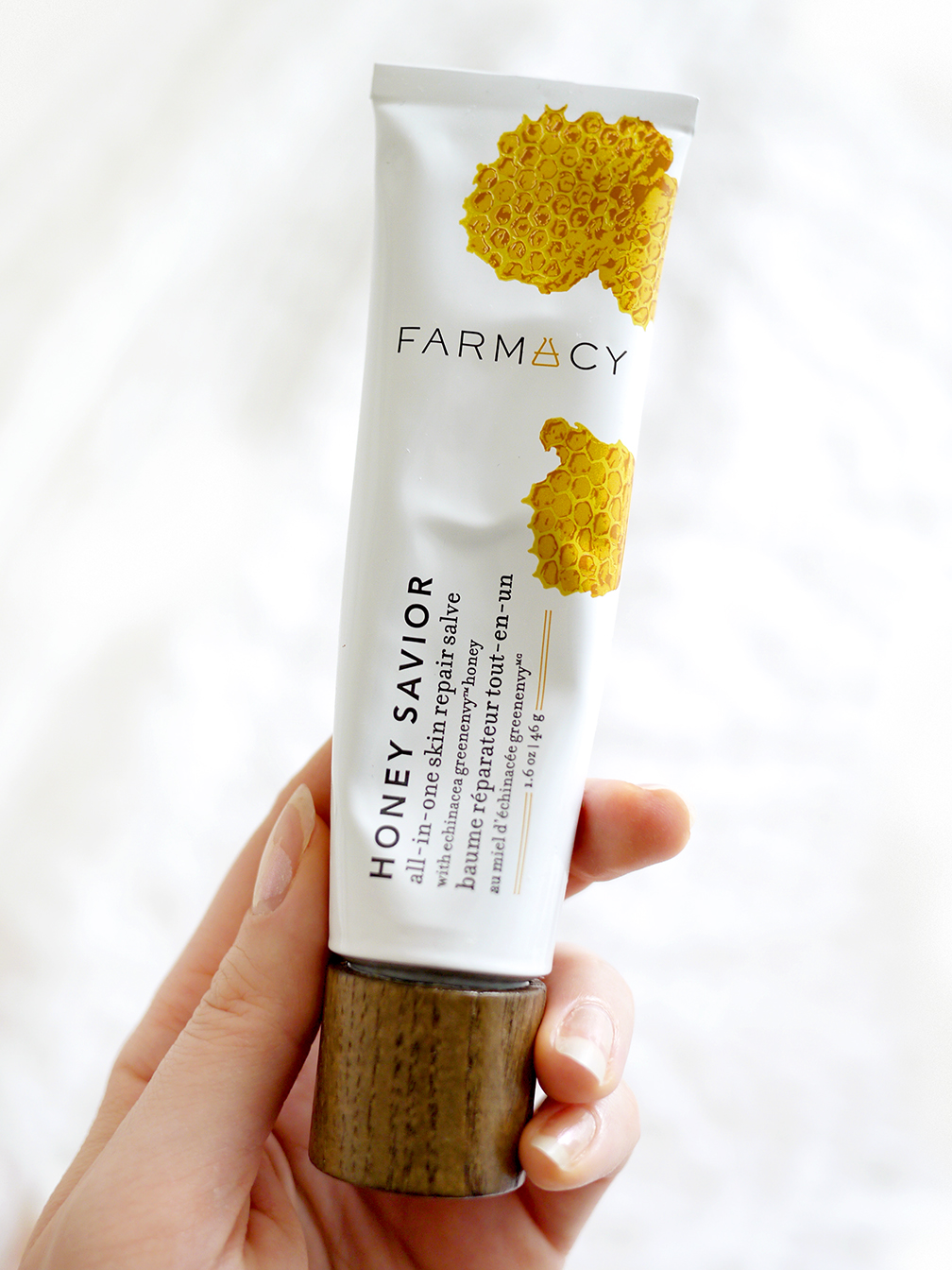 Farmacy's Honey Savior All-In-One Skin Repair Salve is pretty great. It's a salve, not a cream, meaning it's incredibly thick and potent.
The Good:
Honey is a natural antibacterial, which makes it ideal for helping to soothe and heal acne. Honey is also packed with antioxidants that help skin stay fresh-looking and plump. Honey Savior Skin Salve is super rich, and a tiny glob of it is enough to spread over your whole face. On days my skin feels like it needs a little extra hydration (or is super broken out), I'll apply it over my whole face, but on days my skin is generally in good shape, I'll focus it on any dry/flaky patches to help nourish them.
The Bad:
This isn't really a complaint, just the nature of the product – but as it is honey-based, this salve is rich and a little sticky. It's something you'll want to slather on at bedtime and let your skin soak up overnight, not a product to use at daytime. It'll make your skin shiny and tacky, and absolutely won't work under makeup.
The Verdict:
I'm a fan! I wake up with my skin feeling so hydrated and plump. Plus, since you need to use so little of it each time, this big tube (1.6 oz.) will definitely last me a long while.
Something to note: it's obviously not vegan since it's made from honey, but this product is not tested on animals.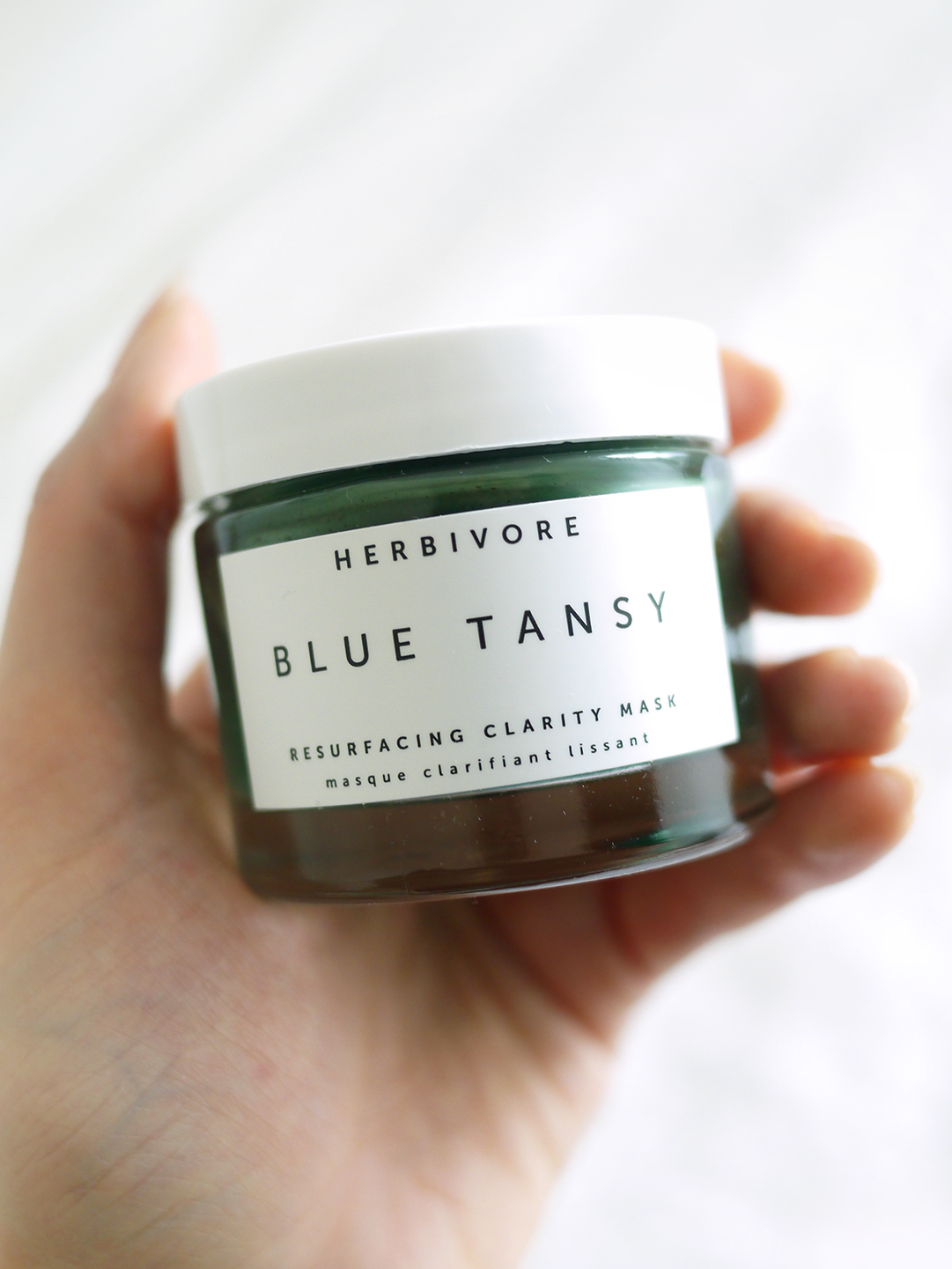 This Blue Tansy Mask is my first ever product from Herbivore, but it really got me excited about the brand.
Full of natural ingredients like white willow bark, fruit enzymes from papaya and pineapple, and blue tansy oil, this mask is designed to gently exfoliate, smooth, and resurface the skin, reducing redness and cleansing/tightening your pores as it works.
The Good:
I find it has a pleasant tingling sensation when you first apply it, which goes away after a few minutes. Then it just feels really soothing. This makes sense since one of its ingredients is aloe. I like to use it on days my pores feel full of gunk, or when my skin is particularly angry and irritated. After I rinse it off my skin just feels calmer, tighter (without feeling dry), and a bit brighter.
The white willow bark is a natural beta hydroxyl (BHA) that is high in salicylic acid, and the papaya and pineapple-sourced enzymes contain natural alpha hydroxyl acids (AHAs) that gently exfoliate and get rid of dead skin cells.
The directions say to apply a thin layer leave it on for about 20 minutes, or 5 minutes if you have sensitive skin. I have very sensitive skin, but I'm able to keep it on for 20 minutes to a full hour with no issue. My skin is neither red nor irritated afterwards. On a totally different note, I also really like that the formula is kind of thin, which makes it easy to spread over your whole face (it even comes with a l'il stirrer/spatula thing) without using too much product.
The Bad:
I got nothing, y'all. It does what it says and I'm into it.
The Verdict:
The Blue Tansy Mask gets a big thumbs up from me. It makes me curious to try some of Herbivore's other natural skincare products.
Something to note: This product is vegan, noncomedogenic, cruelty-free, and formulated without gluten and silicone (for anyone allergic).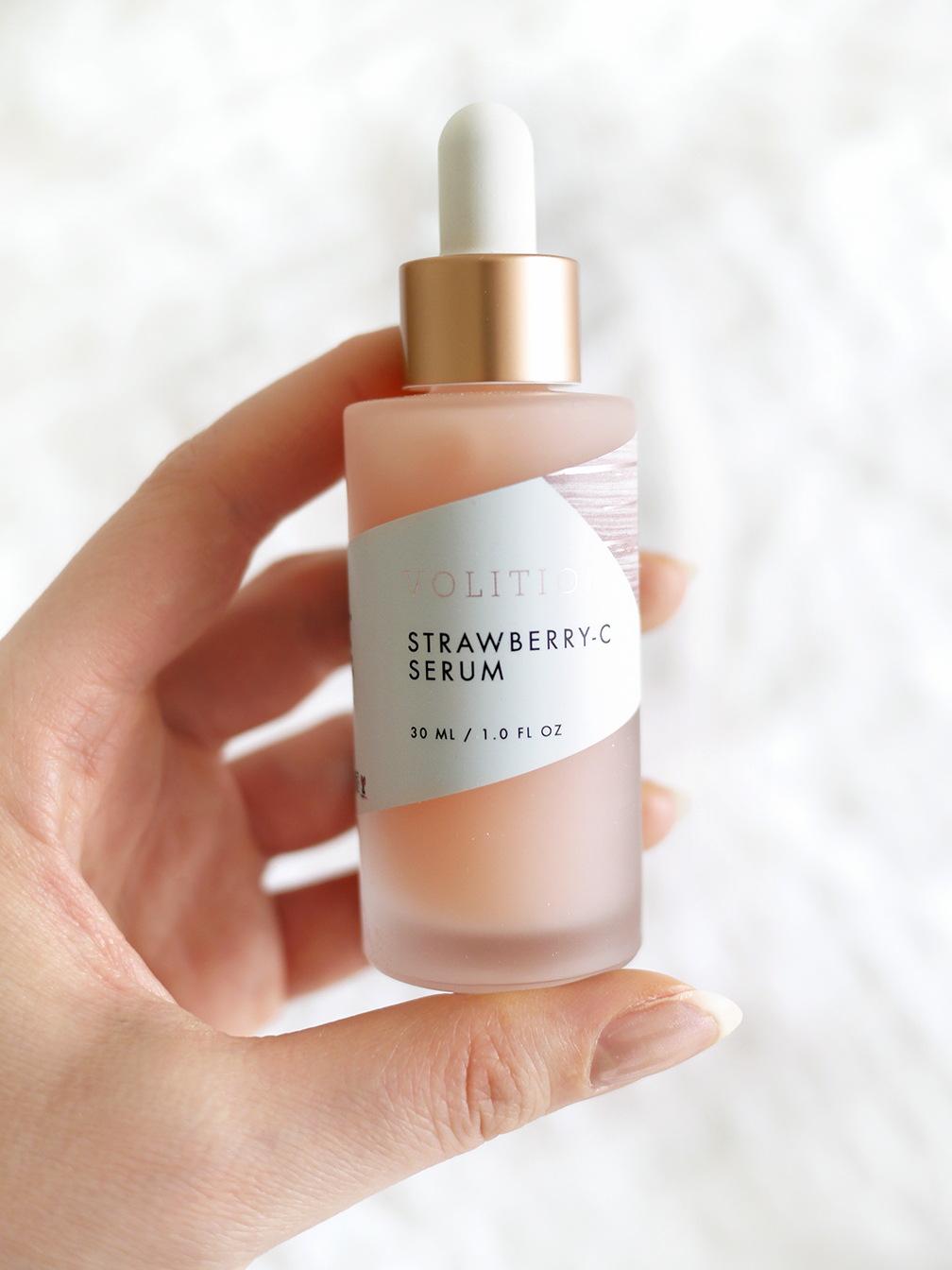 Lastly, let's talk about this Volition Beauty Strawberry-C Serum. I had been looking to incorporate a serum into my routine for a while, specifically a Vitamin-C serum. I kept getting served an ad for this one on Instagram, and shock of shockers, I eventually fell for it. The pretty packaging that matches my blog's aesthetic helped, too.
This Strawberry-C Serum is meant to soak into your skin and brighten your complexion in addition to hydrating. Strawberries are chalk full of Vitamin C, and apparently Marilyn Monroe used to rub strawberries on her face as a beauty trick. It's all very appealing and cleverly marketed, right?
The Good:
The scent is very subtle but pleasant. The bottle design is exceptionally pretty with the typography, pink hue, and frosted glass. And uh, psychologically you feel like you're doing something nice for yourself. But that's about it.
The Bad:
It did….nothing?? Of course skincare products work differently on different people, but this just did nothing for me. And at $60 (Canadian) a pop for 1 oz., I damn well better see results. I didn't find it particularly hydrating, and I definitely didn't see any radiance or brightening effects. It was all just very…meh. And to top it off, the dropper inside seems to be designed by someone who has never used a dropper before. Very difficult to work with and generally bewildering.
The Verdict:
This one's going back to the store. Maybe it would work for you, but it's a no from me, dawg.
It also just happens that around the same time, I got a deluxe sample of another serum, which actually DID give me the radiance and hydration it claimed to.
So if you want to hear more about that, or if you'd like me to do an updated skincare routine post – let me know in the comments!
As always, thanks for reading.
– Sara
Stay updated with Facebook • Twitter • Instagram • Pinterest • Bloglovin