The Bratz Challenge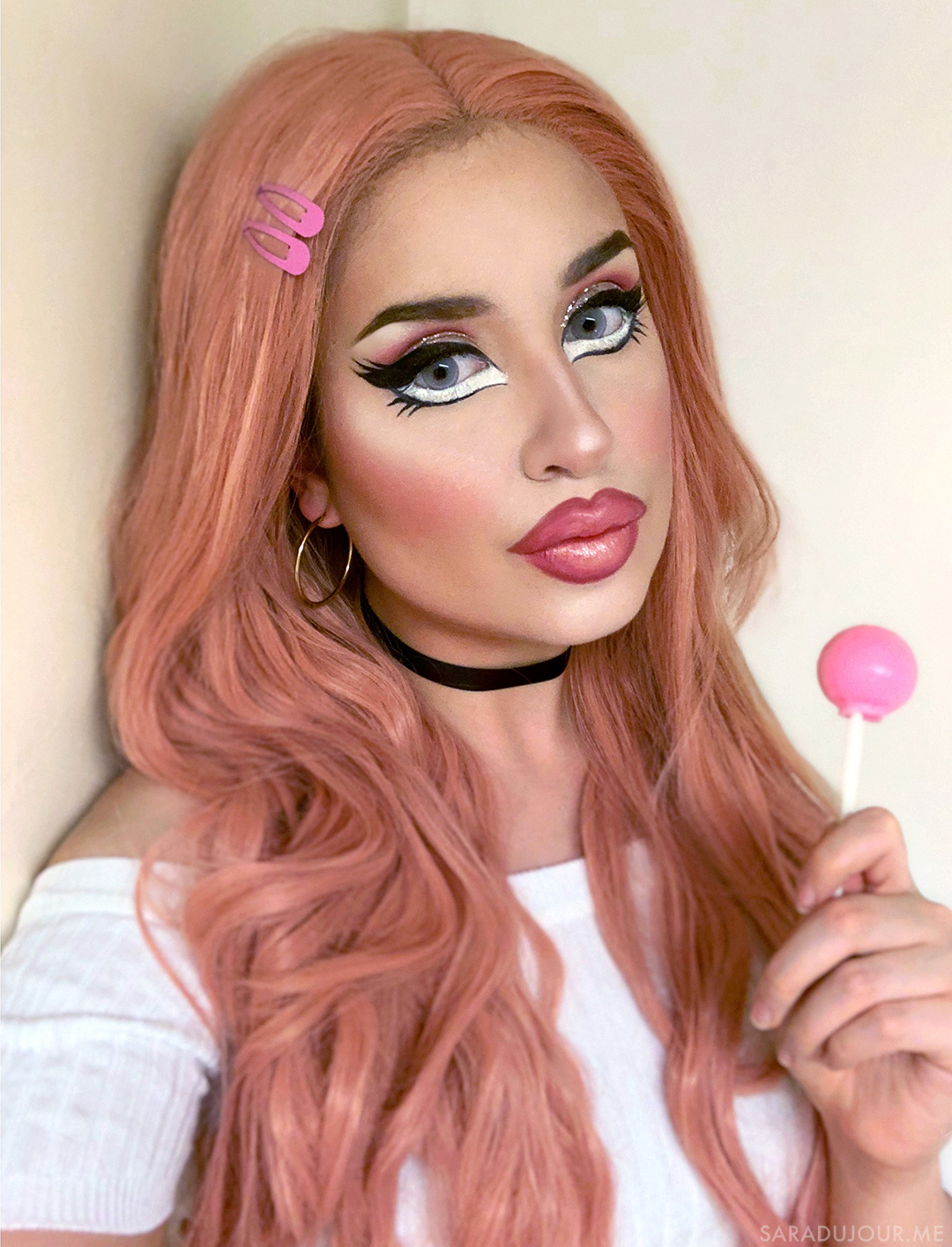 What do you do when it's Friday night, and none of your friends are free? Turn yourself into a Bratz doll, of course.
I *just* missed the Bratz era growing up (I was a Barbie, Lego, and Hot Wheels gal), but I've been seeing the Bratz challenge floating around the internet, and got the itch to try it for myself. Since we all know I'm an all natural, lip-balm-and-mascara kind of woman (ha!), this seemed like a perfect fit.
And all it took was a wig, coloured contacts, extreme contouring, dollar store accessories, and drawing my lips up to my nose. Who knew! If you're interested in a more detailed breakdown, keep reading.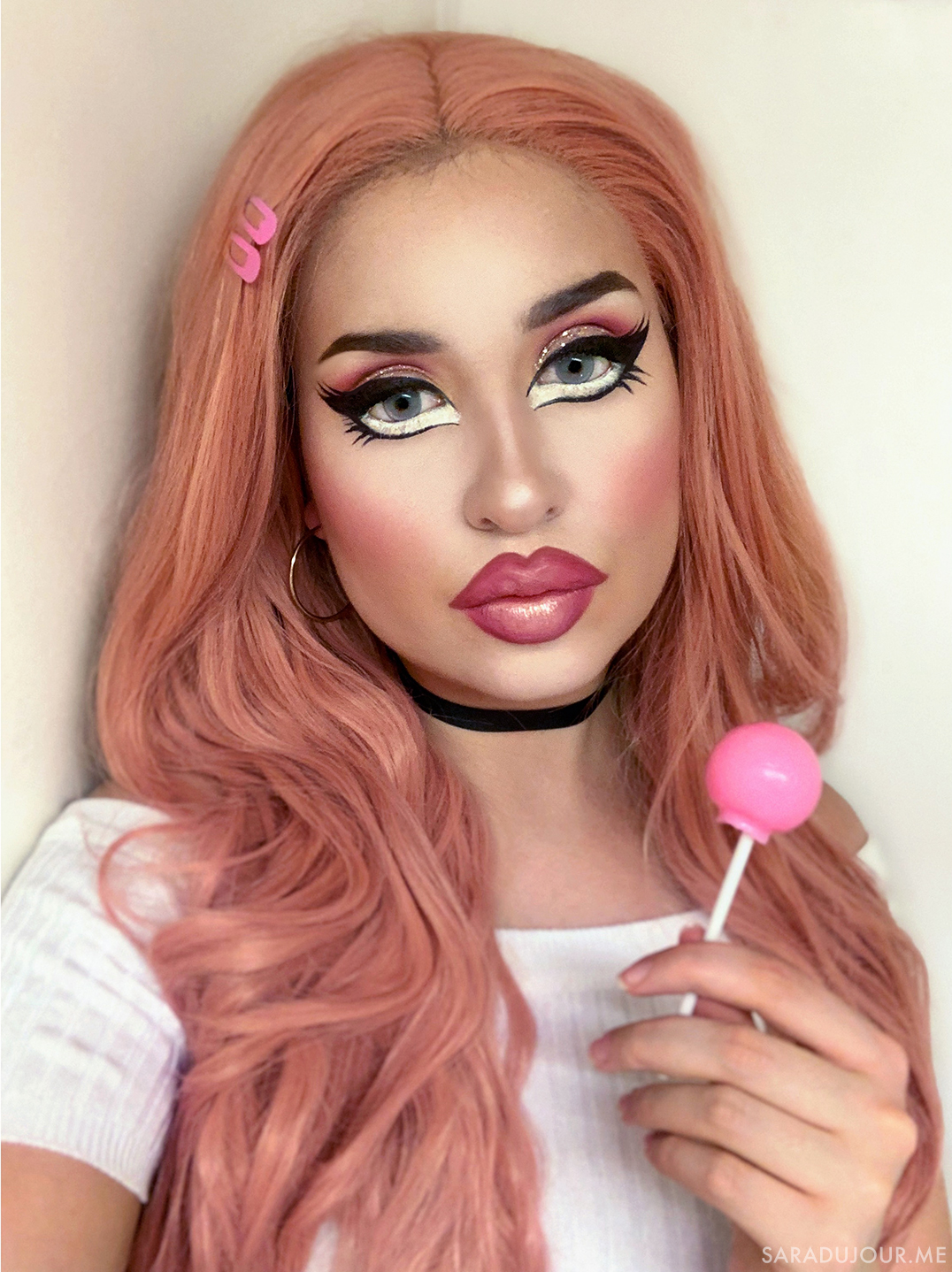 The Bratz Hair
I bought this pink lace-front wig on Amazon and well, it didn't quite look as expected. (Amazon.ca link, Amazon.com link). In the photos online it looked to have big bouncy curls and some nice layers cut in. And uhhhh….it arrived all one length, more tangled than curled, and a little ratty looking. However, the lace was indeed there, and the hairline pretty good, so I worked with it. I cut a few inches off the bottom and added layers around the face. This helped it look less heavy and more natural.
I used Got2B Ultra Glued gel on my forehead to attach the lace to my face. This was my first ever time working with a wig, so this part was tricky. (Don't try to take shortcuts like me, you'll need to make the gel tacky with a hairdryer like every tutorial says.)
The Coloured Contacts
I really don't know who I think I am sometimes. I'm someone who has never worn contacts in her life, who has hyper-sensitive eyes, and who has a fear of touching her eyeballs. And yet, somehow, I thought coloured contacts would be a thing I could do. The audacity.
Anyway, after roughly 14 attempts and 2 small panic attacks I got these Desio contacts into my eyeballs. They're in the colour "Rebel Grey". It was really weird to look in the mirror and see different eyes looking back. Especially when those eyes were bloodshot and crying.
So yeah, my eyes immediately freaked out at the foreign object I placed upon my corneas. I accepted death as my fate but luckily after about ten minutes my eyes started to adjust. By the time I finished doing my makeup, they had totally chilled out. Thankfully I had the sense to put the contacts in before my makeup, because otherwise the tears (and general struggle) would have completely smeared the look. Taking them out was a whole other situation, but I won't bore you with those details.
Basically, if you're competent with contacts, you'll be fine.
The Bratz Makeup
After I dramatically highlighted and contoured the planes of my face, I used NYX's "Milk" jumbo eye pencil – my go-to for all my drag makeup looks – on my lower waterline and below it, creating the illusion of expanded doll eyes. Using my trusty Stila liquid eye liner, I traced a new lower lash line below that, and created an extremely thick cat eye along my top lashes. Then I drew little strokes to create top and bottom cartoon eyelashes.
On the part of my lids that weren't covered in eyeliner, I used Glossier Play's silver glitter gelée in "Bijoux Bijoux", and a bright pink shadow in the crease. I didn't use false lashes at all, because I didn't want to take away from the cartoon look of the lashes I'd drawn on.
For blush, I applied a metric sh*t tonne of matte peach and pink blush, and I drew on brand new lips from almost my nostrils to my chin, using a variety of mauve and pink lip liners, liquid lipsticks, and glosses to get that 3D, larger-than-life Bratz look. I applied a champagne highlight to my cheekbones and the centre of my bottom lip, on top of the gloss, to amp them up further.
Lastly, I contoured and highlighted my nose with Benefit's Hoola to make it thinner and more doll-like. Nose contouring can look good in photos, but in person I always think it looks muddy and obvious, so it's not something I regularly do.
The Bratz Accessories
I threw on an off-the-shoulder top from Forever 21 I bought a couple of years ago, plus a black choker and hoop earrings from Forever 21 I already had. I hit up the dollar store for some cute, retro hair clips and a pink lollipop, completing my Bratz challenge look.
So, whaddaya think? I have to say, life in plastic was pretty fantastic, apart from my pores screaming.
Until next time!
– Sara
Stay updated with Facebook • Twitter • Instagram • Pinterest • Bloglovin