1920s Makeup: Pat McGrath x John Galliano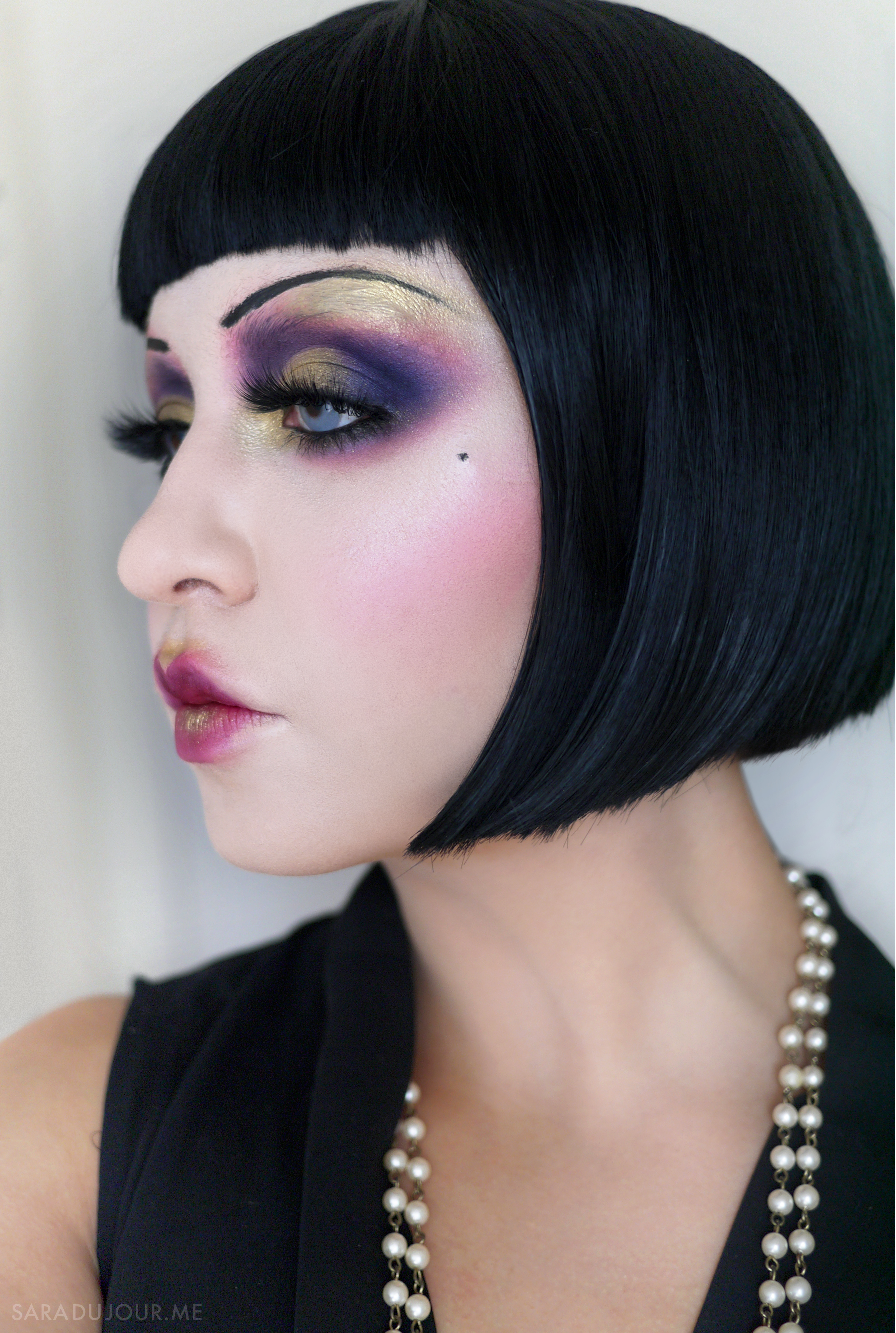 Pat McGrath is a living legend – one of the greatest makeup artists of all time. She's behind some of the most breathtaking, avant-garde makeup looks ever created, and her collaborations with John Galliano are no exception.
I wanted to do a 1920s-inspired, editorial look based on the makeup Pat McGrath designed for John Galliano's Spring 2011 runway show, but with my own spin on it. Wanting the hair to be more authentically of the era, I based this style on Louise Brooks, an American silent film actress and showgirl from the twenties.
I felt very Velma Kelly in this wig. And all that jazz!
Inspiration:

The hair
I couldn't find a 1920s-style bobbed wig with bangs that was exactly what I was looking for, so I bought this black wig on Amazon for only $26 and transformed it myself. It's actually a really lovely wig straight out of the bag, especially for the price. It's very sleek and silky, doesn't tangle, and the hair is nicely styled to curl inwards as though blow-dried. Plus since it has bangs, it's easy to throw on without having to glue down lace.
I cut about 3 inches off the ends (it hits at about shoulder length, slightly longer in the front) and an inch and a half off the bangs to get Louise Brooks' short, perfectly-straight style. I'm quite pleased with how it turned out!
It was looking a little dangerous for a minute mid-haircut – less Louise Brooks and more Dora the Explorer – but I think we got there in the end.
The makeup
Now this was fun. After gluing down, powdering, and concealing my brows (as with any drag makeup look), I applied my fairest foundation shade over my whole face. Then I used a beauty blender and a white paint stick to make my face even more pale, mimicking Pat McGrath's look and what was popular in the twenties.
Once I set my face with powder, I applied a matte, powder pink blush onto my cheeks and a tiny bit of highlight just to add some glow. (Highlight would not have been used for an authentic 1920s makeup look, though).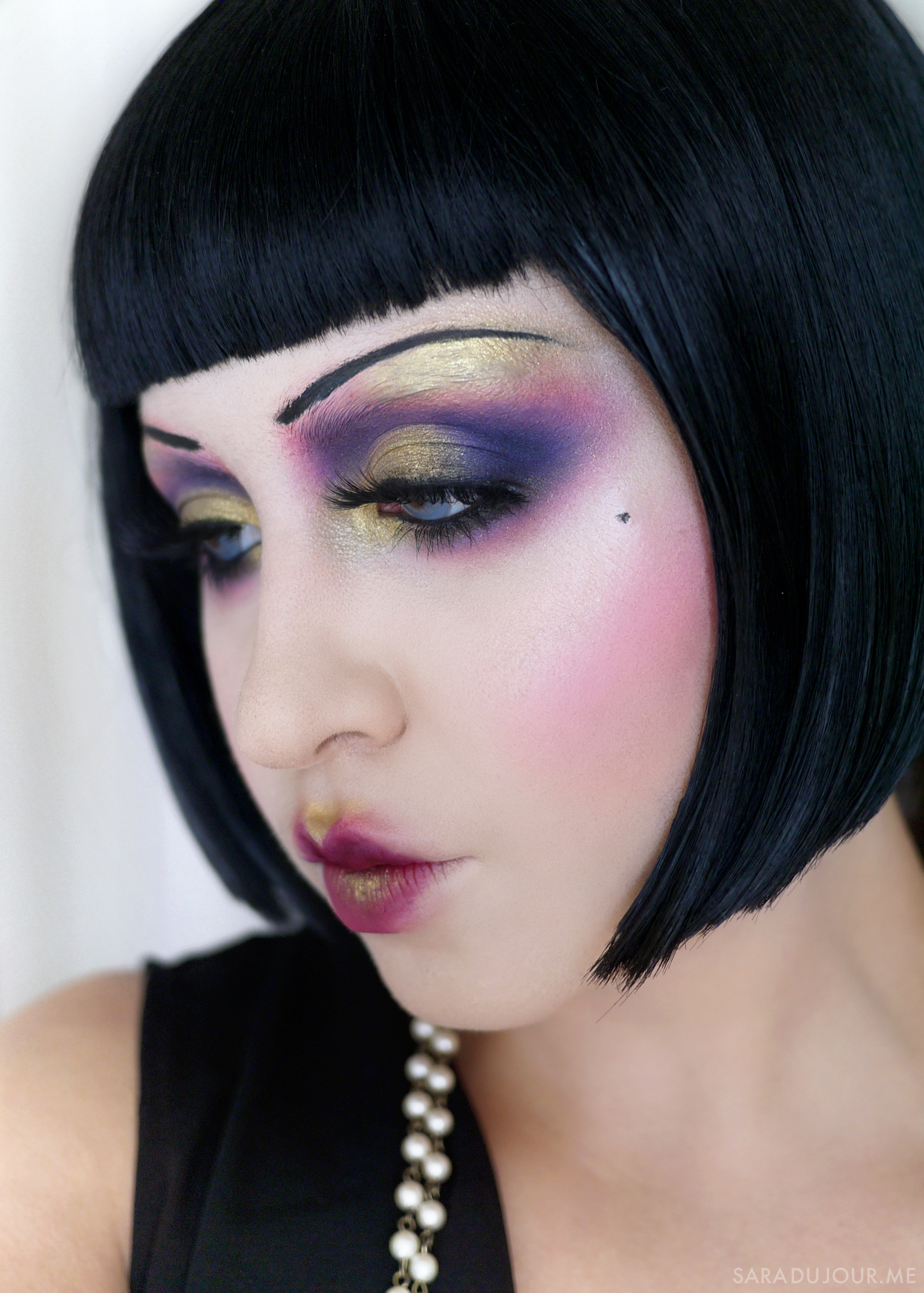 I concealed and powdered my lips, then reshaped them in the 1920s style. I used MAC "Sin" lipstick, a vampy burgundy, blurring out the edges especially up over my cupid's bow.
1920s lips were very small and heart shaped, so I emphasized my already pronounced cupid's bow, then applied a gold liquid lipstick followed by gold powder (Fenty's "Trophy Wife") in the center of my bottom lip and on my cupid's bow.
The eye makeup was all about layering and blending out. I started by using a matte fuchsia eyeshadow in my crease, outer corners, and under my eyes. Where I wanted to add depth, I used matte dark purple and blue shades – never black – blending those into the pink. Finally, I applied the same gold liquid lipstick on my lids, brow bone, and inner corners, with "Trophy Wife" generously layered on top, just like I did on the lips.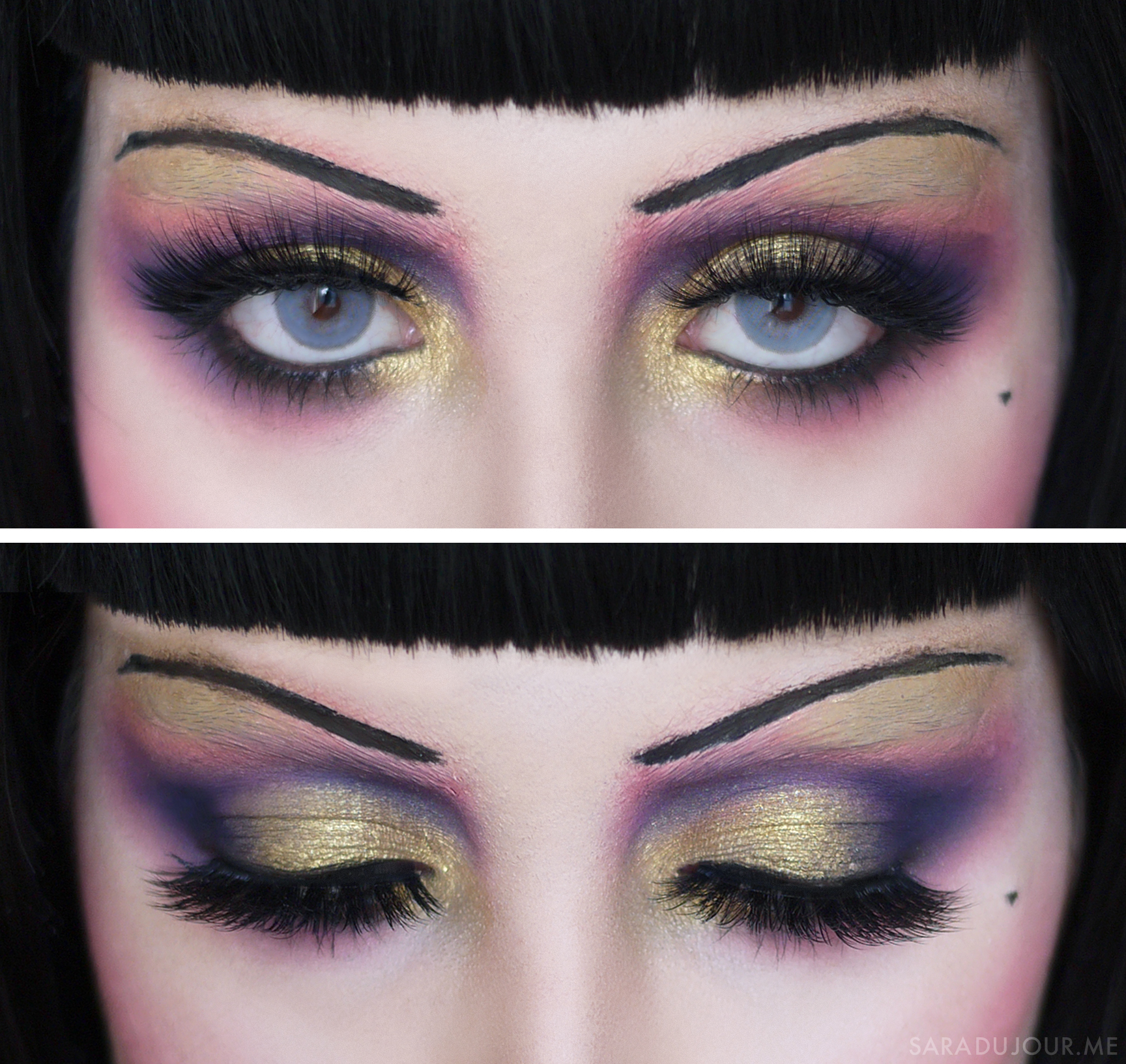 For the finishing touches, I drew in thin, 1920s-style brows with black liquid eyeliner, dabbing a matte black shadow on top to ensure they were matte. I used the same liquid liner to draw a thin line along my upper lashes, applying Koko lashes in "Venus" – the same ones I used in my recent 1960s look.
Lastly, I tight-lined my waterline with black pencil liner to give that smokey, twenties flapper look, and drew in a beauty mark by my left eye.
Oh, and I'm wearing blue coloured contacts here. I'm getting better at putting them in! My eyes don't throw an absolute tantrum anymore. Small victories.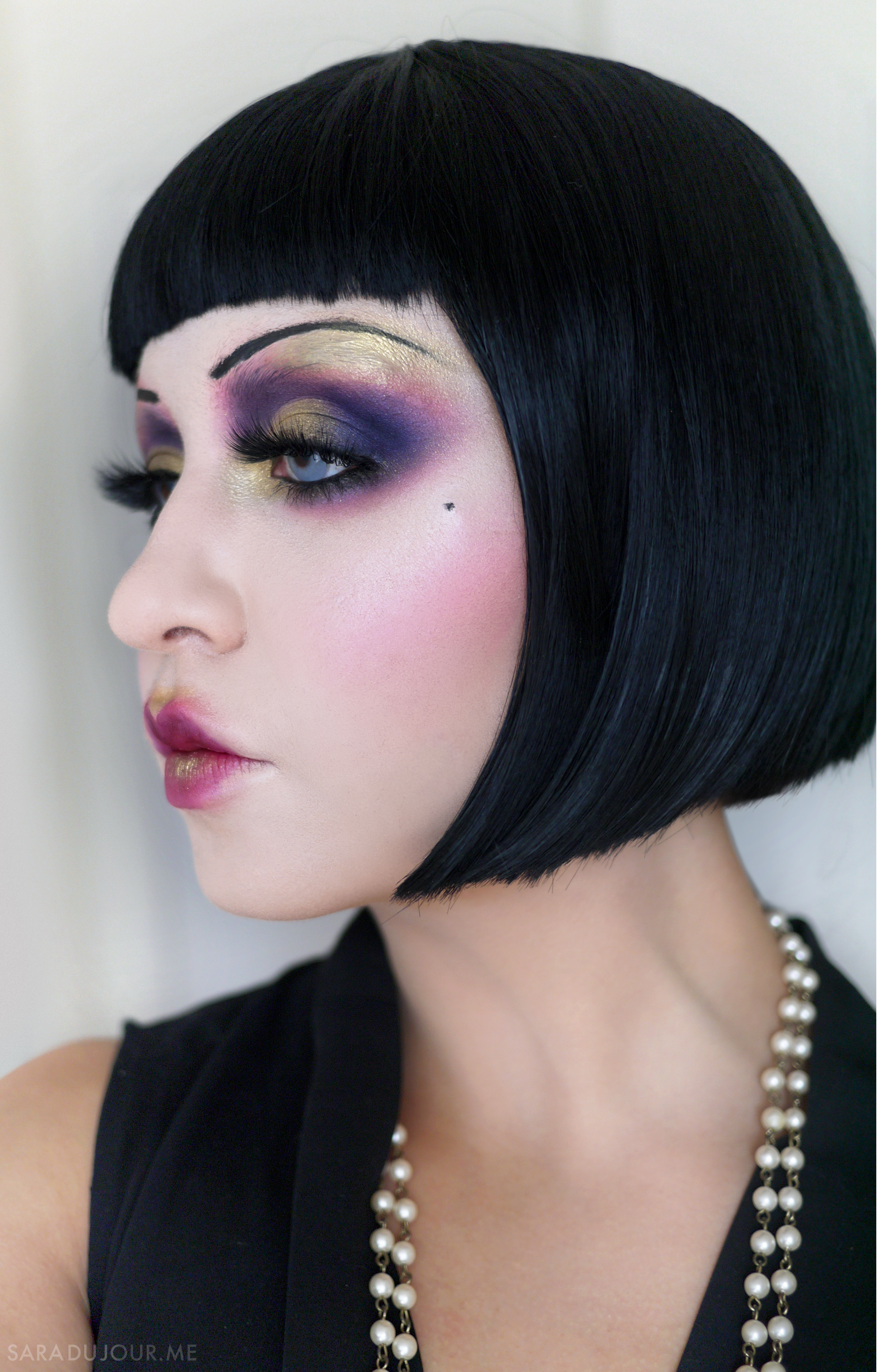 And hey, who knew an angled bob could be a great jawline contour? I ain't mad about that.
Thanks for reading, and until next time!
– Sara
Stay updated with Facebook • Twitter • Instagram • Pinterest • Bloglovin