Ariel Cosplay + Makeup – The Little Mermaid
Sebastian said it right: the human world IS a mess. That's probably why most of us wanted to be mermaids as kids after watching Disney's The Little Mermaid. Heck, even to this day, anytime I swim underwater I imagine I'm a mermaid. Am I alone in this?
The grass is always greener on the other side, I guess. Or the…seaweed? Anyway, it was only a matter of time before I attempted to do an Ariel cosplay from The Little Mermaid.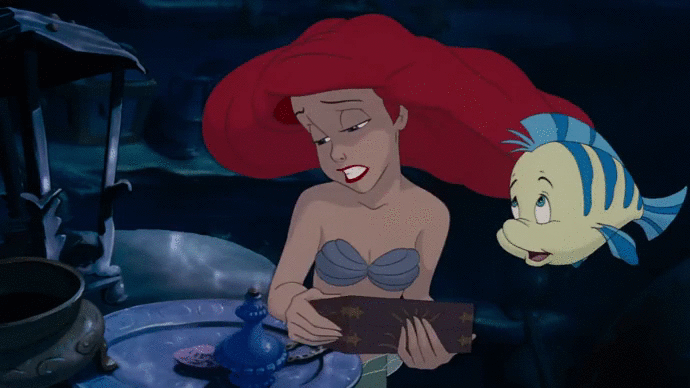 (Quick side note: I'm super thrilled Halle Bailey was cast as Ariel in the upcoming live-action Little Mermaid. She has the cutest Disney face and a gorgeous singing voice. I can't wait to see what she does with the role! I only wish they'd have cast a drag queen as Ursula, since Ursula was based on the legendary drag queen, Devine.)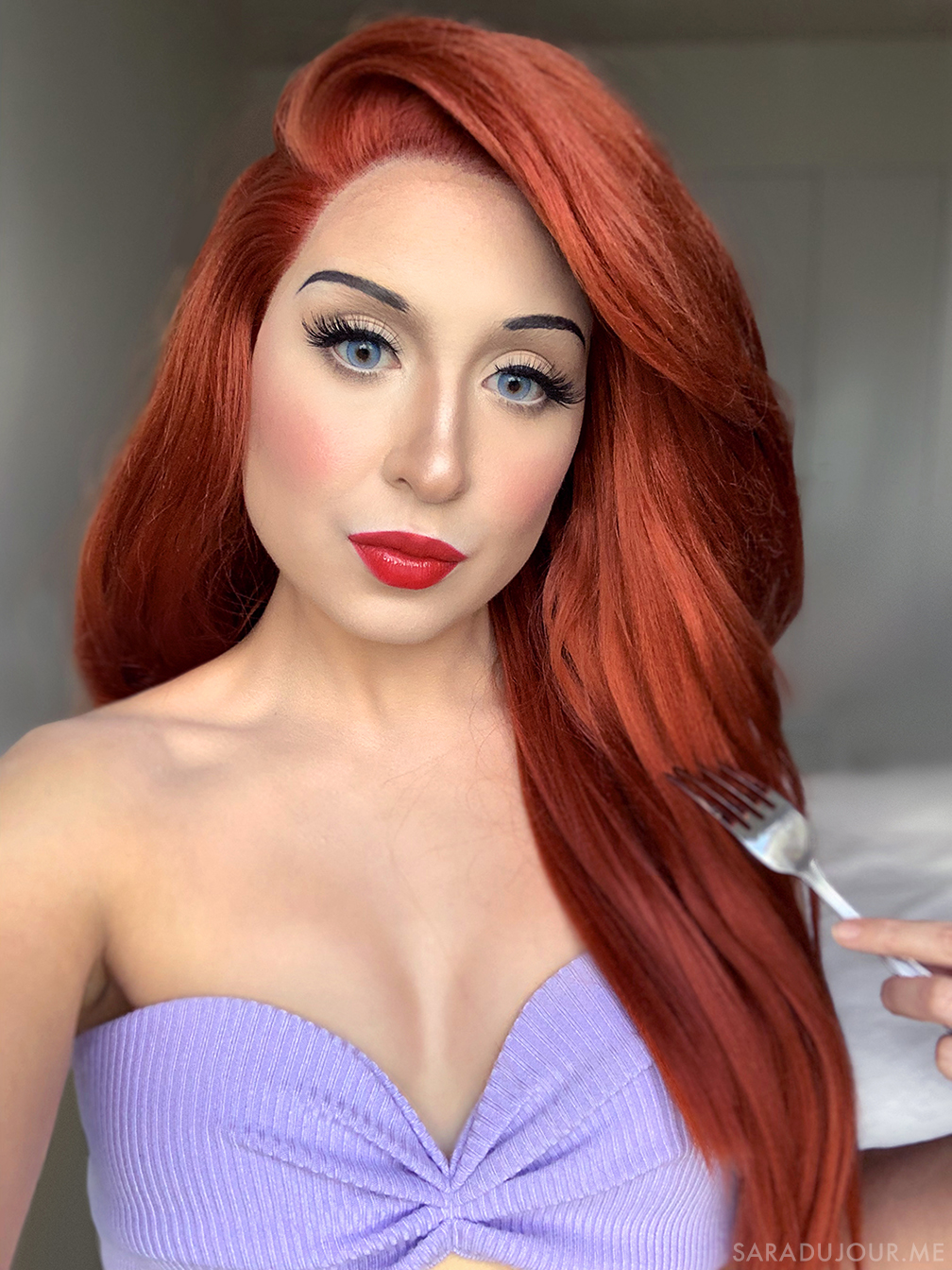 Speaking of drag, just like with my Elsa cosplay, I used a number of drag techniques to pull this cosplay off. I blocked out my real brows with a glue stick, painted my whole face, neck, and chest (yes, again) with foundation to return to my winter colour instead of my current summer tan, and contoured the heck out of just about everything.
My face is contoured, my nose is extremely contoured, my jaw is contoured – even my damn eyelids and brow bone are contoured.


Ariel cosplay – hair
I cannot even BEGIN to tell you how difficult creating Ariel's physics-defying hair was. Especially out here on land where gravity was really trying my last nerve. I probably used at least half a can of hairspray on this wig to create this near-solid structure. Ariel's bangs are basically….a roof?
Honestly, what the heck are these Disney hairstyles!?
Oh, and if you recognize this wig, it's because it's the same one I used for my Jessica Rabbit drag transformation. I gave it a haircut and re-styled it for this cosplay. (I cut about 4 inches off the bottom and added some face framing layers.)

Ariel cosplay – shell bra
I DIY-d Ariel's shell bra out of a $10 lavender crop top from Forever 21. It's actually the same top I'm wearing in my Pride outfit!
I put on the strapless crop top upside down (elastic edge on the bottom) over a strapless bra, tucked the top edge around the top of the bra cups, and tied it tightly in the middle with some dental floss. It took all of 5 minutes – no sewing required.

Ariel cosplay – eyes and makeup
I'm wearing blue coloured contacts from Desio, 2 pairs of lashes I customized (Koko lashes in Angelic stacked with half lashes in the outer corners), and drew in my new Disney eyebrows with a liquid eyeliner, powdered down with a matte black shadow to eliminate any shine. Ariel's brows are further apart than my natural brows are, giving her face more of a heart shape, so I did the same.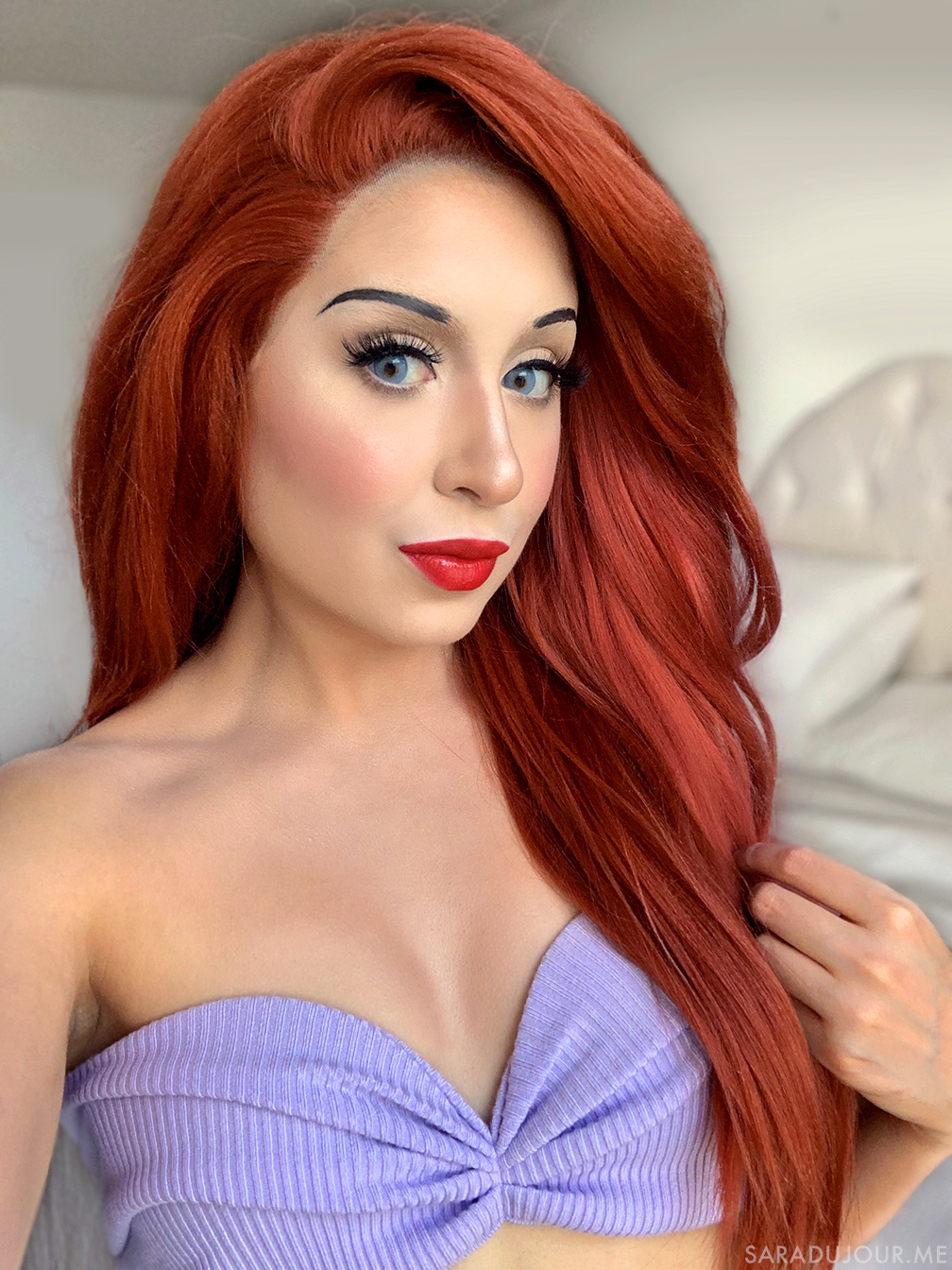 Don't ask me why Ariel's brows are jet black though she's a natural redhead, ask Disney. Do they have hair dye under da sea!?
Ariel isn't seen to be wearing any eyeshadow or eye makeup aside from big lashes, so I kept the eyelids totally matte and nude. Still, 3 matte shadows were used to contour and make my eyes appear more round like hers, both in my crease and under my lower lashes.
I used a small amount of a bright coral blush on my cheeks, because we love an underwater theme, and kept the face mostly matte to imitate the 2D animation style of The Little Mermaid. No blinding highlights here.

Finally, to do Ariel's lips, I used a matte red liquid lipstick to reshape my lips (rounder on top, smaller and narrower on the bottom), and eliminated my natural cupid's bow. Once that dried, I tapped a bit of translucent powder on my cupid's bow so that it wouldn't reflect light, and the illusion would be more convincing. 
Lastly, I added he tiniest bit of clear gloss only on the very center of my bottom lip.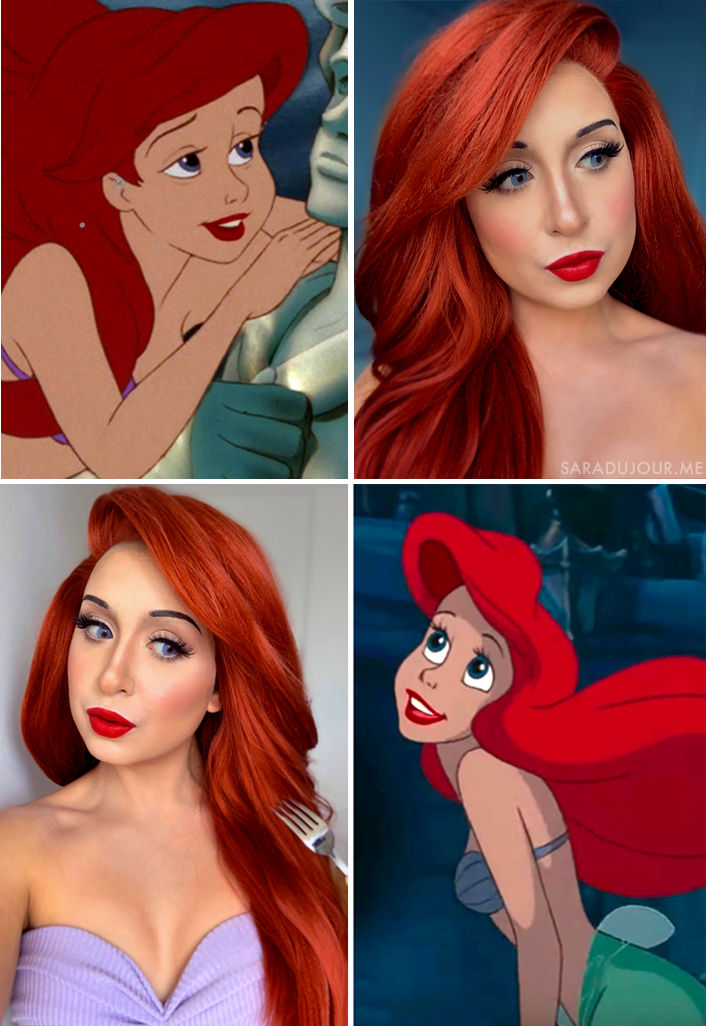 That's it! What do you think? Let me know who you'd like to see me cosplay next – Disney or otherwise, in the comments.
And don't forget to use my code for 20% off dinglehoppers. ;)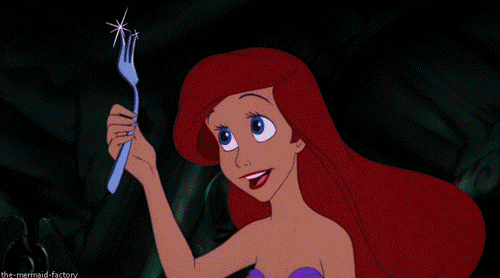 Just kidding.
Thanks for reading,
– Sara
Stay updated with Facebook • Twitter • Instagram • Pinterest • Bloglovin