Lara Croft Cosplay Makeup – Angelina Jolie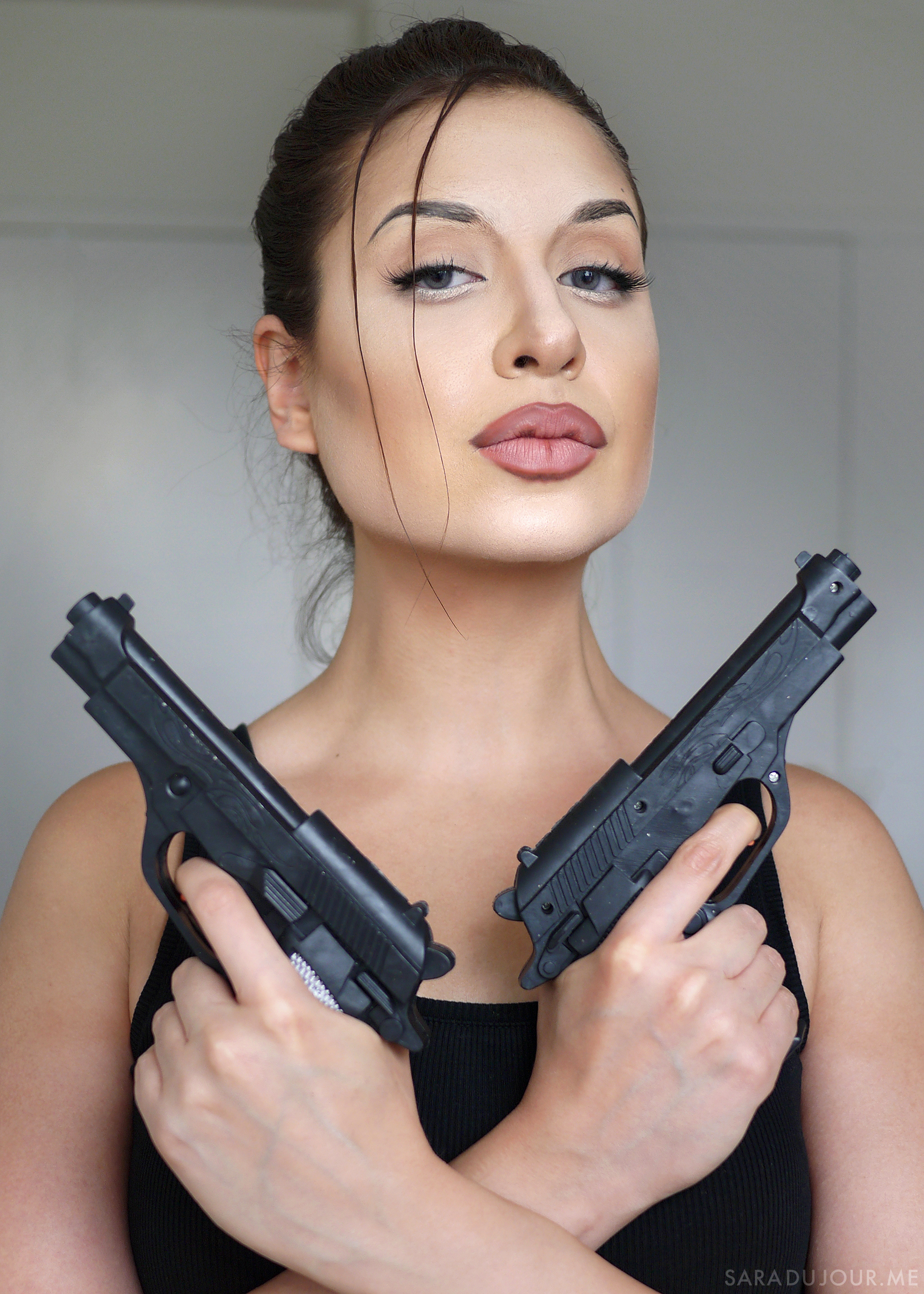 Happy Halloween month! To kick off October on the blog, I thought I'd share a recent transformation I did, turning myself into my favourite human face of all time: Angelina Jolie. So here's my Lara Croft cosplay makeup from the Tomb Raider movies.
Lara Croft is a fabulously easy DIY Halloween costume, as you can pick up almost everything you need from H&M or Forever 21. You probably already have most of the items! All you need are some guns and holsters to complete the look. (Fake guns, obviously!! #GunControlNow)
If you're interested in the full costume, I have a Lara Croft costume/cosplay post with all the outfit details here.
This was the first time I've ever attempted a realistic transformation into another person (i.e. not an animated character).
I grew up watching Promise Phan on Youtube (anyone remember her?), and was always in awe of how she could make herself look like anyone. More recently I've been inspired by artists/cosplayers like JBunzie and Alyson Tabbitha, so I worked up the courage to try my hand at a realistic transformation, too.
As soon as I finished this look, I Facetimed both my mom and my best friend, to surprise them with this face instead of my own. They were shocked! It was so much fun.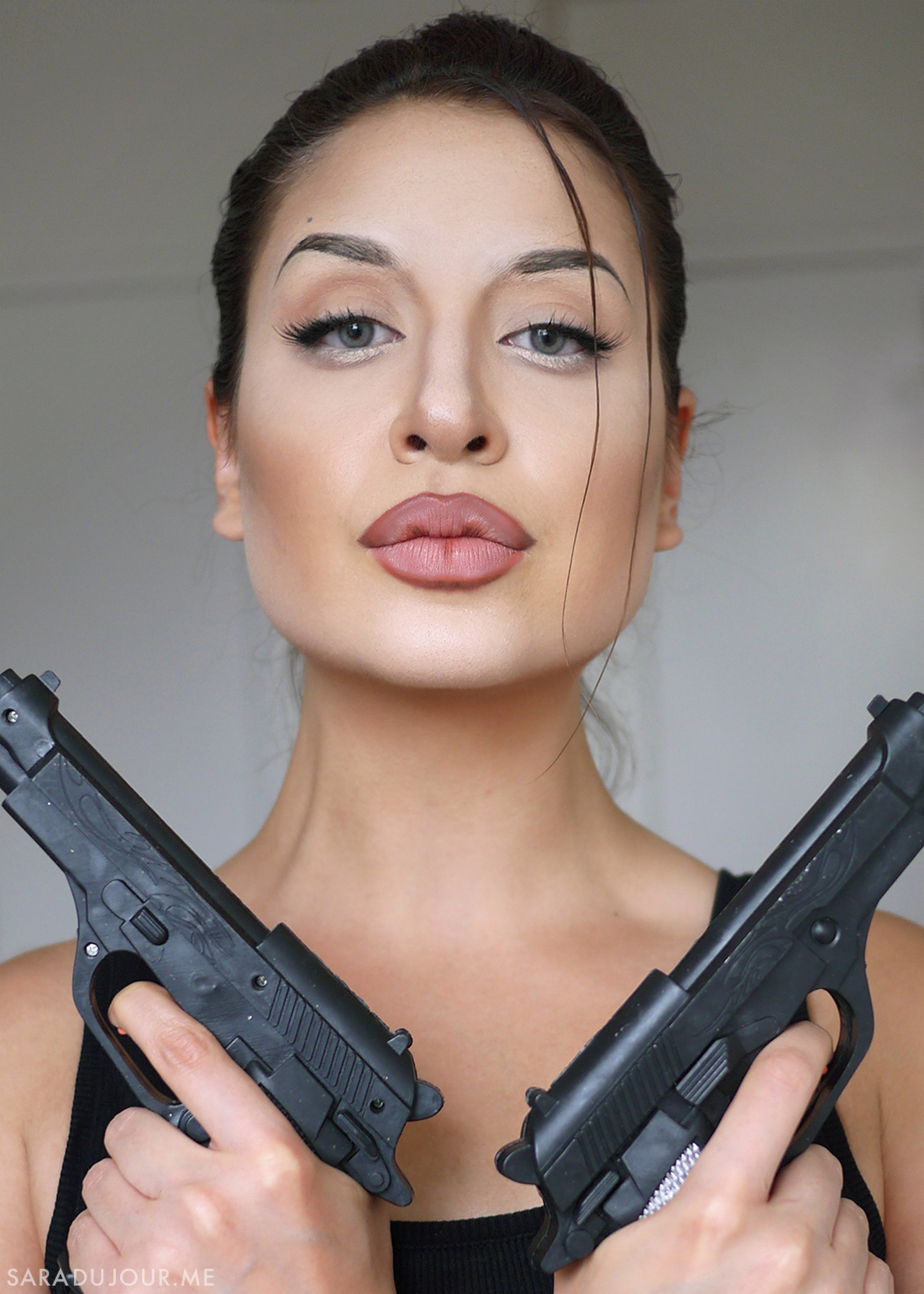 Keep reading if you want all the details, including product links to what I used. And don't miss the little video at the end to see the transformation in action!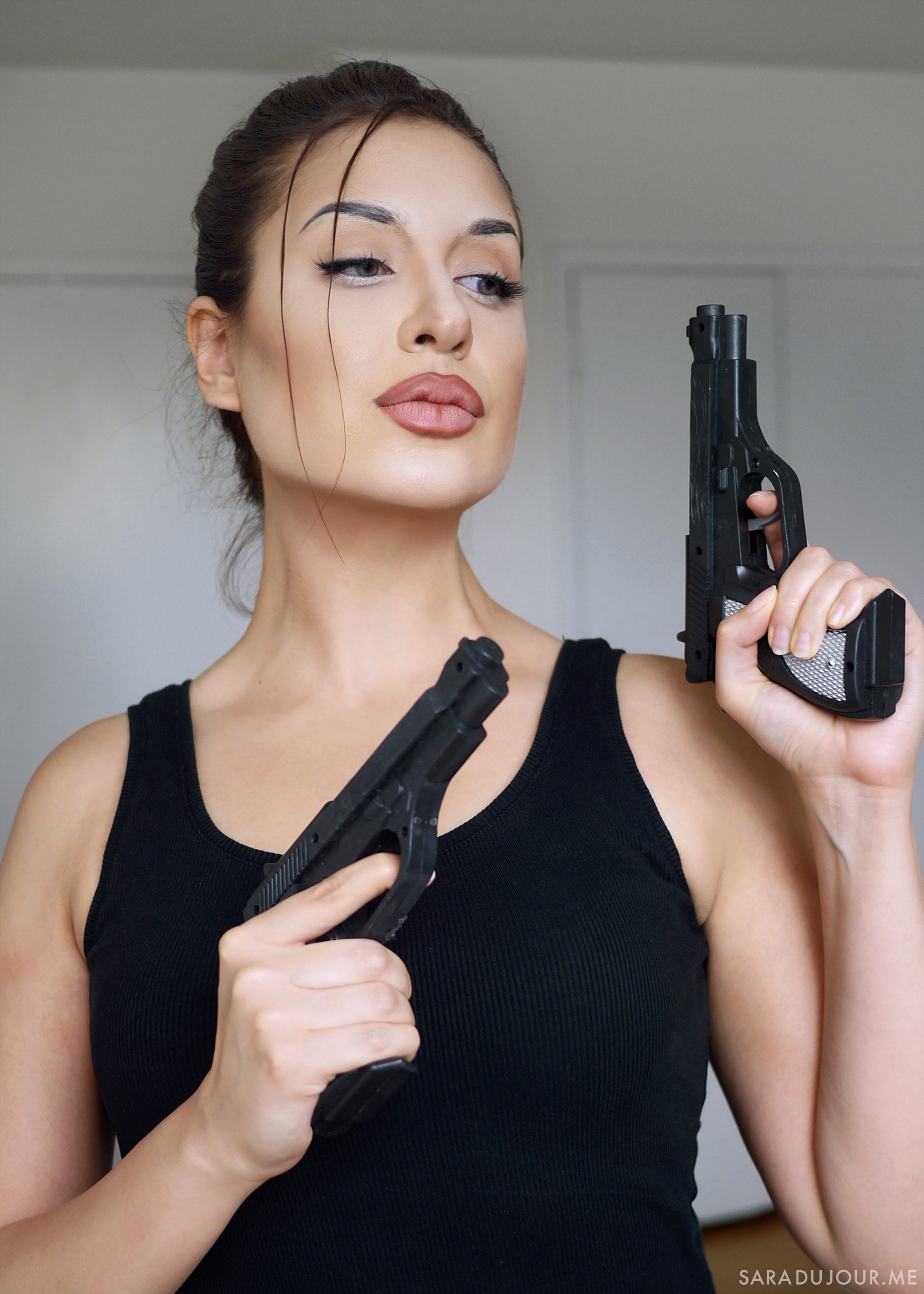 I grew up playing the Tomb Raider video games, and was (and still am) obsessed with the two Tomb Raider movies Angelina Jolie starred in. She was the perfect Lara Croft and I can't imagine that role played by anyone else. Sorry, Alicia Vikander.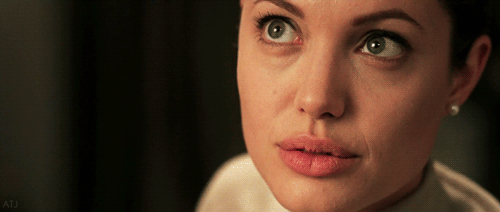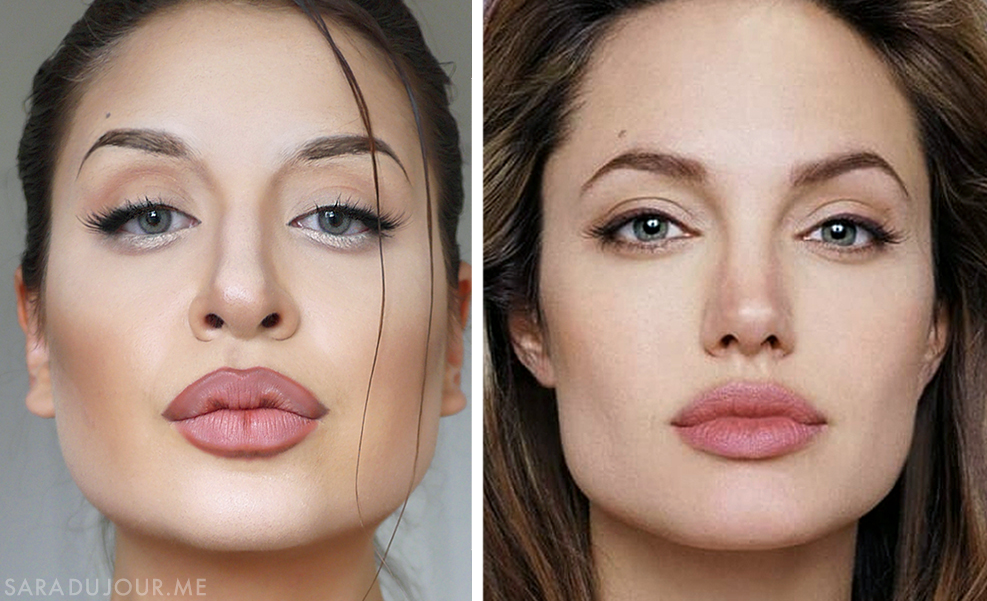 Full disclosure: Mr. and Mrs. Smith is my favourite Angelina Jolie makeup era, so I actually replicated that style of makeup more than I did her Tomb Raider makeup look – which, to the production team's credit – featured almost no makeup.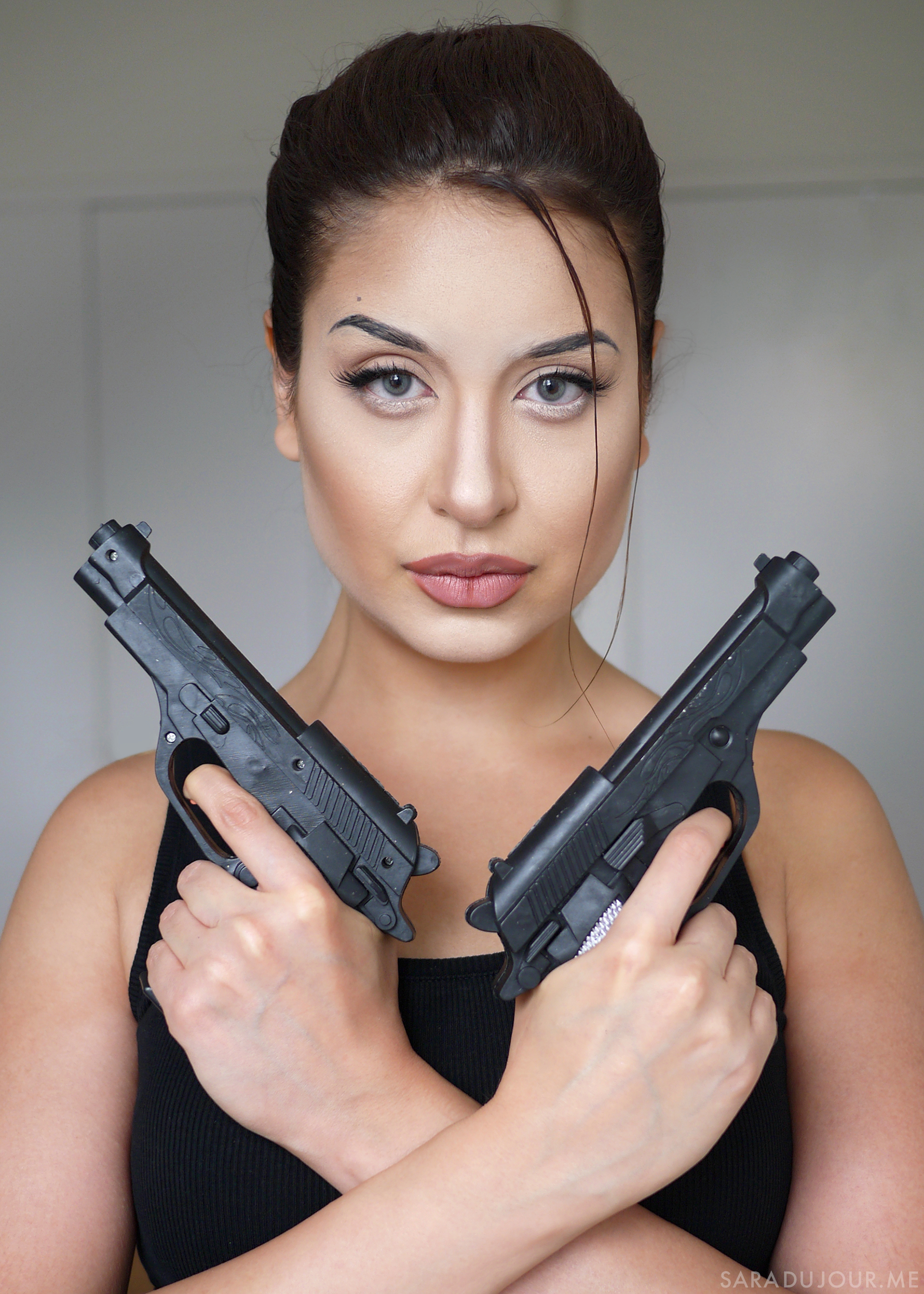 Lara Croft cosplay: hair
Thankfully I didn't need a wig for this cosplay since I'm a brunette, so I just french-braided my hair down my back, pulled out a few tendrils in the front and added gel to them, to make them the wet-looking strands Angelina Jolie has in the movie.
To more closely resemble Angelina Jolie's forehead shape, I used a matte dark brown eye shadow and shaded in the sides of my hairline slightly to make my forehead more rectangular.

Lara Croft cosplay makeup: face
As with all my cosplays and transformations, step one is to glue down my eyebrows and conceal them, so that I have a blank canvas upon which to paint.
Then I applied Fenty foundation all over my face, and used an Hourglass cream stick foundation in a lighter shade to highlight the centre of my forehead, down the bridge of my nose, under my eyes, and on my chin. Angelina Jolie has a wider nose bridge than me, so I used this cream highlight to create that illusion.
Next, I set all of those liquid/cream products with Fenty setting powder, so it would stay in place as I applied my powder contour.
I used Benefit's Hoola matte bronzer to make my forehead appear more square-shaped, as Angelina's is, to carve out my cheekbones, and to reshape my nose.
I contoured down the sides of my nose to reinforce the illusion of a wider nose bridge, and gave myself the appearance of a shorter nose by shading the bottom of my nose tip. Then, using a small eyeliner brush, I reshaped the tip of my nose to be more angular, the way hers is, then blended that out to hide any harsh lines.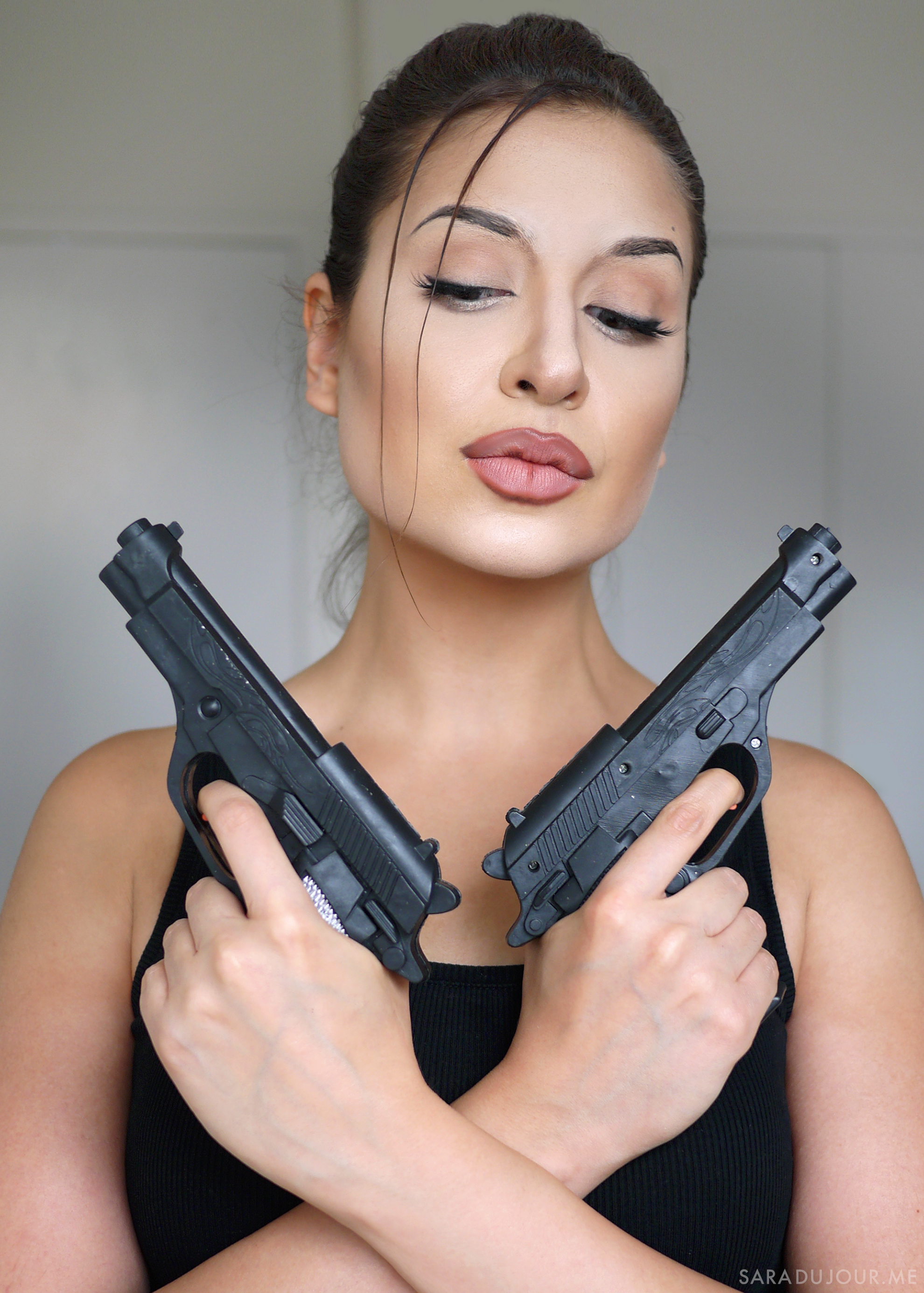 After that medium contour shade, I used Too Faced Chocolate Soleil matte powder as a deeper contour to really reshape places that needed extra work. In my case, that was deepening my cheekbone contour (and bringing it down at an angle down towards my chin to mimic her face shape), and carving the living daylights outta my jawline.
Angelina's jaw could cut through a diamond, and mine could maybe cut a soft cheese at best?? So that part needed some serious makeup magic.
Once my jawline was carved out, I used a pressed powder foundation (in a shade close to my highlight colour) and applied that along my jawline, especially at the outer corners just below the cheekbone contour, to emphasize the square shape of Angelina Jolie's jaw.
Then, along the high points of my cheekbones, I used Too Faced Candlelight Glow to add a bit of shine and three-dimensionality to my cheekbones.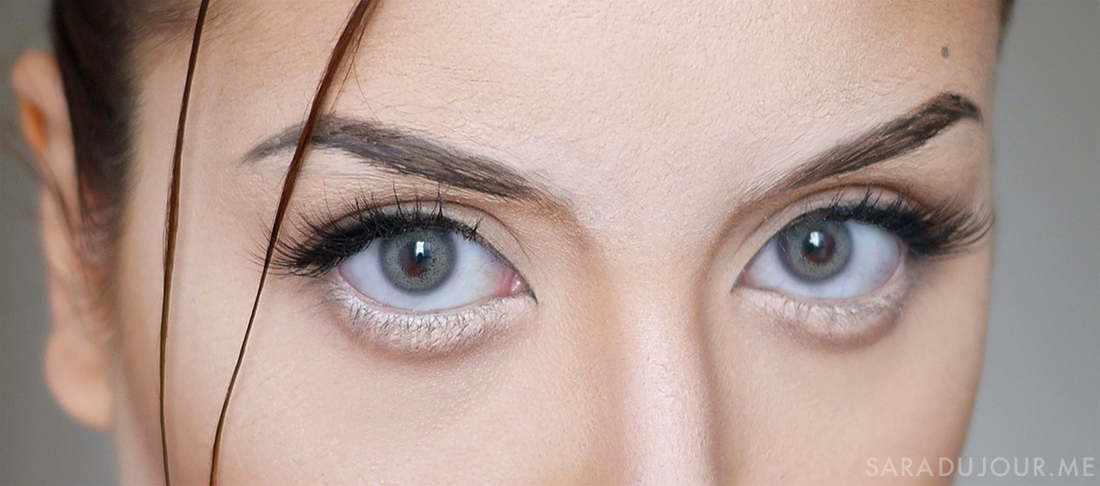 Lara Croft cosplay makeup: eyes
Angelina Jolie has a really distinct eye shape, which is quite different from my natural eye shape. To recreate her eyes, I used a fine-tip black liquid eyeliner to sharpen the inner corners at the tear duct, and applied liquid eyeliner to the outer two-thirds of my top lash line, blurring that with a matte black eye shadow. Then I applied 1/2 lashes to the outer corners of my eyes, to create a more cat-like shape.
Along my lower lash line, I needed to recreate her prominent eye shape, meaning the slight eye bags she has. Using my matte brown contour powder on an eyeliner brush, I  drew in the shadows. Then I used a creamy white eye pencil in the middle of each bag, blending that out to highlight and create a three-dimensional shape.
Using a fluffy eyeshadow brush, I used my contour powder to blend my nose contour into my brow bone. I also dusted a small amount of the contour powder in my eye crease, to tie everything together seamlessly.
Lara Croft cosplay makeup: brows
I drew in new eyebrows on top of my glued-down ones, creating her thinner, more arched eyebrows with a creamy brow pomade. Using a dark brown brow pencil, I added the illusion of brow hairs using small strokes.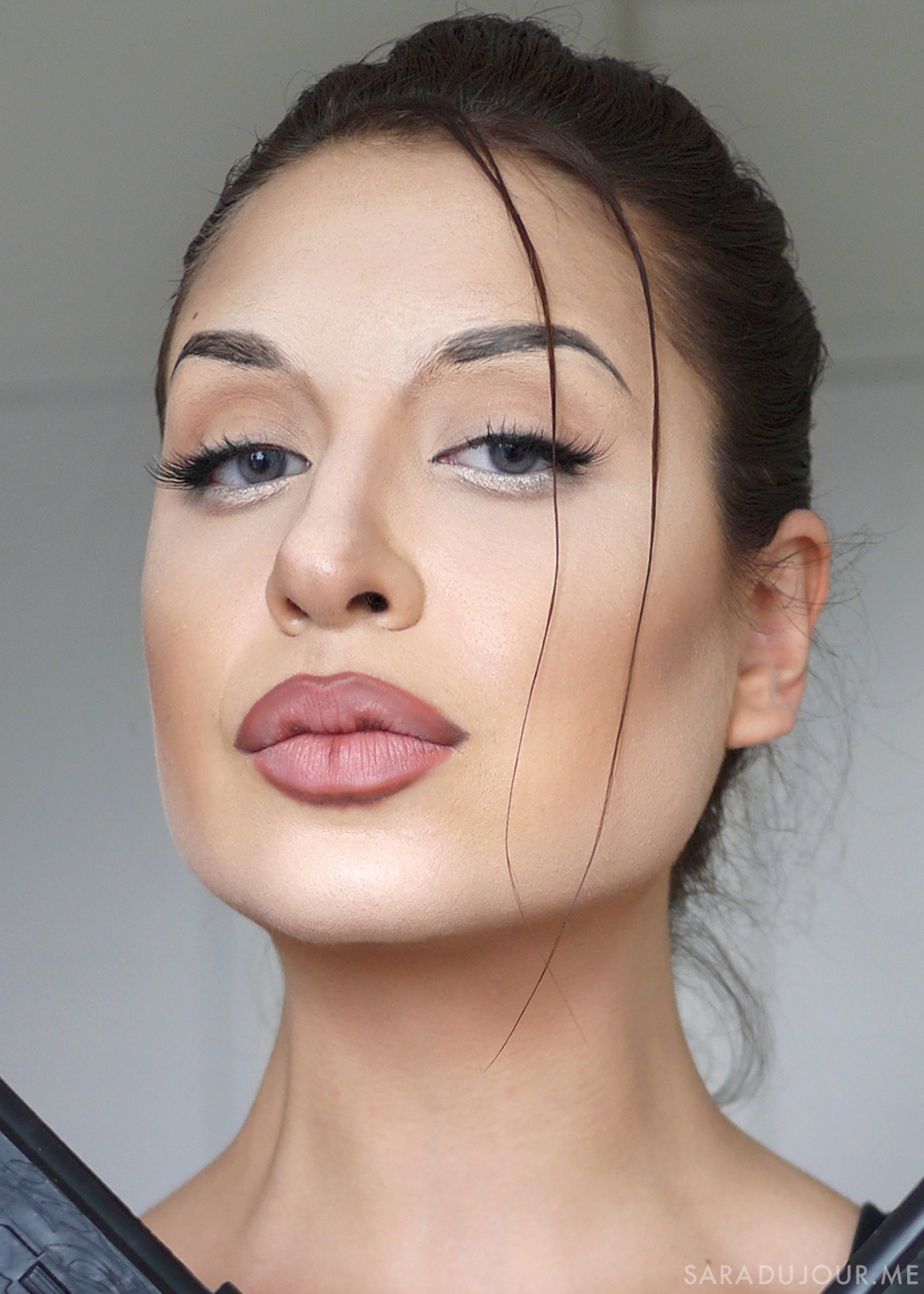 Lara Croft cosplay makeup: lips
Angelina Jolie's lips are her most recognizable facial feature, so recreating them was necessary to pull off this Lara Croft cosplay. I wanted my natural lip colour to show through, so the base shade of this lip look is…nothing. However, I used a series of lip liners to overdraw my lips and create Angelina Jolie's signature shape.
I drew the outline of my lips with MAC "Spice" lip pencil, making my mouth appear wider by extending my top lip on either side, and drawing that up and around to my cupid's bow. I also massively overdrew my lower lip. To emphasize the new lip shape and create further definition where I needed it, I used a dark brown eyebrow pencil to shade in the outer corners of my top lip, my cupid's bow, and on the newly created edge of my lower lip. I used NARS "Bahama" velvet matte lipstick pencil over that, to gradually blend the liners into my natural lip colour.
To create the crease in the centre of her bottom lip, and the two deep shadows on her top lip, I used the same two liners, using my fingertip to blur them slightly.
Final touches
Using the same brown eyebrow pencil, I drew in Angelina's birthmark above her right eyebrow. I'm also wearing coloured contacts to recreate her eye colour.
The full list of products I used is below. Now if you'll excuse me, I'm going to go rob a bank in disguise.
Products used:
CONTACTS
FACE
EYES
LASHES
BROWS
LIPS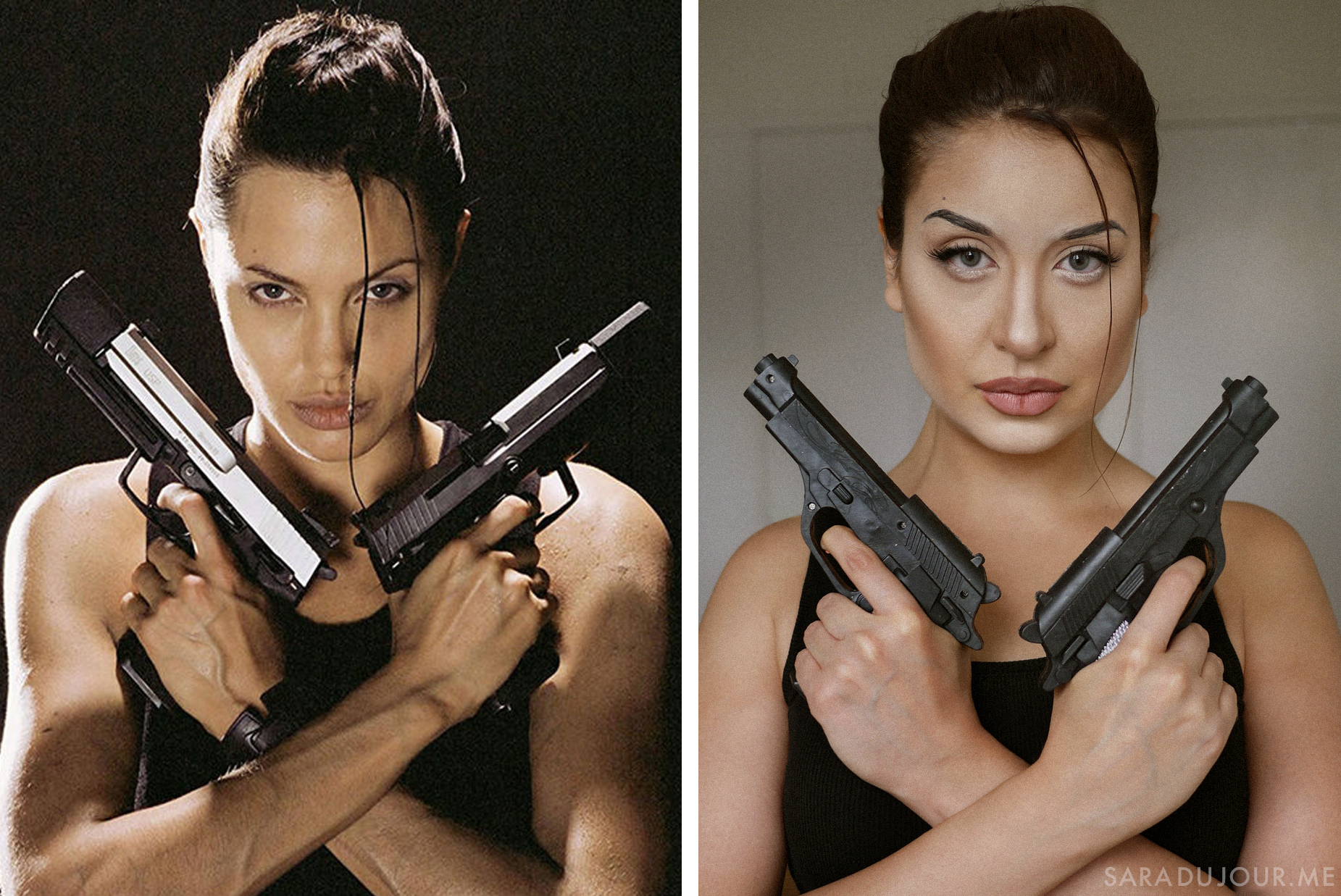 Thanks for reading,
– Sara
Stay updated with Facebook • Twitter / Instagram (@saradujour) • Pinterest