Shego Cosplay + Costume – Kim Possible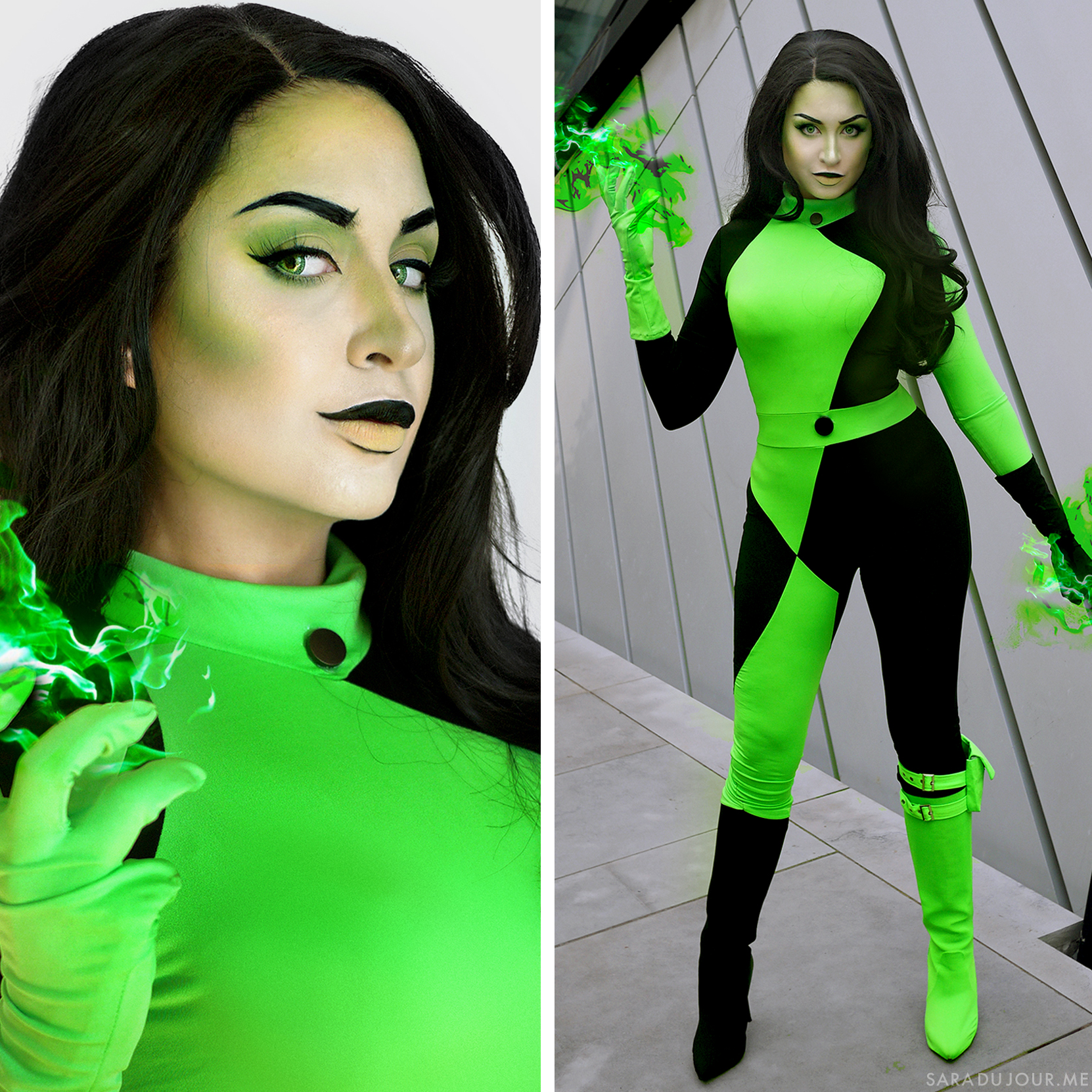 Welcome back! As promised, here's my Shego cosplay from this year's double Halloween costume. Want to see my Kim Possible cosplay instead? Go here.
Don't know who Shego is? She's the iconic baddie from Disney's Kim Possible. She hurls green magic just as easily as she hurls snappy insults.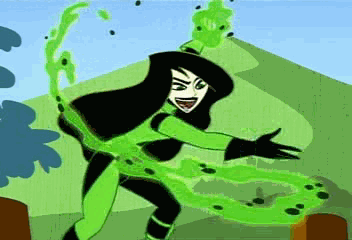 In fact, these are Shego's four moods: 1) sarcastic, 2) pissed off, 3) BIG MAD, and 4) tired of the bullsh*t. For a villain, she's surprisingly relatable.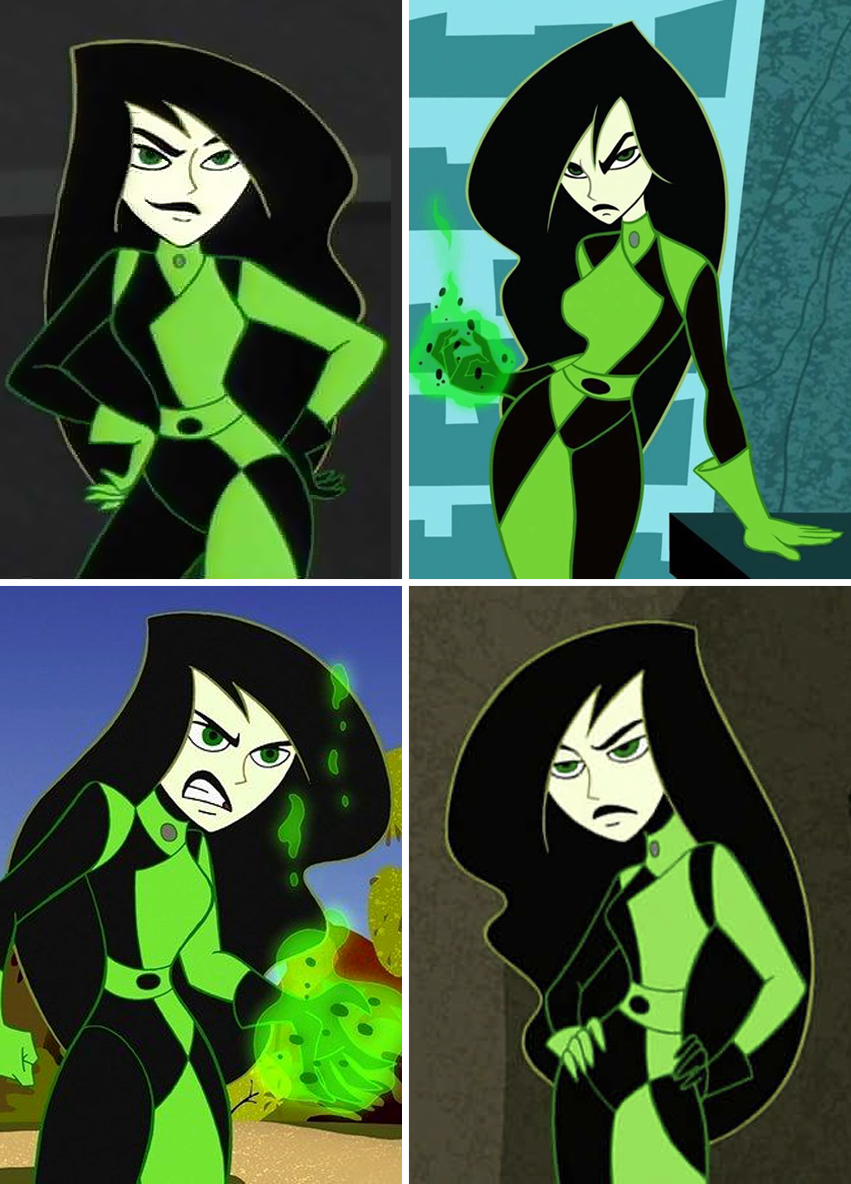 Here's my take on Shego's look IRL.
Keep reading for all the details on how to put together this Shego cosplay or Shego Halloween costume yourself.

This costume is quite easy, as you only need to buy two things – or one if you already have long black hair.
I'll link the exact items I'm wearing below.
Shego costume: what you'll need

Tips on the costume
The Shego bodysuit runs large, so I'd advise you size down one or two sizes to ensure a snug fit. There's nothing cute about a saggy bodysuit, especially in the crotch region.
For reference, I'm 5'7″, and the length was perfect on me.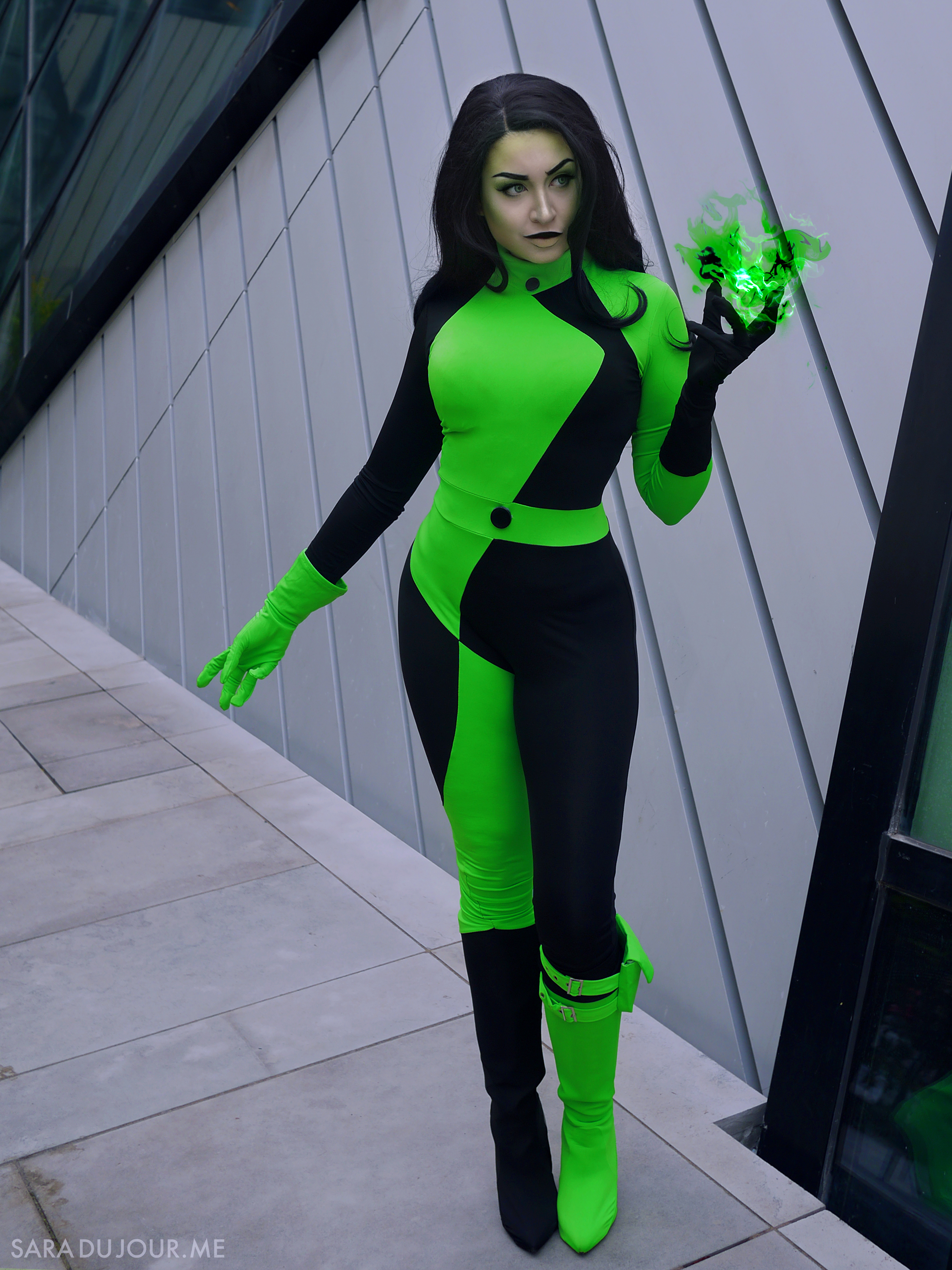 The costume comes with everything you need, including the gloves, wraparound calf pouch, and "boot" illusions. The feet of the bodysuit actually stretch over the shoes of your choice, leaving room for the heel to come out, so you can wear them with flats, heels, shoes, boots – whatever you prefer.
Since Shego wear boots in the show, I chose knee-high pointed toe stilettos, and tried to manipulate the bodysuit to match the actual top edges of my boots.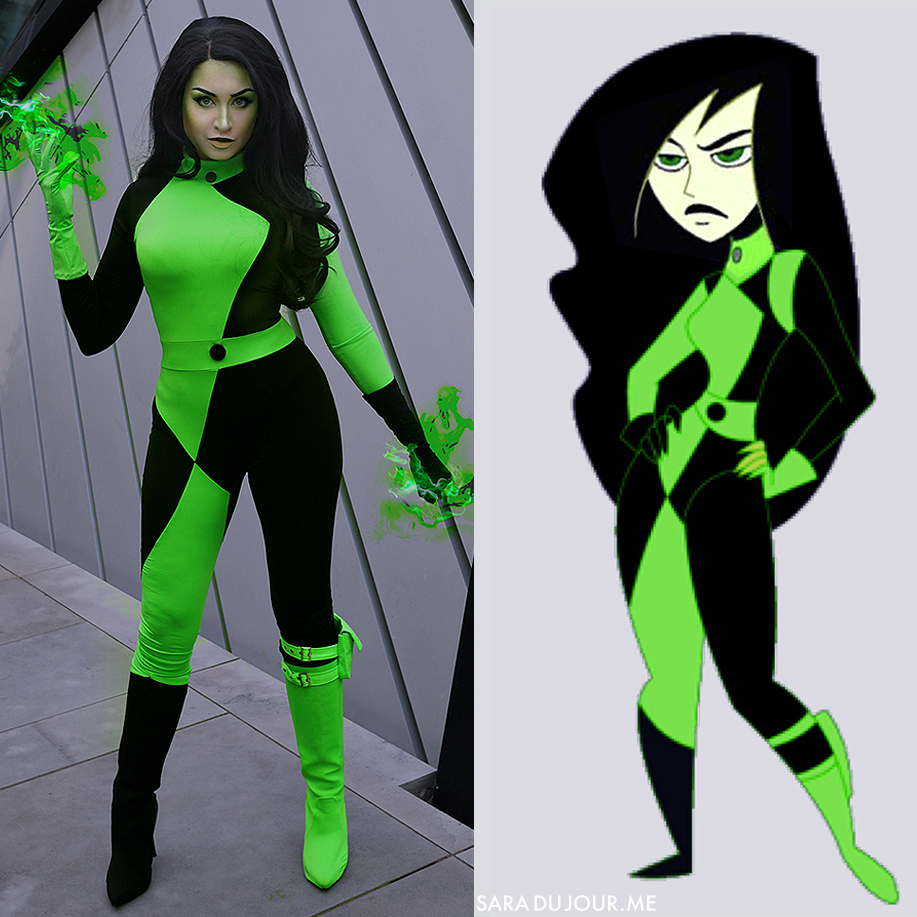 If you want to enhance your natural curves and get closer to Shego's cartoon-character proportions, you can wear shapewear or a waist cincher underneath the bodysuit.
Note: the bodysuit is a one-piece garment that zips up the back – so if you're planning to wear this to a convention or Halloween party…going to the bathroom will be challenging. You've been warned.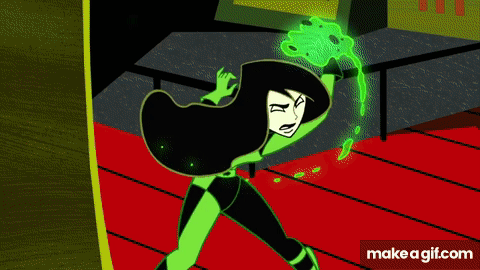 Customizing the costume
There wasn't a lot of DIY work required, as the Shego costume comes pretty much ready to go. But if you're a perfectionist like me, there are a few quick things you can do to improve the costume.
Glue down the buttons. The button at the neck and the button at the waist are both stitched on, and because of this they flop around a bit and don't look great. I used hot glue and glued them down so there was no more movement.
Fold down the turtleneck portion. To make the neck more structured, fold it inwards and secure it with double-sided tape. (I didn't tape it, but you should. It'll save you a lot of hassle of it coming undone.)

The Shego wig
This affordable black lace-front wig was pretty great right out of the bag. But again, I did a few things to it to take it up a notch. First, I sprayed down the whole thing with some dry shampoo, to take away some of that dead giveaway, synthetic hair shine.
I trimmed the lace of the wig really close, because the lace is a few shades darker than my skin tone and I needed to hide that. Then I put a bit of concealer in the wig's parting to help make it look more like my own hair.
Next, I teased the wig a bit to make it look more tousled, as Shego is a woman who literally kicks ass, so her hair would be a little disheveled.
Lastly, I cut a few a few face-framing layers in, including shorter side bang pieces, to mimic Shego's hair in Kim Possible.
Shego cosplay makeup
Now this is the fun part. I didn't want to just paint my whole face mint green to match the show. I always try to make my cosplays the live-action equivalent of the animated character, so I tried to imagine what Shego's otherworldly skin tone might be in real life.
I decided to paint my face using my lightest foundation colour mixed with a bit of white, then used a few green eyeshadows to add a green hue to my face, essentially using the shadows as my contour. I brushed the lightest green shadow around the perimeter of my face, cheekbones, sides of my nose, and forehead, then used a darker green shadow to further carve out my cheekbones, jawline, and eye sockets to add dimension.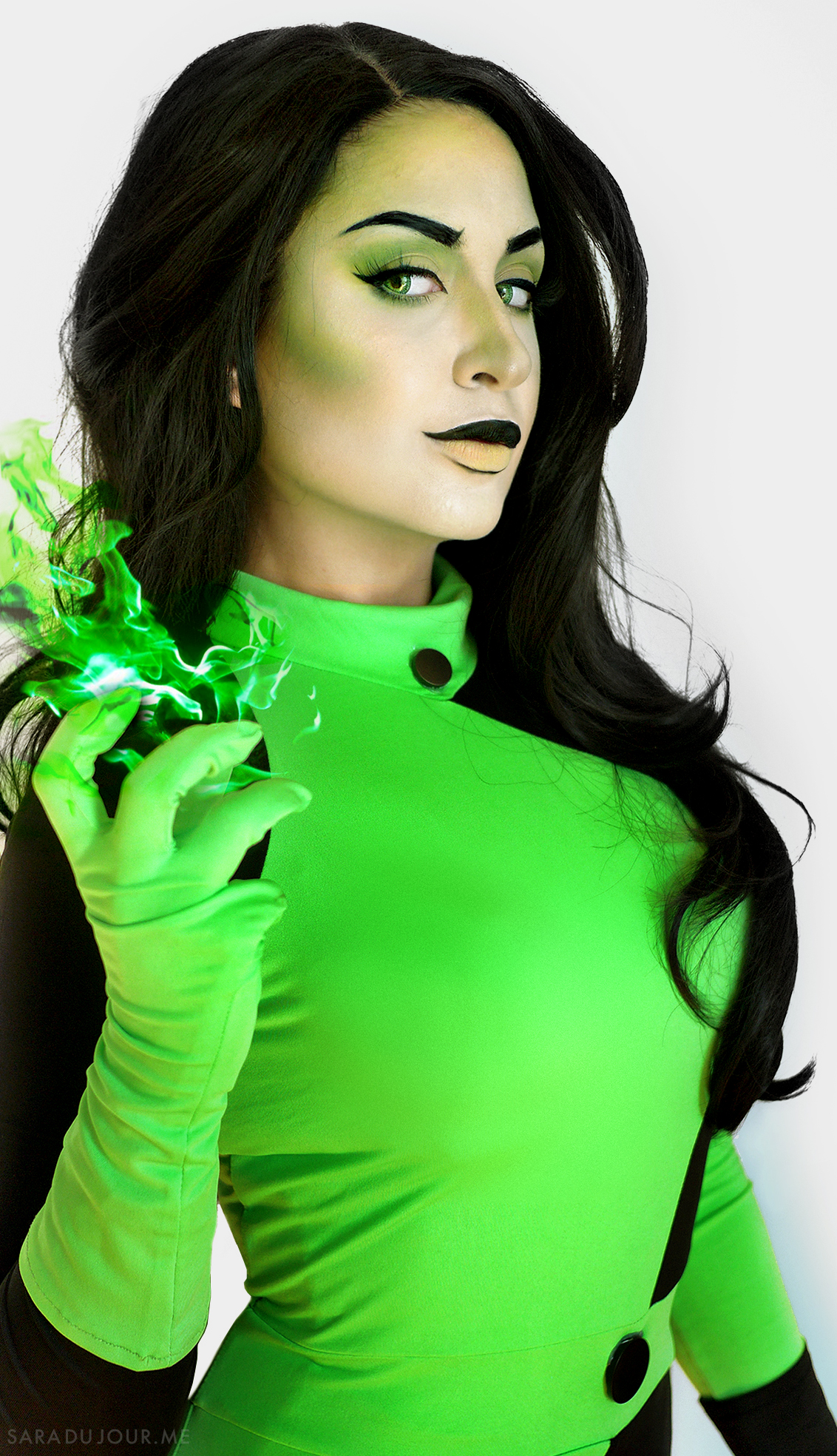 I blocked out my real brows with glue and concealer, and drew new, angular, angry-looking brows using black liquid eyeliner, with matte black shadow pressed on top to completely mattify them. I used the same black liquid liner to create a bold winged eye, sharpening up the inner corners of my eyes as well.
To create the Kim Possible signature lip shape, I filled in my top lip (and rounded out the cupid's bow) with black liquid liner. I concealed my bottom lip to hide its natural colour, then dabbed a touch of the light green matte shadow on top of that. Using the same black liquid liner, I drew a thin line along my lower lip, making sure not to connect it to the top lip.
I did Shego's lips with waterproof black liquid liner rather than black lipstick to ensure the colour wouldn't transfer to my bottom lip. It stayed in place for hours!
As a final step, I applied mascara and falsies to add some drama.

Shego makeup – products used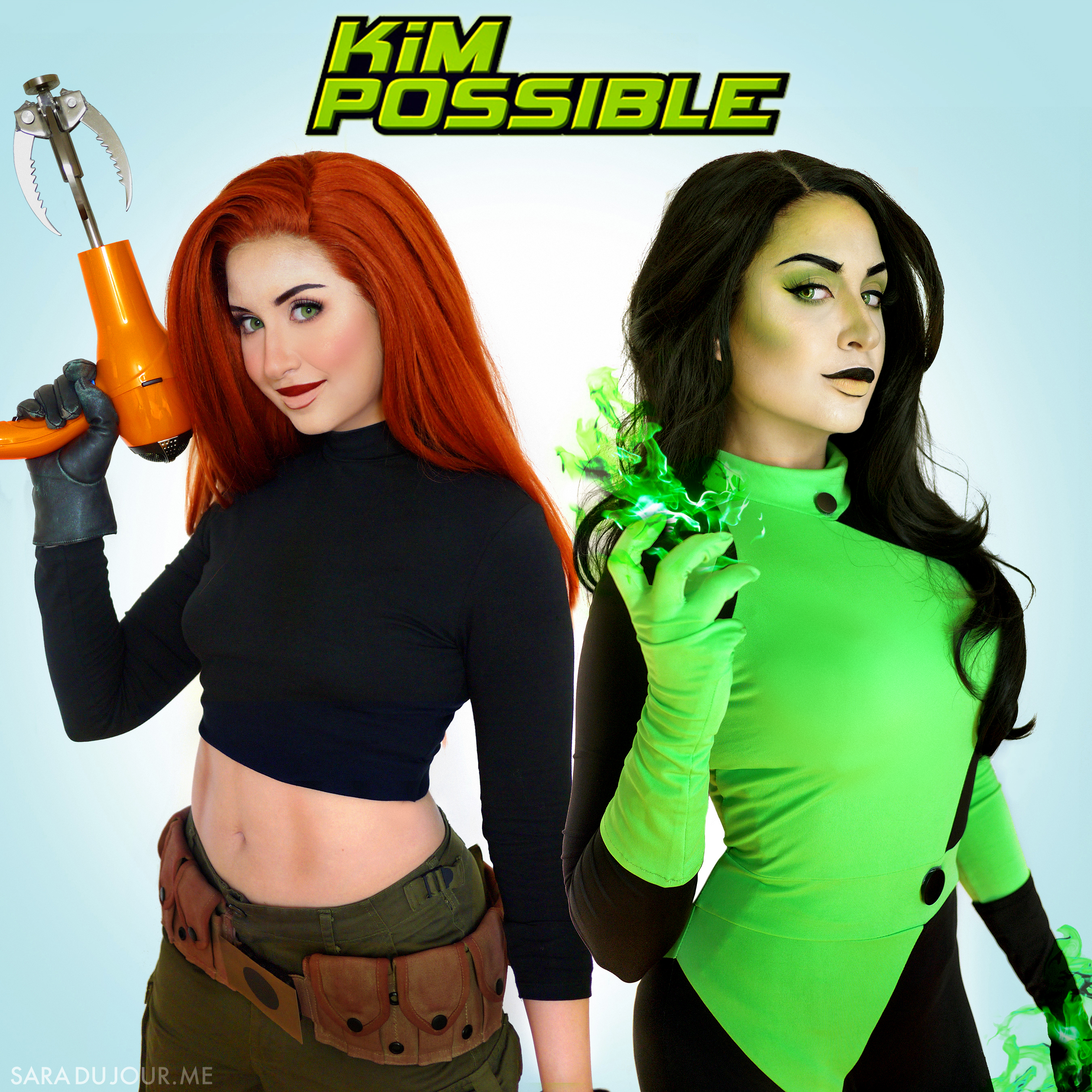 And that's it! I hope you enjoyed these Kim Possible and Shego cosplays.

If you're interested in going as Kim Possible or Shego next Halloween and want to buy any of these already-DIY'd items off me, shoot me a DM on instagram @saradujour. I'd be happy to pass them on to you for a big discount!
Thanks for reading,
– Sara
Stay updated with Facebook • Twitter / Instagram (@saradujour) • Pinterest