Cruella de Vil Cosplay Makeup + Costume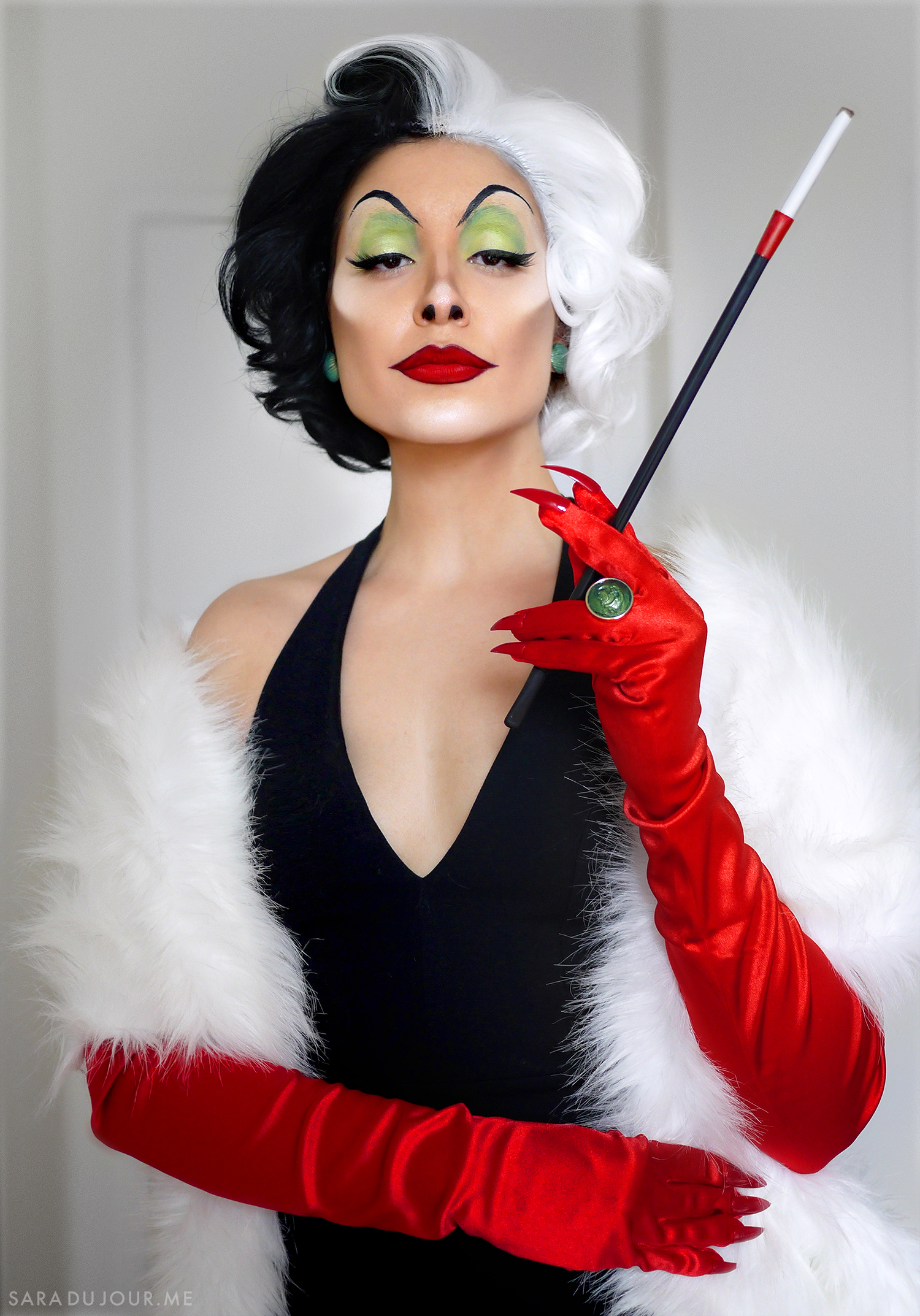 Cruella de Vil is one BAD BITCH. So of course I eventually did a Cruella de Vil cosplay and makeup transformation. Of all the Disney villains, Cruella is probably the most fabulous, with her big fur coat, slinky black dress, blood red lipstick, and elbow-length gloves. She's a fashion icon AND has hilariously insulting one-liners.
Once I had the whole Cruella outfit on, I definitely felt my inner bad bitch come out.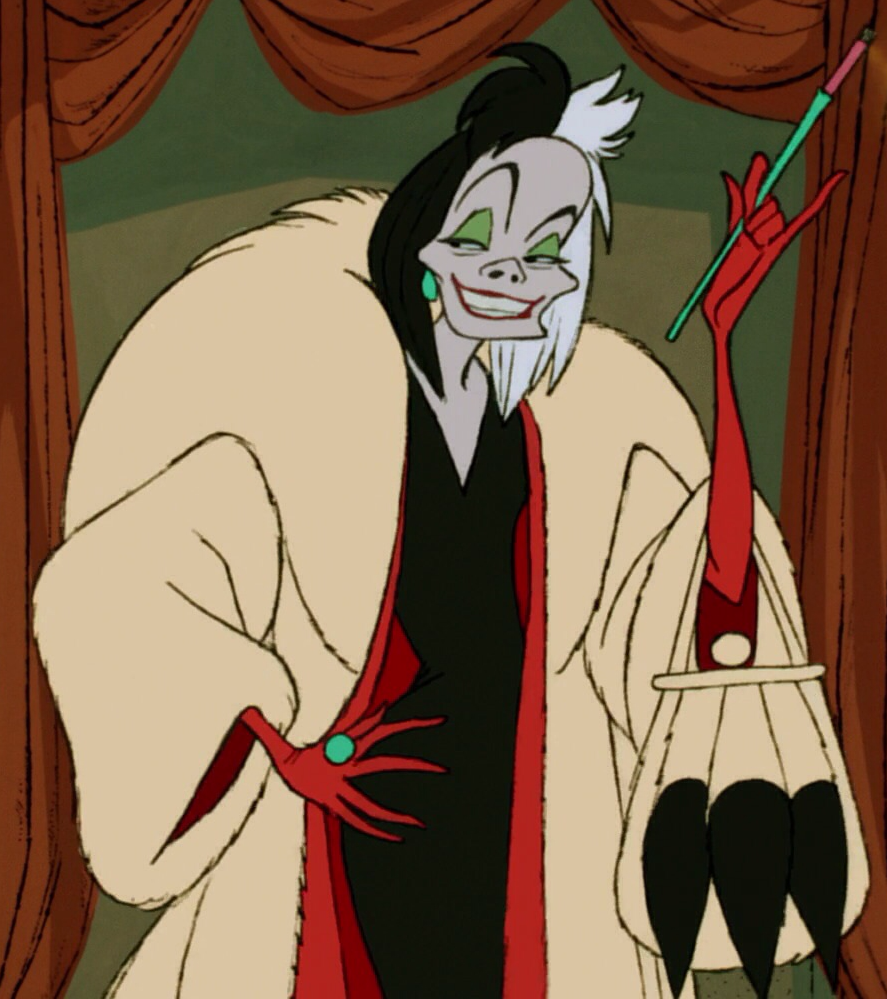 Glenn Close's take on Cruella de Vil is one of my favourite live-action versions of a Disney character ever – both in terms of casting/characterization and costuming. Every Cruella outfit was a treat to behold, and Glenn Close absolutely nailed Cruella's maniacal laugh.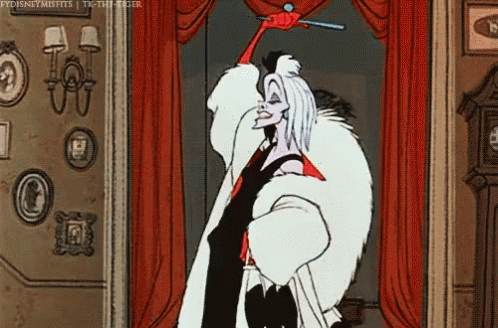 I'm…nervous about the upcoming Cruella de Vil movie starring Emma Stone as a young Cruella, but we'll see. I'd much rather have a Maleficent-style retelling of the story starring Cate Blanchett as Cruella. (Think of the cheekbones! The performance we could have had! But alas, I'm still not a Disney exec – much to my bewilderment.)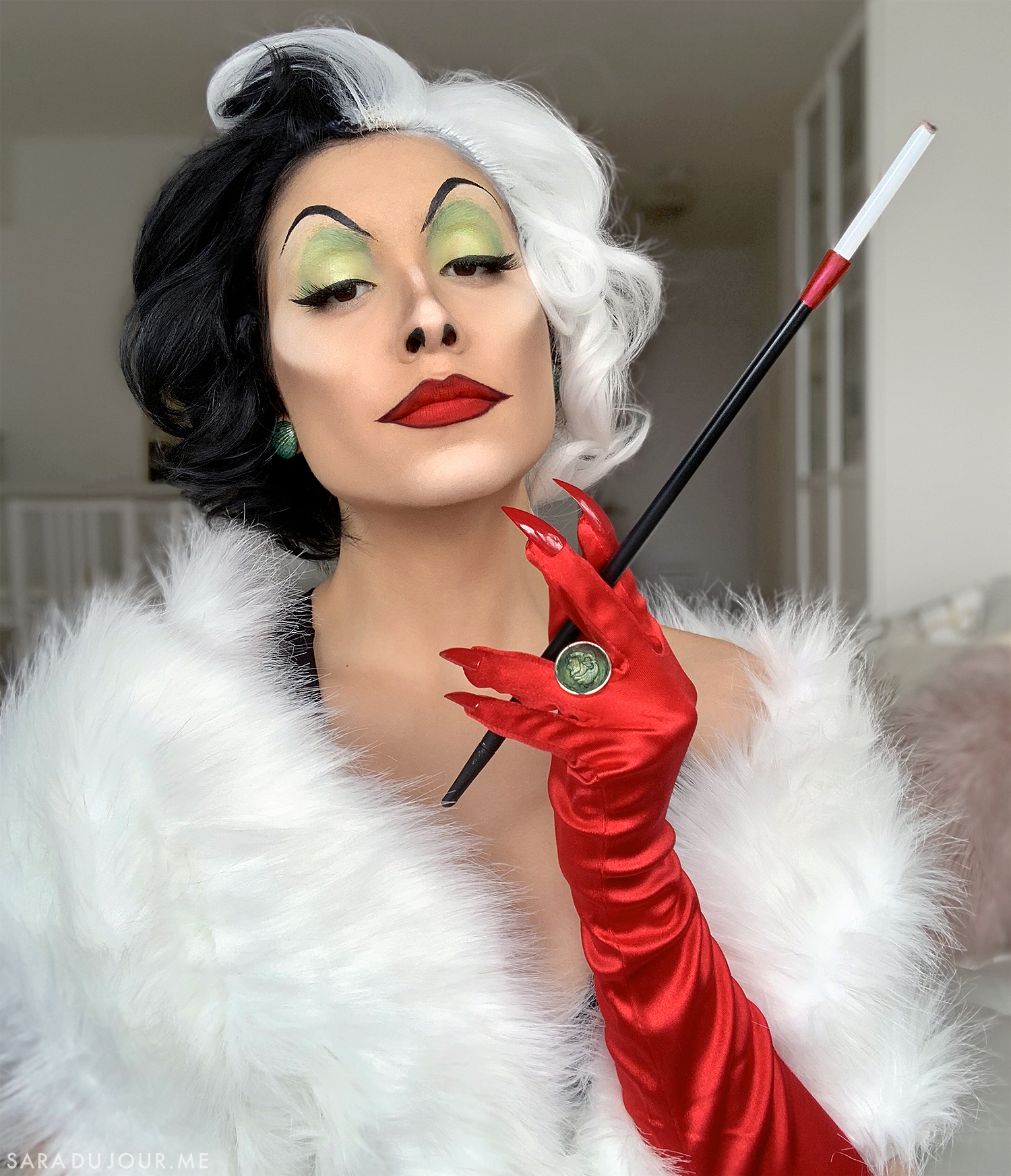 Cruella de Vil's character also provides fascinating insight into the attitude of the times, and how unmarried, career-driven women were regarded by society in 1961 – and again in 1996 with the live-action 101 Dalmatians movie – but that's a hot take for another day.
I chose to cosplay the animated version of Cruella de Vil, with a nod to the live-action version by incorporating Glenn Close's red gloves with nails attached.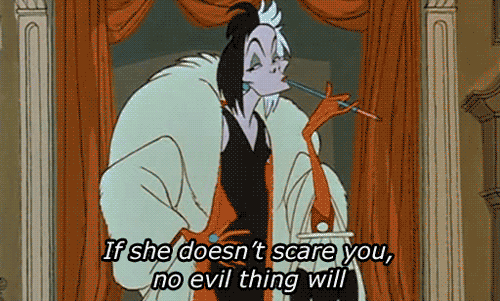 The only major deviation from the animated version I made was the hair. I'm sorry, but a woman as fabulous and stylish as Cruella would not have had a messy mullet. She just wouldn't. So I went my own way on that, and styled in it a manner befitting a 1961 fashion icon. It's a bit Elizabeth Taylor meets Marilyn Monroe, with a Cruella twist.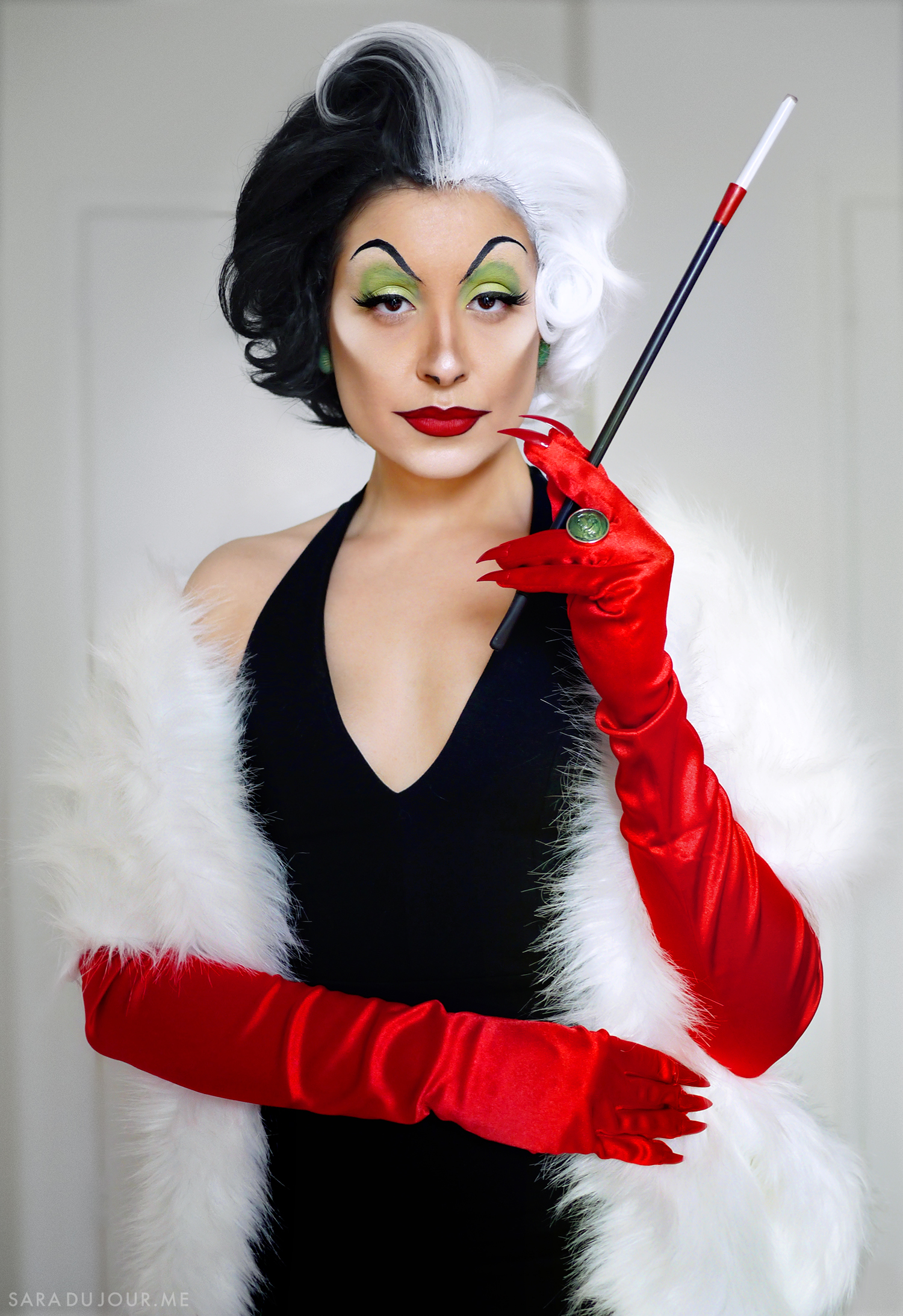 Cruella de Vil costume/cosplay
What you'll need:
Optional props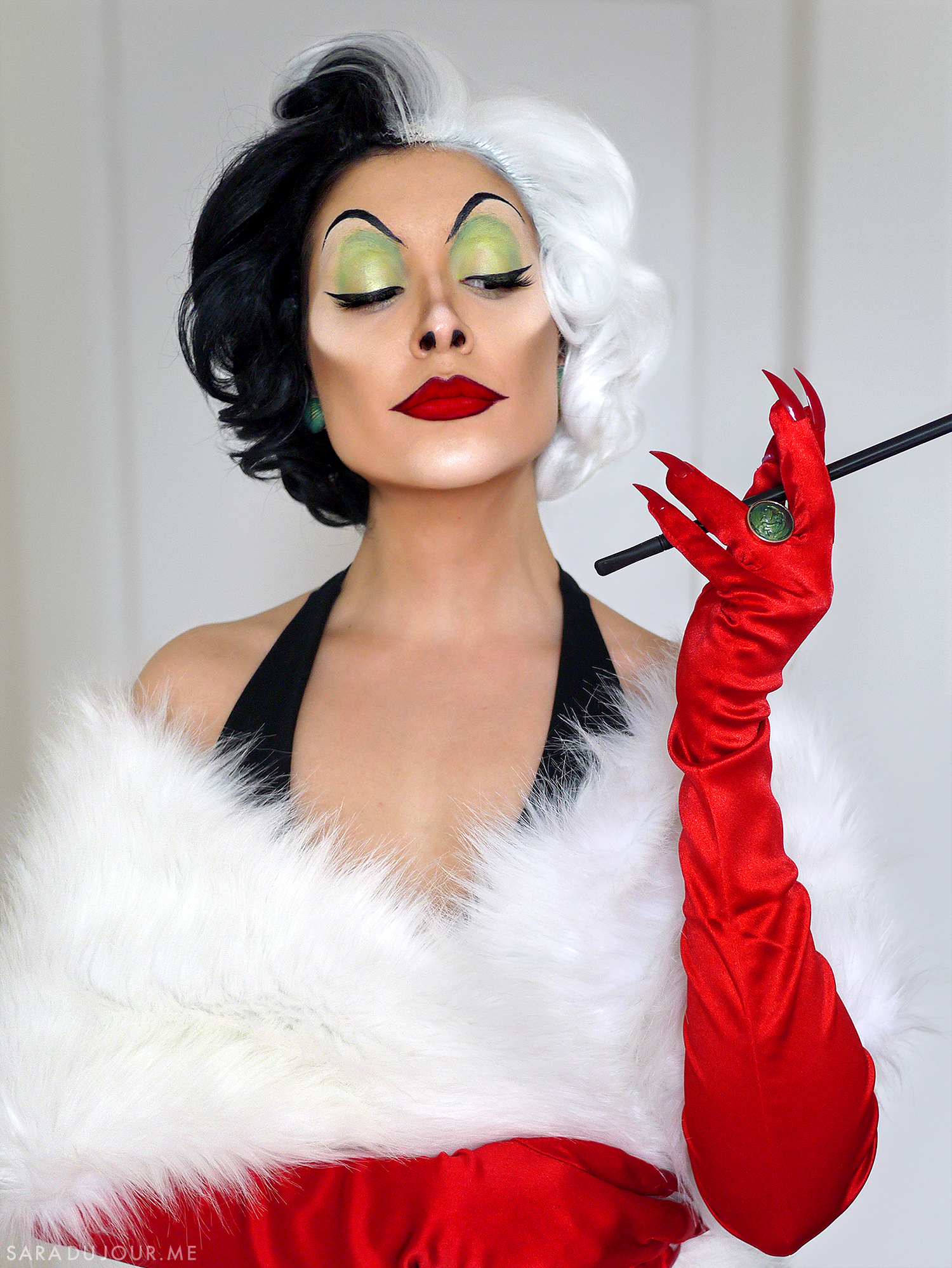 Onto the Cruella de Vil cosplay makeup. Recreating Cruella's extreme facial features required a lot of clever highlighting contouring. Plus, one of Cruella's most distinct features is her upturned nose. In order to create this illusion on my natural nose, I extended my nostrils using liquid eyeliner (yes, I had to apply it inside my nose) and then contoured and highlighted my nose tip too make it appear upturned.
As with any of my extreme makeup transformations, I used the drag makeup technique of gluing down my brows first and concealing them, so that I could extend my eyelid upwards and draw dramatic, new arched brows.
If you're interested in seeing all the makeup steps I did, a video of my entire Cruella makeup transformation is below.
1.5 hour Cruella de Vil makeup transformation in 1 minute:

Cruella de Vil cosplay makeup
Products used: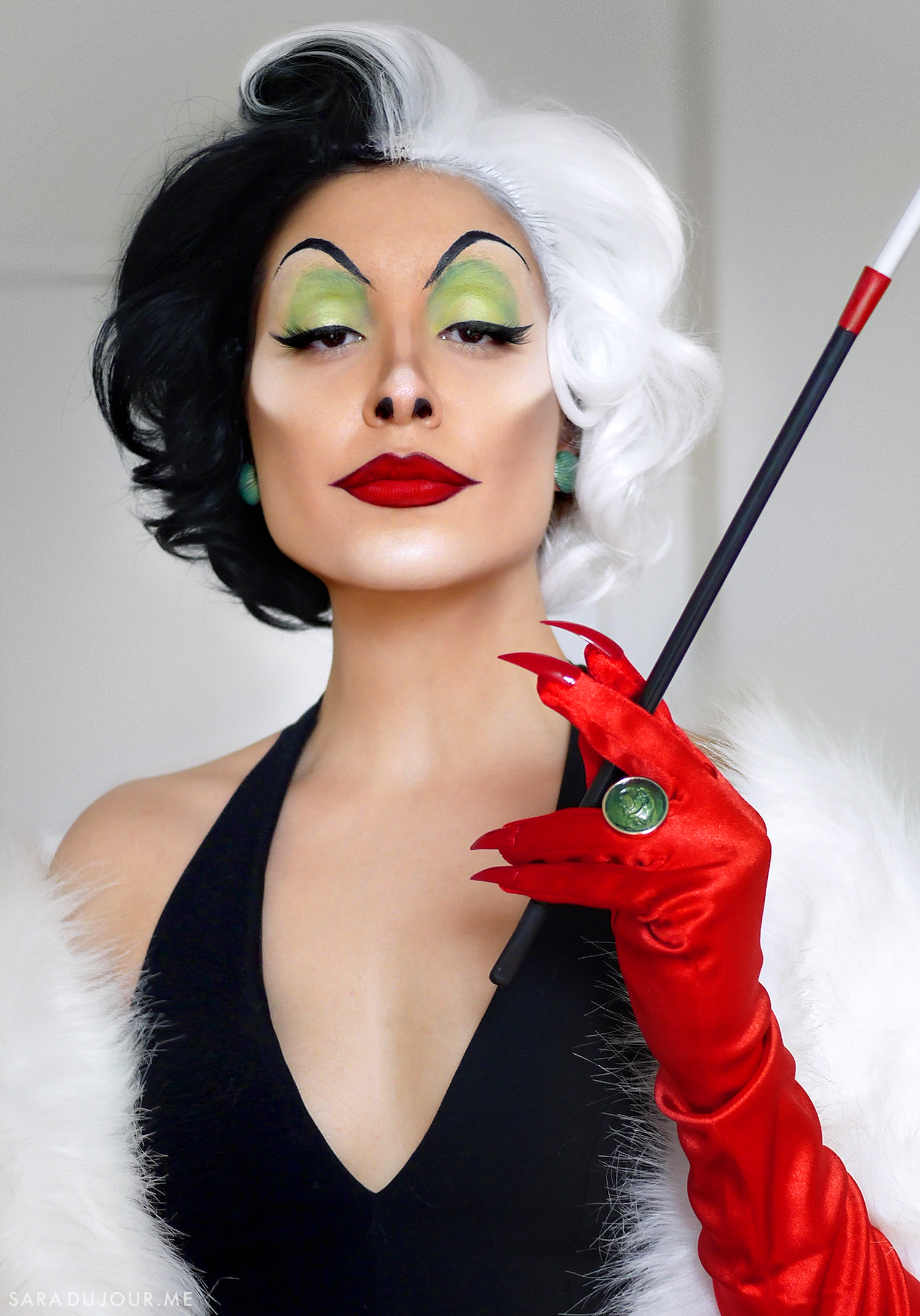 Now let's talk about the hair. I didn't want to splurge on a fancy, lace-front Cruella wig, because I can't exactly get multiple cosplay uses out of a half black, half white wig. So I found a cheap hardfront wig on Amazon, and did my best to customize it to make it look the way I needed.
Cruella de Vil cosplay wig
On the left is the black and white wig pretty much straight out of the package. It had good volume but was otherwise…rough.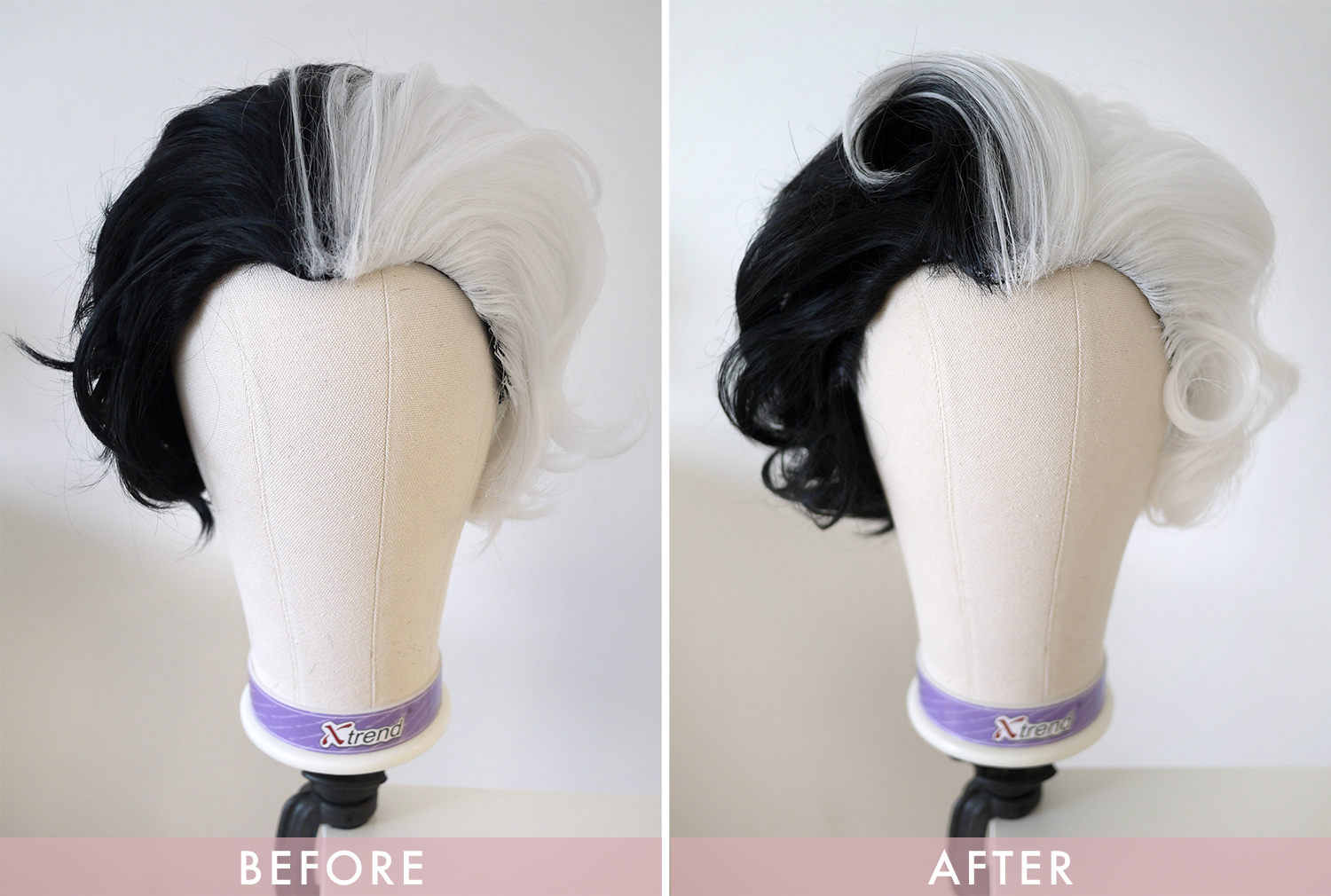 I started by painting the edge of the black wig cap that was visible white, instead of black (on the white half), to make the edge a bit more subtle. Then I cut a few sections of both black and white hair, from the nape of the neck (that were long and unnecessary), and hot glued them to the edges surrounding the face, above the ears. These sections helped blend the hard edge of the wig further.
I cut some pieces of hair from the forehead section of the wig and glued them down just a few millimetres lower, to give the illusion of a lace-front. Then I styled the hair how I wanted by teasing and arranging the curls, and sprayed it with a HUGE amount of hair spray to stay put.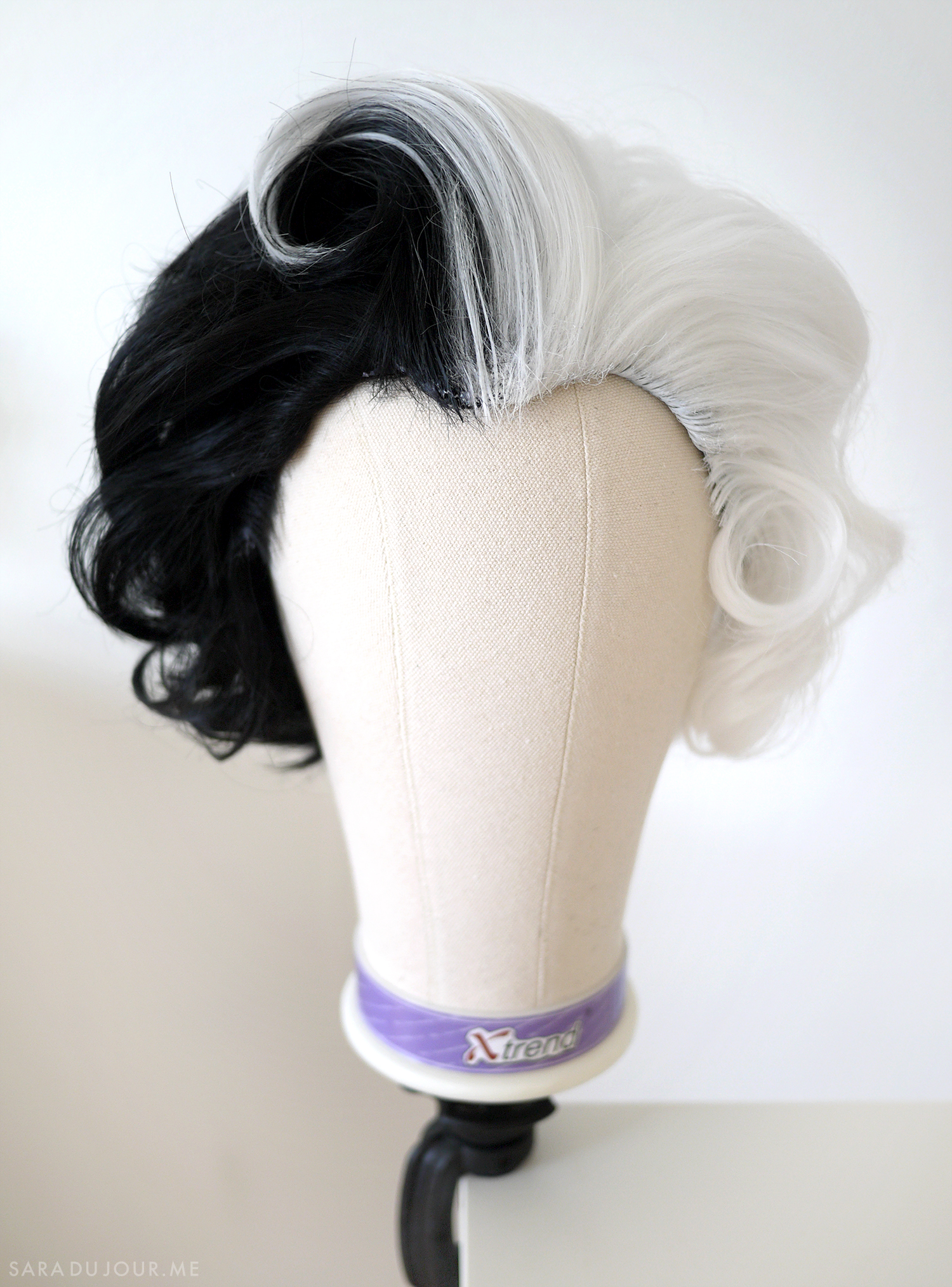 While it's no lace-front wig, I'm pretty happy with how it turned out. I further helped it blend by letting some of my natural baby hairs show through and soften the wig's hard edge.
Cruella de Vil gloves and DIY accessories:
If you want to cosplay Cruella you could very easily just buy the red gloves and call it a day. But if you want to be extra like me, here's what to do.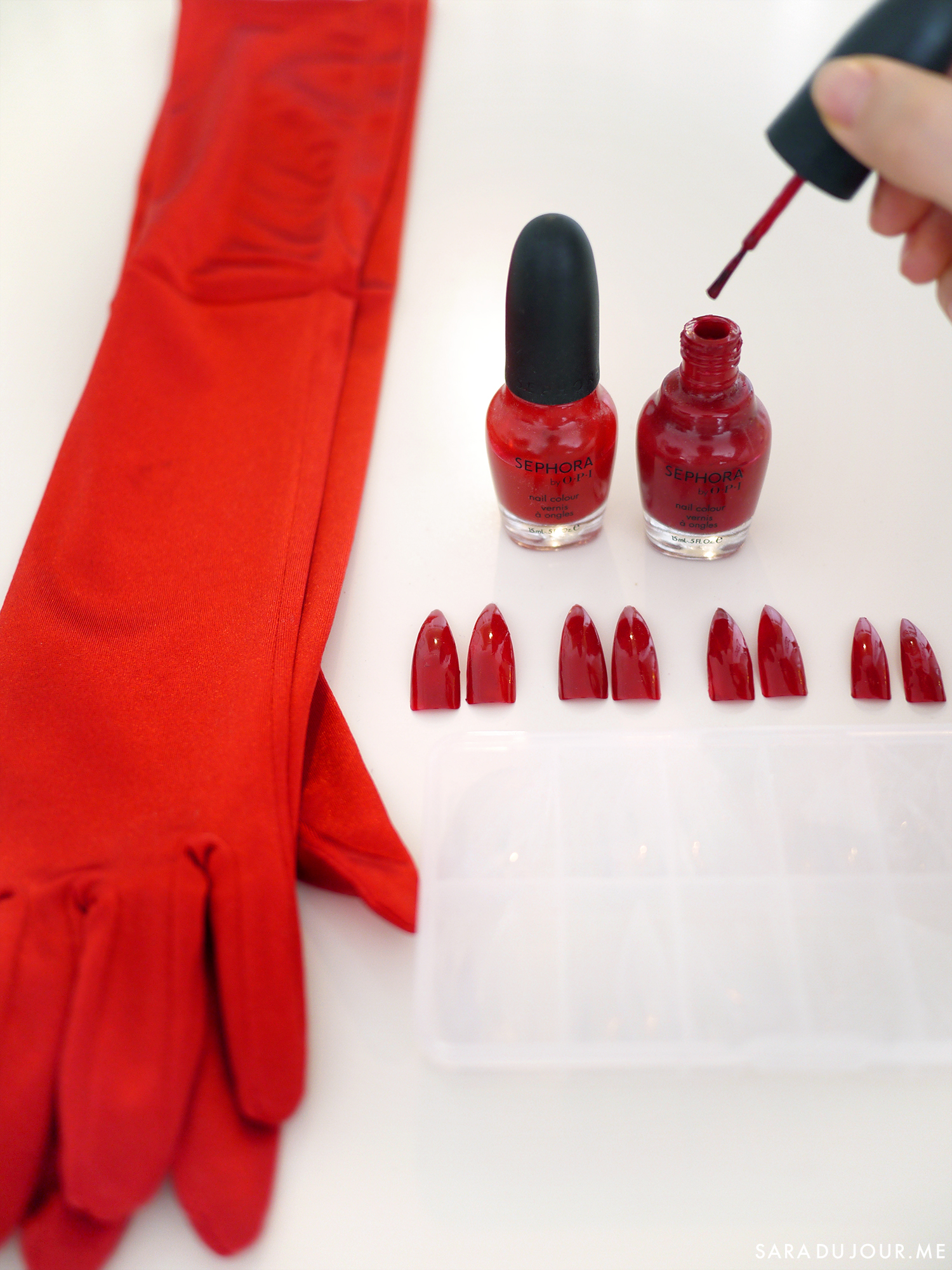 I started by painting the clear acrylic stiletto nails red. I chose this nail shape because I wanted the hands to resemble her thin, spindly fingers in the animation. I had to combine two different shades of red to get the shade I wanted – I have to do the absolute MOST at all times, you see.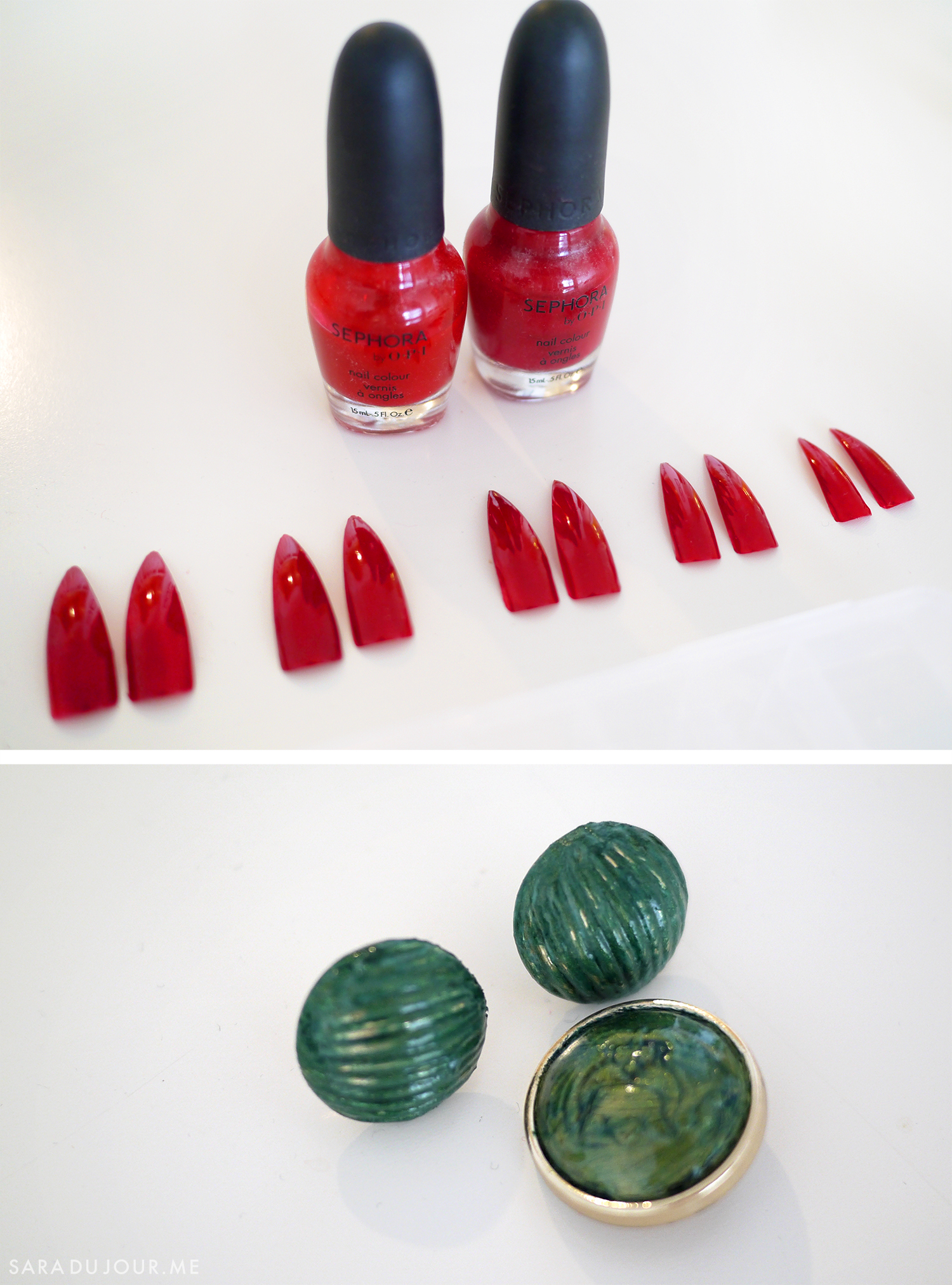 I also used nail polish to paint over some big gold earrings I had laying around from a set I bought from Forever 21 ages ago. To create the emerald shade Cruella wears, I combined 3 nail polishes: a deep green, a gold, and an opaque pastel mint. I used this same combination to paint over a gold spare button I had, to create Cruella's "ring". Once that dried, I applied a clear topcoat to add shine.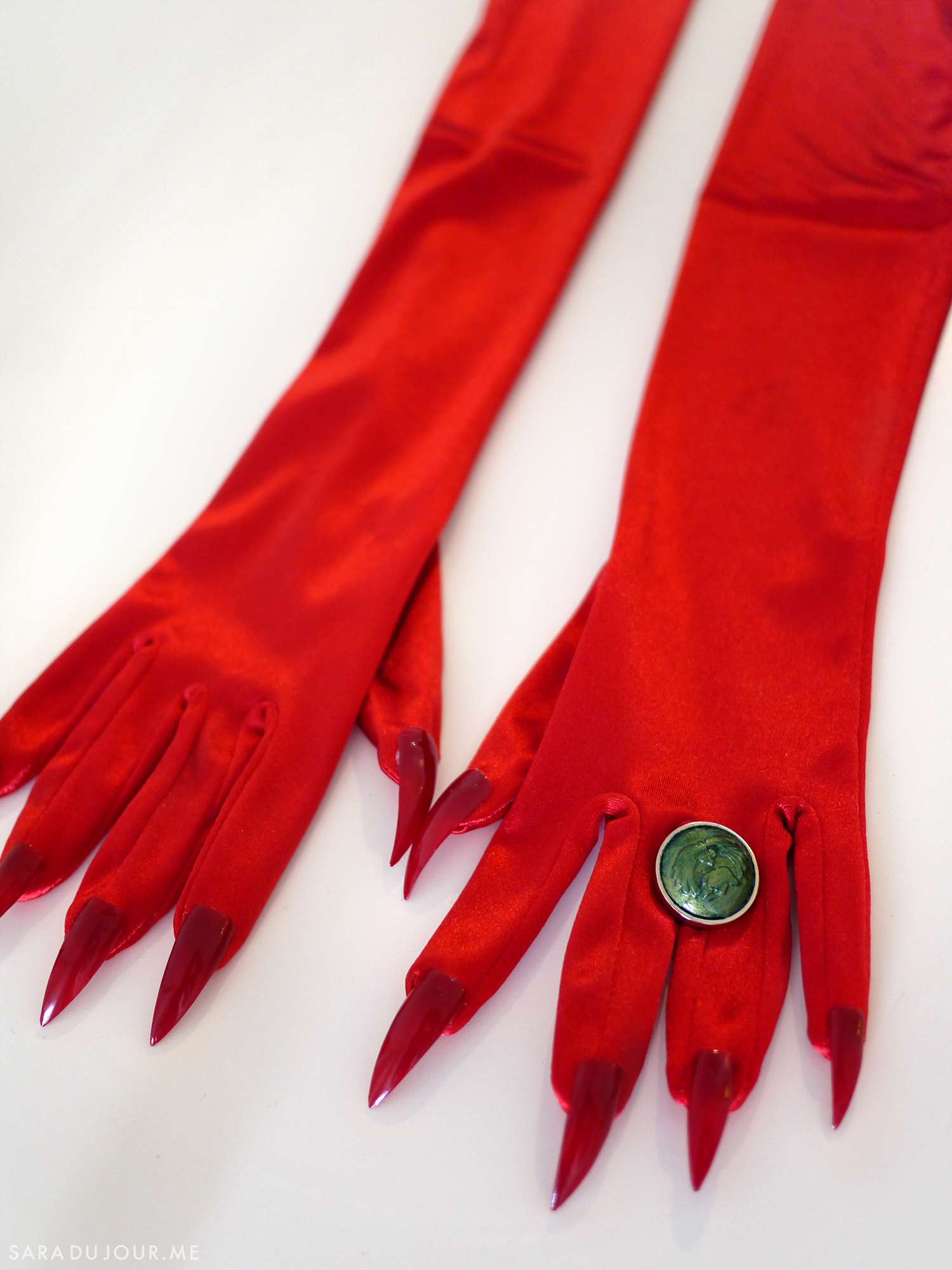 Then I had to glue the nails onto the gloves. This was tricky, because to ensure the nails were positioned in exactly the right places, I had to hot glue them to the glove with my fingers inside the glove. Perhaps there's a better (safer) way to do this, but I don't know it. I applied the glue to the bottom of each nail, attached the nail to the glove, and as soon as it was in the right place, pulled my finger out to prevent myself from getting (more) burned.
As the final touch, I hot glued the button "ring" onto the glove as well.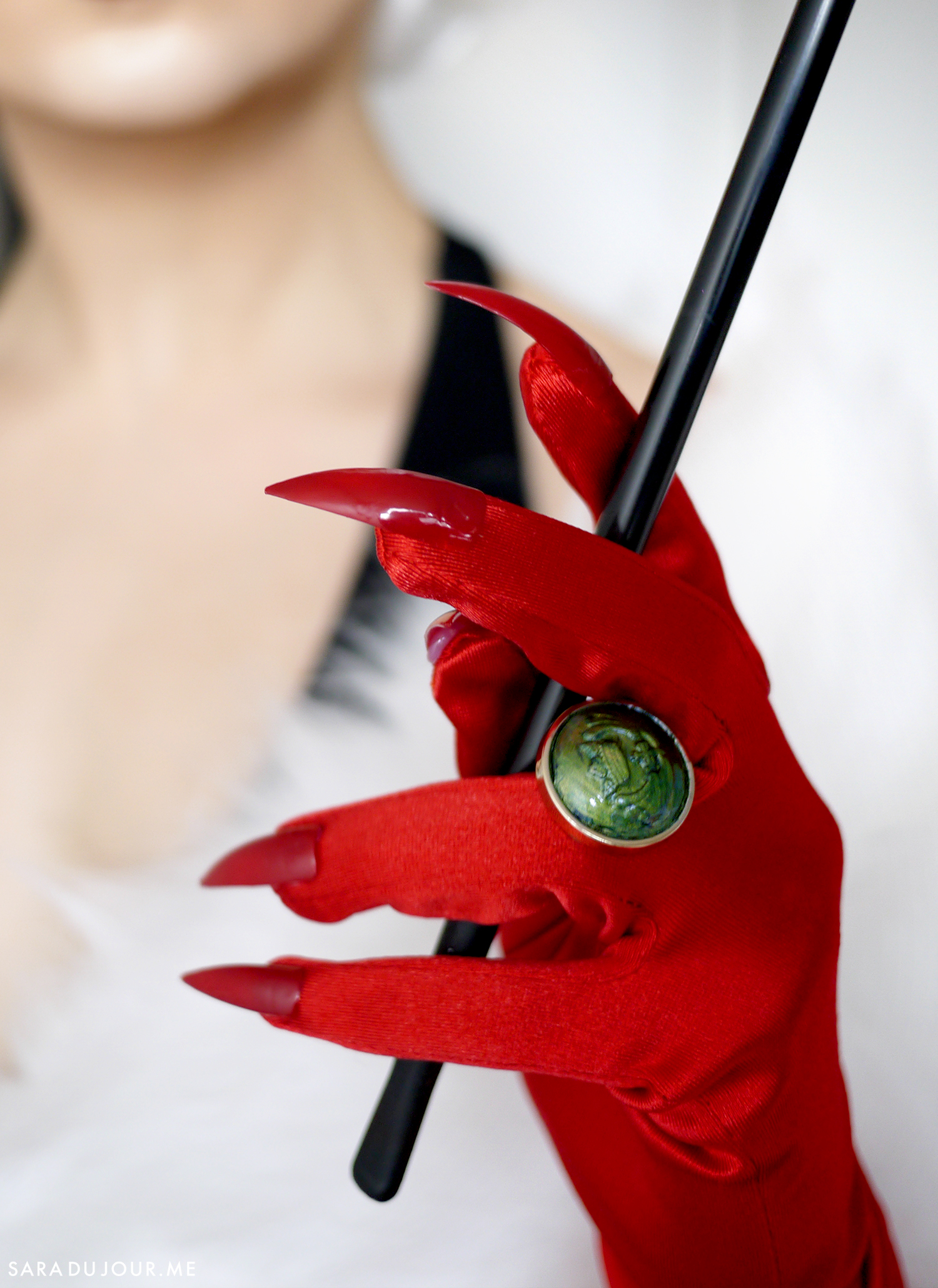 And that's that! The whole Cruella cosplay came together. I was happy about how much of this costume I was able to create with things I already had. I only had to buy the wig, gloves, and nails for this one.
So, whaddaya think? Am I ready to go hunting for spots? (Just kidding, this is a cruelty-free Cruella.)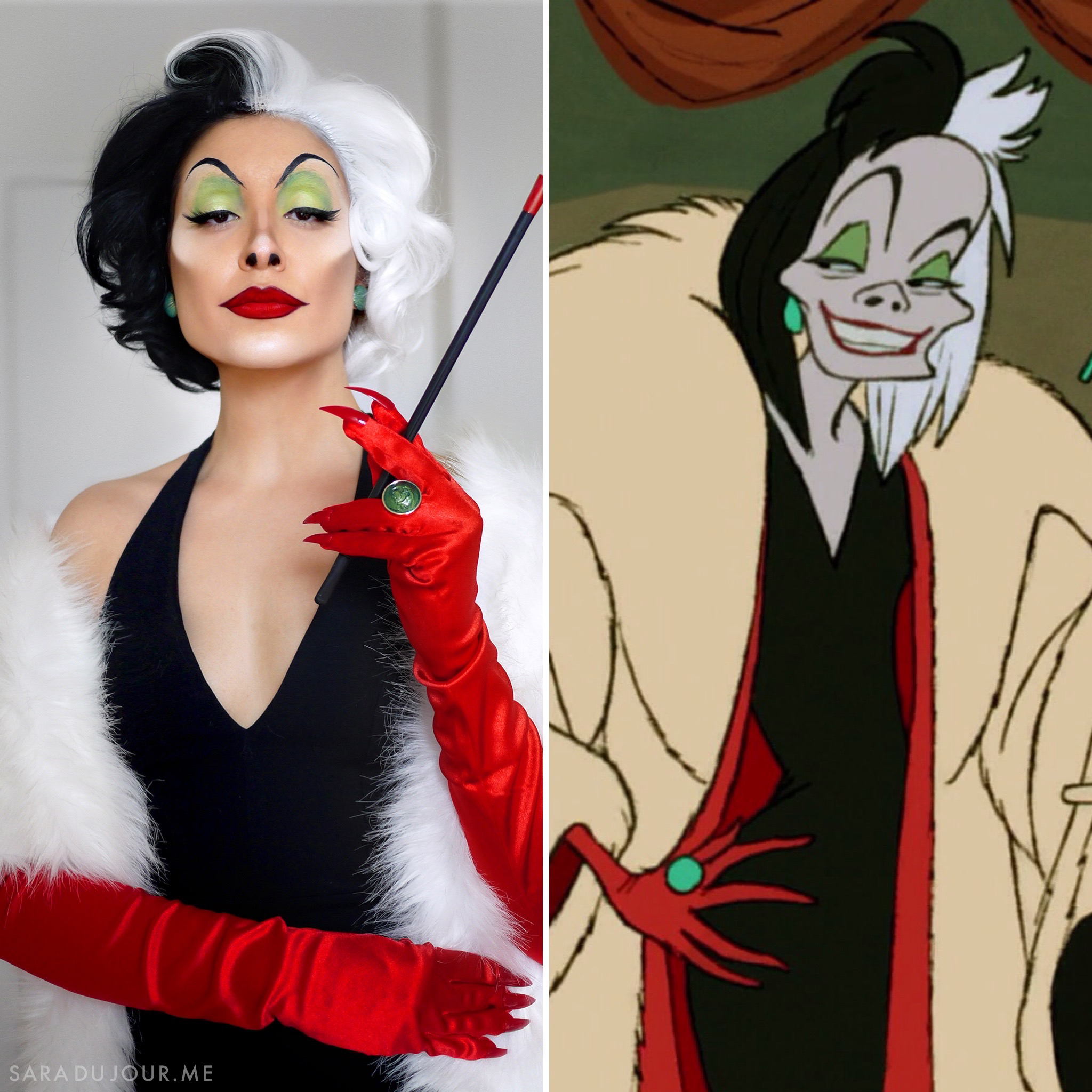 Thanks for reading,
– Sara
Stay updated with Facebook • Twitter / Instagram (@saradujour) • Pinterest