Kate Spade and Indigo Holiday Haul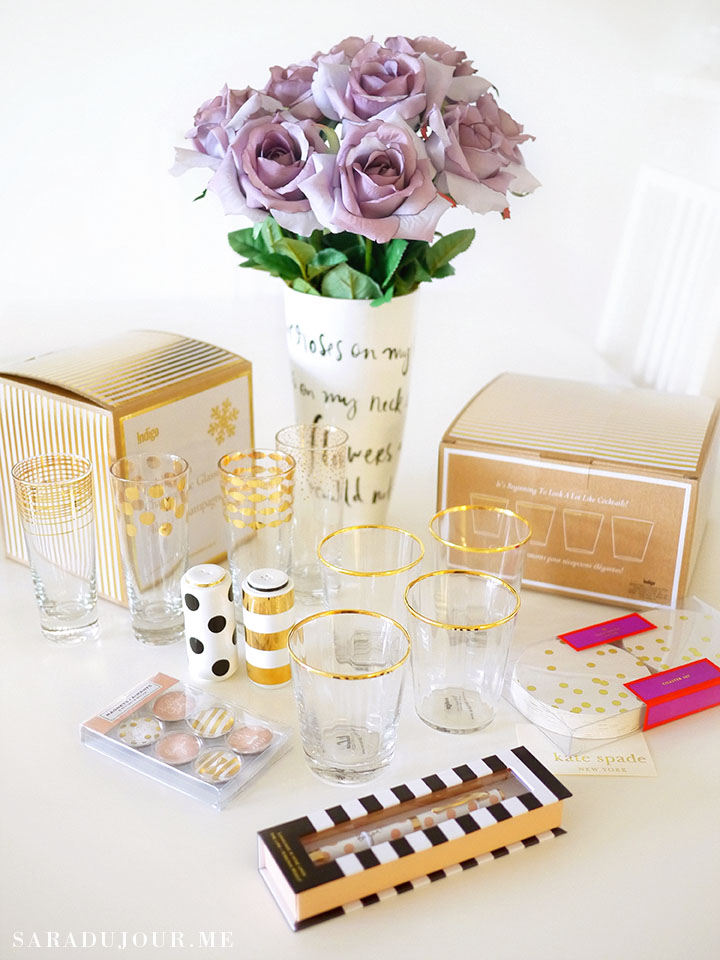 I did warn you guys that there was another Kate Spade and Indigo haul coming – and this one's a big one. At this point, my love affair with all things gold, polka dotted, Kate Spade, or Chapters Indigo is news to nobody, and as luck would have it, Chapters Indigo released a holiday collection that is a collision of all those things. It might as well have been designed for me!
I had seen photos from the Chapters Indigo holiday preview a few months ago, so I knew what was coming. I maniacally checked the Indigo website daily, in anticipation of the collection's release. I was afraid they'd sell out immediately, so as soon as I saw the goodies stocked on their site, I pounced.
Want to see what I bought? Keep reading.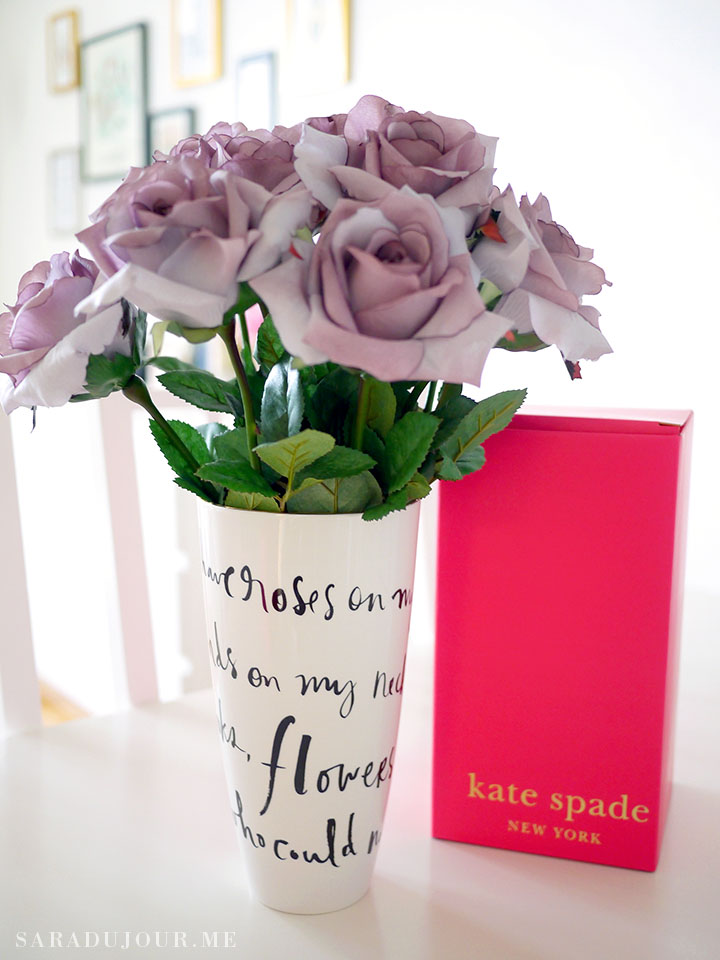 First up, I finally got my hands on the Kate Spade Daisy Place vase, which I'd been wanting desperately since I first spotted it many months ago on their website. It's white with gold rim and features quotes by Emma Goldman and Oscar Wilde winding around it. It reads, "I'd rather have roses on my table than diamonds on my neck" and, "With freedom, books, flowers, and the moon, who could not be happy?"
I actually tried to order it ages ago from the Kate Spade site, but for whatever reason, they wouldn't ship it to Canada. Boo! (An experience we Canadians know all too well, unfortunately.)
I had just about given up hope of ever calling it my own, so you can imagine how thrilled I was to see it pop up on the Chapters Indigo site. I practically turned into a seagull from Finding Nemo. "Mine! Mine! Mine! Mine! Mine!"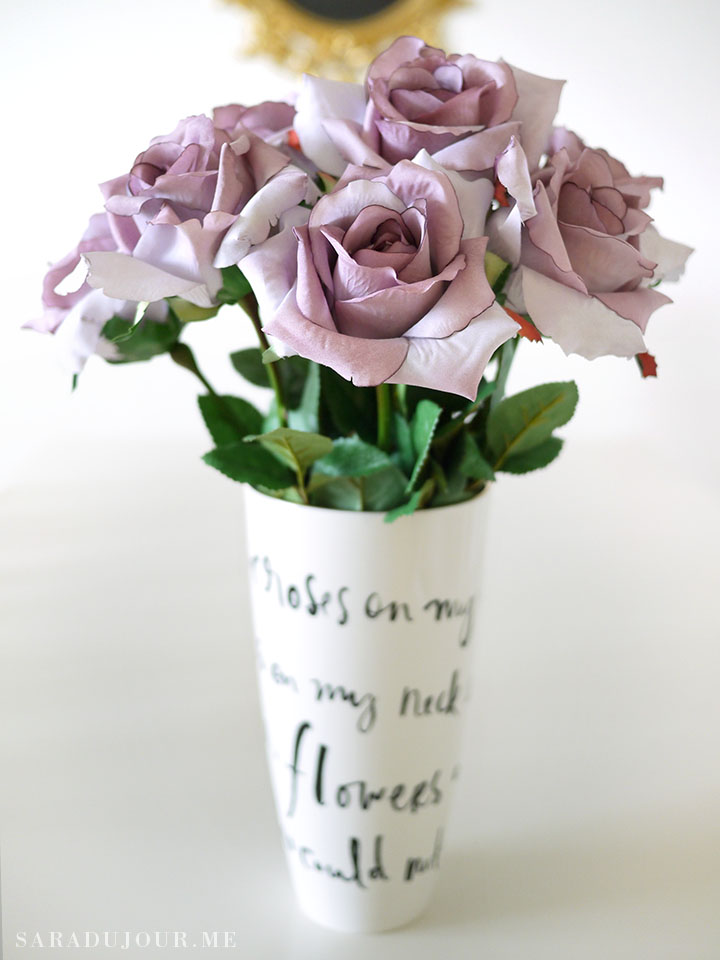 I keep the vase filled with lavender silk roses on my bedroom window sill, which you might have spotted on my Instagram.
Now let's jump into the rest of the loot, which is mostly comprised of gold glassware and other dining or entertaining-related goodies.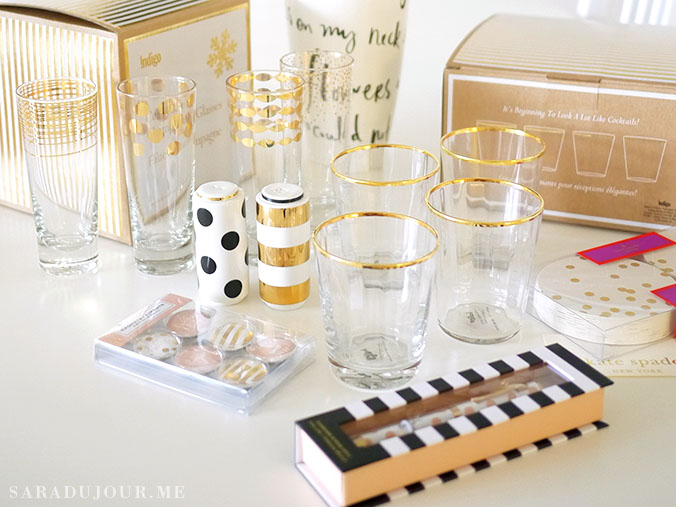 – Gold Gilded Rim Lowball Glasses (Set of 4) X 2
– Gold Celebration Champagne Glasses, Assorted (Set of 4)
– Kate Spade Fairmont Park Dot + Stripe Salt and Pepper Shakers
– Kate Spade Gold Dot Coasters
– Pink, Gold, and White Assorted Magnets (Set of 6)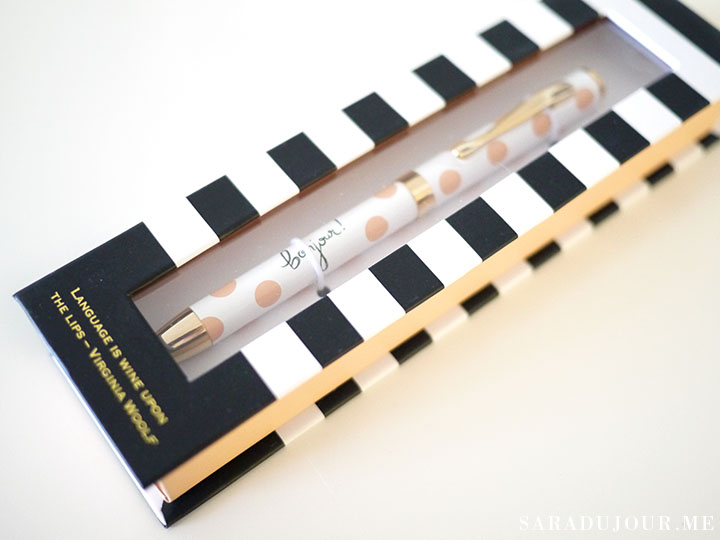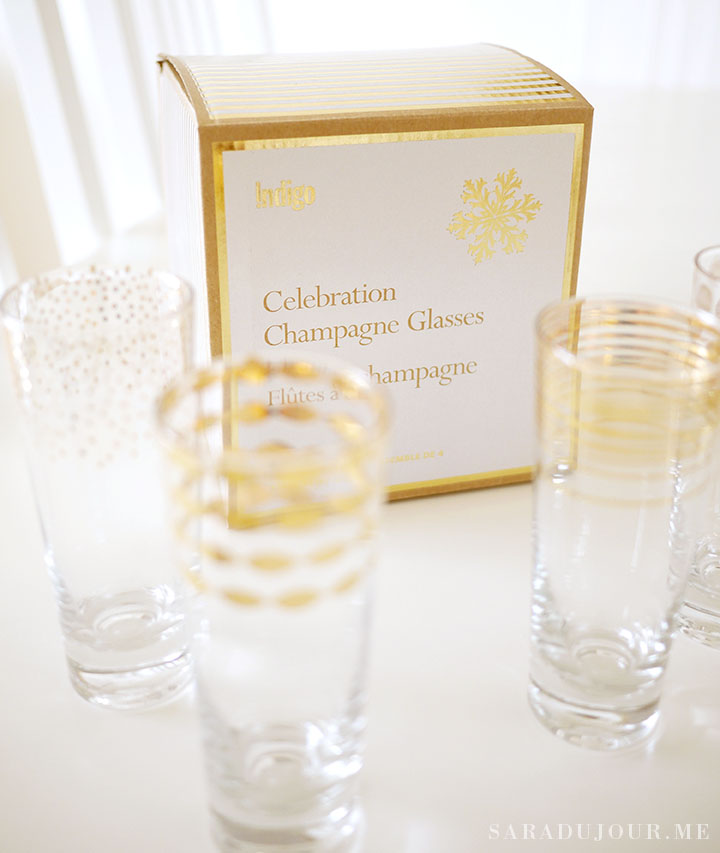 This set of four patterned champagne glasses was too beautiful to resist. I do wish they came in full-size drinking glasses instead, but I'll take what I can get!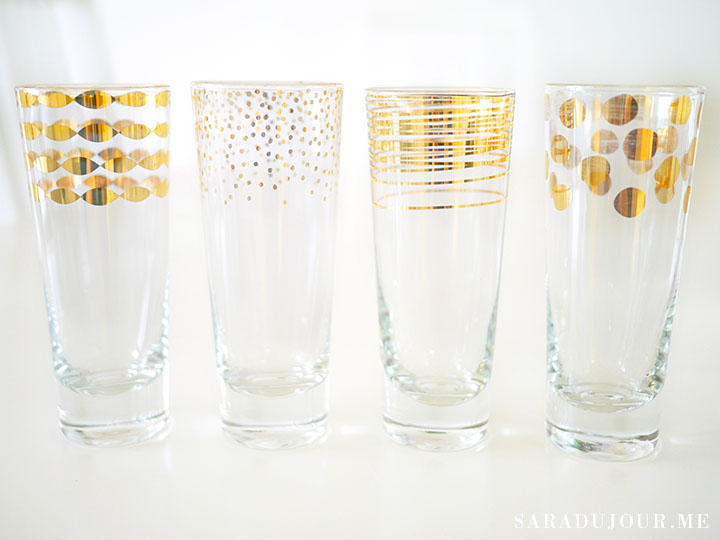 Since each glass features a different retro-inspired pattern, they're great for parties, because each of your guests can easily keep track of which glass is theirs. This set also comes in platinum, in case you prefer that. (As for me, I'm all gold everything.)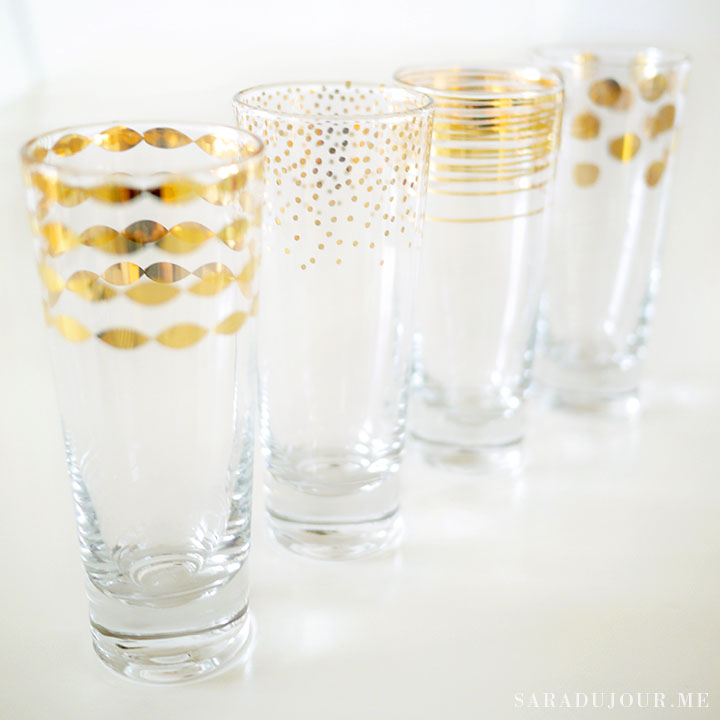 Each glass is 5″ tall and holds 6 oz. of bubbly.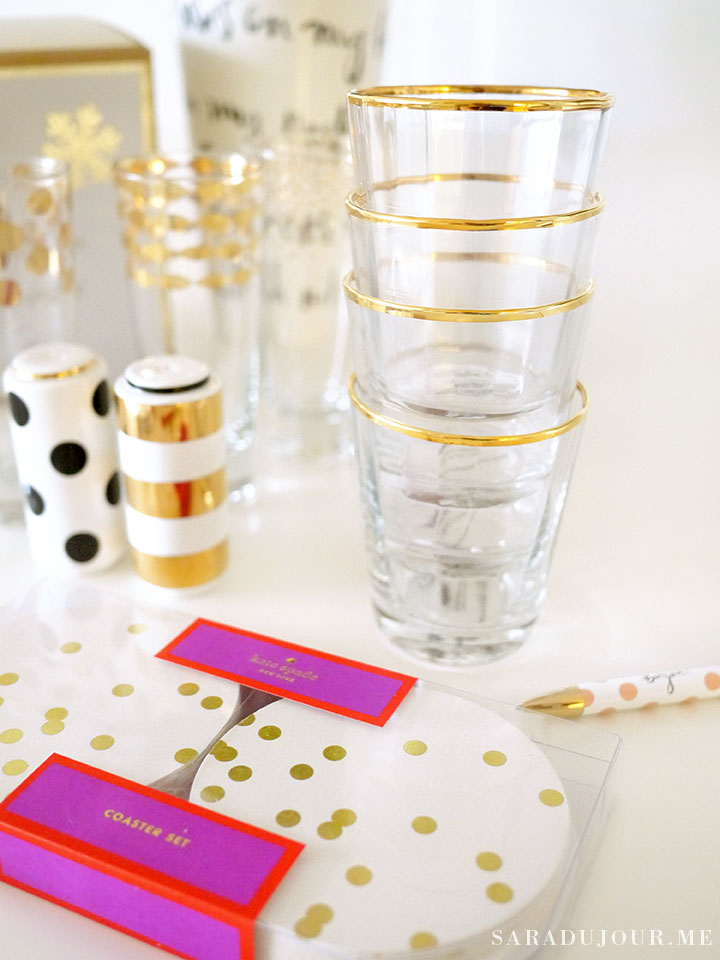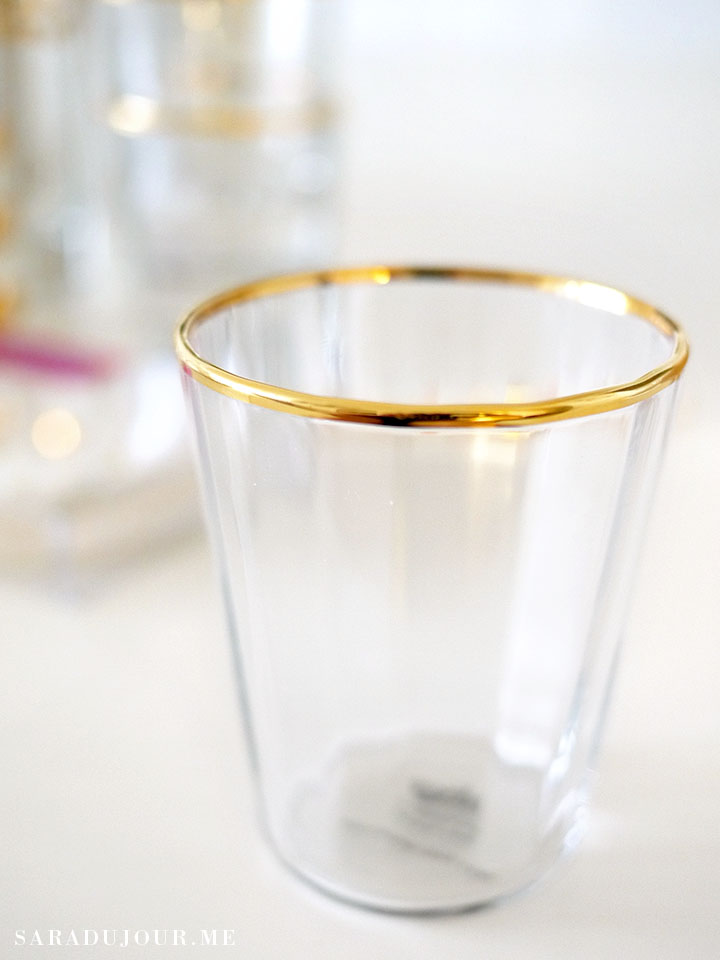 These gold rim lowball glasses are perfect for serving holiday-inspired cocktails, or even just enjoying a really fancy glass of orange juice in the morning. They're simple but provide just a touch of elegance to any dinner party or special occasion.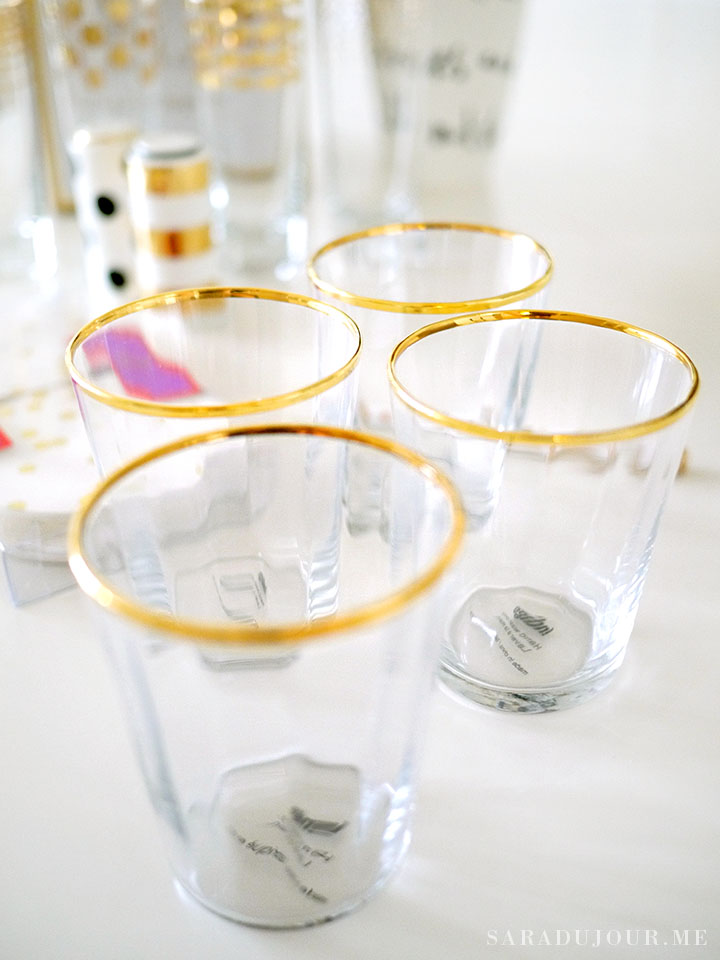 They are available in gold and platinum rim, and hold 7.7 oz. each. (The text on the base is a removable sticker, don't worry!) I used these to serve gin & tonics at my recent Halloween cocktail party.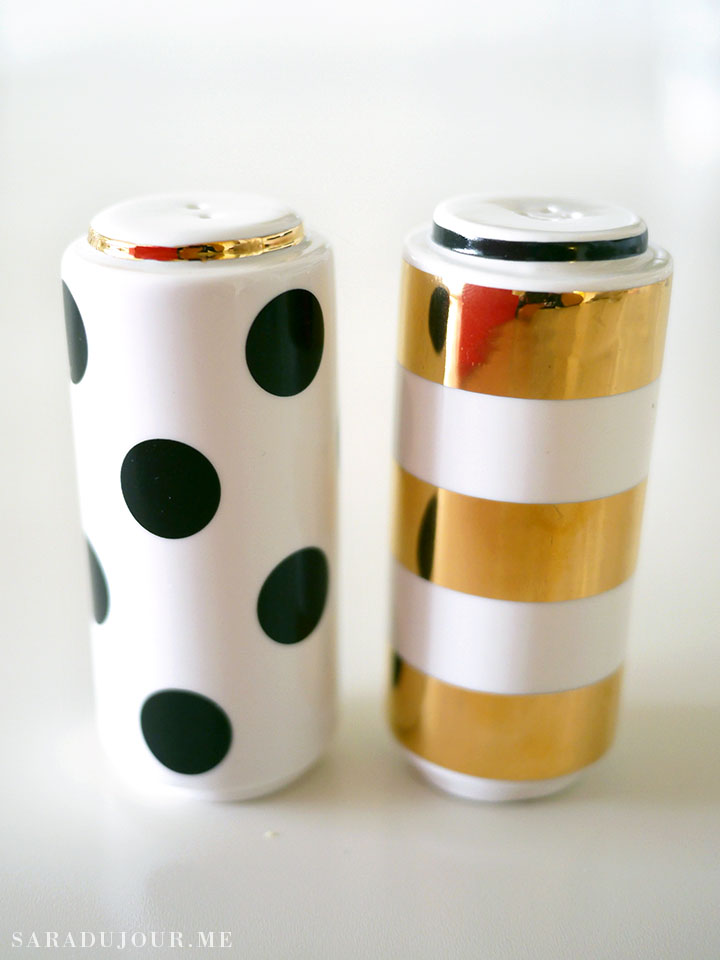 My apartment has been in dire need of salt and pepper shakers since I moved in at the end of January. Since salt and pepper shakers aren't something you replace frequently, I was holding off on buying them until I found I set that I really adored. And I did! These Kate Spade Fairmont Park gold stripe and black polka dot shakers could not be more up my alley.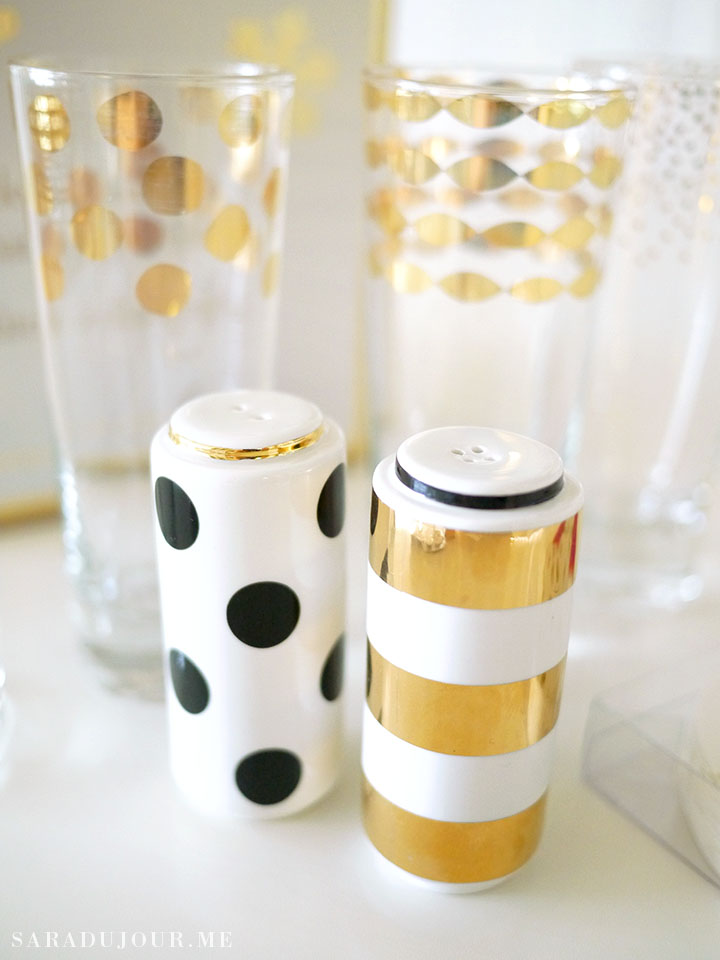 Now I'm going to purposely under-season my food, just so I can whip these out! (I'm kidding. Maybe.)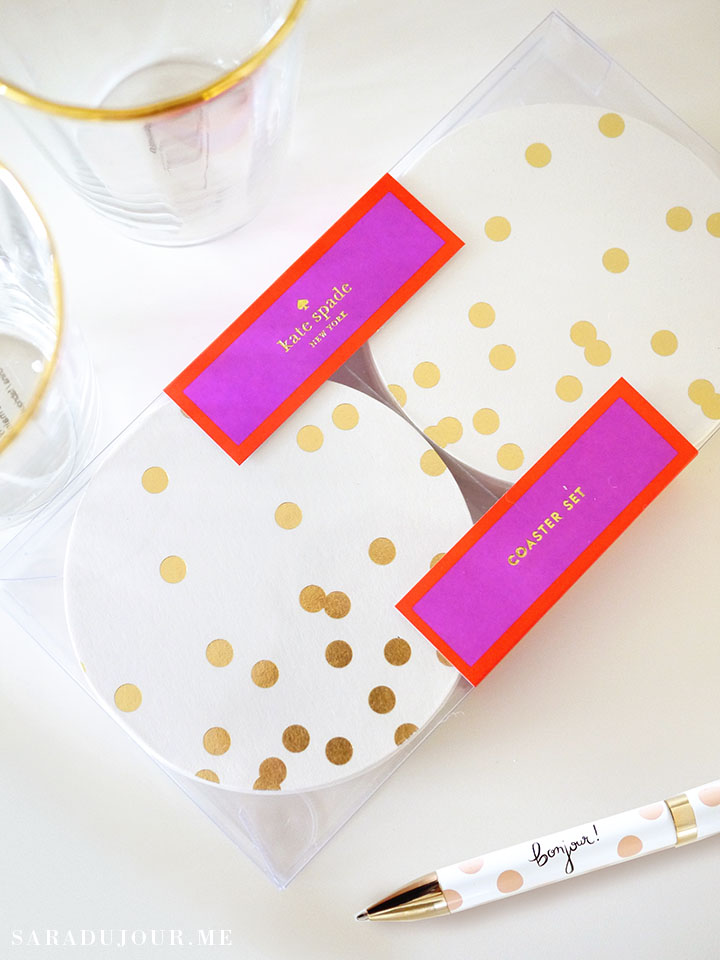 I bought these Kate Spade gold dot coasters before – you may have seen them in my Dinner Party post – but since they get used up and I love them so much, I bought a back-up set for when I run out. They're just so cute! (I told you I'm obsessed with gold polka dots.)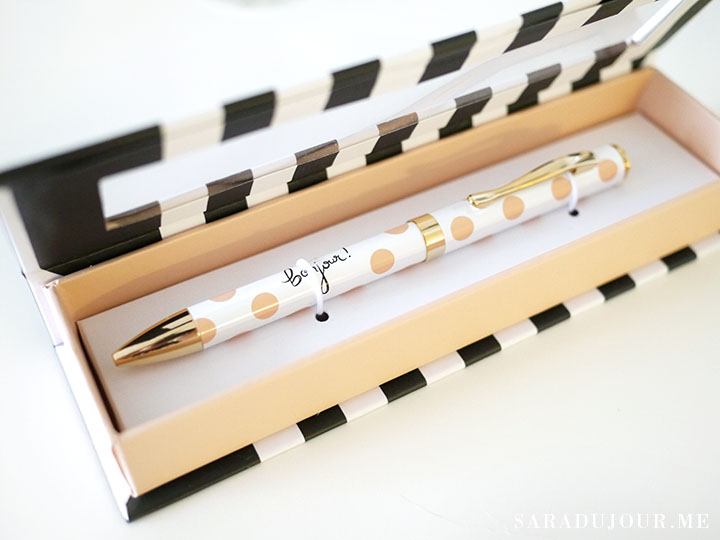 It's nice to have at least one fancy pen, something other than the standard Bic ones that magically disappear on you. This one, with gold hardware and pink dots that are literally the colour of my blog – I mean come on – was calling my name. A lot of things seem to call my name when I shop. This may be the root of some of my shopping problems.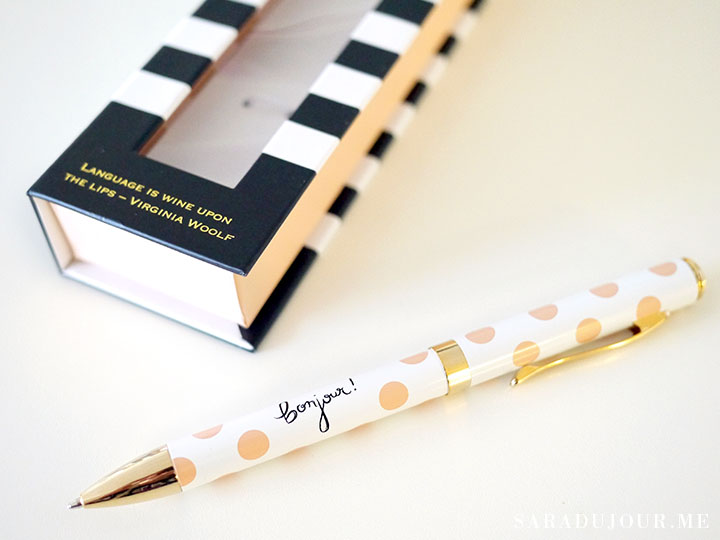 Anyway, this is a beautiful little pen that makes me feel important and professional when I write with it, because it has a nice weight and feels elegant. The pen also comes in black polka dots and pink stripes. It writes gorgeously!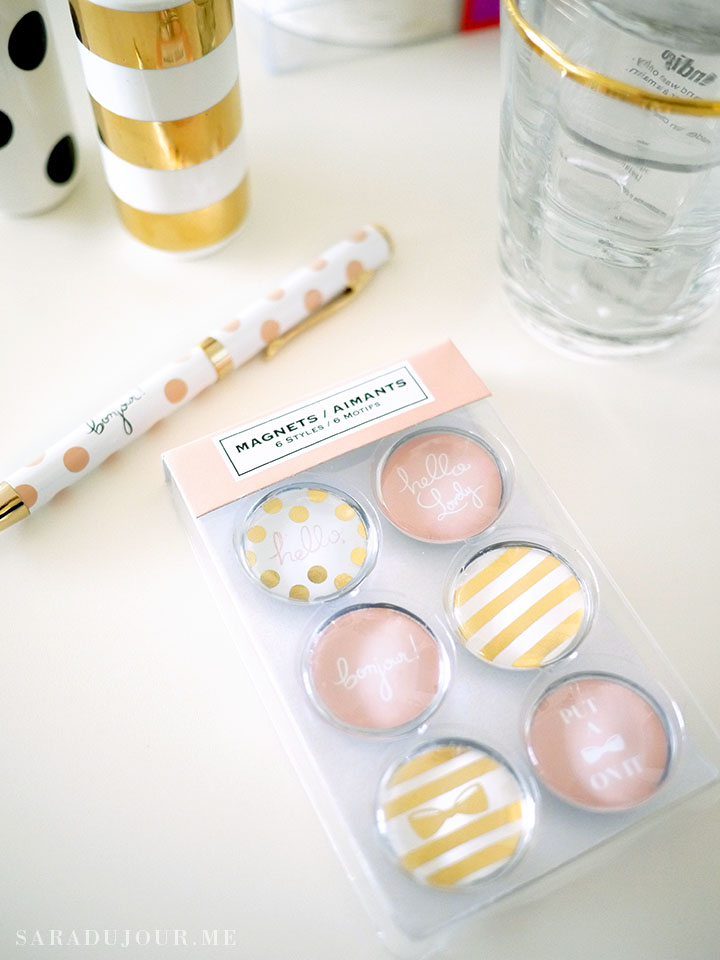 Last but not least, I scooped up this set of six gold and pink fridge magnets, which perfectly match the decor of my apartment. Now I just have to figure out what to stick on my fridge.
And that concluded my mega Kate Spade and Chapters Indigo holiday haul. While all that glitters may not be gold, that's never stopped me! Happy weekend, everybody. xx
– Sara
Stay updated with Facebook • Twitter • Instagram • Pinterest • Bloglovin