Iridescent Pride Makeup ft. Unicorn Skin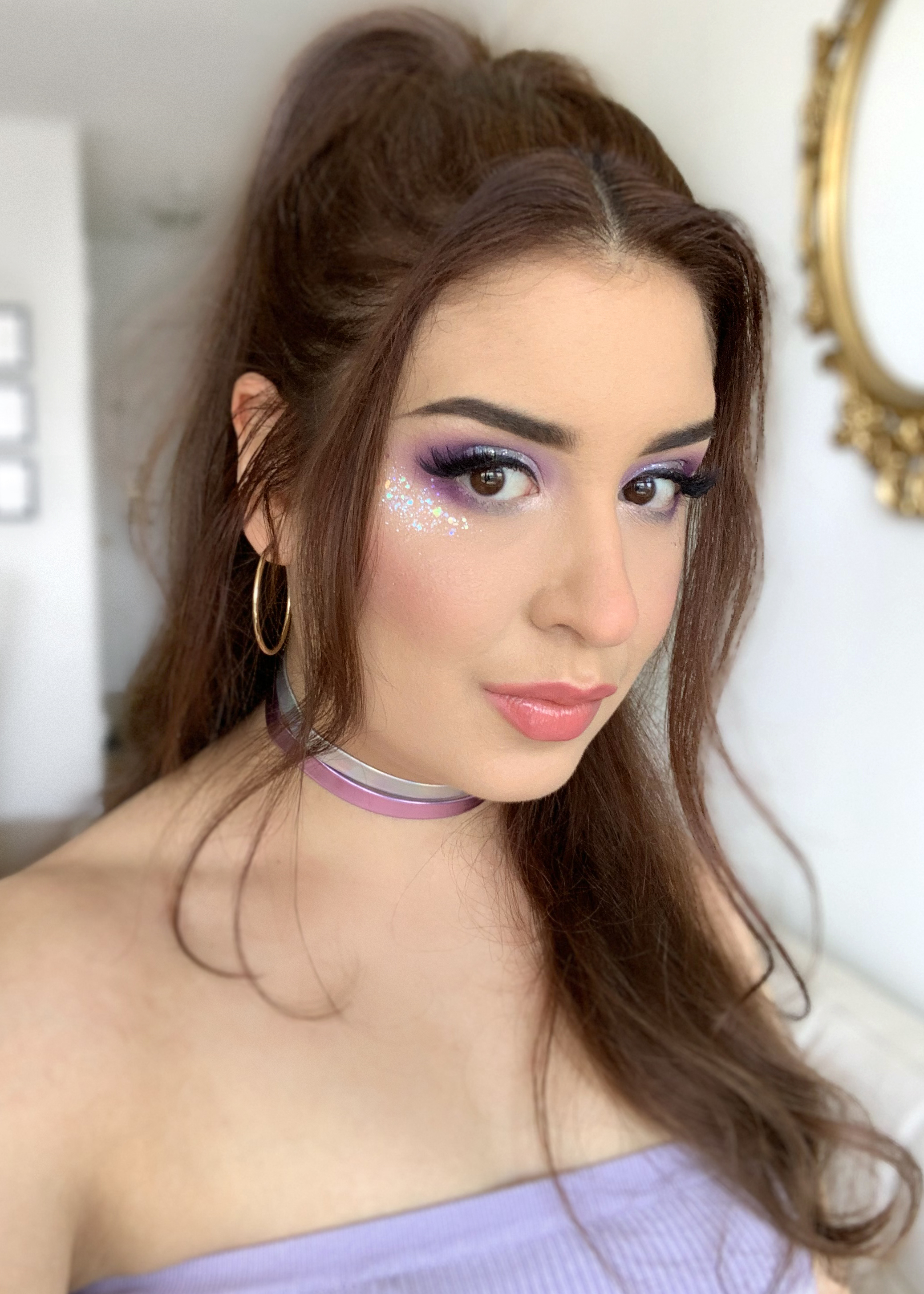 As promised, here's the sparkly, iridescent makeup I wore on Pride weekend to match my iridescent Pride outfit. I absolutely loved how this makeup turned out! It's one of the simpler creative makeup looks I've done recently, but it went with my Pride outfit perfectly and I was feeling the fantasy all day long.
This comes as a surprise to absolutely no one at this point, but I'm a big fan of glitter. But with great power comes great responsibility, and I've learned some things about using glitter responsibly that I'd like to pass along to you.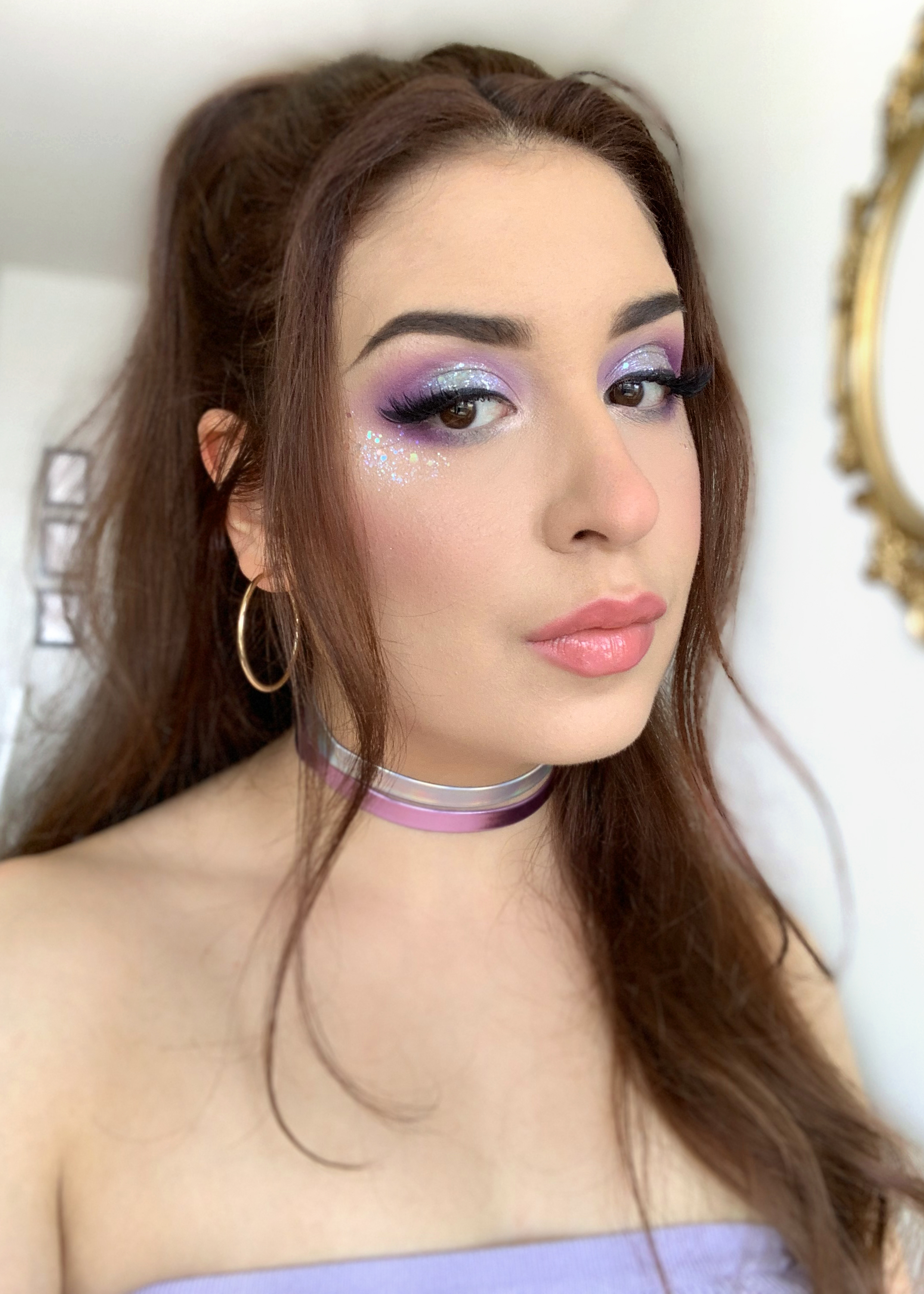 The short version is that microplastics enter into our waterways when we wash glitter off in the sink, and these eventually get into our oceans and harm marine life at every level of the food chain, from fish to sea turtles and seals.
Since microplastics don't ever break down, they build up in the digestive tracts of these animals which can cause them to stop eating and starve to death, often before they have the chance to reproduce. Now, I'm just trying to have a glittery good time, and that does not sound like a good time to me. So what's an over-the-top gal to do?
Enter: Unicorn Skin Cosmetics. (Not sponsored, just hyped.)
I learned about this whole microplastic issue through the talented New York drag queen Acid Betty, who called out fellow drag queen Trixie Mattel for launching her cosmetics line with glitter products. (Sometimes good things come out of drama, see?) Acid Betty is a big advocate for environmentalism and Unicorn Skin Cosmetics.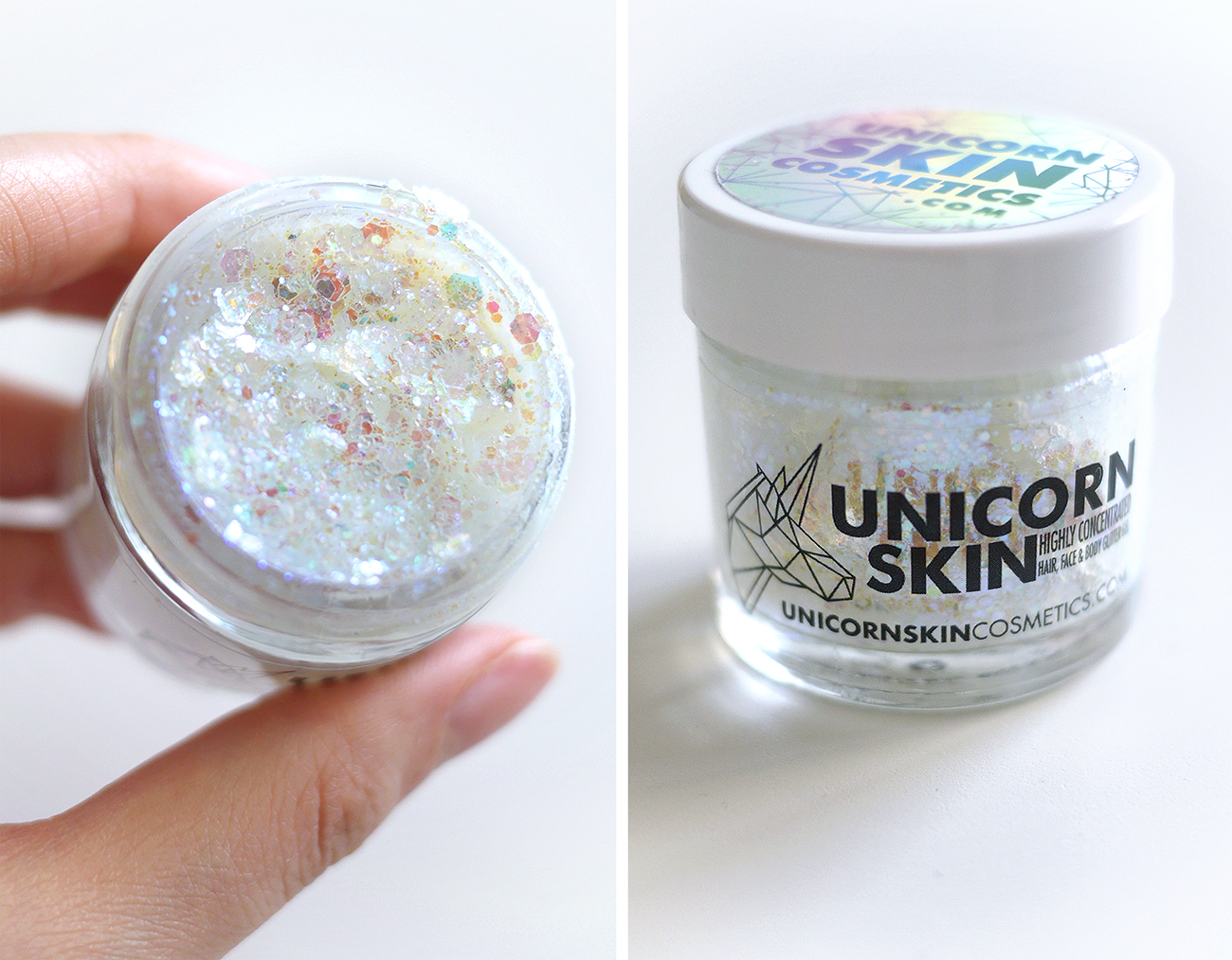 Instead of being made from plastic like most glitter, Unicorn Skin glitter is made from eucalyptus and is totally biodegradable, vegan, and cruelty-free. Best of all, it is STUNNING and I'm 100% here. for. it.
It has a captivating holographic effect that reflects, pink, blue, purple, or green, depending on how the light catches it, and this "Chunky" version is comprised of 7 different sizes of sparkles for extra magic. They are highly concentrated in a gel, so there's no annoying fallout and it stays exactly where you put it. You can use it on your face, beard, hair, body – anywhere.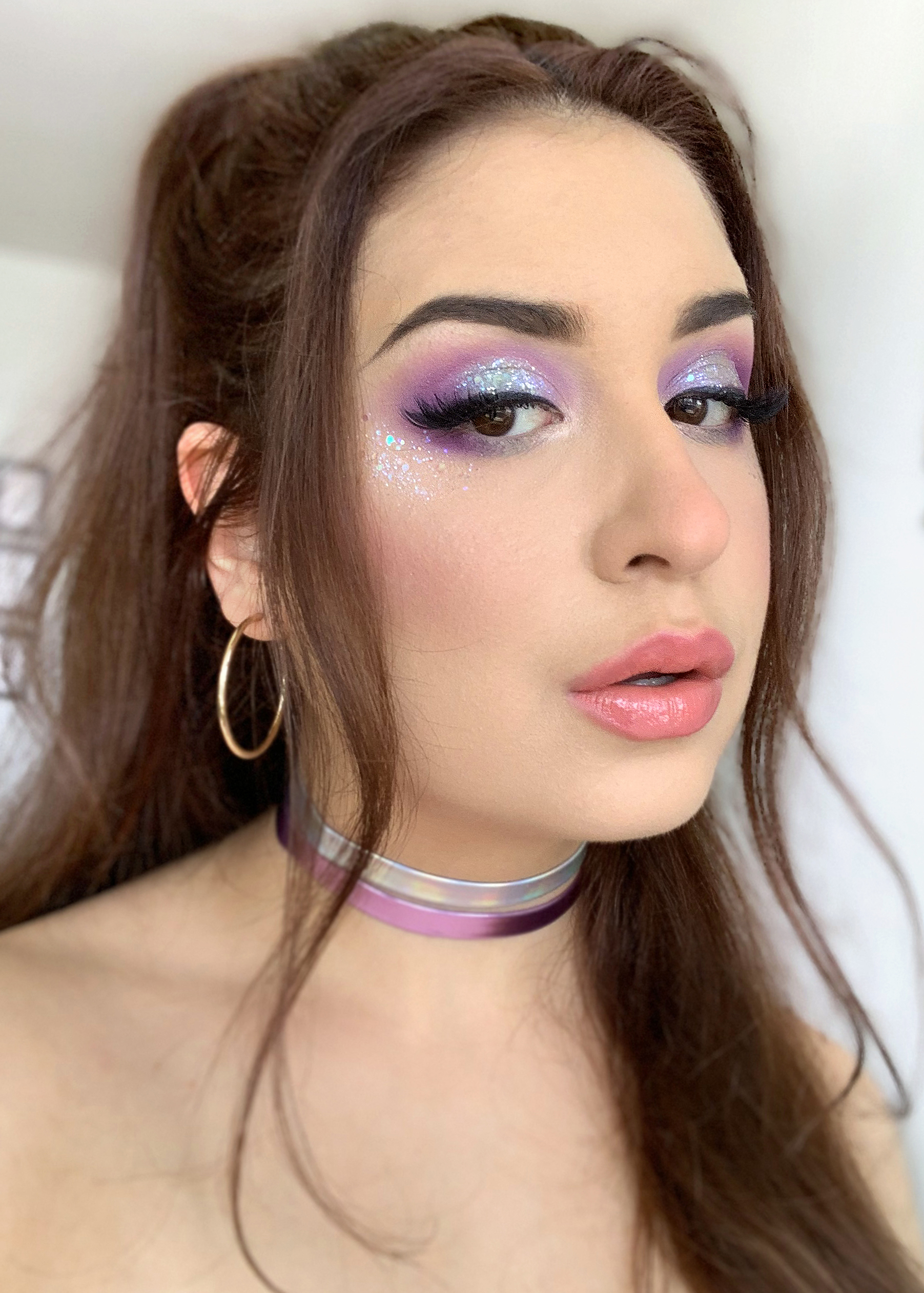 For my Pride makeup look, I placed the Unicorn Skin glitter on the centre of my eyelids and on the high points of my cheekbones. I was really impressed that it didn't feel tight, sticky, or unpleasant on the skin at all. I forgot I was wearing it until I saw my reflection and got delighted all over again!
Bonus points: the company really packs in the maximum amount of product into the container, which filled my value-loving heart with joy. It's stuffed to the absolute top, and I did this whole look using just the glitter from the container's lid. Any lingering bitterness I had about paying $$$ for shipping to Canada was wiped away, because this 1 ounce amount will easily last the rest of my life. (And that's if I actually start sleeping properly and reach old age! Otherwise, I'll bequeath my leftover Unicorn Skin to a friend.)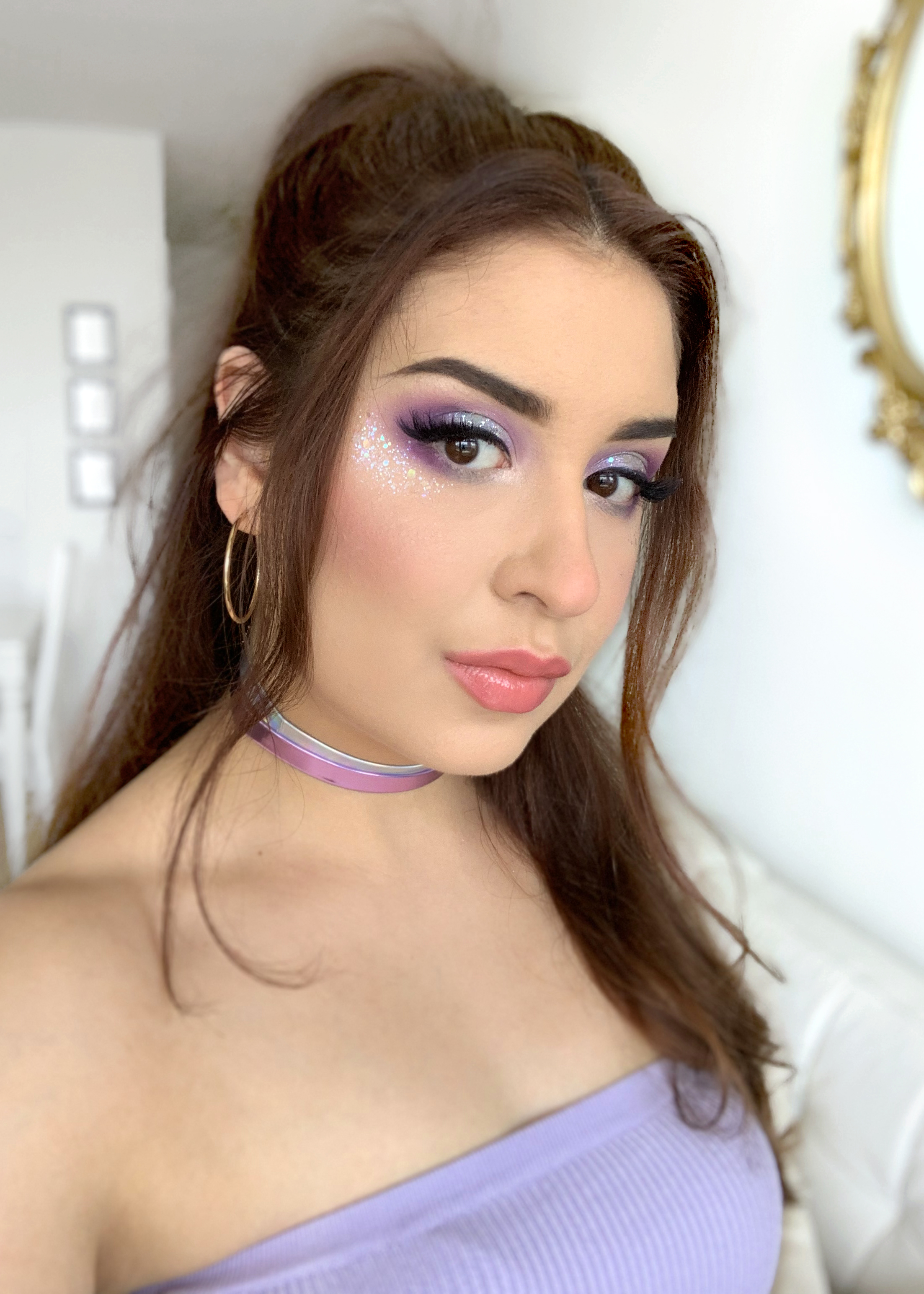 A side note: I have regular ol' microplastic-type glitter that I'm still going to use. You probably do too. We've spent coins on it and we're not about to throw it away! So here's a tip for continuing to live your best disco-ball life without hurting Nemo and friends: when wearing glitter, don't rinse your makeup off in the sink or shower.
Instead, take your makeup off with makeup wipes or cotton pads soaked in makeup remover, and throw them in the trash when done. If there's lingering glitter on your face after that step, use a piece of tape to collect it all and throw it out. Do not rinse your face in the sink until all the glitter has been removed.
Alright, enough on that. Here's everything else I used for this iridescent makeup look.
Face
Brows
Eyes
Lips
Thanks for reading, and Happy Pride!
– Sara
Stay updated with Facebook • Twitter • Instagram • Pinterest • Bloglovin