1960s Inspired Turquoise Eye Makeup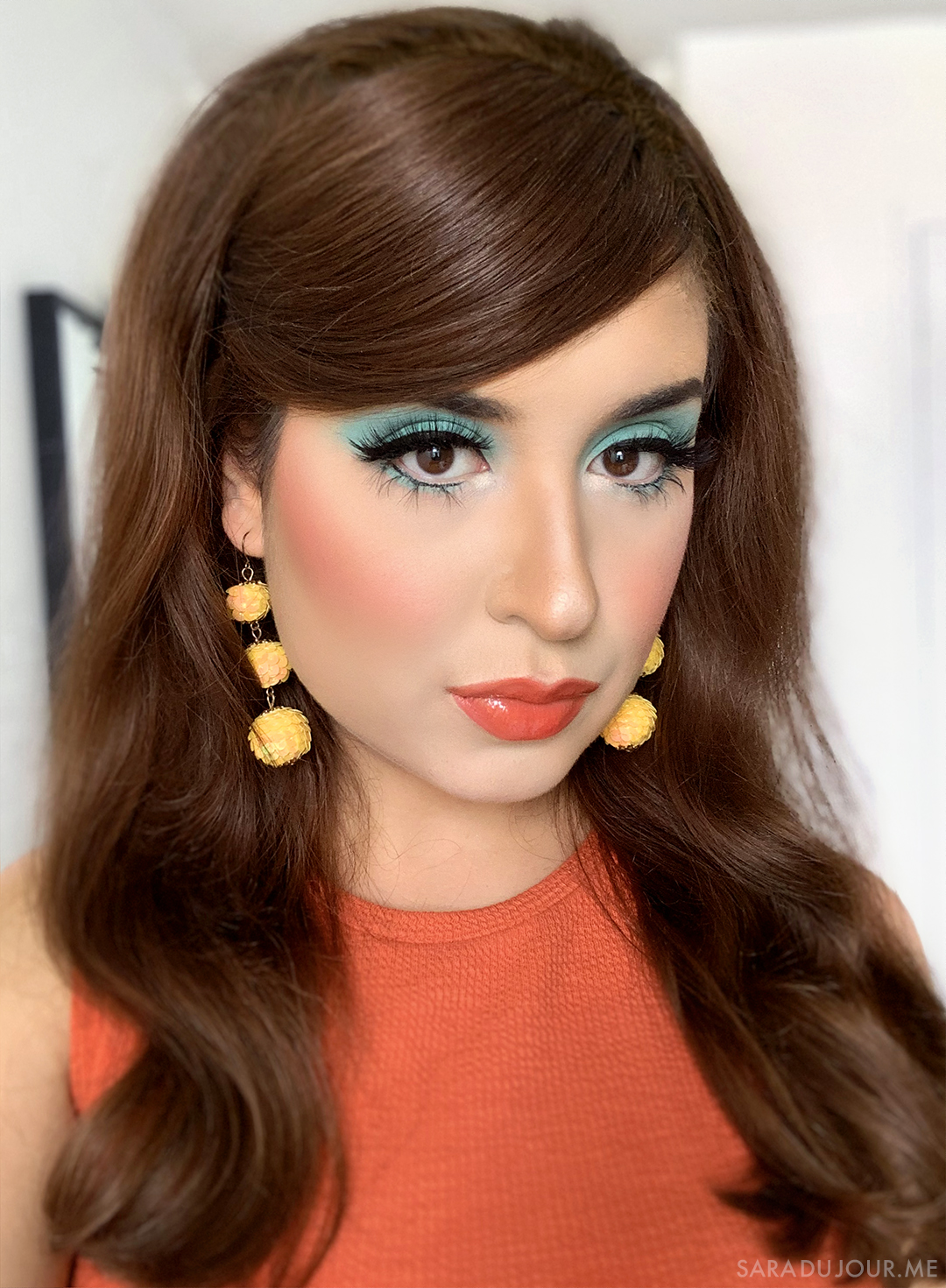 I feel like I've popped right out of Austin Powers with this 1960s-inspired turquoise eyeshadow technicolor look – perhaps it helped that I was listening to this timeless bop while getting ready. Click that link, you won't regret it.
After being thoroughly blown away by Huda Beauty's Neon Obsessions palette (see my look with it here!), I ventured to try another Huda Beauty product: the Matte & Metal liquid eyeshadow duo in "Minted". When I swatched it and saw how STUPIDLY pigmented it was, I decided to create a whole look around it. Bold turquoise eyes, to me, scream 1960s.

Unfortunately I just learned that Huda Beauty ripped off Beauty Bakerie (a Black woman-owned business that I've heard amazing things about), copying their whole idea and branding for one of their product launches. Not cute. This will be the last Huda Beauty product I buy, which is really annoying because damn, they're good.
Oh well. While you're here, check out Beauty Bakerie! I've heard women of colour rave about their complexion products. Plus, their packaging and product names are super adorable. For bonus points, their brand is all vegan and cruelty-free.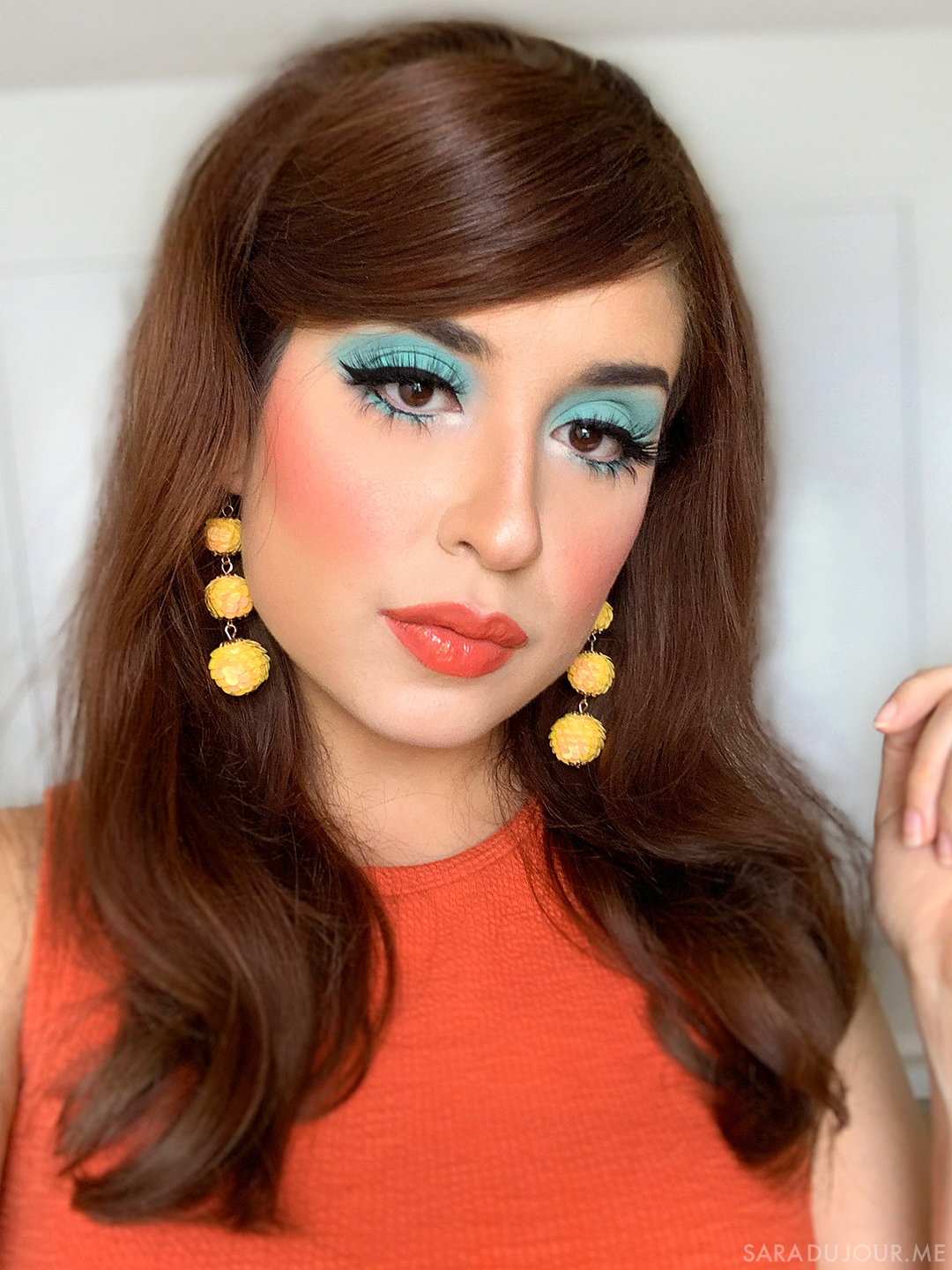 Okay, detour over, back to my lewk.
1960s-inspired eye makeup
The eyes were remarkably simple – I just used a fluffy brush to blend the matte side of the Matte & Metal duo all over my lid, nearly up to my brow. I also blended a bit of the turquoise shadow along my lower lash line. You don't need this exact product to achieve this look. Any highly-pigmented, matte turquoise/blue shadow will work. Use it on an eye base to really help the colour pop.
Next, apply a matte or pearly white shadow on the inner corners of your eyes to brighten them. (Optional: use a white eyeliner along your bottom waterline to make your eyes seem bigger and more awake.)
I used liquid liner to draw a thick wing along the top lashes, and a teeny-tiny thin line along my lower lashes, and falsies were the finishing touch.
I used Koko Lashes in "Venus" for dramatic, fluttery top lashes, and glued on 4 individual lashes along my lower water line of each eye. (If you don't have individual lashes, you can always cut a natural-looking strip lash into pieces and achieve a similar effect).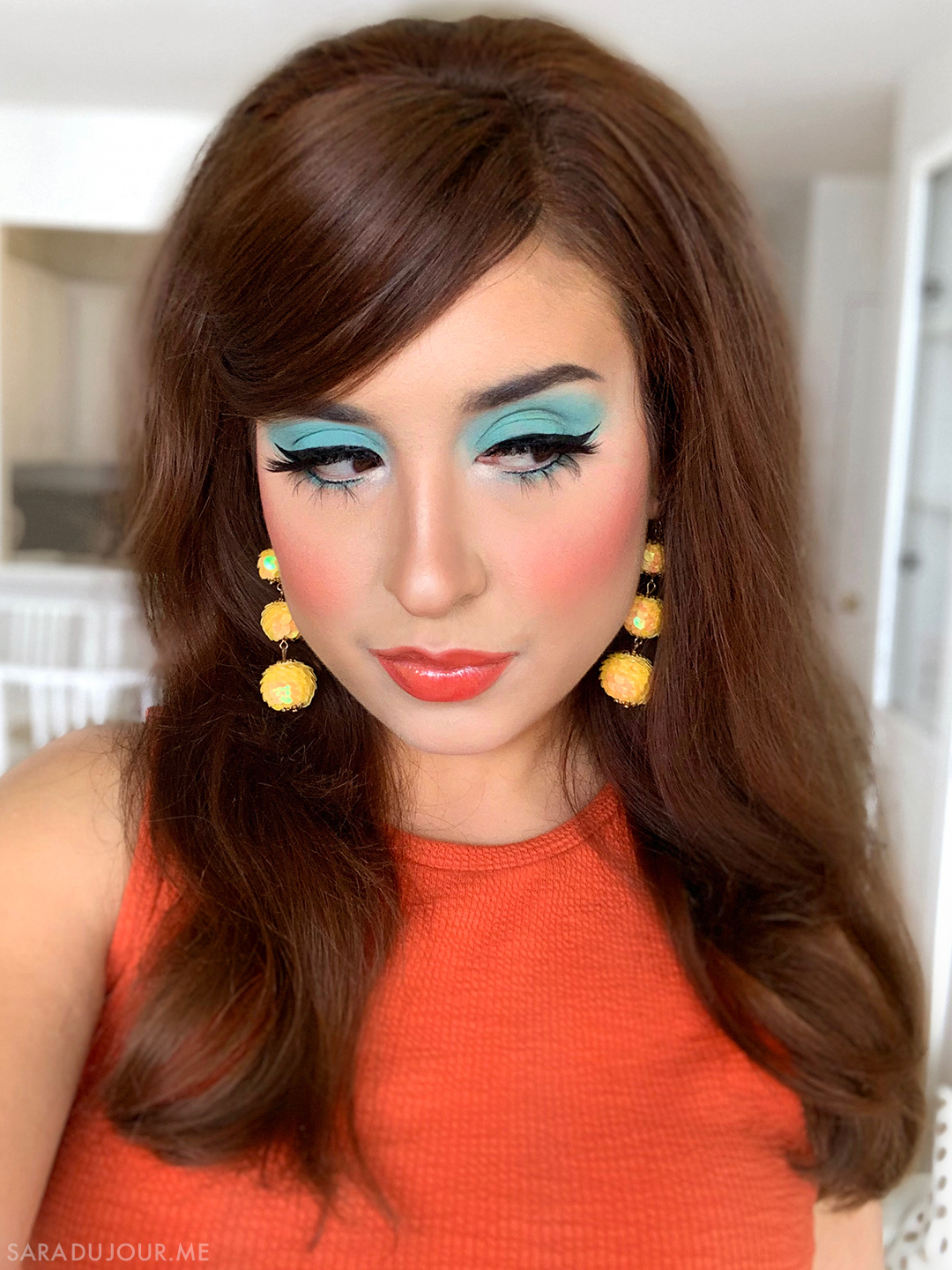 1960s lips and cheeks
I wanted my makeup to tie into my orange dress, so I used MAC "Peaches" blush combined with orange eyeshadows from the Neon Obsessions palette I mentioned earlier to really get that pop-art, technicolor hue going on my cheeks.
My lip colour is a combination of MAC "Morange" and "So Chaud" lipsticks (both very lightly applied and blotted) followed by a rosy pink lip gloss – NYX's "Tea Rose". Mine is absolutely ancient, but a longtime favourite.
Final touches
I teased my hair to within an inch of its life, creating this 1960s-inspired voluminous style. I felt very Tracy Turnblad, despite nearly choking to death on hairspray in the bathroom. I also sectioned off some hair in the front, sweeping it to the side and pinning to create pseudo-bangs.
My earrings are over a year old, from Forever 21 (you may remember them from my Mexico look book!) and the orange knit pencil dress is from Zara, available now.
That's it for now, but brace yourselves – I've got some wild looks coming down the pipeline.
Thanks for reading!
– Sara
Stay updated with Facebook • Twitter • Instagram • Pinterest • Bloglovin