Jessica Rabbit Cosplay + Drag Makeup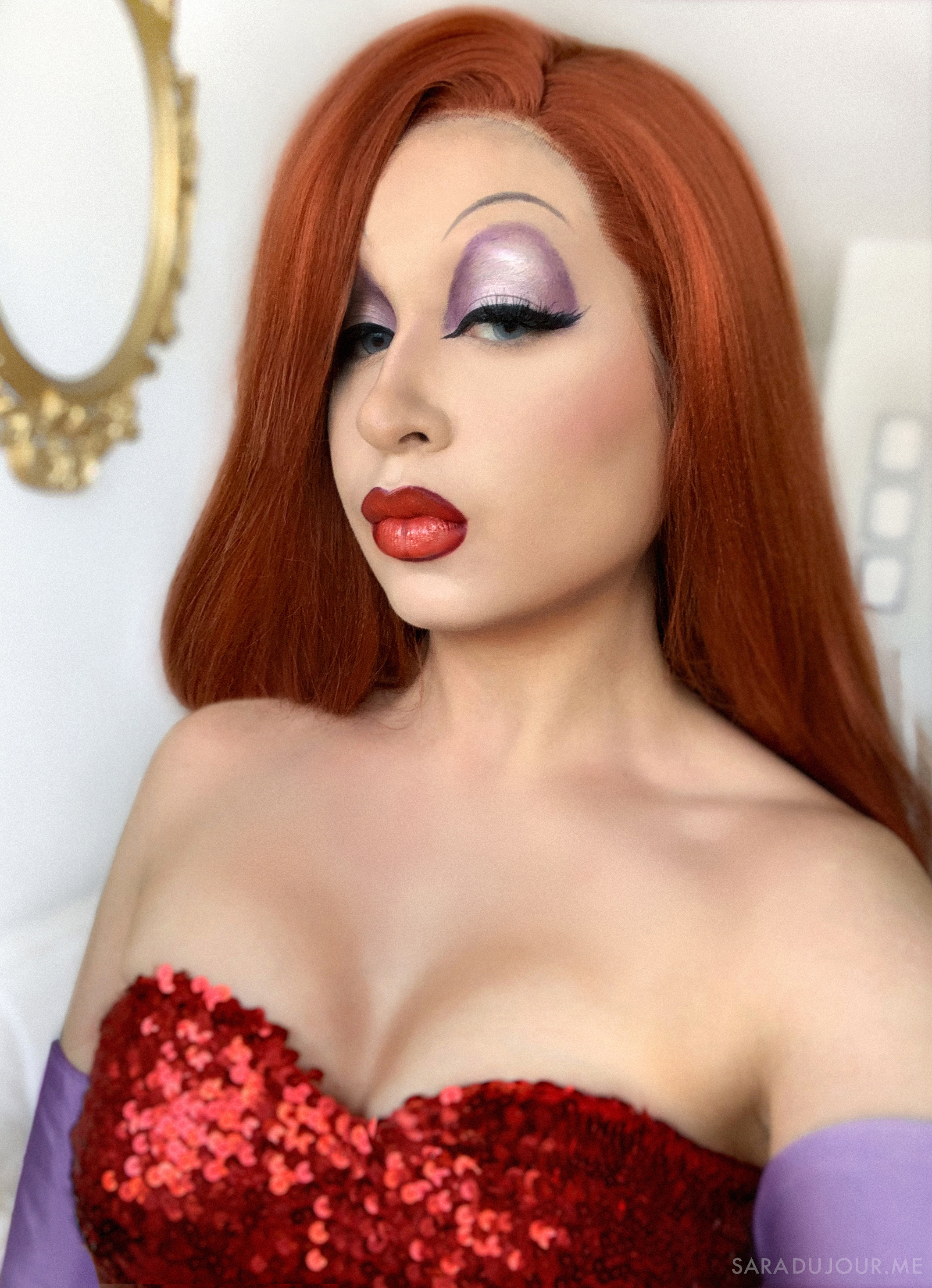 Good morning class, welcome to Male Gaze 101. Please take your seats and turn to page 52.
I have so many questions when it comes to Jessica Rabbit, like how does she remain upright? And why is she not actually a rabbit? Her husband, Roger Rabbit, is a full rabbit, ears and all. Are we meant to understand that a rabbit married a human woman, and she took his surname of "Rabbit"? But alas, these are questions for another day. Let's set aside our critical lens for a moment and focus instead on how to transform into one of the sexiest and most absurd animated characters that ever lived: Jessica Rabbit.
Here are a few reference images, plus a very sultry clip of Jessica Rabbit from the movie Who Framed Roger Rabbit.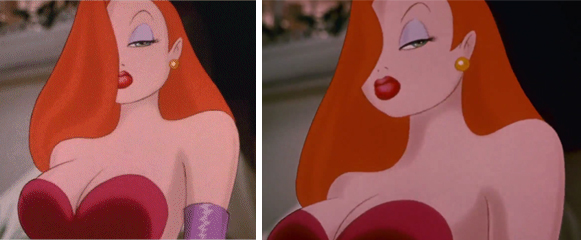 Ribs? Don't need 'em. Internal organs? Never met 'em. Jessica Rabbit is a three-dimension female character only insofar as her breasts. Even Violet Chachki in her smallest corset doesn't have these proportions!
Since I was not designed by a male animator, my chest in this cosplay is brought to you by two bras, duct tape (yes, really) and contouring.
Jessica Rabbit's exaggerated facial features are perfect for drag makeup, so I glued down my brows, erased my face with foundation and concealer, and started over. (I'm also wearing blue coloured contacts in this look.)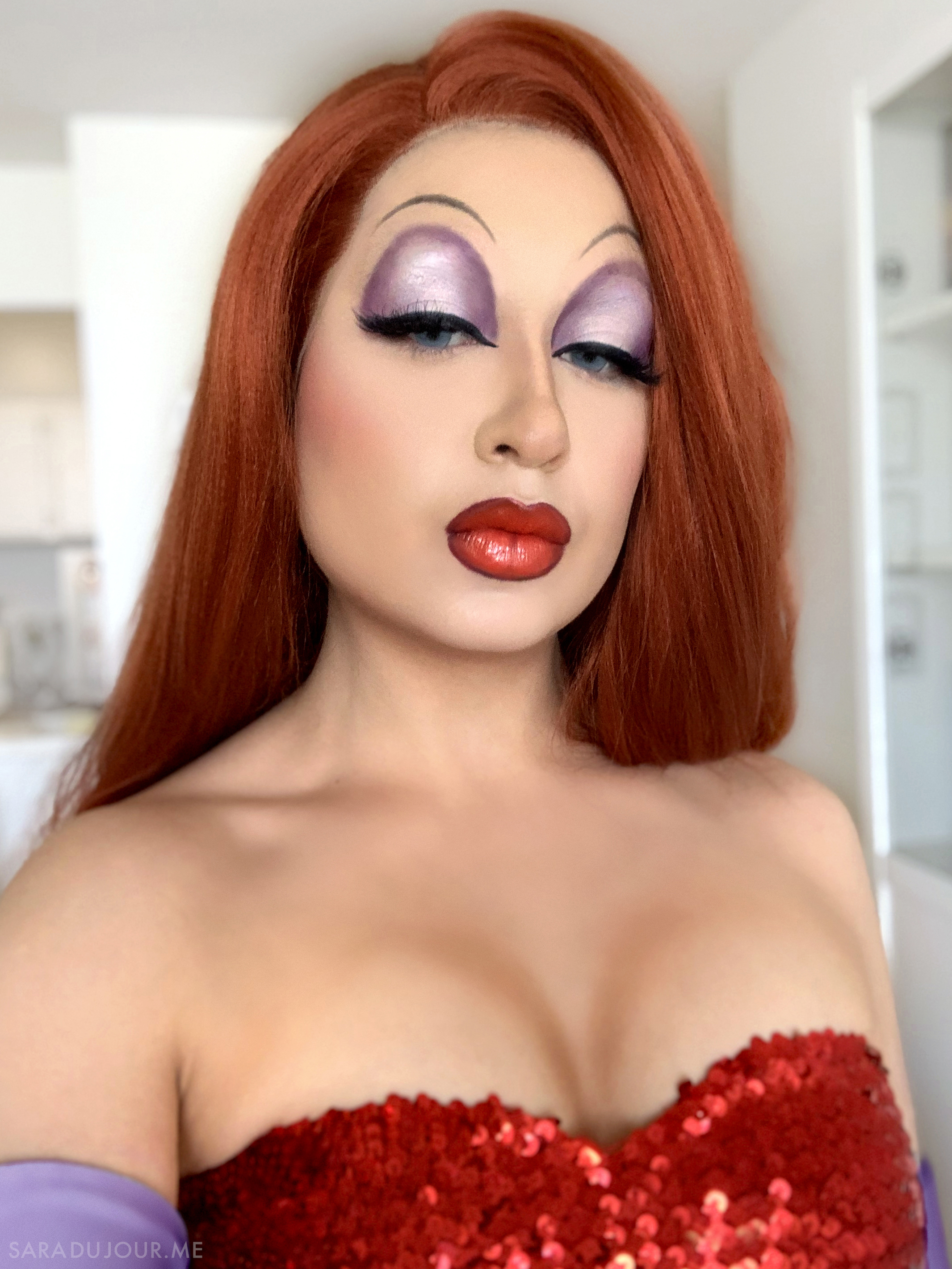 Jessica Rabbit Cosplay Makeup
Jessica Rabbit's face shape is pretty similar to mine, and she's not very chiseled, so I skipped the face contouring, focusing only on my jawline and nose. She has a nearly invisible, itty bitty animated nose, so I contoured the heck out of mine to make it appear smaller and more button-like.
I avoided using a shimmery highlight on my face, to keep her more flat and animated-looking. To finish the skin, I applied the lightest dusting of a matte, peachy pink blush along my cheekbones.
To create her elongated, seductive bedroom eyes, I used NYX "Milk" jumbo eye pencil as the center highlight, and a variety of MAC purple shadows to add dimension. To enhance the 3D appearance, I applied a metallic white eyeshadow to the center of my eyes to help them pop. I lined my top lash line with thick liquid liner, bringing them to a sharp point in both the inner and outer corners of my eyes. In the outer corners, I used the liner to add a few thin flicks, as though they were lashes, mimicking Jessica's animated eye. I finished the eyes with my drag lashes – a few pairs of full strip lashes stacked together.
For Jessica Rabbit's brows, I used Anastasia Brow Wiz pencil to draw thin, haughty arches.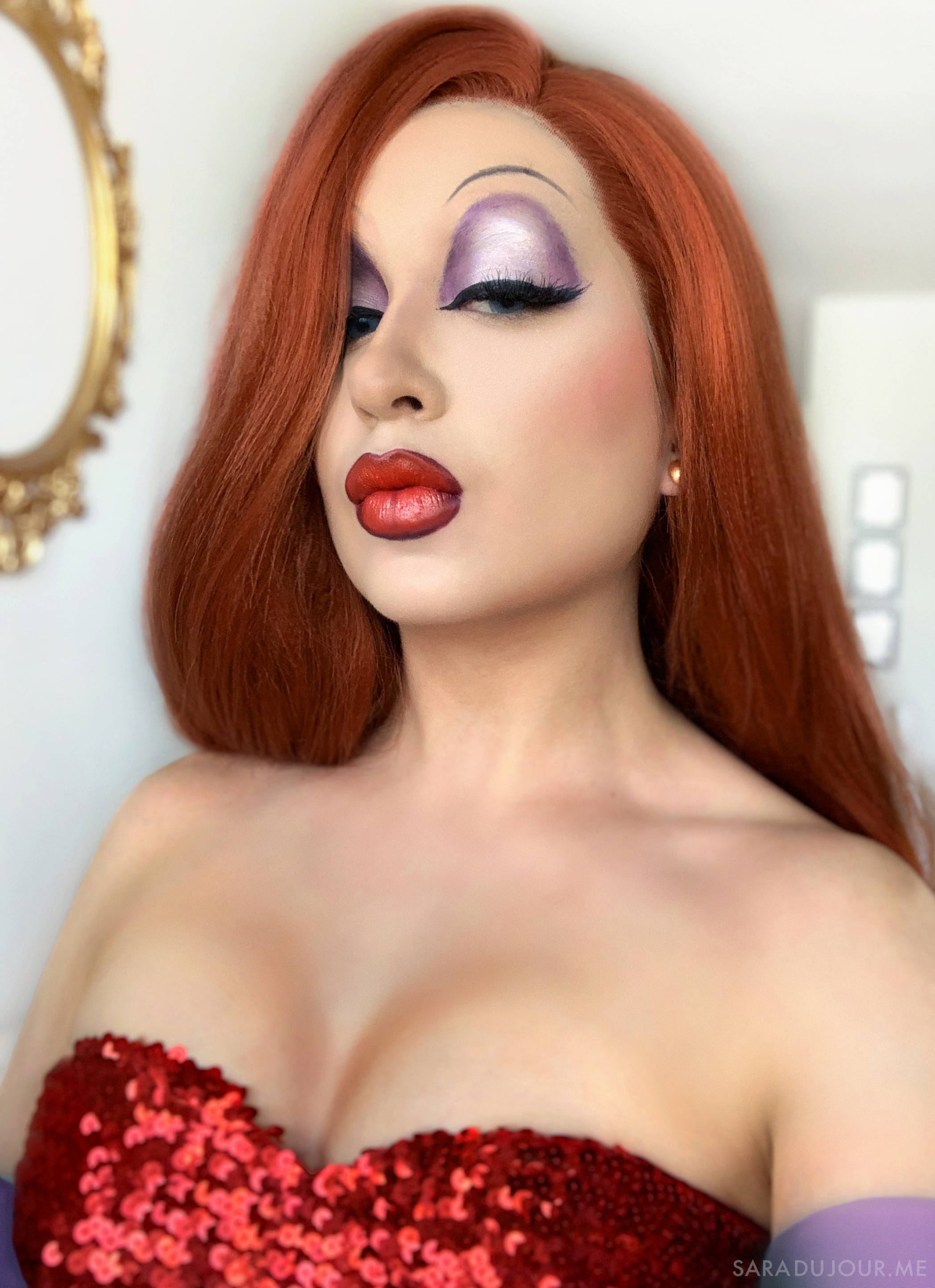 Jessica Rabbit's unique pouty lip shape was really fun to recreate. I incorporated a few makeup tricks that Marilyn Monroe used to do. Drawing the outline of the lip shape with MAC Nightmoth lip liner, I shaded in the outer corners to make the lips look rounder and more narrow. I also used Nightmoth to draw a line down the middle of my lower lip, to recreate the shape Jessica Rabbit has.
Then I used MAC Viva Glam I lipstick, a deep red, over the lip liner and on the outer portion of my lips. In the very center of my lips I used MAC Lady Danger lipstick, a bright orange-red. We're not done yet! I dabbed a gold shimmery shadow on the middle of my lower lip, on either side of the center line to highlight, and added a tiny bit of clear gloss over that. These steps are numerous, but they are what give the three-dimensional quality and fullness that Jessica Rabbit has.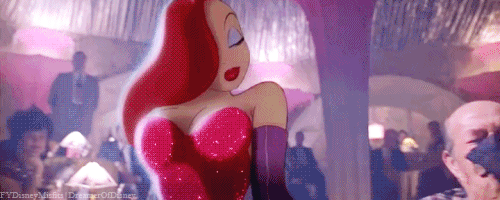 Jessica Rabbit Costume + Wig
Since I knew I was only going to take portrait photos of this cosplay look, I got to cheat the costume a bit. I bought an affordable red sequin crop top on amazon, customized it to give it a sweetheart neckline, and added purple opera-length gloves. (Okay, I actually used gloves I already had and photoshopped them purple for these pics. A girl's gotta save money! Don't sue me.)
To match Jessica Rabbit's earrings, I wore the gold studs I bought for my Belle gold dress cosplay, and this gorgeous red lace front wig from Wig is Fashion. (I have big plans for this wig – any guesses?) Wigs are still very new to me, and I haven't perfected my technique just yet. It's a struggle!
What transformation would you like to see next? Let me know in the comments. You can also view all my transformations here.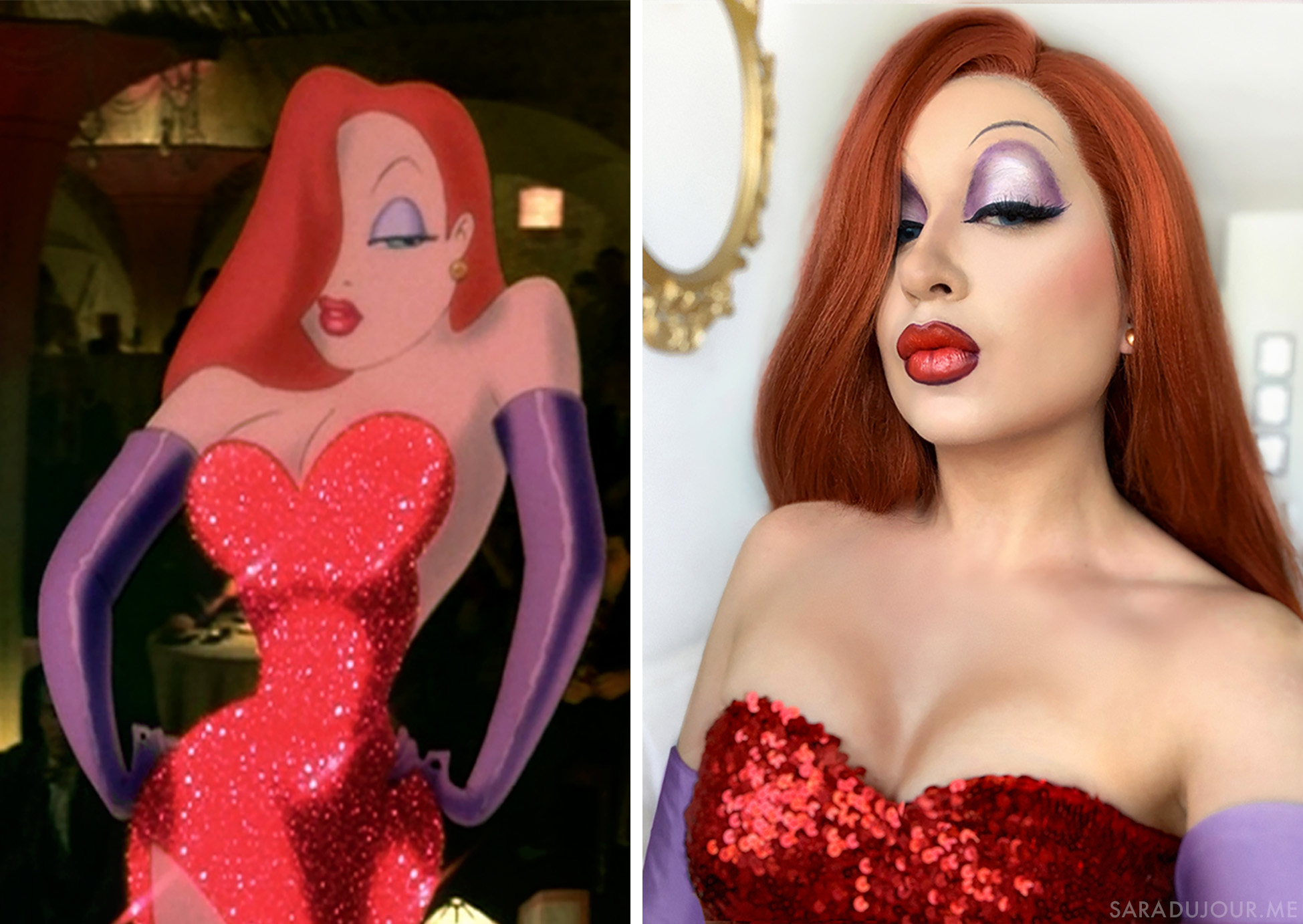 Thanks for reading!
– Sara
Stay updated with Facebook • Twitter • Instagram • Pinterest • Bloglovin