QUEEN MIDAS • Gold Makeup Look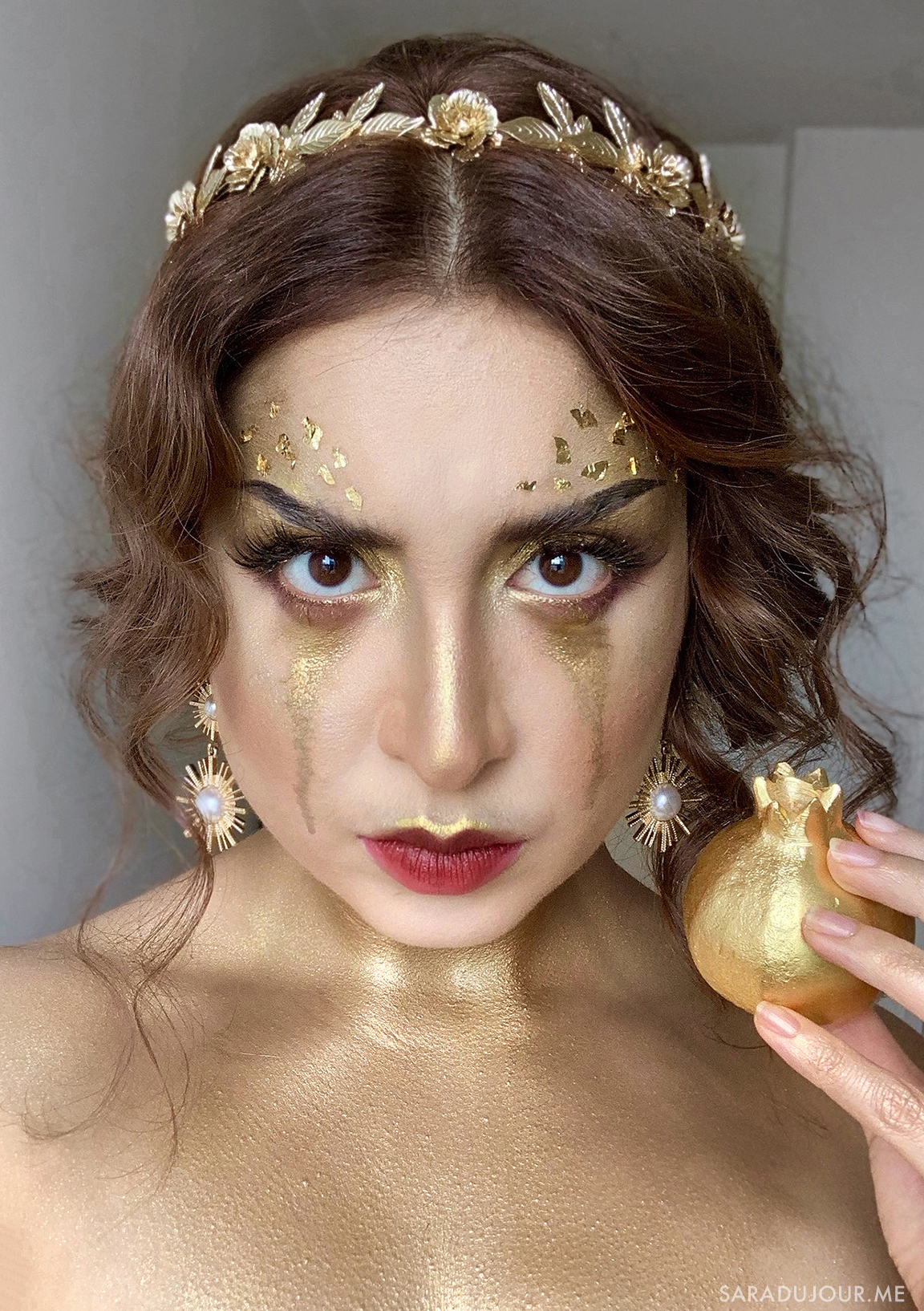 The myth of King Midas has captivated me since I first heard it as a young girl. It's a tale of greed and grief; great wealth and even greater loneliness. For those not familiar with the Greek myth, let me tell you a story. In this story, the king will instead be a queen, because this was the inspiration behind my Queen Midas makeup look.
Once upon a time there was a queen who ruled over a prosperous land. She spent her days in a great castle surrounded by an abundance of riches and servants catering to her every need. Though she and her daughter led an opulent life, she was unsatisfied.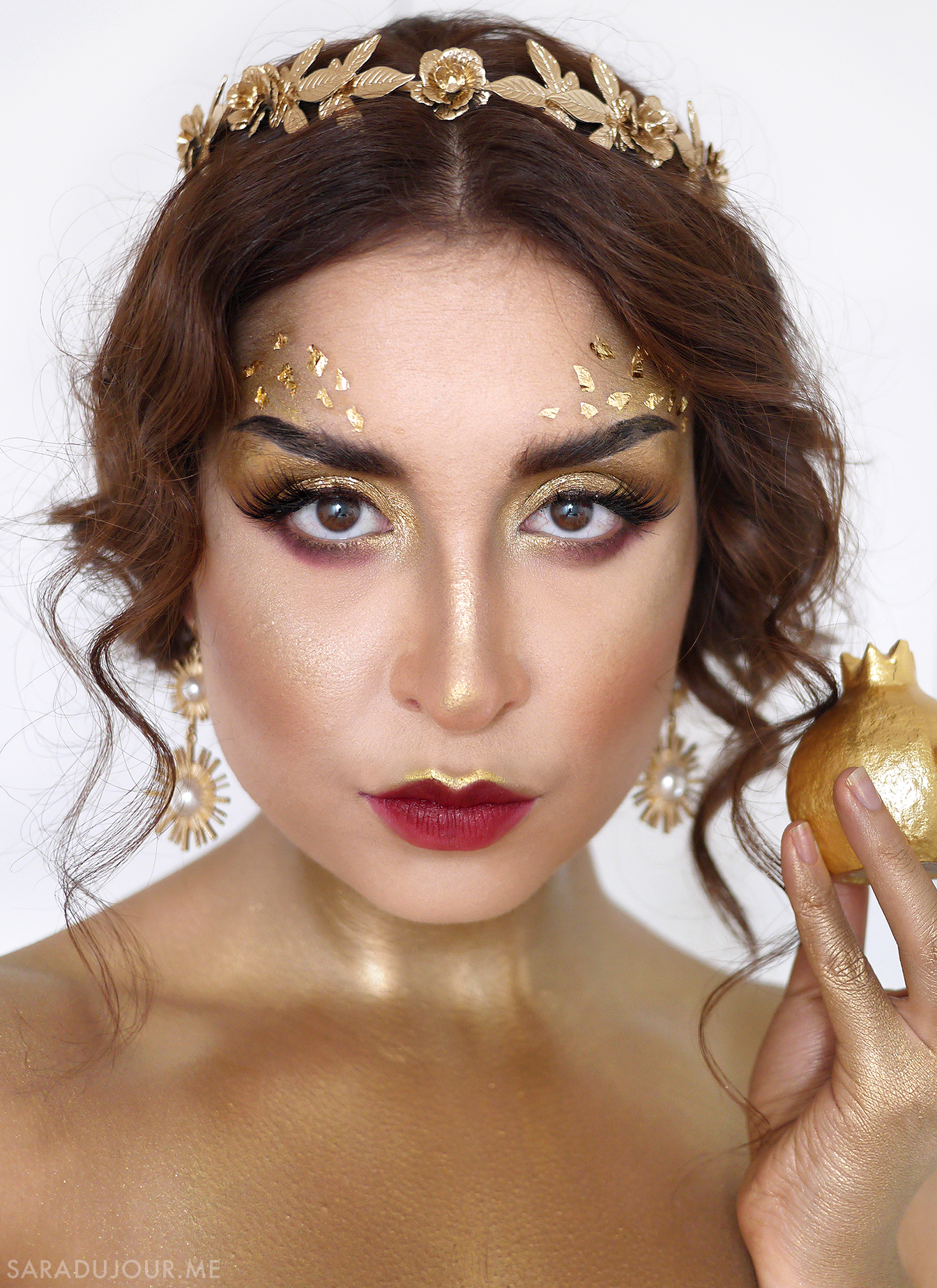 She would pass hours counting her gold coins and admiring her many treasures, but still she wanted more. Her appetite for gold was without end.
One day, Dionysus, the god of wine and revelry, offered to grant Queen Midas one wish, in return for the kindness she showed to one of his companions. The queen answered quickly, for she knew exactly what she wanted.
"I wish for everything I touch to turn to gold," Queen Midas said. Dionysus warned her to think carefully about her wish, but she assured him it was what she wanted. He had no choice but to grant her wish, promising that it would take effect the following day.
The following morning, the queen awoke, eager to test out her new ability. She touched a table, and was exhilarated to see it turn to gold. In her elation, she touched a chair, a vase, and a door, jumping with glee as each in turn turned to gold.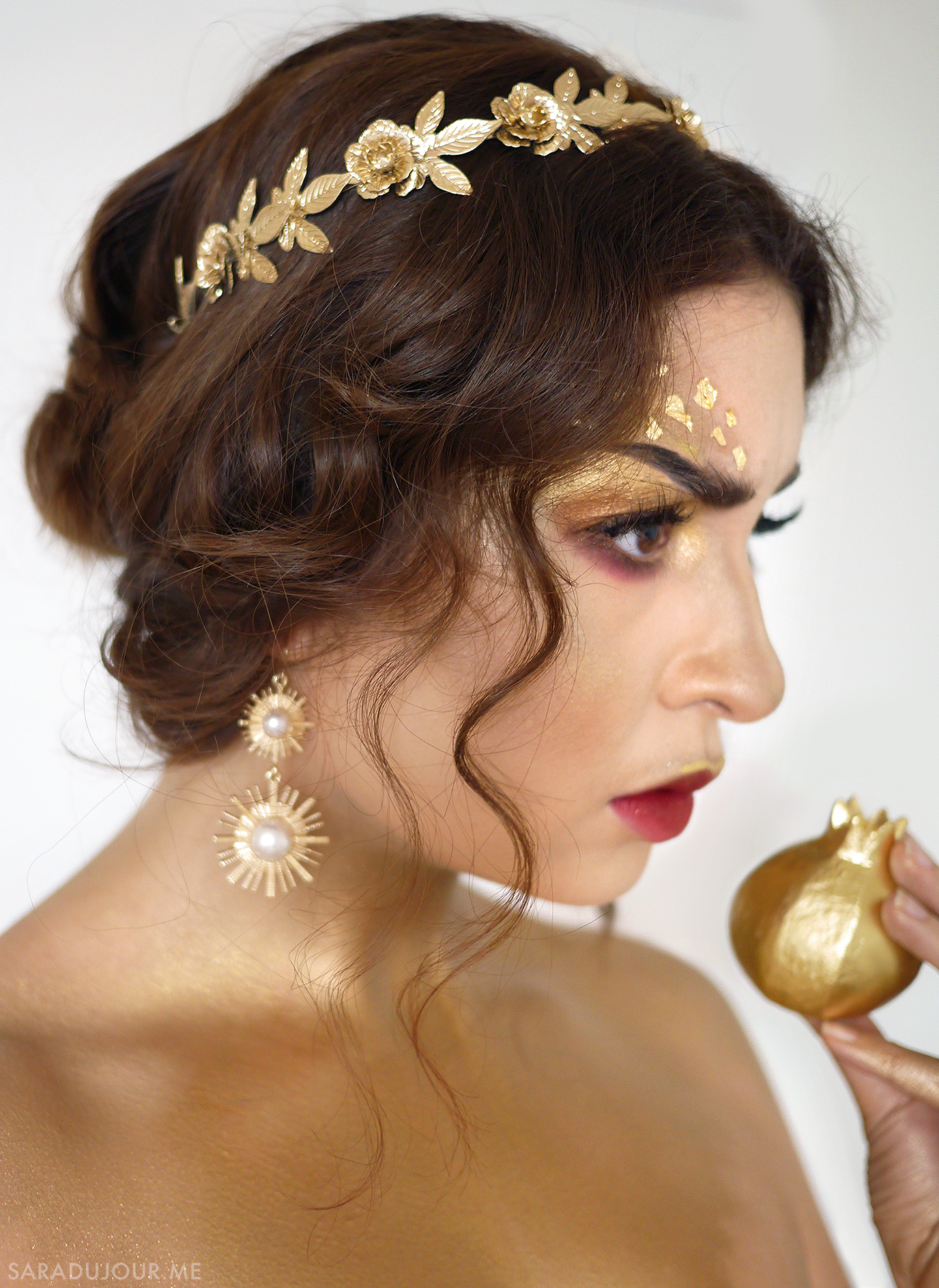 The queen grew hungry for her morning meal, and reached for a pomegranate sitting in bowl atop the newly golden table. As she brought it to her lips, it too turned to gold. She faltered, not knowing what to do.
She reached for some nearby grapes, but they too turned gold before she could eat them. "I'll starve," she thought tearfully.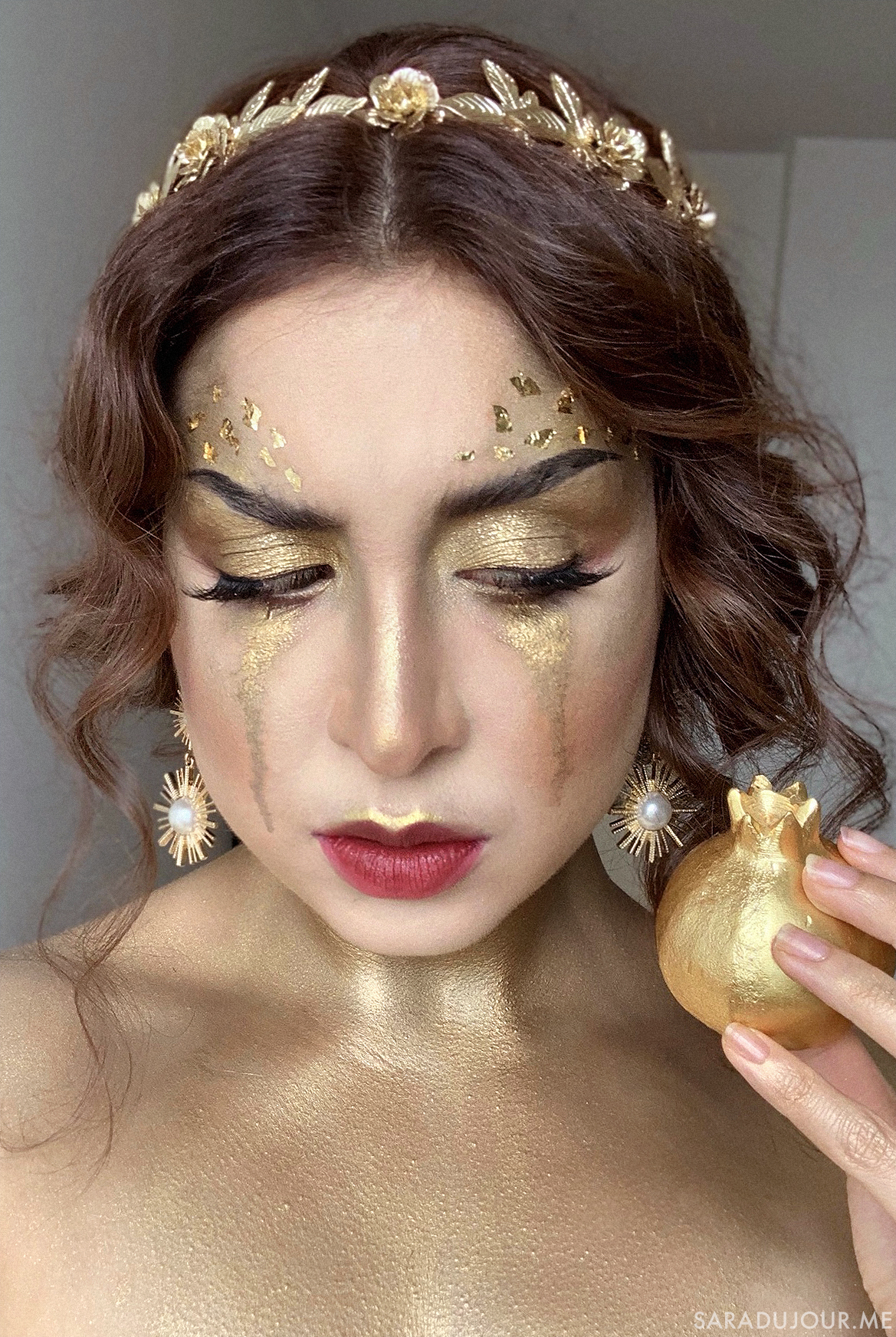 As the reality of her wish began to dawn on her, her young daughter burst into her chambers, running towards her with glee. The queen embraced her, then cried out in horror as her beloved child transformed into a golden sculpture, frozen eternally in that moment.
Grief tore through her like the bursting of a dam, and she cried out to the heavens, begging Dionysus to appear and free her from her wish. The wish that was actually a curse borne of her own greed.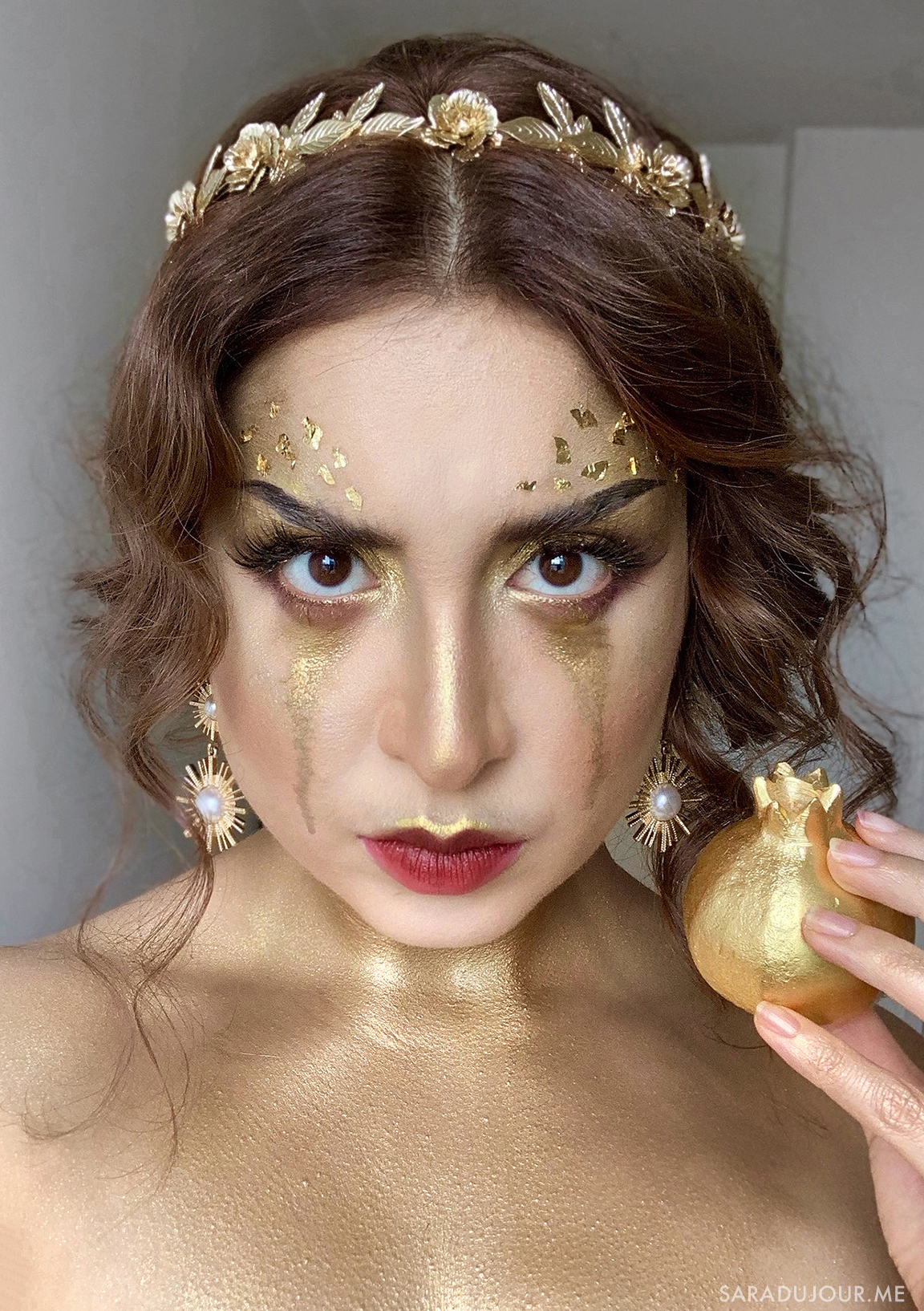 There's more to the story, but let's stop there. Don't worry, Dionysus takes pity on Midas and gives instructions on how to undo the curse. The daughter is brought back to life and Midas learns a valuable lesson about being grateful for what you have. Everyone lives happily ever after.
Now that you know the inspiration, let's talk about the makeup. Gold is my favourite colour, so creating this look was far too much fun.
Midas Gold Makeup
Here's what you'll need to create this gold makeup look: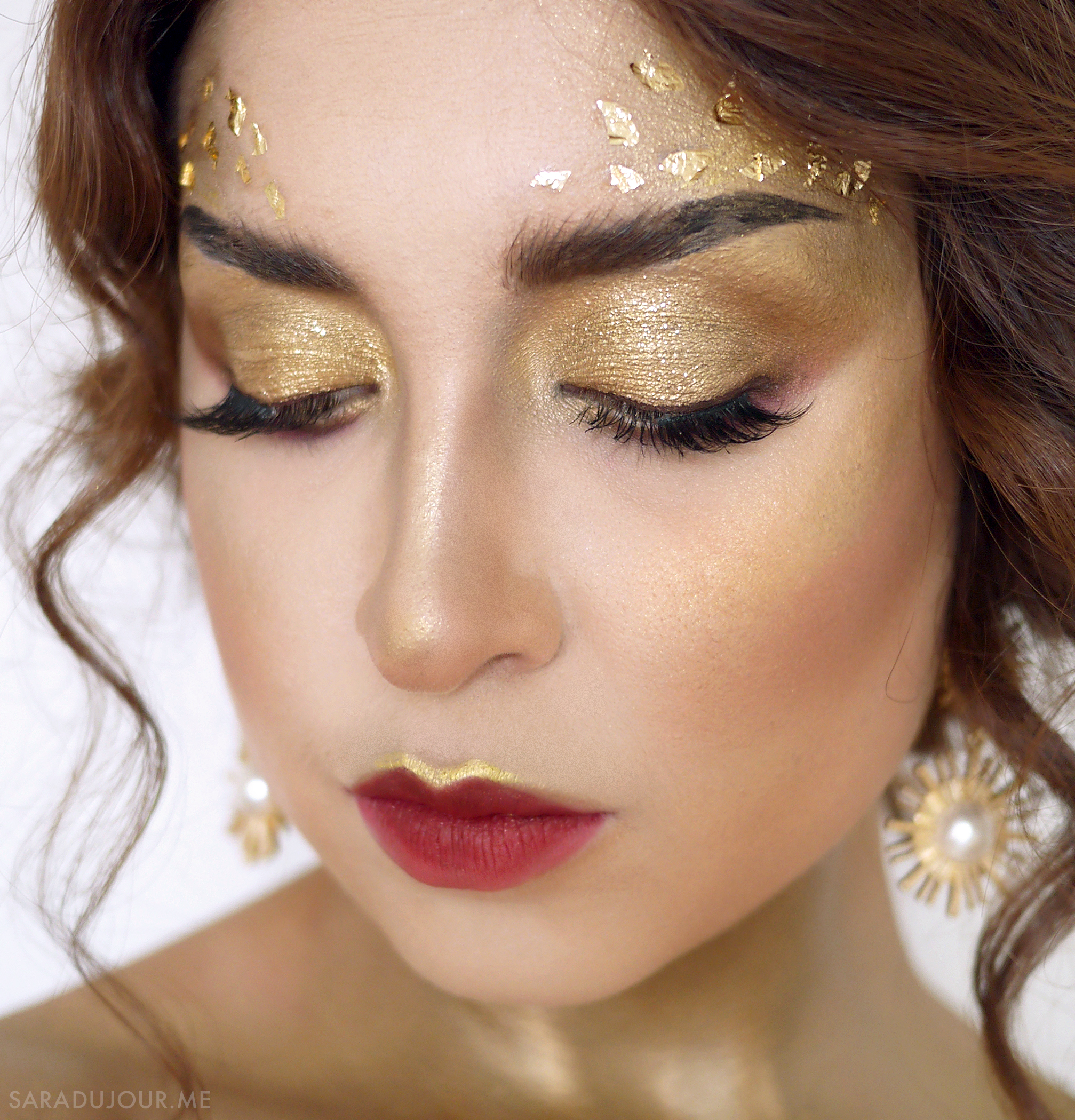 Brows
I started by gluing down the outer half of both brows, because I wanted to draw them in higher and haughtier than my eyebrows naturally are. Once they were dry, powdered, and concealed, (and after foundation, concealer, and highlight/contour was applied to my face, of course), I drew in the missing half of my brows using first a brow pomade, then accentuating the shape with a dried out black liquid eyeliner that I keep specifically for this.
On the front of my brows (the real part) I brushed my brow hairs upwards with Glossier's Boy Brow, to give a bushier appearance.
Face/body
I bronzed my cheeks with a metallic copper shade quite a lot, letting it fade upwards into the gold highlight, created using the same gold pigment on my eyelids.
I also brushed the gold pigment along my cupid's bow, down the bridge of my nose, and up above both brows, on my temples. To create the gold tears and to paint my eyelids, neck, chest, and hand, I mixed the pigment with mixing medium.
(The company actually shipped me makeup remover instead of mixing medium so that's what it was mixed with on me LOL – but use mixing medium and avoid the struggle I went through. In a pinch you could probably mix the pigment with a tiny bit of coconut oil or primer or something.)
Eyes
On my eyes, in addition to the gold pigment painted up to the brow, I created some definition by blending a metallic bronze colour in the outer corners of my eyes and into the crease. To add even more shine to the eyelids, I applied a small amount of fine gold glitter on top of the gold pigment.
Under my lower lashes, I blended a matte black cherry shadow from this Too Faced palette to add some drama and hint at bloodshot eyes from crying.
Lips
Tying the colour scheme together, I chose a matching black cherry lip shade (MAC Viva Glam I + MAC Sin), blended onto my lips with my fingertip to keep the edges soft and diffused.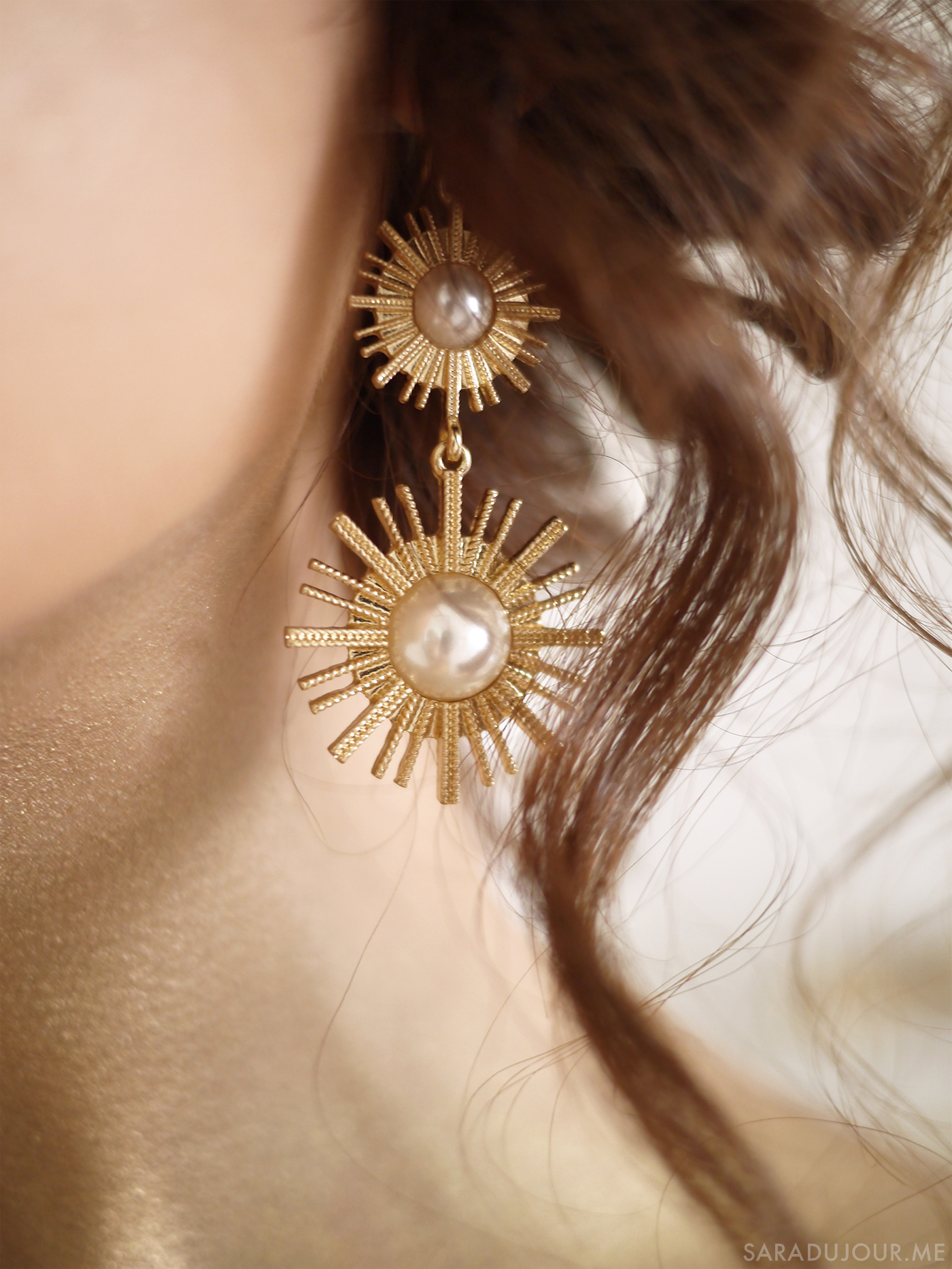 (These gorgeous sunburst earrings are from Forever 21 – not even $8! What a find. They're still available as I write this, so act quickly if you want 'em.)
Lashes
I didn't want to hide the beautiful gold eye makeup with thick black lashes, so I opted instead for 1/2 lashes in the outer corners. They were light and fluttery and perfect to accentuate the eye.
Gold leaf
I had planned to apply the imitation gold leaf to my forehead with eyelash glue, but my lash glue is extremely thick and I discovered immediately that it was too much for the fragile gold leaf. As a backup, I ended up sticking the gold leaf to my temples using dollar-store clear lip gloss, applying each torn off piece with tweezers.
Gold tears
The final step for this gold Midas makeup look was creating the gold tears. I was worried this wouldn't work because I didn't have the mixing medium I was meant to. But I shot my shot and I'm pretty happy with the result! They're not the individual teardrop shapes I planned for, but the result is actually more realistic-looking, I think. Well, as realistic as crying gold goes.
That's it! Here's a little video so you can see the gold in action.
Thanks for reading,
– Sara
Stay updated with Facebook • Twitter • Instagram • Pinterest • Bloglovin