Korean Skincare Haul: Klairs + COSRX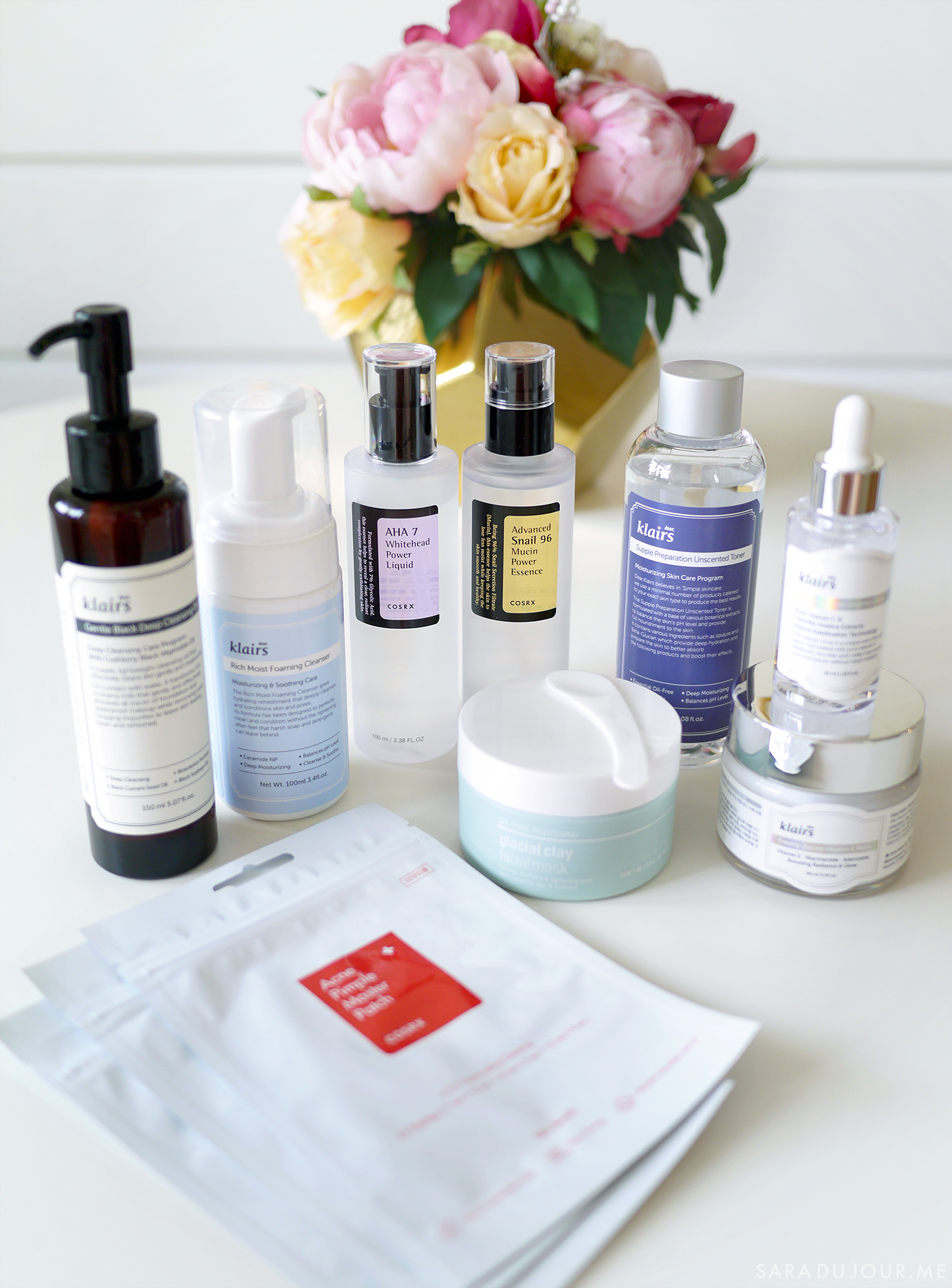 It happened. I finally got into Korean skincare. Like many other people, I decided to use this time in lockdown to finally figure out my skincare routine. I've struggled with sensitive, acne-prone dry(ish) skin my whole adult life, and I'd like to get clear, glowing skin – once and for all. Plus, my thirties are just around the corner, and I'd like to have an effective and complete skincare routine sorted before then.
The problem is, the skincare world is an absolute labyrinth. Every brand under the sun makes bold claims about their products, and every skincare guru and dermatologist contradicts each other's opinions on various products and ingredients. It's near impossible to know who to believe and what to buy, leaving us all frustrated and overwhelmed.
So I stopped relying on marketing claims and deep dived into the research. I spent hours upon hours learning about various active ingredients and poring over clinical studies to see which ones actually deliver results. I learned a LOT – but this isn't the post for everything I learned. That'll come later, when I share my full, updated skincare routine – when I've (hopefully!) solved my skin concerns.
But what I did learn is that a lot of skincare products are just marketing nonsense that we get suckered into paying BIG $$$ for. And I don't know about you, but I'm over spending $65+ for a damn face cream or $80 for a serum.
Enter K-Beauty. Korean skincare routines are extensive – and they use many ingredients and methods that haven't fully crossed over into the western beauty market (hello, snails!).
I was happy to discover that their price points are much more reasonable, yet they deliver just as good – if not better – formulas. I also love K-Beauty's focus on taking care of your skin, so you have a naturally glowing base upon which to apply any makeup you want.
I decided to incorporate some new products into my skincare routine, from two well-loved Korean skincare brands: Klairs and COSRX. (Both are cruelty-free!)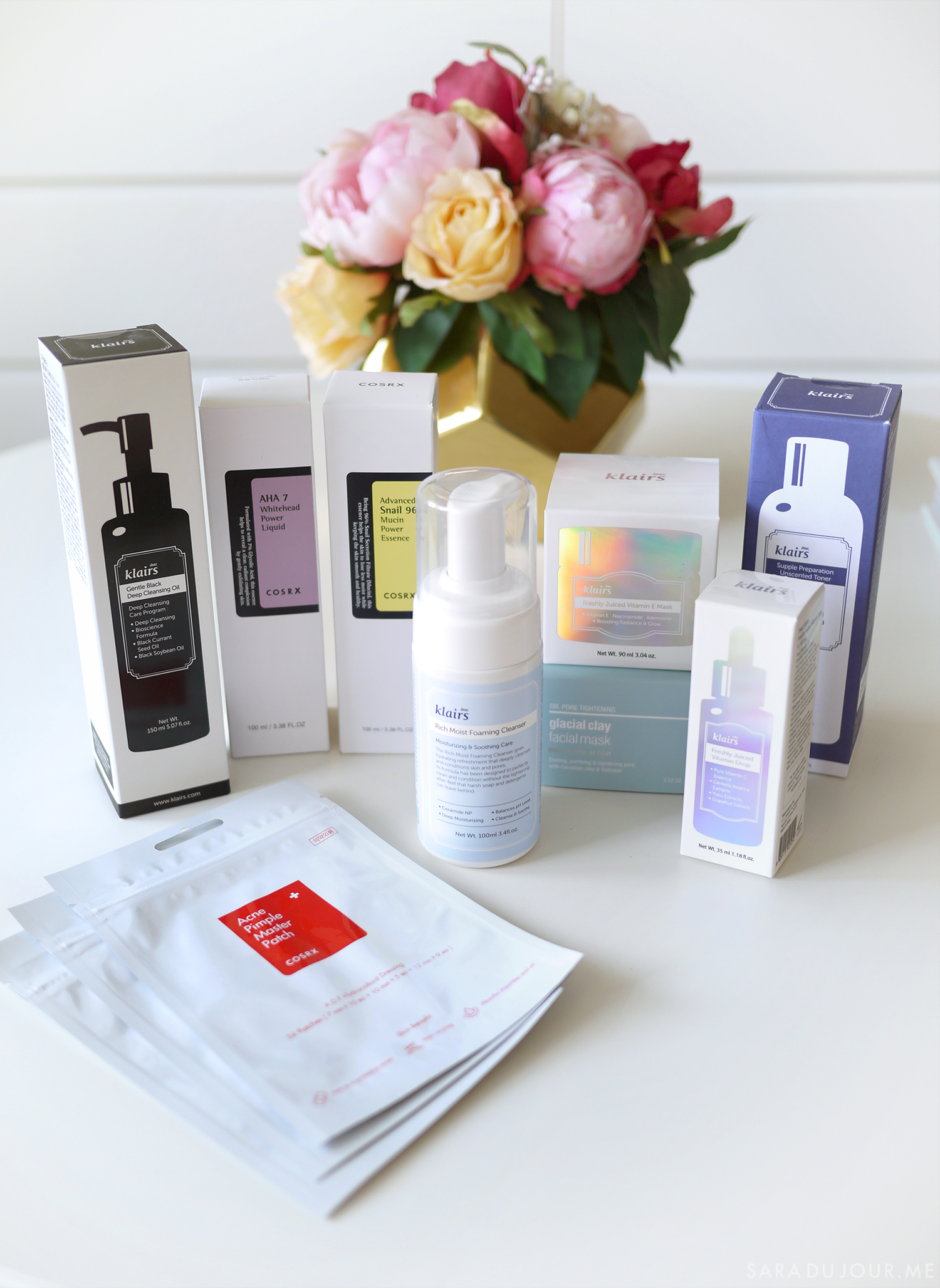 Korean skincare haul – what I got:
*Doing your own haul? Use code "SARADUJOUR" for a discount at checkout. :) 
Not pictured: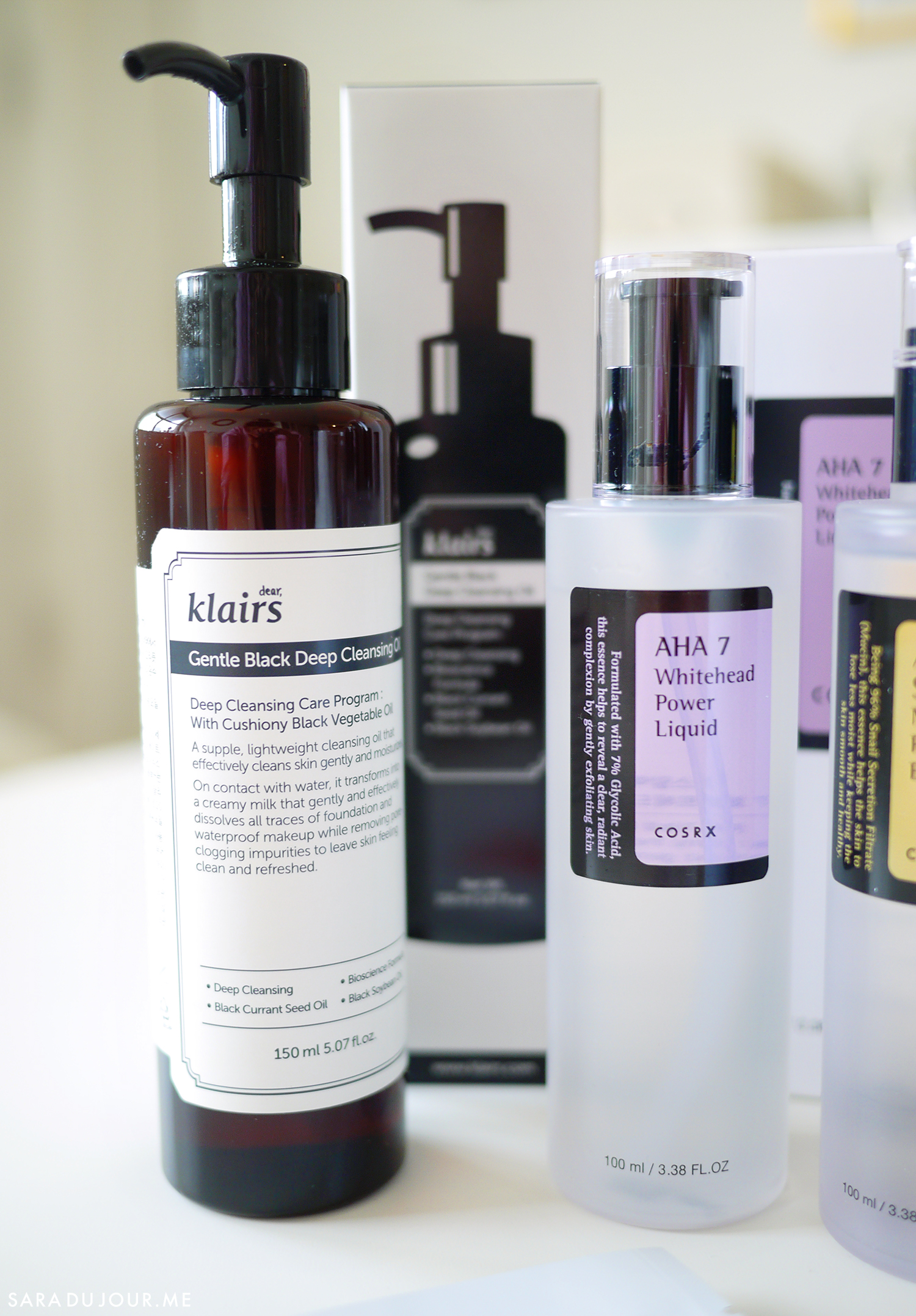 Okay, let's talk about cleansing. I used to think that the Korean "double cleansing" method meant washing your face twice – once to take off your makeup, and once to actually cleanse. But that's not what it means. In case you're suffering under that same delusion, let me clear things up. Double cleansing means using an oil-based cleanser to break down oil based products on your skin first, then using a water-based cleanser to break down the rest.
I bought this Klairs Gentle Black Deep Cleansing Oil as my first cleansing step. It uses black sesame oil and black currant seed oil, which contain antioxidants, minerals and vitamins, and is safe for sensitive skin.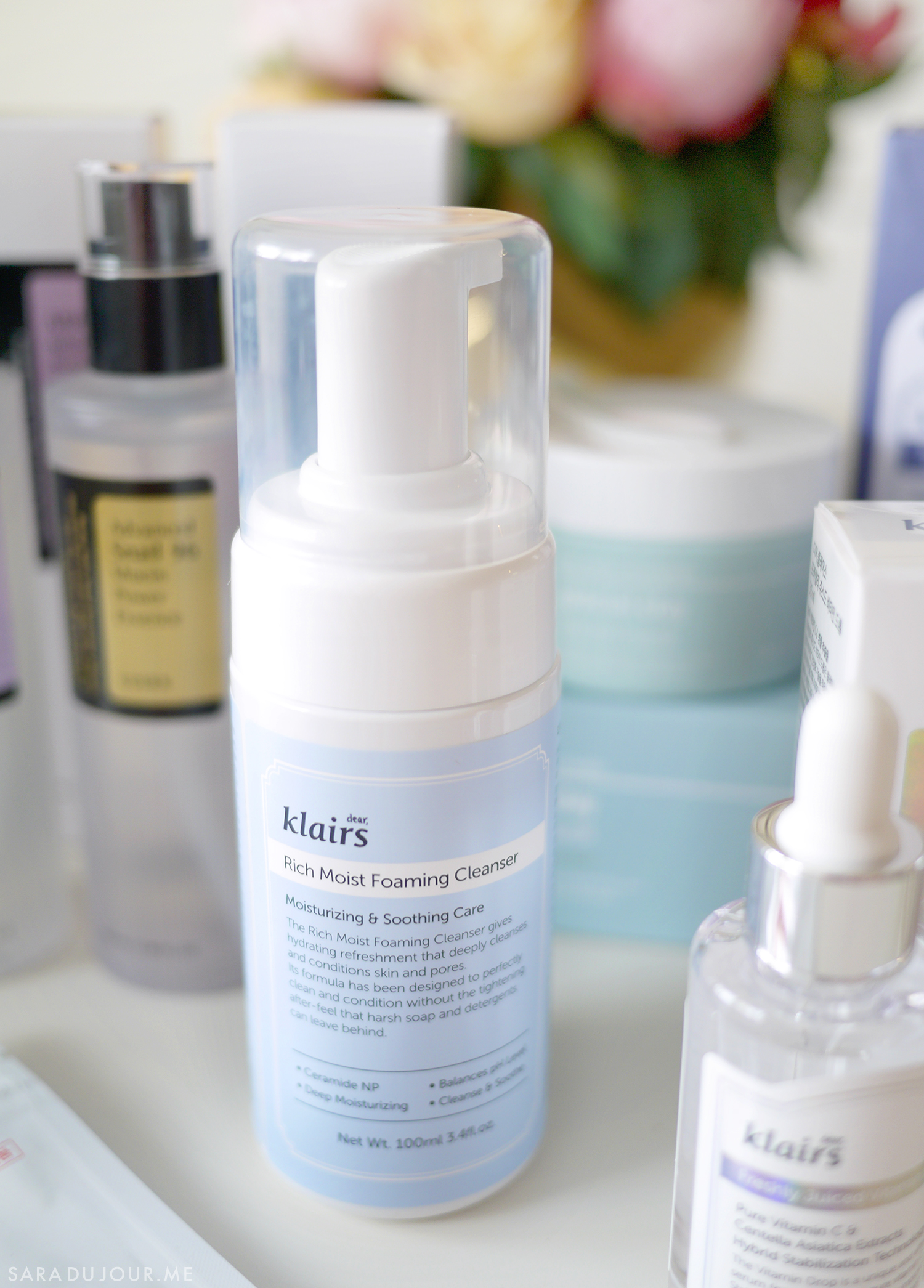 As my second cleansing step, I picked up Klairs Rich Moist Foaming Cleanser, which doesn't contain commonly-used chemical detergents like Sodium Lauryl Sulfate, that strips skin of its natural moisture barrier. Instead, this Klairs foaming cleanser contains hyaluronic acid, ceramide 3, aloe vera leaf extract, tea tree leaf oil (to help with blemishes) and olive oil for soft, hydrated skin.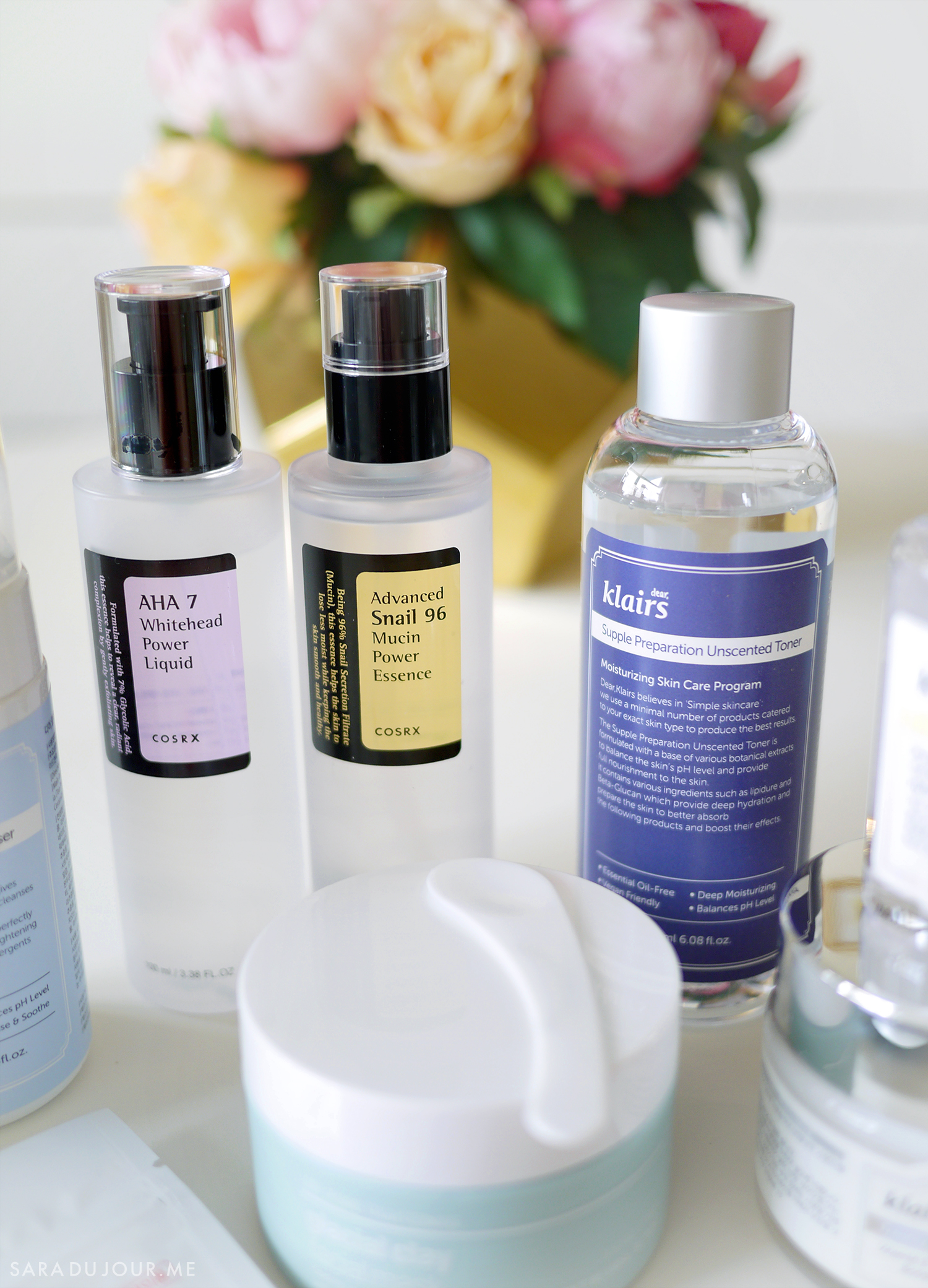 Korean skincare is really based in moisturizing. Just about every step of Korean skincare routines have products that add more moisture to the skin – not just the last step. I had heard RAVE reviews about this Klairs Supple Preparation Toner (available in the original formula and unscented, which I chose) so I had to try it for myself.
This calming toner balances your skin's natural pH levels, which aids in the absorption of any essences, serums, and moisturizers you use after. It also contains plant based extracts to reduce inflammation, sooth, and hydrate the skin (with hyaluronic acid).
I also had to try the cult-favourite COSRX Advanced Snail 96 Mucin Power Essence. Though not vegan, the product is cruelty-free (snails don't have to be harmed to collect the little slime they leave behind as they move). Snail mucin helps repair and soothe red, sensitive skin after breakouts, replenishes moisture, and improves skin elasticity.
Also from COSRX, I ordered the AHA 7 Whitehead Power Liquid, which chemically exfoliates with 7% glycolic acid to help resurface skin and (as the name suggests) clear whiteheads. It also contains niacinamide (a form of vitamin B-3) which minimizes enlarged pores, smooths rough texture and helps to brighten your skin.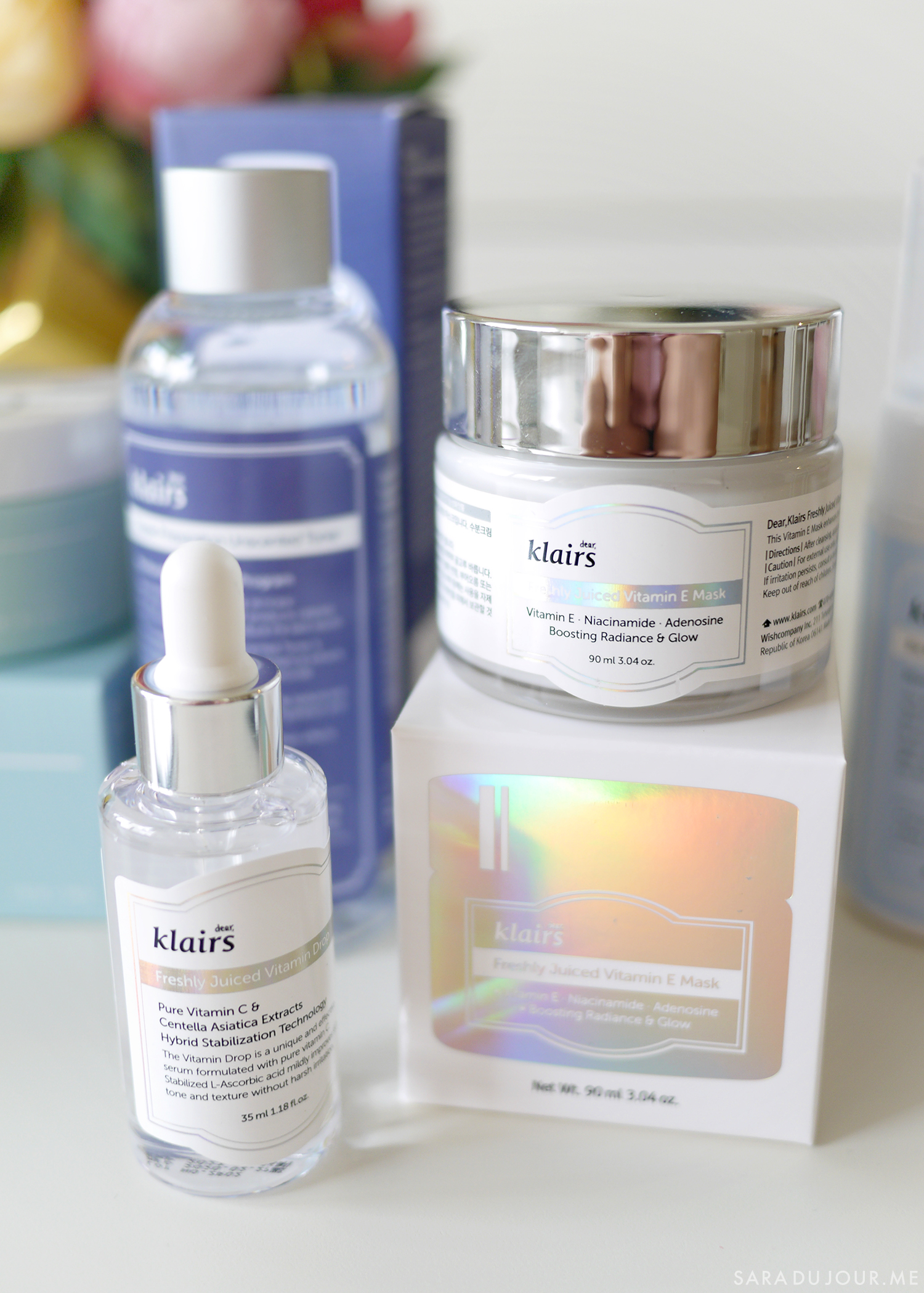 From Klairs, I also picked up two bestselling products: the Klairs Freshly Juiced Vitamin Drop, and the Klairs Freshly Juiced Vitamin E Mask. The Klairs Vitamin Drop contains 5% Vitamin C, a concentration gentle enough to see results without irritating sensitive skin. Vitamin C helps to brighten, even out skin tone, and fade pigmentation.
Following the Klairs Vitamin C serum with the Klairs Vitamin E mask helps to stabilize the Vitamin C, while hydrating and nourishing skin with Vitamin E (obvi), Niacinamide, Adenosine, and a variety of plant extracts. Niacinamide is a great ingredient for acne-prone skin, because it helps suppress your the skin's production of sebum. Adenosine is naturally found in all of our cells, and strengthens skin by promoting collagen synthesis. It also has powerful anti-inflammatory properties, which helps to heal active breakouts.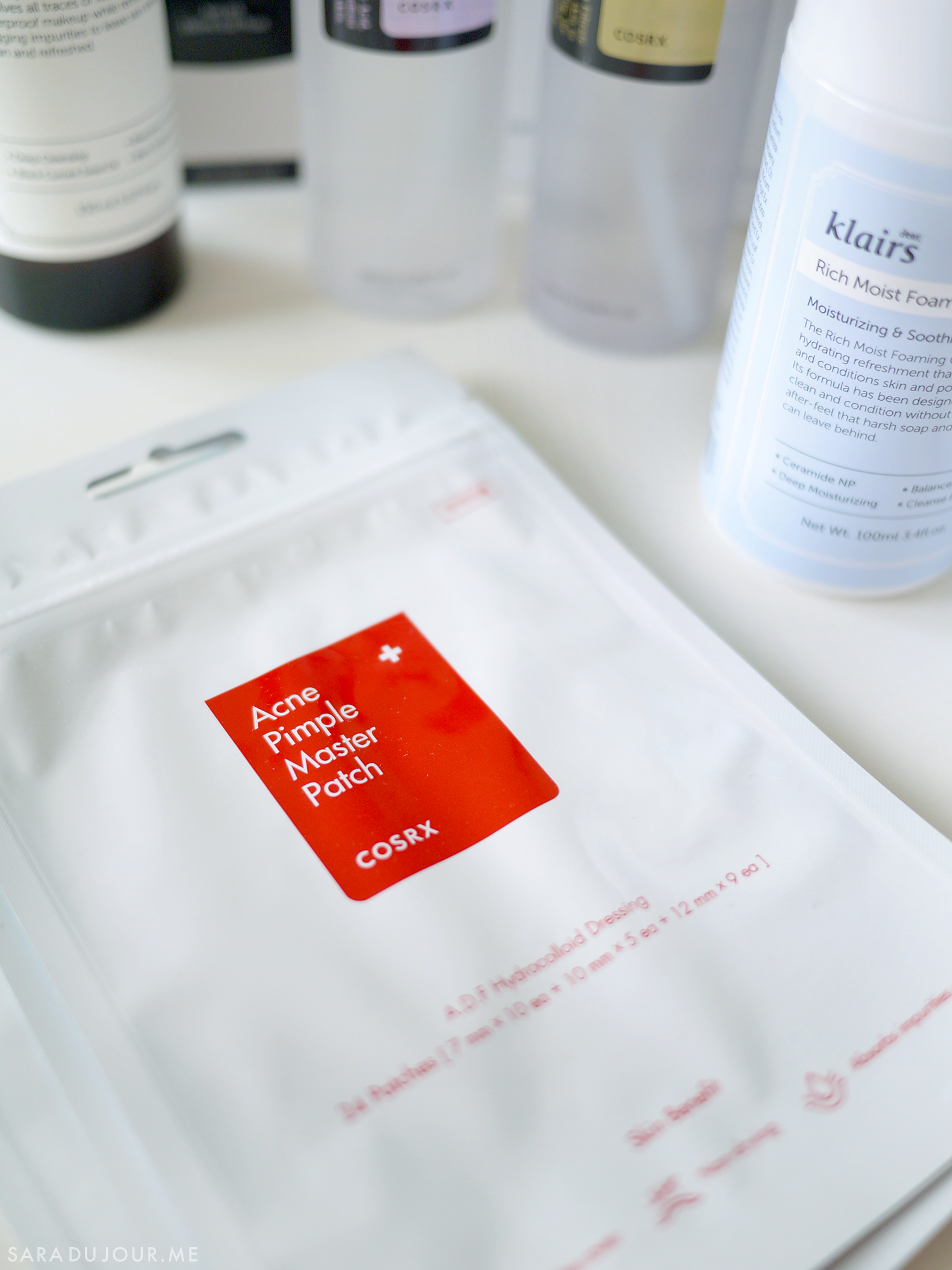 These COSRX Acne Pimple Master Patches are a product I've actually been using for over a year, and are a true holy-grail skincare product to me. I stick the little round patches on before bed any time I have an active breakout, and by morning the pimple is laying flat because everything has been sucked out of it and is now on the hydrocolloid sticker. It's both gross and deeply satisfying. I buy them in bulk because I never go without them.
They're also really handy because it's much easier to conceal a flat blemish with makeup than a three-dimensional one, and sucking the gunk out that's already trying to come out speeds up the healing process.
Since I'd already been using and loving these pimple patches, I felt confident in buying more COSRX products for this Korean skincare haul.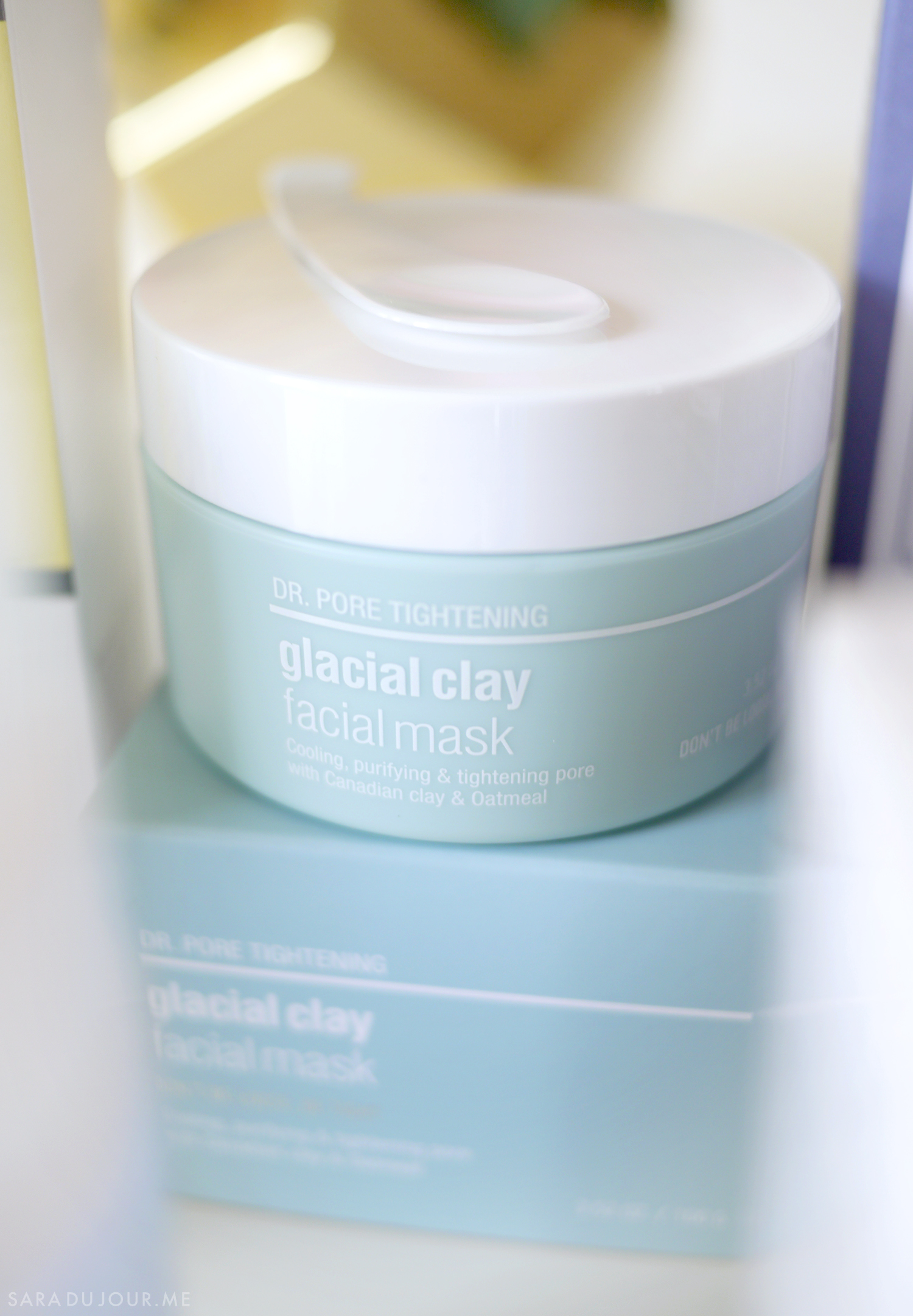 This SKIN&LAB Glacial Clay Facial mask is a wash-off mask that uses Kaolin clay (the gentlest kind), Bentonite clay, Canadian Colloidal clay, oatmeal, and tea tree leaf oil to absorb sebum and deep clean the skin.
I'm excited to try it out! It's supposed to be more soothing than most clay masks thanks to the addition of oatmeal, making it a good choice for sensitive skin.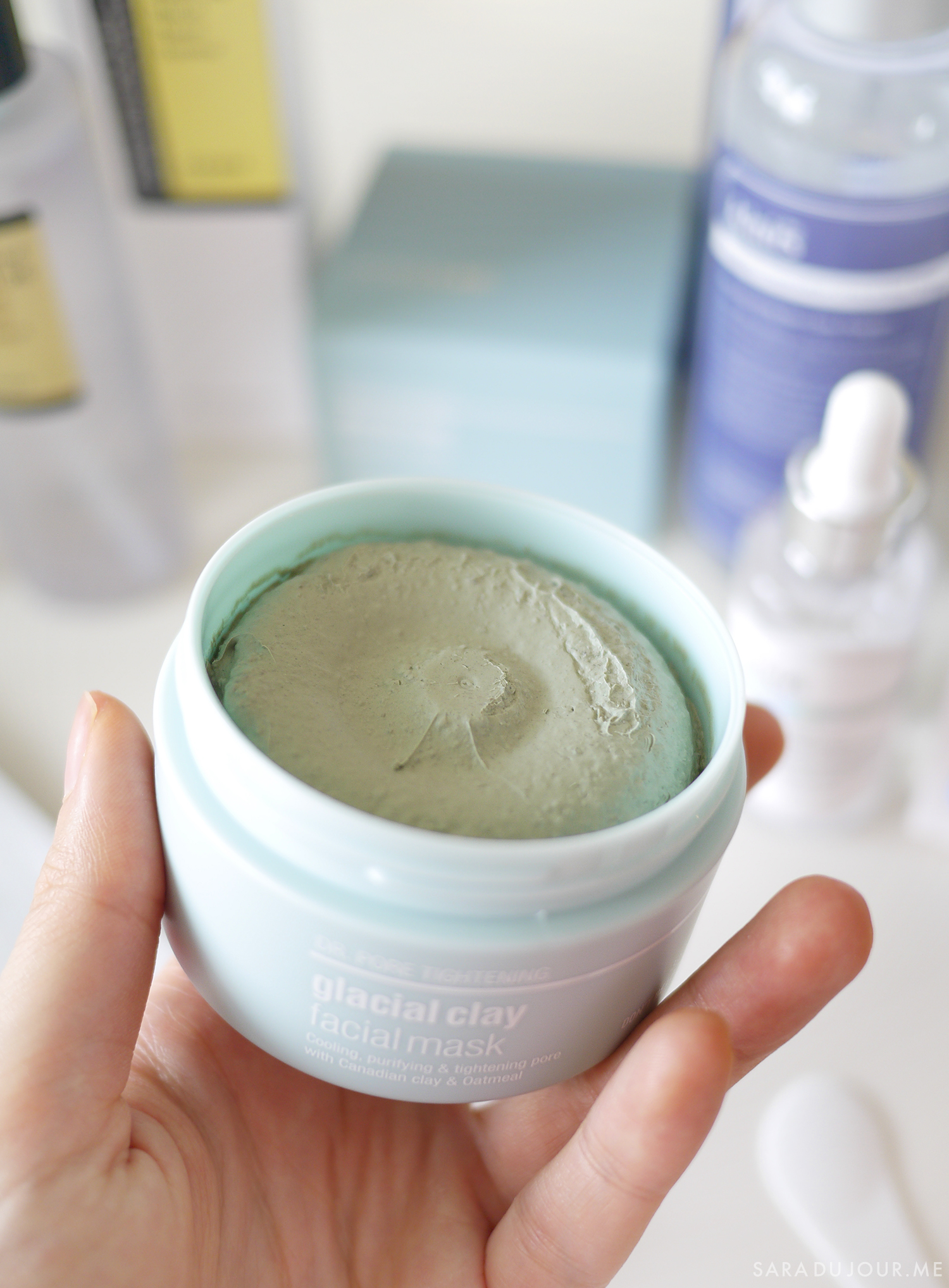 Not pictured because they haven't arrived yet:
Klairs Soft Airy UV Essence SPF 50 PA ++++
The importance of wearing daily SPF (yes, even if you stay indoors) cannot be understated. Don't bother with expensive skincare products and fancy routines if you don't want to protect your skin from sun damage – there's no product magical enough to undo the harm you could just prevent. Plus, wearing SPF is especially critical if you use active ingredients like Vitamin C, AHAs/BHAs, and retinol in your routine, since they all increase cell turnover and leave your fresh new skin extra vulnerable to the damaging effects of UVA and UVB rays.
In short: THE BEST WAY TO PREVENT SIGNS OF PREMATURE AGAIN IS TO PROTECT YOUR SKIN FROM THE SUN. And Koreans know that well.
Korean sunscreens are formulated completely differently than the thick, greasy sunscreens we're used to in North America. This Klairs UV Essence is a weightless, non-greasy chemical sunscreen that has won multiple #1 sunscreen awards year after year, and is designed to work well under makeup.
Klairs Fundamental Nourishing Eye Butter
Turns out eye creams are a bit of a scam. Companies know people are very interested in preventing fine-lines around the eyes, so they charge an arm and a leg for eye creams that purport to prevent them. The truth is, if you have a great, nourishing moisturizer you love, you can just apply it around your eyes too – you don't need to spend $80+ for a dedicated eye cream. So if you're on a budget, this is one product in a skincare routine you can easily skip.
This Klairs Eye Butter is rich in Vitamin A and Vitamin E, and has 4 types of peptides to improve fine lines. And at around $30, it's a much more affordable eye cream than my current $82 Estée Lauder one, so I plan to switch to this one when my eye cream runs out.
And that concludes my Korean skincare haul! Stay tuned to learn what I think of these products and which ultimately become part of my new skincare routine.
Don't forget to use my YesStyle coupon code "SARADUJOUR" if you end up wanting to try any of these products yourself.
Thanks for reading,
– Sara
Stay updated with Facebook • Twitter / Instagram (@saradujour) • Pinterest