Glow Recipe Watermelon Glow Review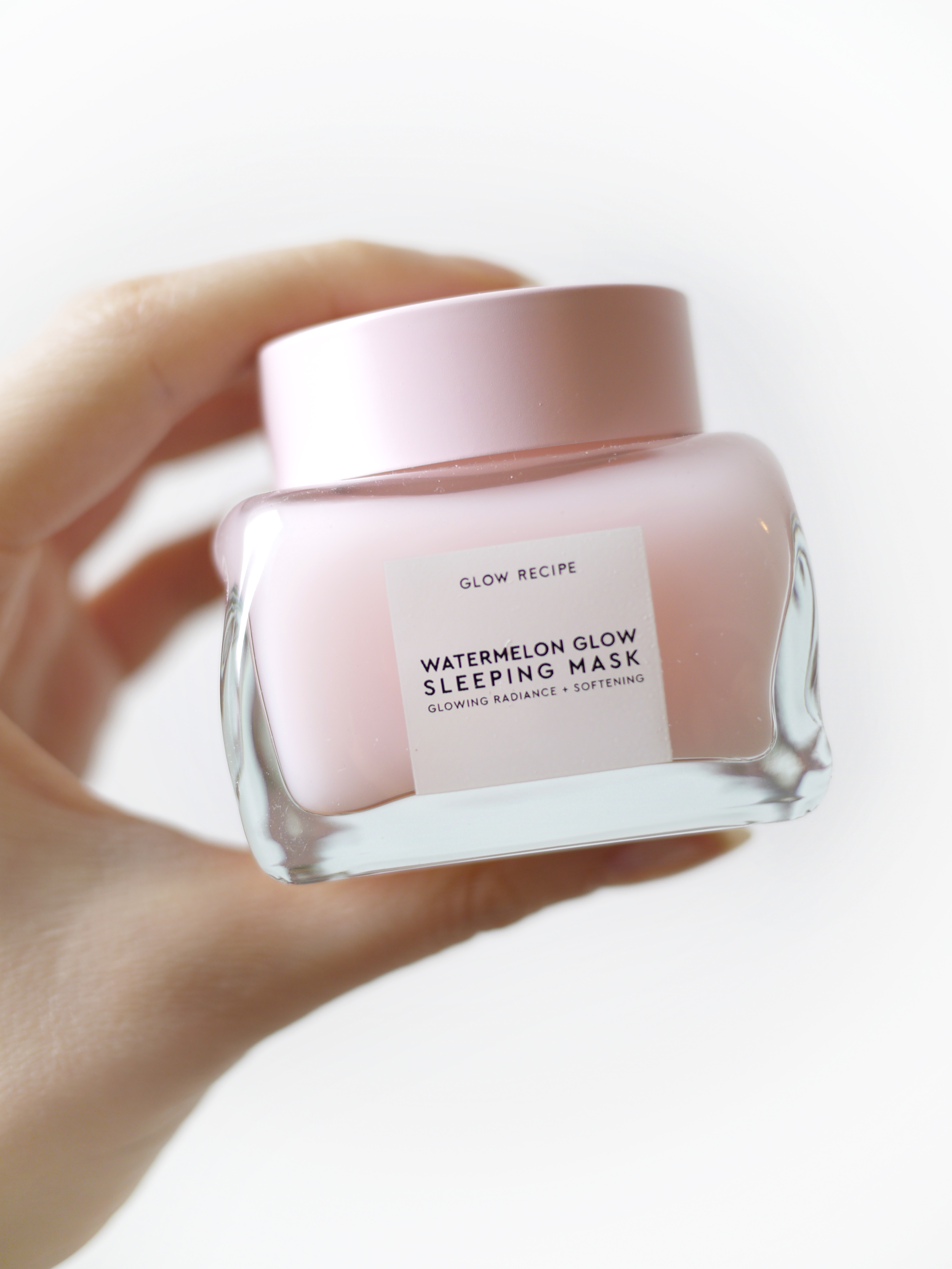 Me again, back on #SkincareQuest2019. This time, reviewing Glow Recipe's Watermelon Glow Sleeping Mask and Watermelon Glow Pink Juice Moisturizer. If you've been considering trying either of these products yourself, keep on reading.
Glow Recipe is a Korean beauty brand founded by two women, Sarah Lee and Christine Chang, that recently made a splash at Sephora. I hadn't really forayed into K-beauty, but its emphasis on skincare and glowing skin (hence the name) appealed to me, so my curiosity was piqued.
Glow Recipe further wooed me with their beautiful product design that literally matches my blog's aesthetic. I was a goner.
I only intended to buy the Glow Recipe Sleeping Mask, because I had never used a sleeping mask before and the concept both confused and intrigued me. But Sephora offered a set of both the Glow Recipe Sleeping Mask and Pink Juice Moisturizer for $59 – the same price as the Sleeping Mask alone. (And yes, they're the same volume – trust me, I checked.)
I don't get it either, but I wasn't going to turn down a virtually free second item.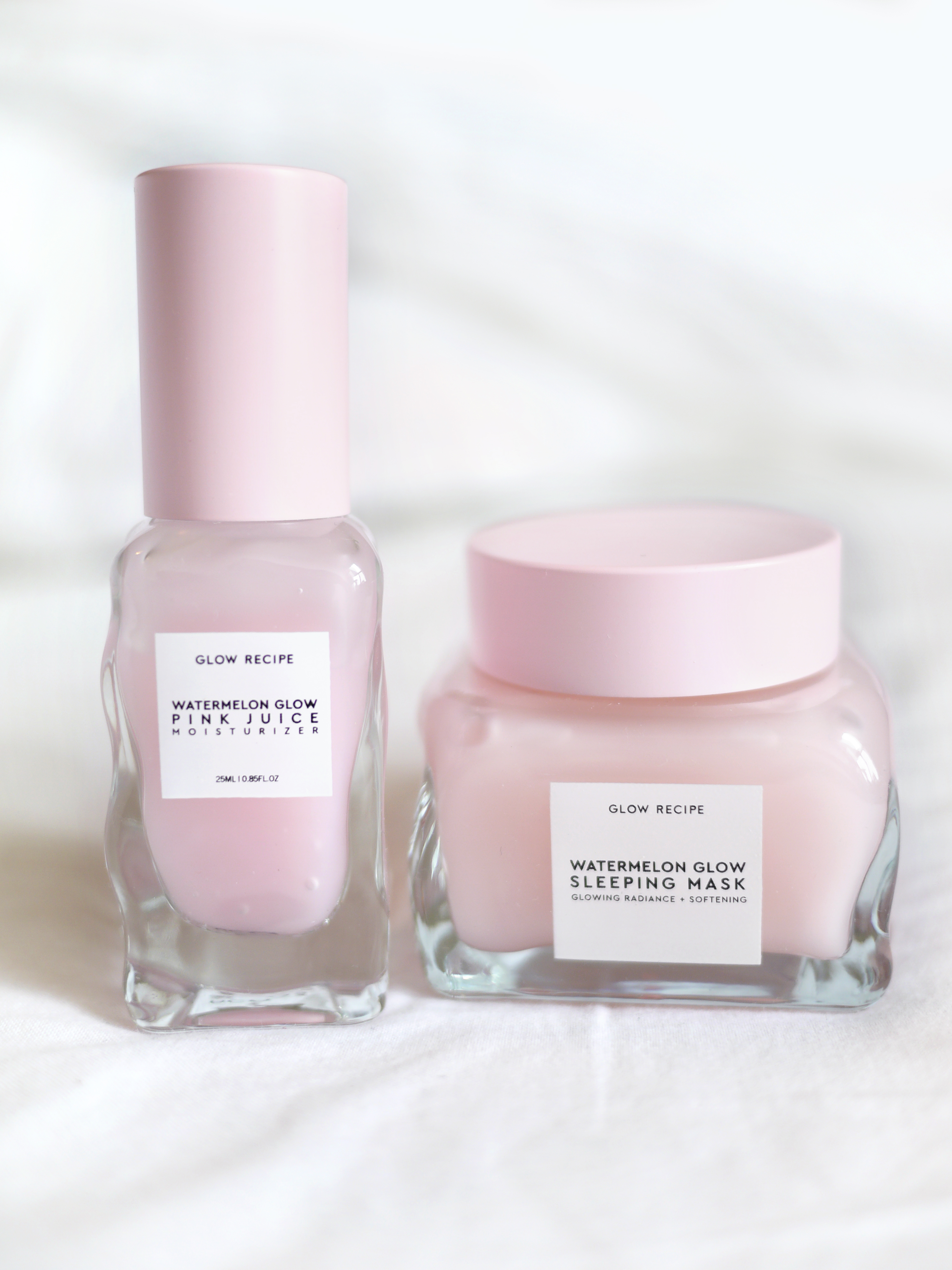 They both have the "Clean at Sephora" indicator, which always helps me feel better about a skincare product. As I've mentioned, I have highly sensitive skin that will break out if I even walk past the dairy aisle.
The skincare products boast watermelon extract to soothe irritated skin, hydrate, and deliver essential vitamins, hyaluronic acid for long-lasting, glowing hydration, and antioxidants to fight free-radicals and promote brightness. They're also vegan and cruelty-free.
I was a little skeptical to try them, but excited.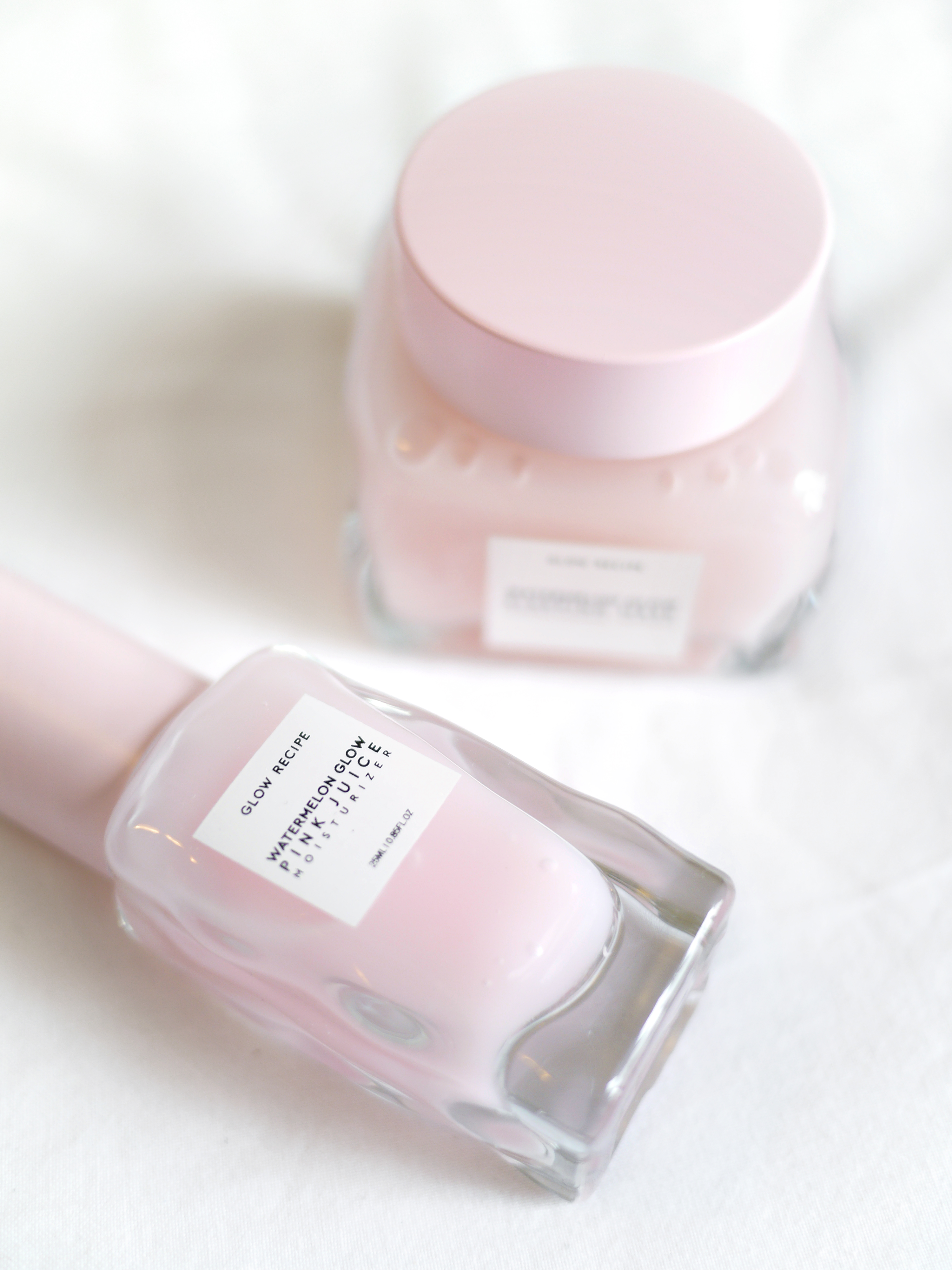 Glow Recipe Watermelon Glow Pink Juice Moisturizer
This was the bonus item I got basically for free. It's a lightweight, oil-free moisturizer. They recommend you use it as a moisturizer if you have oily/combination skin, and as a serum if you have dry skin. I'm pretty sure "use it as a serum" is code for "this product ain't for you". Since I have dry skin, it did a whole lot of nothing for me. It didn't hydrate enough to replace my daytime/pre-makeup moisturizer, and since it's not an actual serum, I wouldn't use it in place of my serum, either.
Both the Watermelon Glow Pink Juice Moisturizer and the Sleeping Mask smell like watermelon candy, which I think most people would like (it's a lovely smell!) but any skincare/makeup products with fragrance worry me. Because my skin is so sensitive and acne-prone, I only want it to be absorbing things that are good for it – and fragrance is not that.
Would I repurchase this? Definitely not.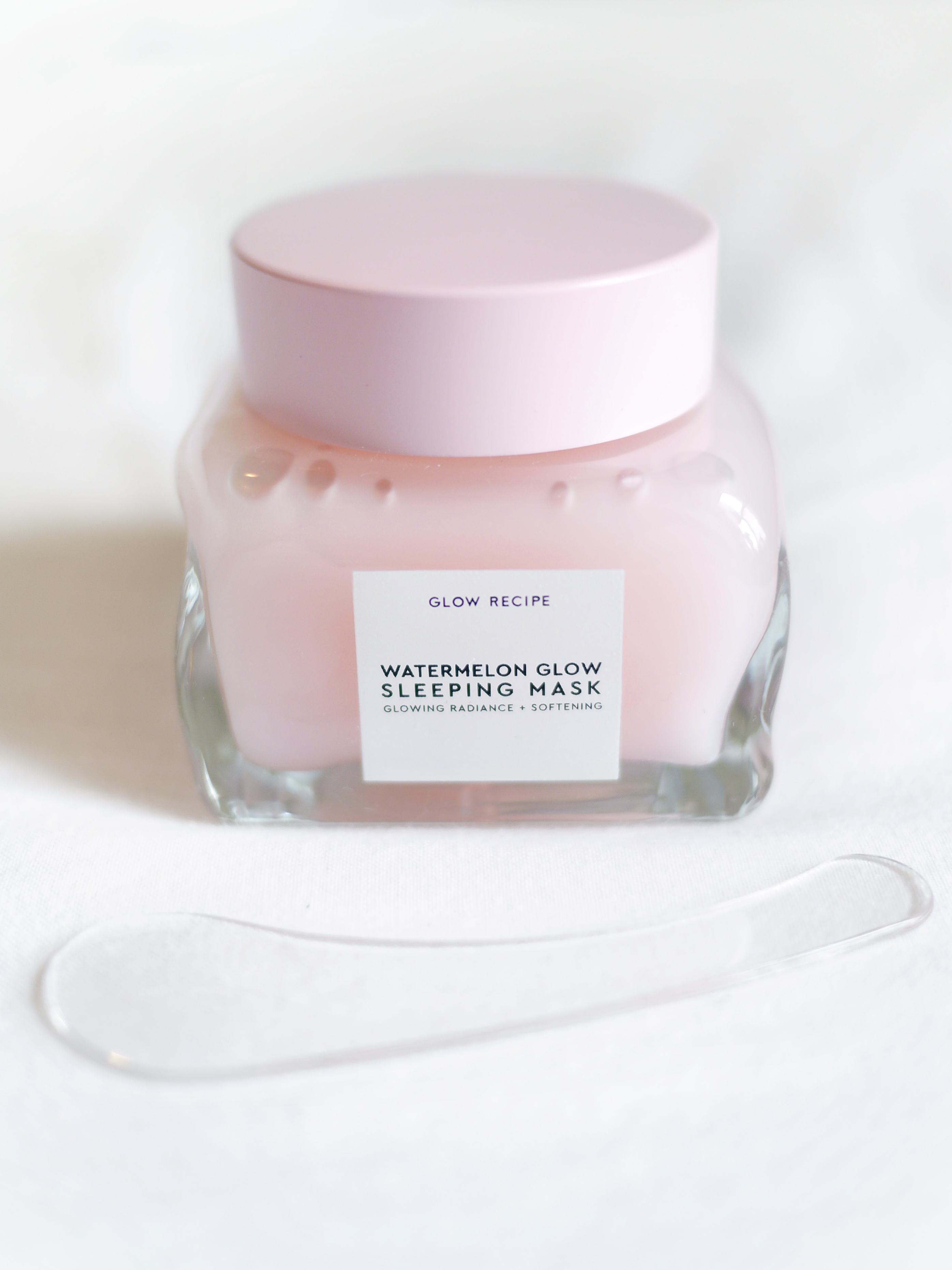 Glow Recipe Watermelon Glow Sleeping Mask
Now for the fun part: the sleeping mask! You're meant to use it as the last step in your evening skincare routine – after you've cleansed, toned, applied serum, moisturized, or whatever it is you do.
You spread a generous layer of the gel-like consistency on your face, give it a few minutes to set, then head to bed. I was really worried this would smear all over my pillows and bedding, especially since my bedding is all white. So I'm thrilled to report this wasn't the case! It's such a unique consistency. When it sets, it's a somewhat bouncy, thick gel layer that you can feel on your face. It doesn't dry down or evaporate into nothingness. And yet, it doesn't really move! (Mind you, I tried to sleep mostly on my back and side – I don't think this would work as well for those who sleep on their face.)
The next morning, when I washed the mask off, my skin really did feel hydrated and glowy. But then….I broke out pretty badly over the course of the day. I didn't want to believe it was this product, because I really really liked it. And I know there are so many factors at play when it comes to my skin. Maybe it was hormonal? Something I ate?
So I waited about two weeks for my skin to clear up, and then on a really good skin day, when my face was pretty much completely clear, I decided to use the Watermelon Glow Sleeping Mask again. To give it another chance and find out for sure if that was the cause of my problems.
Same story. Glowy, hydrated skin when I woke up, and then breakouts throughout the day. Viciously angry pores.
So would I buy it again? Unfortunately, no.
In conclusion
I wanted to love this. I really did. But my skin is just too sensitive and it didn't agree with me. However, a lot of people really, really love this Sleeping Mask, so if you don't have hyper-sensitive, breakout-prone skin, I actually recommend you try it. It smells delicious and it's fun!
Thank goodness for Sephora's return policy.
– Sara
Stay updated with Facebook • Twitter • Instagram • Pinterest • Bloglovin