Off to the Races – Queen's Plate Outfit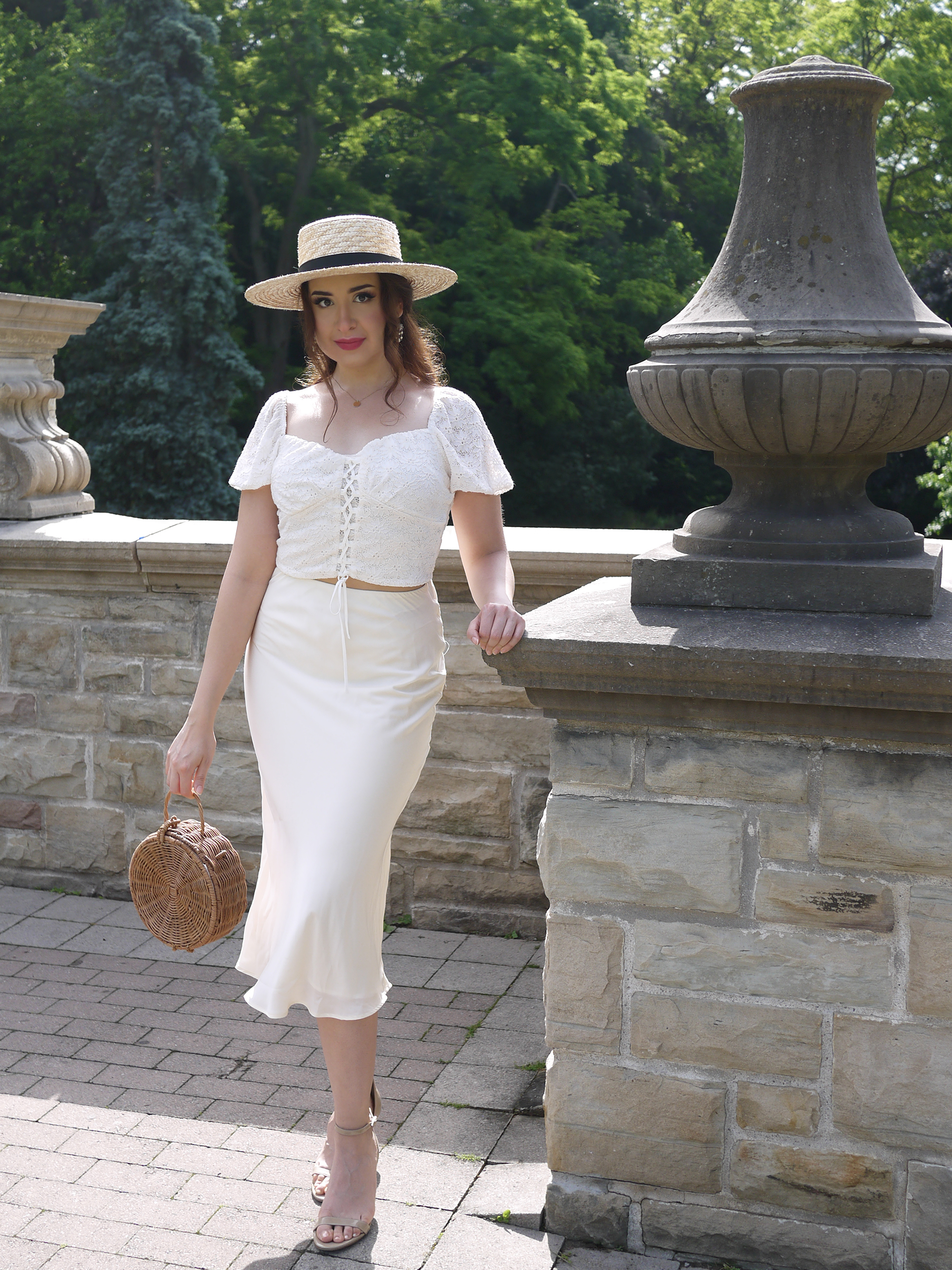 Quick links: lace top | satin skirt | straw boater hat | bamboo bag | shoes
I'd never been to a horse racing event before, so when a friend suggested we attend the 160th Annual Queen's Plate this weekend, I was excited to dress for what I regarded to be, essentially, a costume party. A costume party with fancy clothes, fancy hats, and the horses in the back. (Yes, I had to sneak that in there somewhere.)
And you know I can't resist a theme.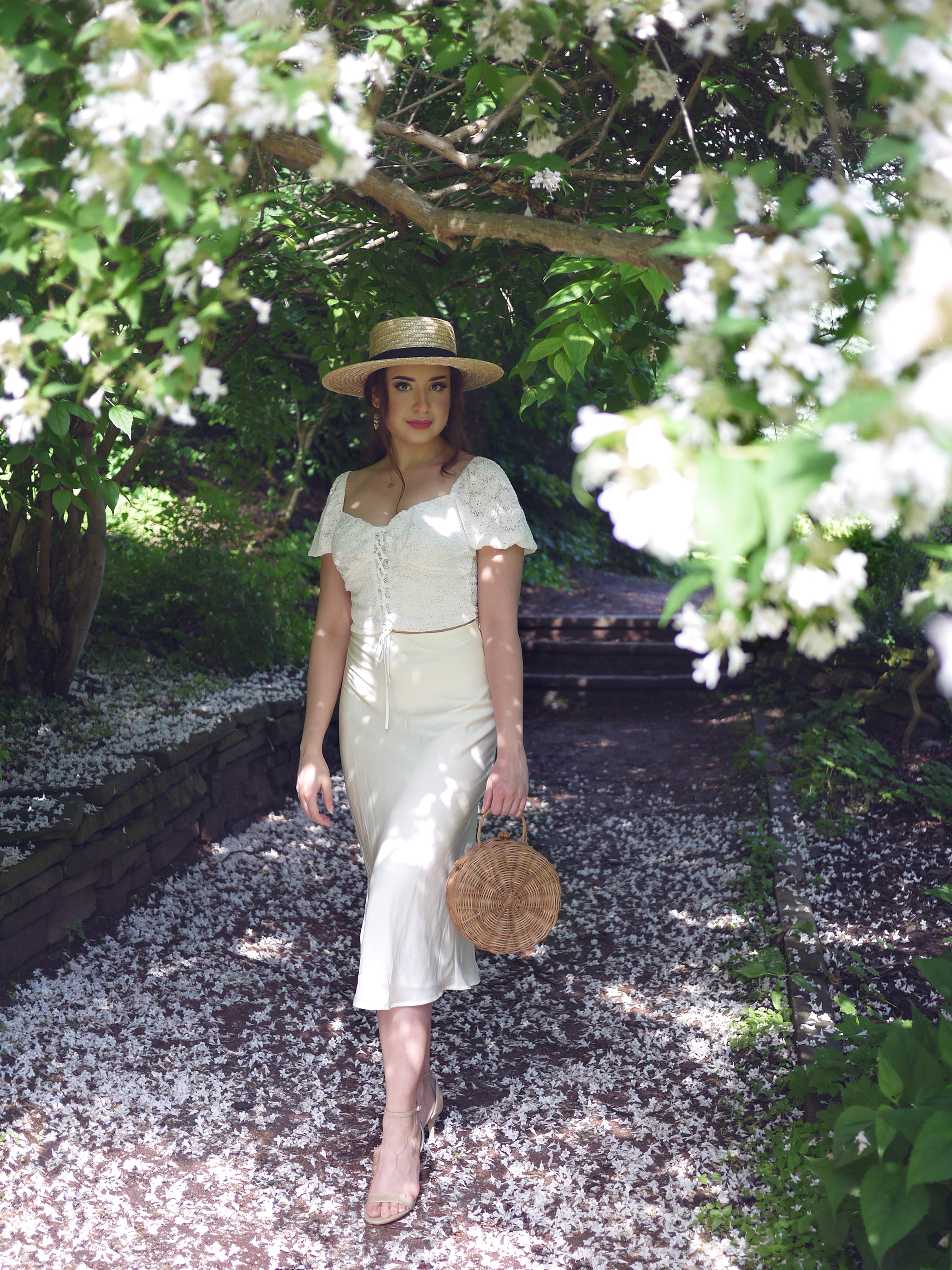 I spent hours and hours window-shopping online, in search of the perfect outfit. At first I assumed I'd wear a dress, since a dress, hat, and heels seemed to be the most popular choice for a race day outfit. I just couldn't find one that perfectly matched the vision I had in my head. I wanted something romantic and with a vintage vibe. Eventually, I gave up (around hour 72) and decided to put together an outfit with separates instead.
The first piece I came across was this cream satin midi skirt, that skims past the knee and flares out toward the bottom. I fell in love with how flowy and feminine it was – ideal for a summer event. Once I had the skirt chosen, the rest of the outfit came together in my head quickly. I went off in search of a lace crop top to pair it with. (And by "I went off" I mean of course, more online shopping, because shopping for clothes in person is its own unique circle of hell.)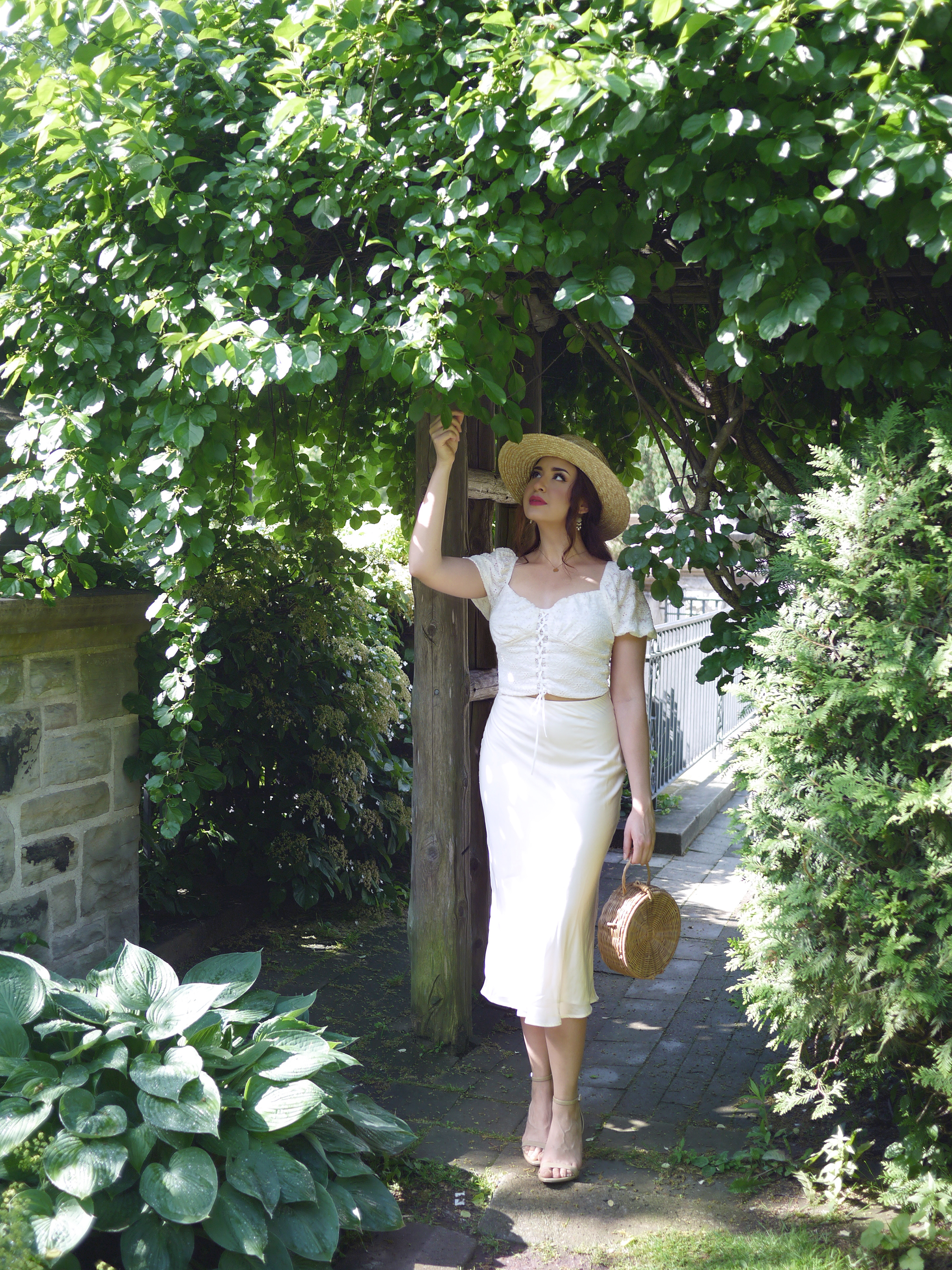 Luckily for me, romantic styles are very on trend right now, so it wasn't too difficult to find the top of my dreams. This lace, puffed-sleeve crop top was giving me a little Anne of Green Gables and a little Secret Garden – perfect for a British-style event taking place in Canada. (Happy Canada Day, by the way!)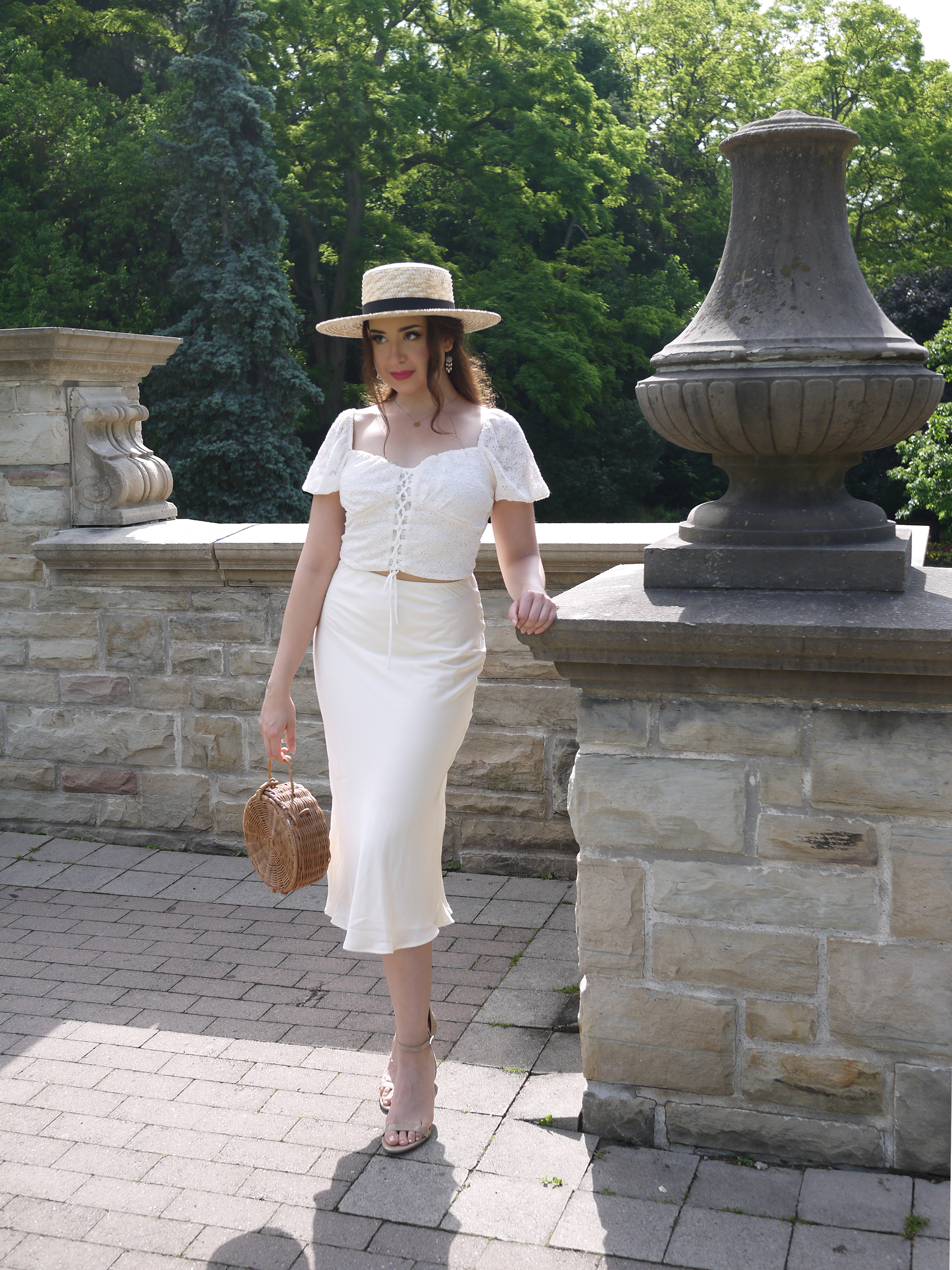 Since the outfit was so light and airy, I didn't want to weight it down with a heavy shoe. I opted for my trusty nude, barely-there Patti sandals by Sam Edelman. They have enough of a heel to lengthen the leg (3.25″), but are still very walkable. As far as heels go, at least.
The strap around the ankle really helps make them comfortable and easy to wear. You're not wobbling around, and you don't have to cling to the shoe with your toes, lest it come off mid-step. They're securely on there. (Highly recommend, I have them in nude and black for this very reason. My go-to warm weather dressy shoe.)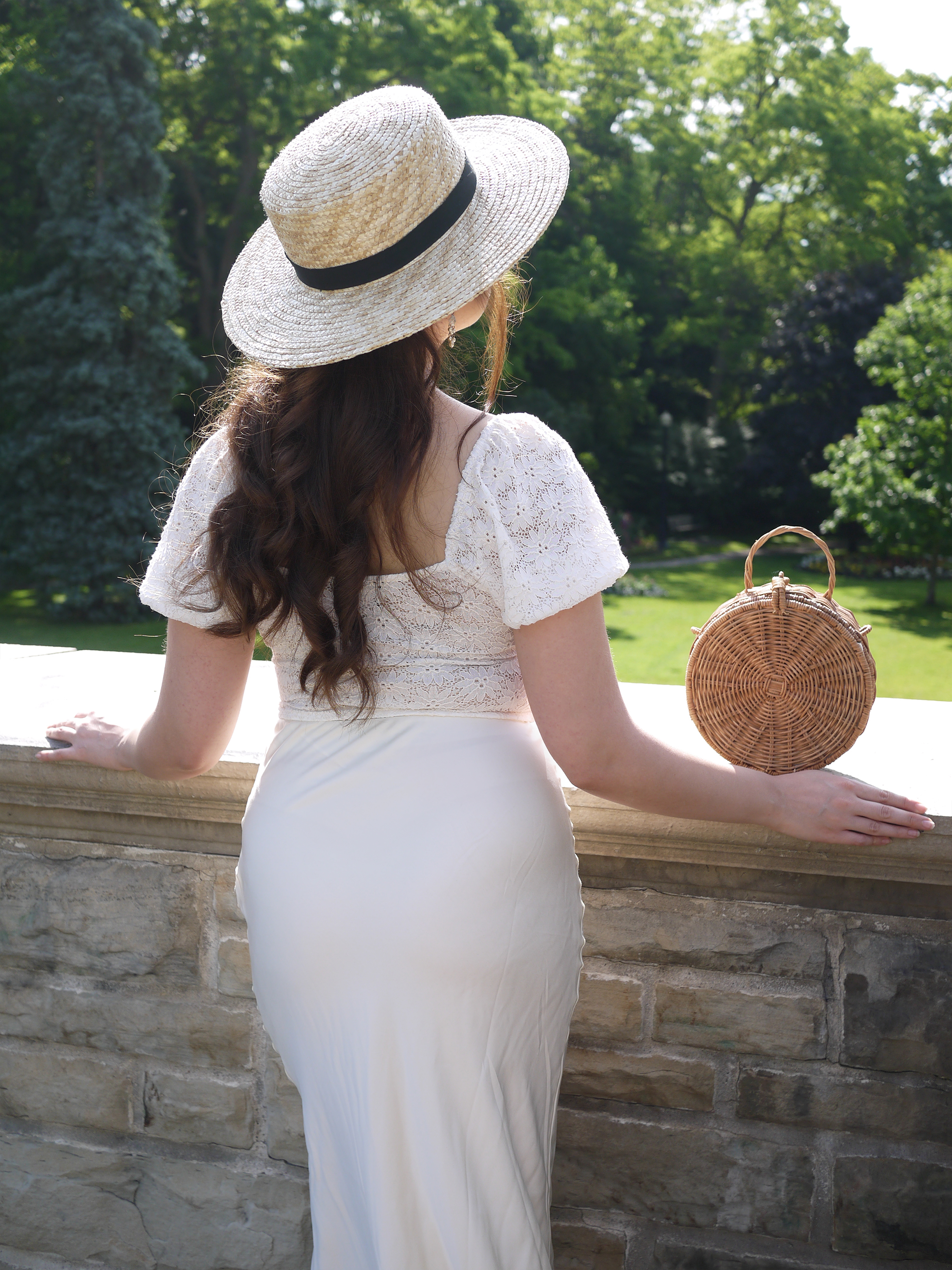 Okay, onto the accessories.
Now, I'm not a hat person at all. I find them to be impractical and annoying. When they're on your head, they're wrecking your hair, making it flat and sweaty. And if you want to take off your hat? Now it's occupying one of your hands. Plus you're always at risk of it being blown off your head. (This happened to me while leaving the event.) It's just not convenient!
But for the sake of the theme and this probably-once-in-a-lifetime horse racing event, I decided to wear a hat. I'm not a fan of fascinators (think: Royal Wedding) or big, fancy decorated hats, so I opted instead for a simple straw boater hat with a black ribbon. I figured it's a versatile enough piece that I could wear it beyond just race day.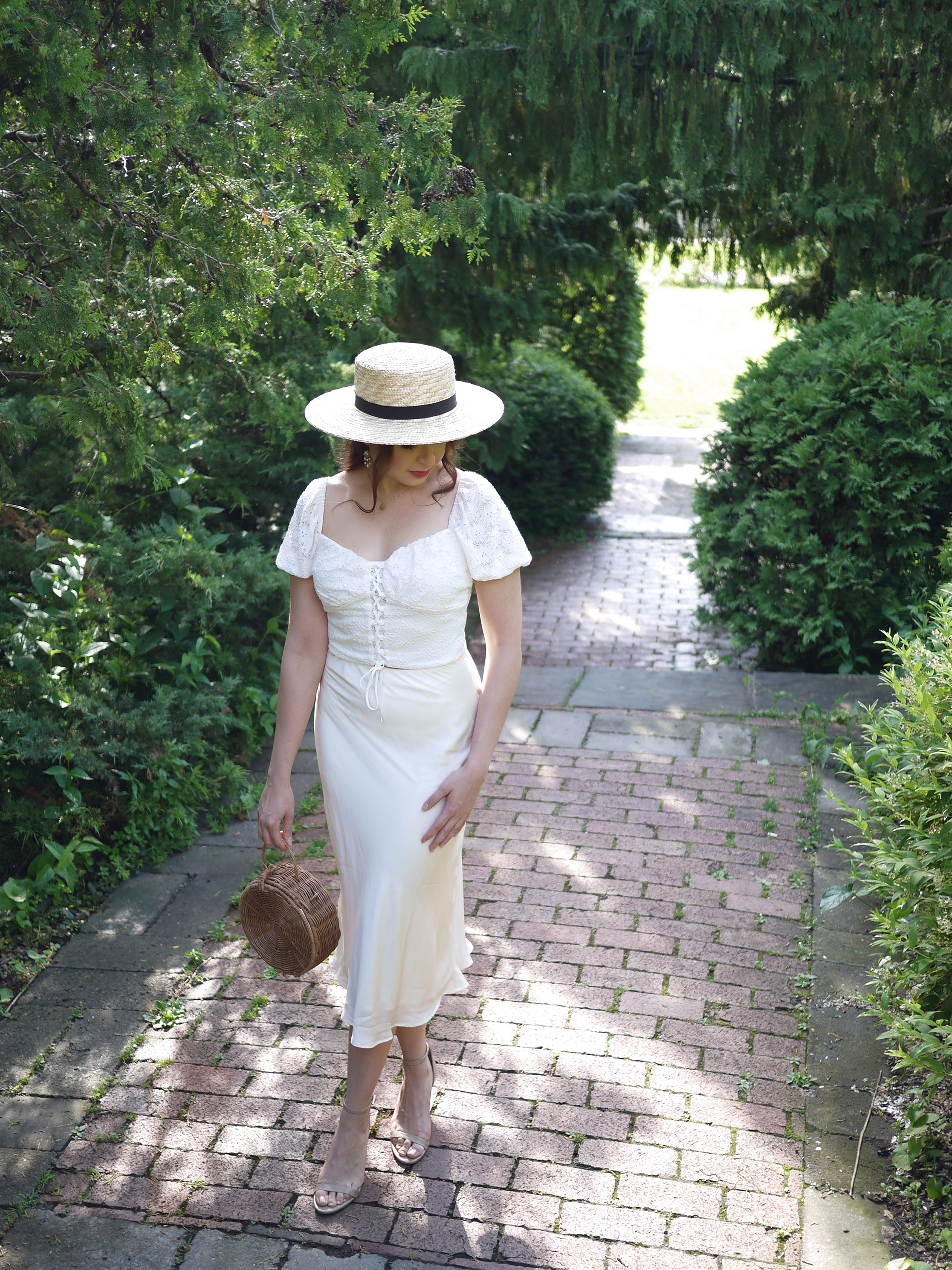 To match the summery look and straw hat, I went with a round bamboo bag. I thought since they're both brown-ish and made from natural materials, they kind of go together.
It originally came with a long, black rope shoulder strap which I removed.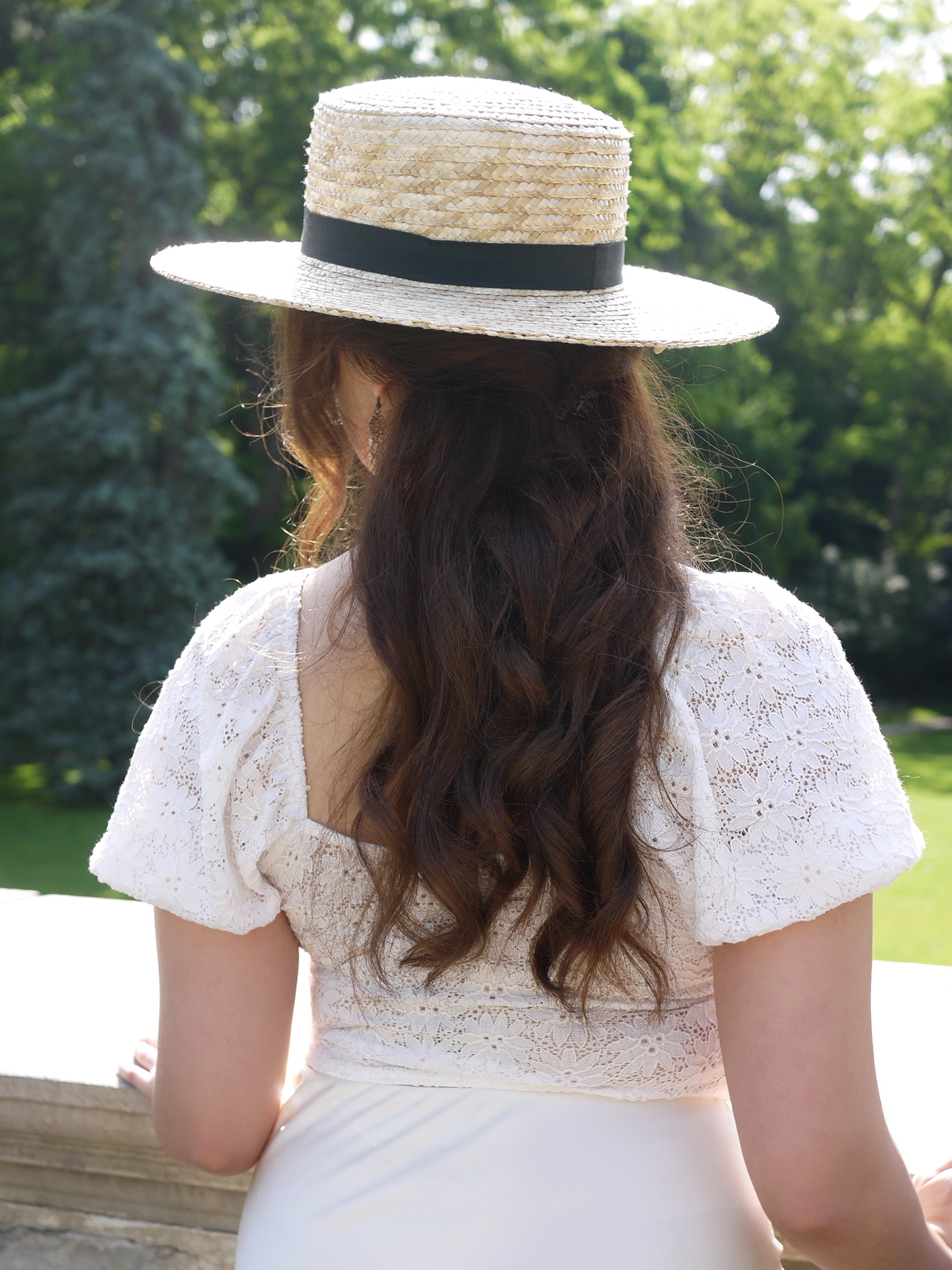 I wanted my hair to match the ~*soft, romantic vibez*~ of the outfit, so I curled it, pinned it half up, and kept a few loose tendrils in the front. A touch Elizabeth-Swann-before-she-gave-it-all-up-to-become-a-pirate, if you will.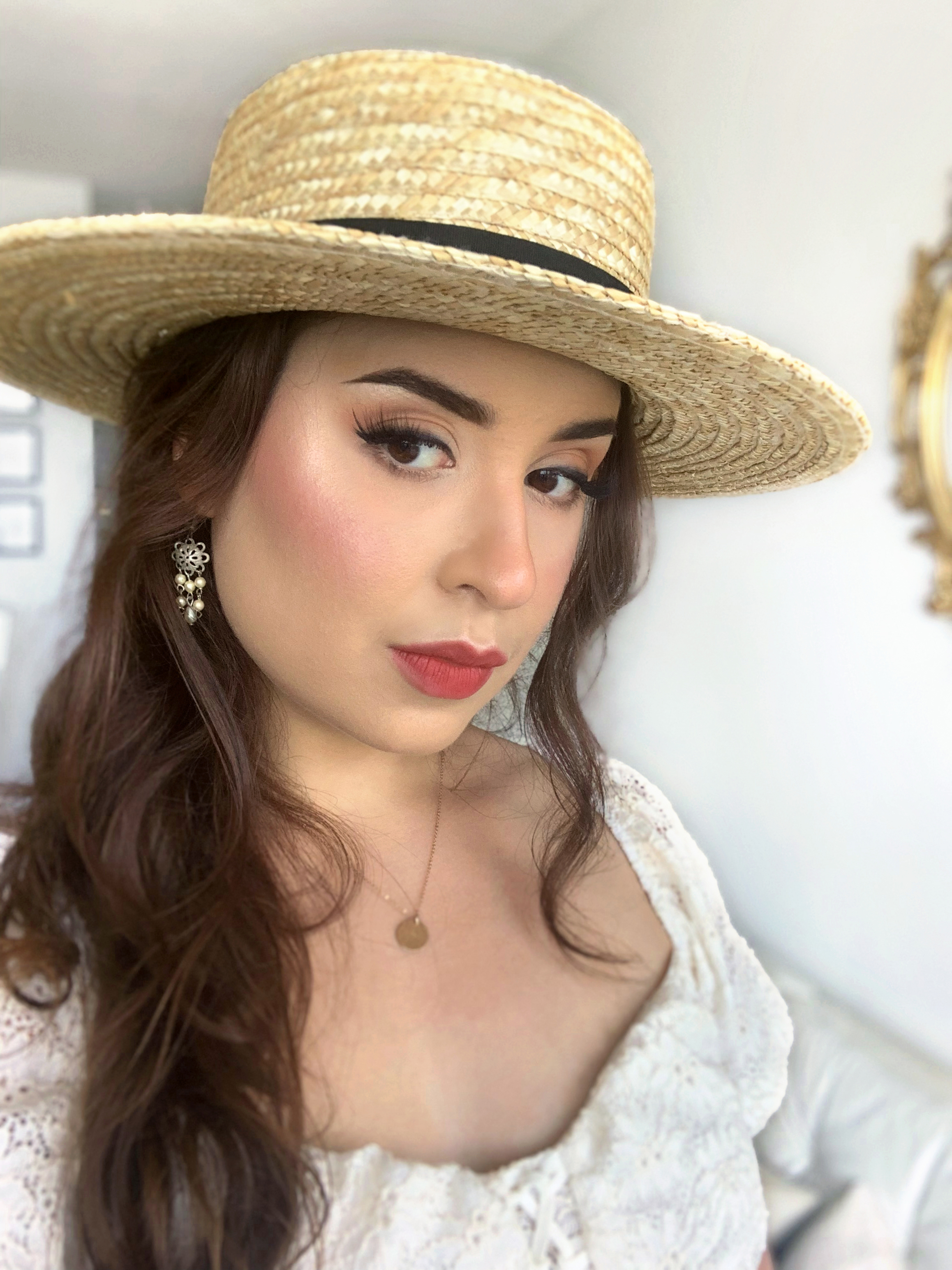 I kept the makeup similarly vintage-inspired and romantic with big, fluttery lashes in the outer corners (these are so long, they're worthy of Yzma), flushed pink cheeks, some highlight, and a matte, rose-coloured lip.
My gold necklace is from GLDN, and my pearl drop earrings were my mom's. She actually made them back when she used to be a jewellery designer. I've always loved them, and now they're mine to treasure.
As for the race itself, if you watch my instagram stories you've already seen all the best bits from Saturday. (If you missed it, it's saved to my "Summer 2019" highlights.) It was a perfect summer's day, though we found the actual sporting event to be a bit underwhelming. But I guess any sport is if you know nothing about it and have no stake in the outcome of the competition.
The horses were beautiful though, and the one I picked to win (because it was wearing pink) actually won the first race, so that was a fun surprise! My friends and I also had a few laughs at the odd names the horses were given, like Jammin Still and One Bad Boy.
Have you ever been to a derby or horse racing event? Let me know in the comments.
Thanks for reading!
– Sara
Stay updated with Facebook • Twitter • Instagram • Pinterest • Bloglovin