Kim Possible Cosplay: Makeup + Costume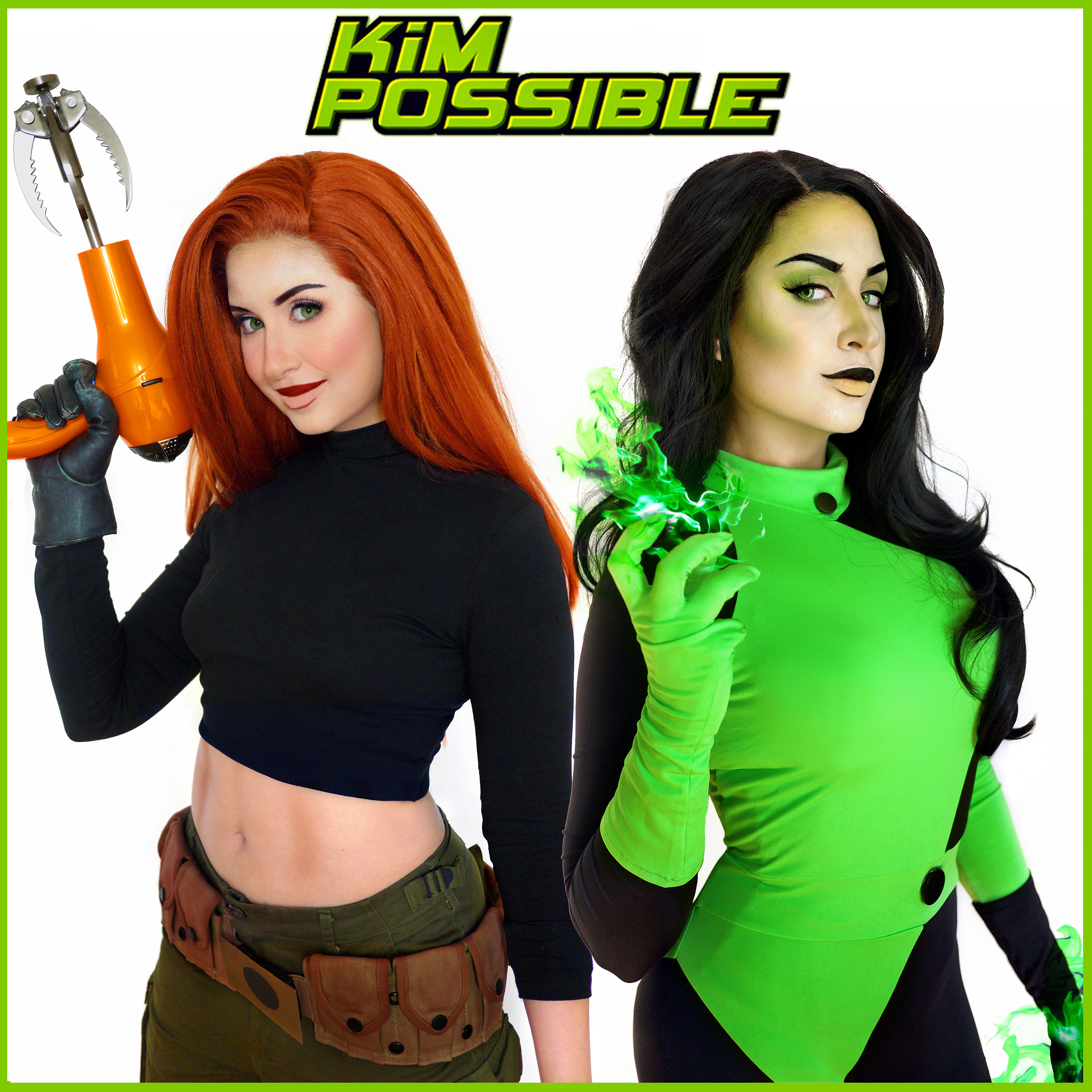 Happy Halloween! For all the details on this Kim Possible cosplay, including my DIY Kim Possible costume, props, makeup and hair, keep reading. And yes, I even made Kim's grappling hook gun.
Looking for all the details on my Shego cosplay? That post will be up next. (Follow me on instagram so you don't miss it! @saradujour)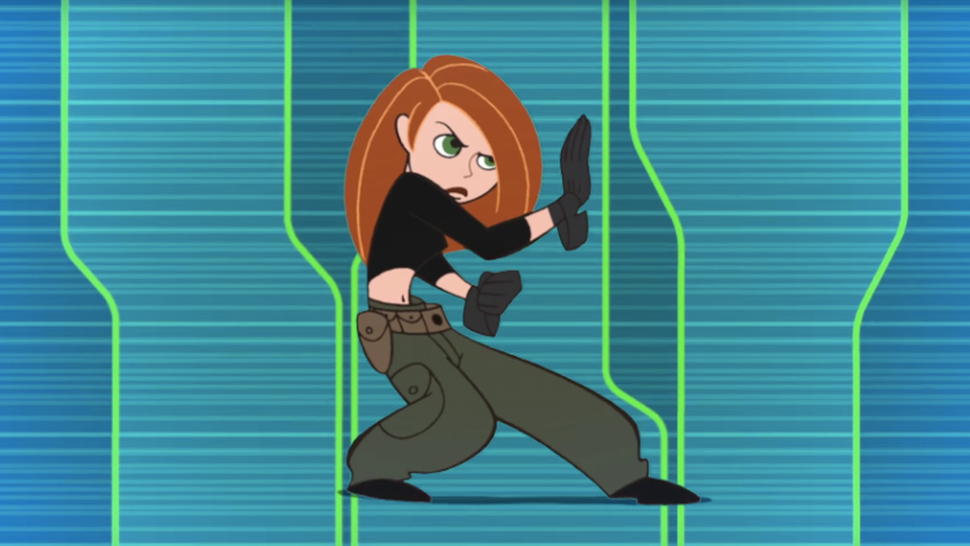 This year I'm paying tribute to one of my favourite Disney channel shows growing up: Kim Possible. She's your basic, average girl – and she's here to save the world.
(Watch the Kim Possible opening sequence here for an instant blast of nostalgia.) 
I was obsessed with Kim Possible. I loved anything in the girl-kicking-ass-and-fighting-crime genre, but especially when it came with cool gadgets. Plus, the show had hilarious villains with snappy one-liners. What's not to love?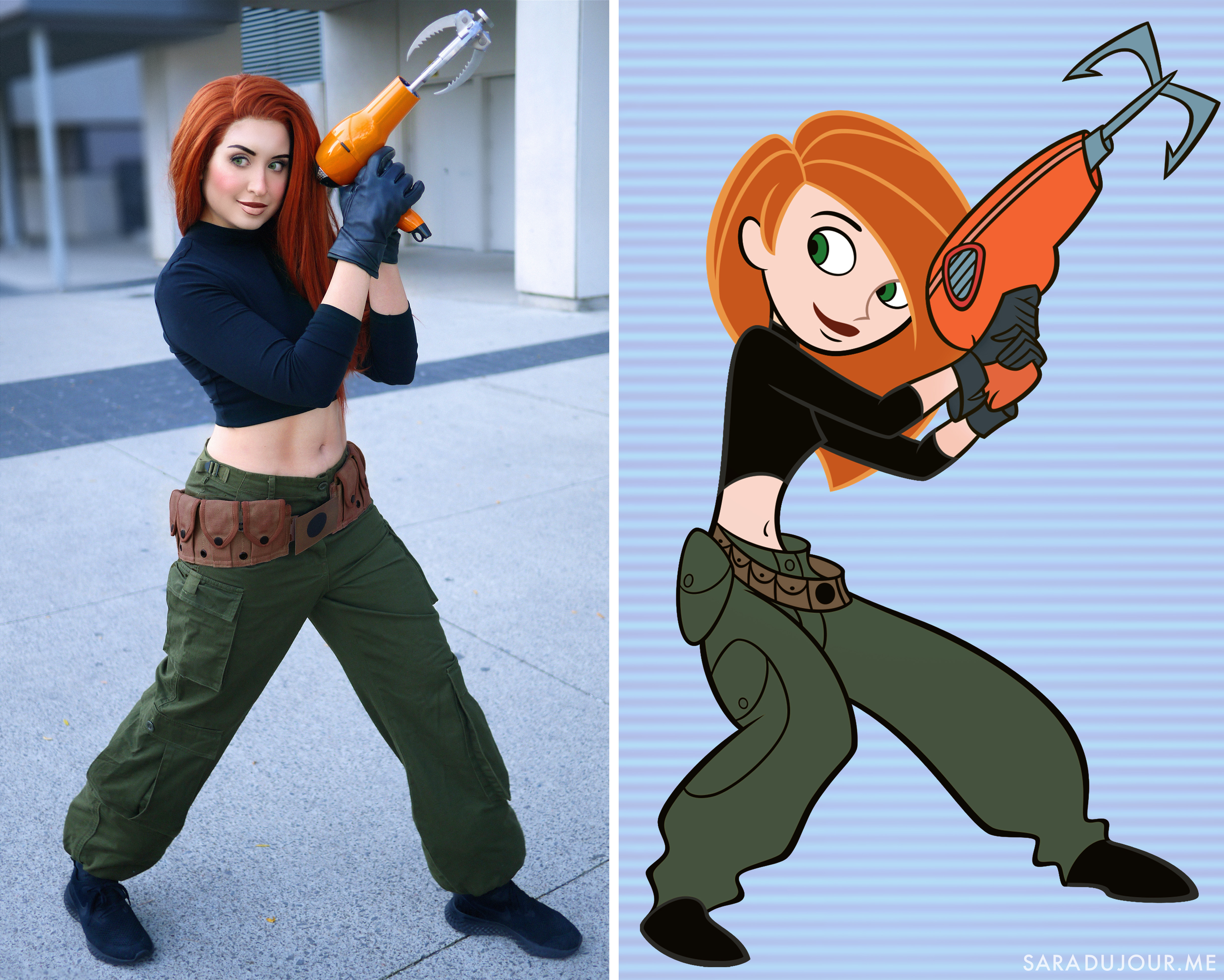 Before I give you the detailed instructions of how I pulled this Kim Possible costume together, here are all the links for what you'll need to replicate this cosplay. Some of these items I already had (like the sneakers, gloves, wig, and green coloured contacts), and the rest I purchased online.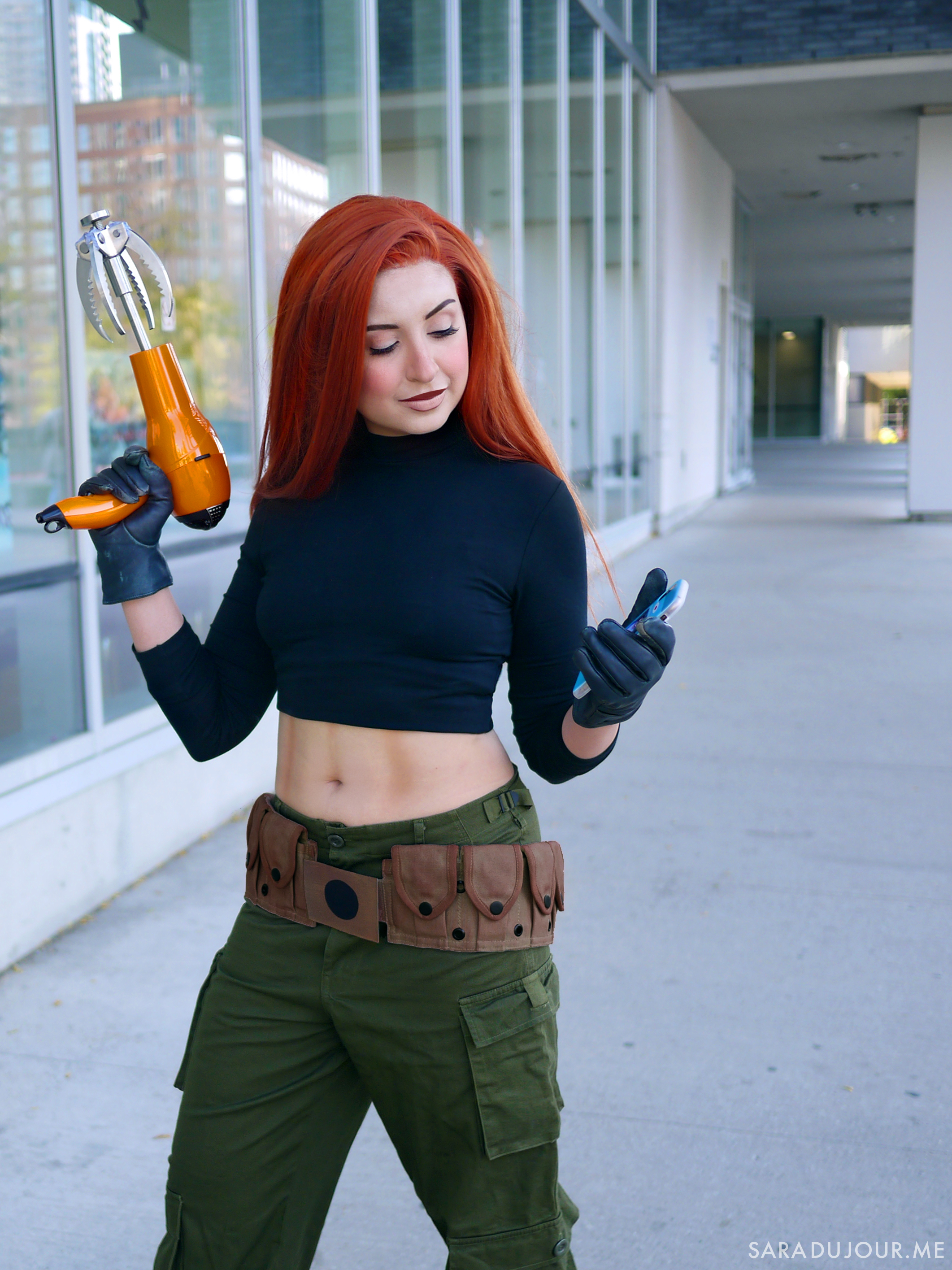 Kim Possible cosplay – what you'll need:
OUTFIT
PROPS
OTHER

The Outfit – Kim Possible Cosplay
Kim Possible's outfit is pretty easy to DIY for Halloween or a costume party. If you have a black turtleneck, olive cargo pants, a brown belt, and black sneakers – you're basically already there. But if you're as obsessed with accuracy as I am, here's what I did to replicate Kim Possible's animated *lewk* as closely as possible.
Kim Possible's top
I bought this affordable mock neck black turtleneck on Amazon. It's already cropped, but I wanted it cropped even shorter to match the cartoon, so I just folded the bottom of it underneath an inch or two. It stayed put, so I didn't have to sew or tape it. Then I folded up the sleeves a little bit to match her sleeve length. So not the drama. (Or should I say "Sew not the drama"?)
Kim Possible's pants
I searched high and low for these olive cargo pants – from fast fashion retailers all the way to military surplus stores. Cargo pants are very trendy right now, so they're easy to find, but I wanted ones that matched her pants' unique shape. They balloon out quite widely at the calf but come together at the shoe. I also wanted the pants to have large pockets, again to match Kim Possible's animated pants.
I eventually found this pair at Fashionnova (see below photo), and even though they worked perfectly for this cosplay, I honestly couldn't recommend them less. The zipper broke the FIRST TIME I tried them on, and if I were planning to wear these beyond a costume, I would have been mad.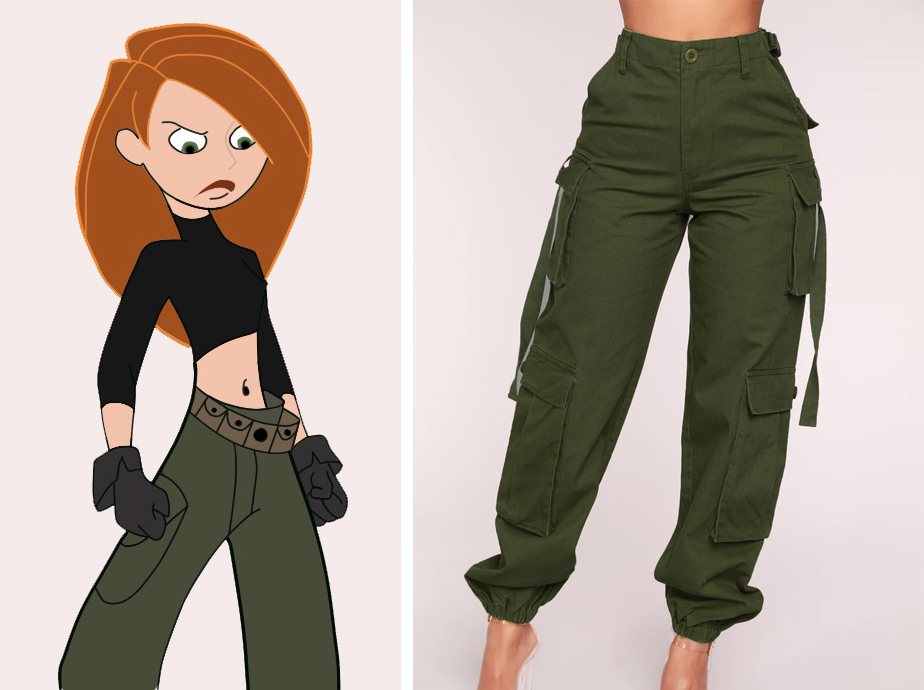 Tips on the pants: Kim Possible wears her cargo pants low-rise and SUPER baggy. These Fashionnova cargo pants are meant to be extremely high-waisted and not as loose-fitting as I wanted, so I bought them 3 sizes bigger than my usual size, so that I could wear them low on my hips and have them extra baggy. They also have these weird ribbon things on each side, which I hid by tucking them into the side pockets.
To make the pants stay wide just above the shoe, I stuffed the bottom of the pants with toilet paper and plastic bags. I had to waddle with a wide stance because of this. It was hilarious and deeply attractive.
Kim Possible's gloves and shoes
I used a pair of black faux leather gloves I already had. They were similar enough to the animated version, and the fact that they looked worn added to the authenticity. Let's pretend they got worn out from punching bad guys, okay? I also wore all-black Nike sneakers I already had, but any pair of all-black sneakers will work just fine.
The Utility Belt – Kim Possible Cosplay
Let me say it again: if, unlike me, you have any amount of chill, a brown belt you have lying around will work great. However, I am what I am and I needed it to be the exact brown utility belt Kim Possible wears, with the exact l'il pockets and buttons.
SooOOoooOOOooo I bought this military belt on Amazon. (in the shade "khaki")

It was lighter and more green-toned than I wanted, so I mixed acrylic paints together to make a warm brown colour, diluted that in a big bowl of water, and submerged the belt in it for a few minutes to stain it. It took nearly two days for the belt to dry, but when it did it was the perfect colour!
All that was left was to create the middle portion of the belt with the big black circle. I took a piece of construction paper (the piece you tear off a box of tissues), cut it to size, and painted it the same colour as the belt with acrylic paint. When that was dry, I used a black sharpie to draw the big black circle on it, and hot glued that to the belt buckle to attach it. Ta da!

Kim Possible's Grappling Hook Gun
I am biologically programmed to do the absolute most at all times, so I couldn't do this Kim Possible cosplay without having Kim's grappling hook gun. Now, this isn't a thing that exists that you can just buy. So I built it.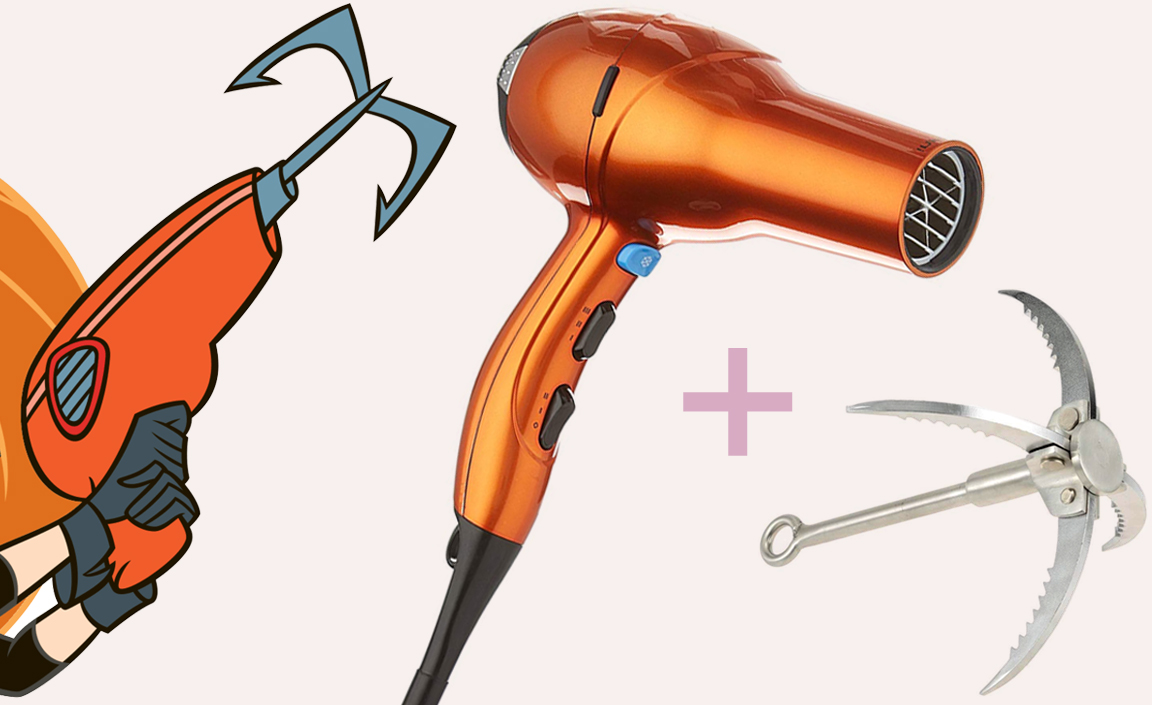 Combining an orange hair dryer with a silver grappling hook – both from Amazon – I created Kim's iconic grappling hook gun. I cut the cord off from the base of the hair dryer's handle, and pried out the grill in the nozzle. Then I inserted the stem of the grappling hook, using tin foil compressed around the stem to provide support within the hair dryer. I secured it with a generous amount of hot glue, covering the tin foil buffer inside and about a centimetre up the remaining stem.
The last step was to get the grappling hook's prongs to stay open to the degree I wanted. To do this, I put hot glue on the "elbows" of each of the four prongs, holding them in the position I wanted until the glue dried.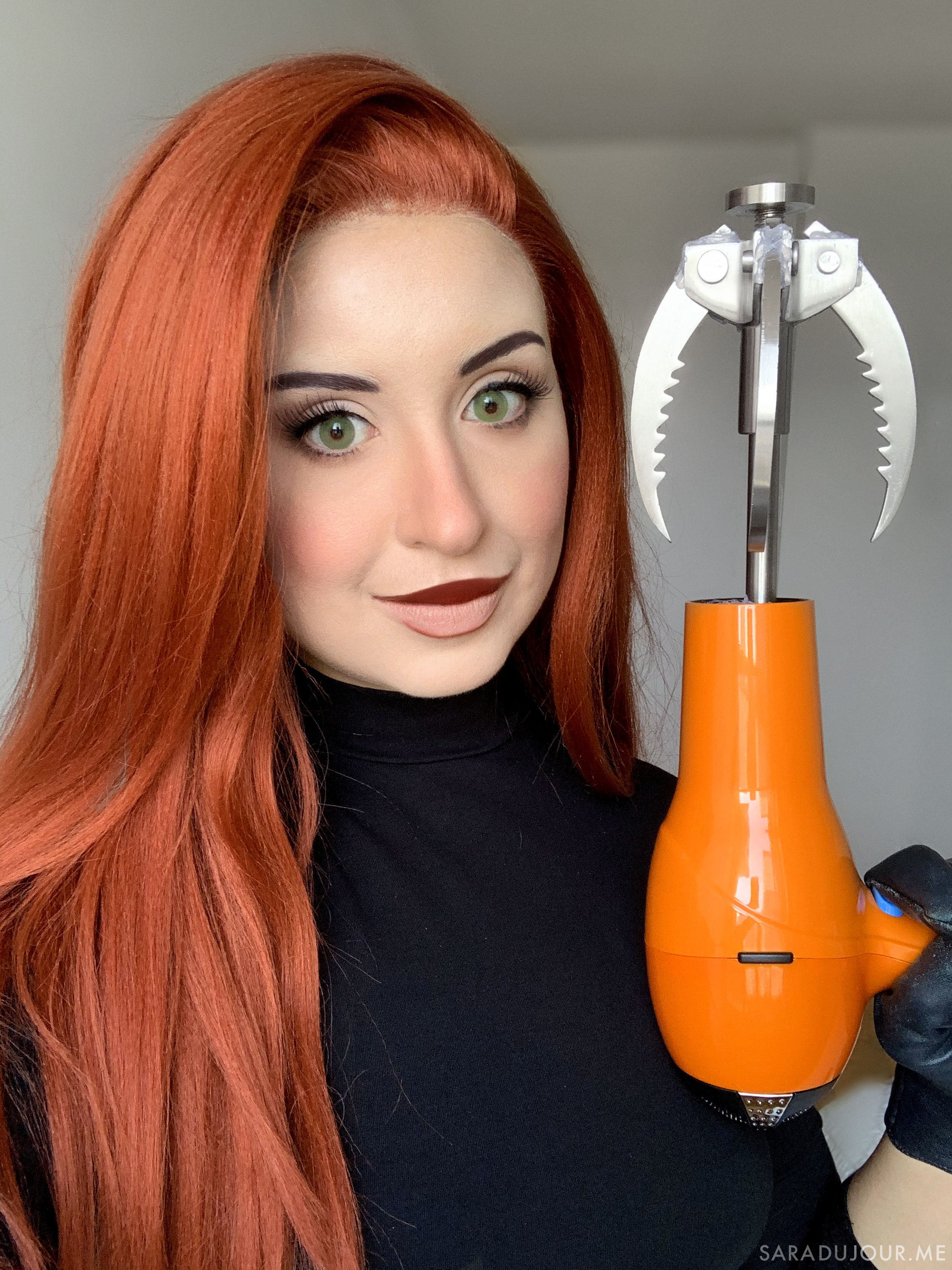 Kim Possible Cosplay Hair and Makeup
The wig
To get Kim Possible's luscious red hair, I used this amazing, high-quality lace front wig from WigisFashion. This wig has served me well time and time again – I also used it for my Jessica Rabbit and Ariel cosplays, but cut and style it differently for each character I'm cosplaying. For Kim, I cut about 15-20 centimetres of length (it's a REALLY long wig), and added some shorter, face-framing layers in the front.
To style it, I teased the hair at the crown of the head for added volume, added hairspray, and parted it on the side, smoothing it over and using more hairspray to secure the "swoop" shape.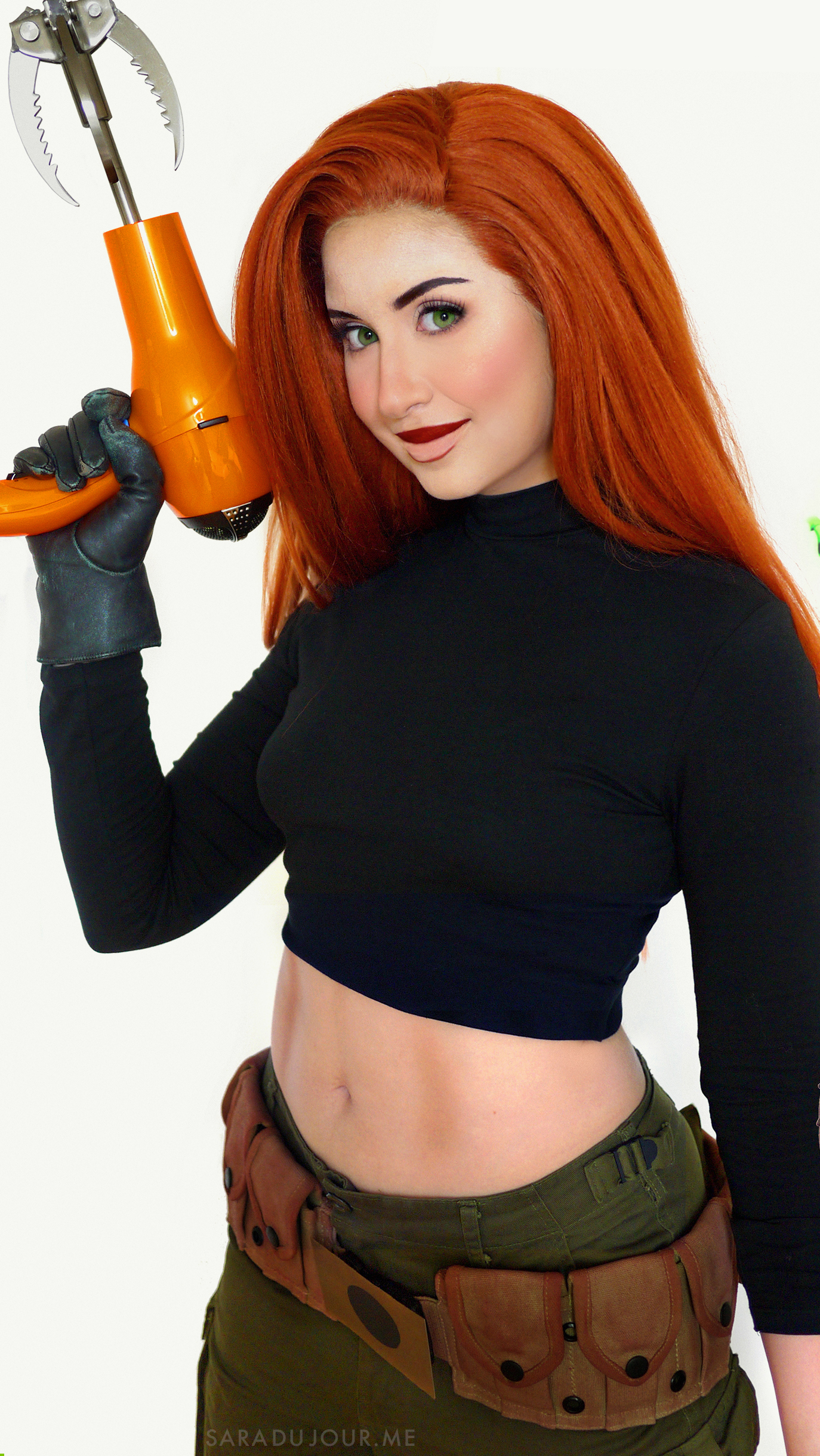 Kim Possible cosplay makeup
Kim Possible's makeup is fairly simple. I glued down my real eyebrows and concealed them, so that I could redraw rounder, more cartoonish-looking brows with Anastasia's brow pomade.
I wanted my skin to look as flat as possible, again to mimic the cartoon look, so I kept my foundation and blush matte, and skipped any dramatic highlighting or contouring.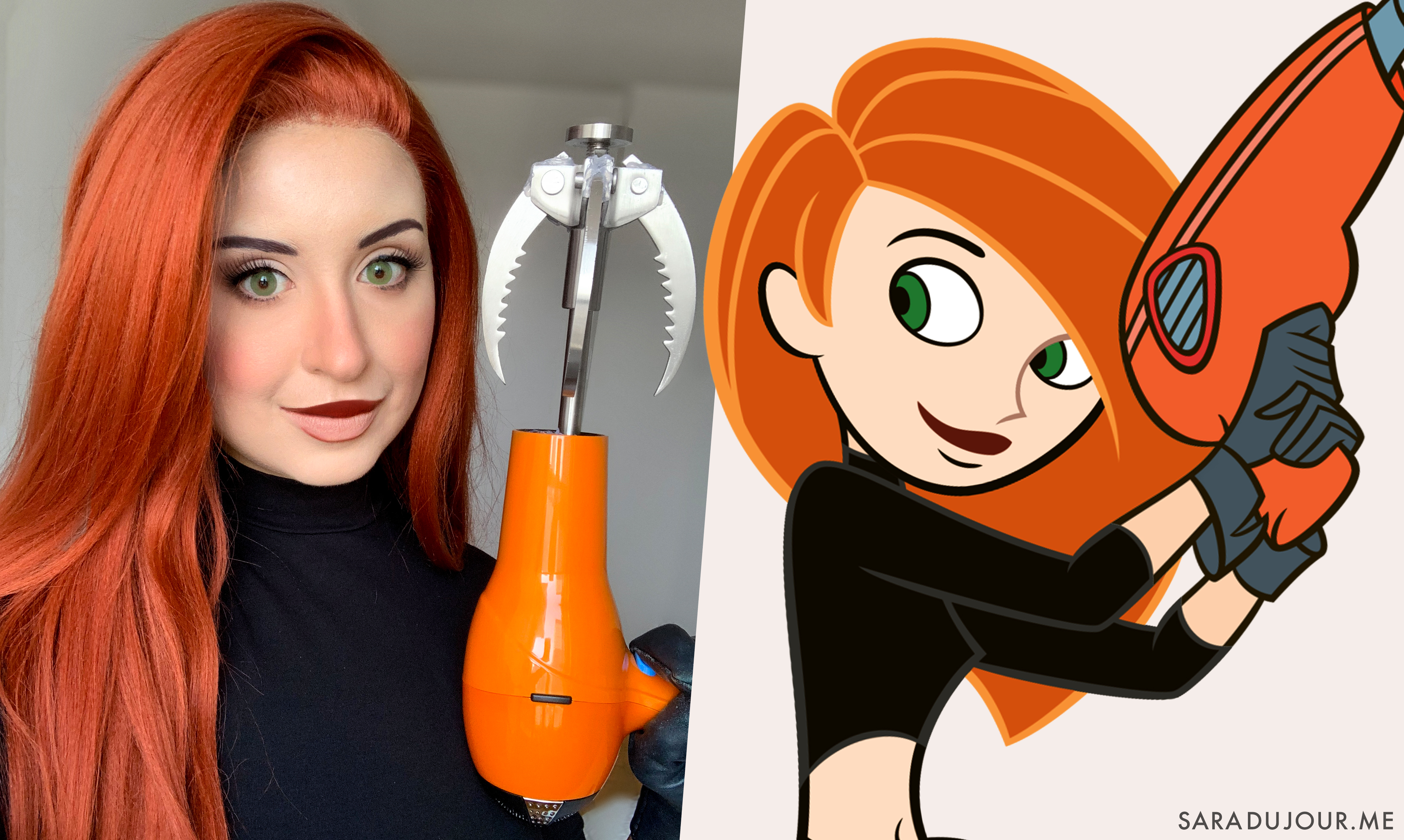 To make my eyes look as big and round as possible, I used a matte brown shadow a few shades darker than my skin tone to contour my eye sockets. I also shaded below my lower lash line, to give the same rounded and enlarged effect. Then I used a black liquid liner along my top lash line, further emphasizing the shape, and added mascara and half strip lashes to open up my eyes even more.
Kim Possible's lips are probably her most iconic facial feature, so I had to get them right. I muted out my bottom lip with foundation and setting powder, to remove most of the natural pink colour. Then I used Fenty lipstick in "Shawty" to draw in my upper lip, eliminating my lip's natural cupid's bow in the process. Using the same lipstick, I drew a thin line along my lower lip, making sure not to connect it to the upper lip.
One last thing! For this cosplay I'm also wearing green coloured contacts.
What's the sitch, Wade?
As a final touch to my Kim Possible cosplay, I wanted Kim's "Kimmunicator" – the gadget she FaceTimed her pal Wade on for mission assignments, years before iPhones and FaceTime were even a thing. I found this awesome Kimmunicator phone case on Redbubble. It was perfect!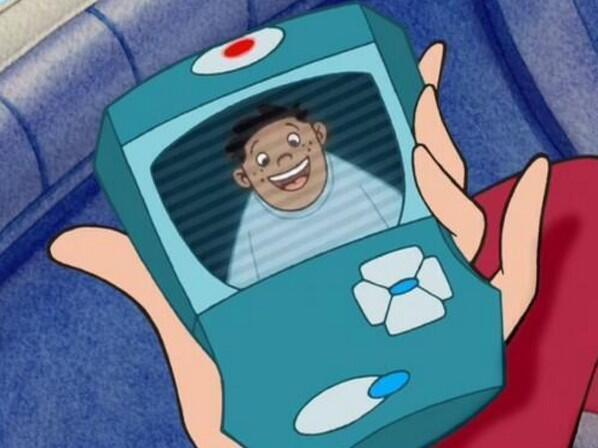 I hope you got a kick out of this cosplay, I had a lot of fun putting it together. Can't wait to share my Shego cosplay in the next post!
If by chance you live in Toronto and are interested in buying any of the costume pieces or props you see in this post (minus the wig) – DM me on instagram @saradujour and let's chat.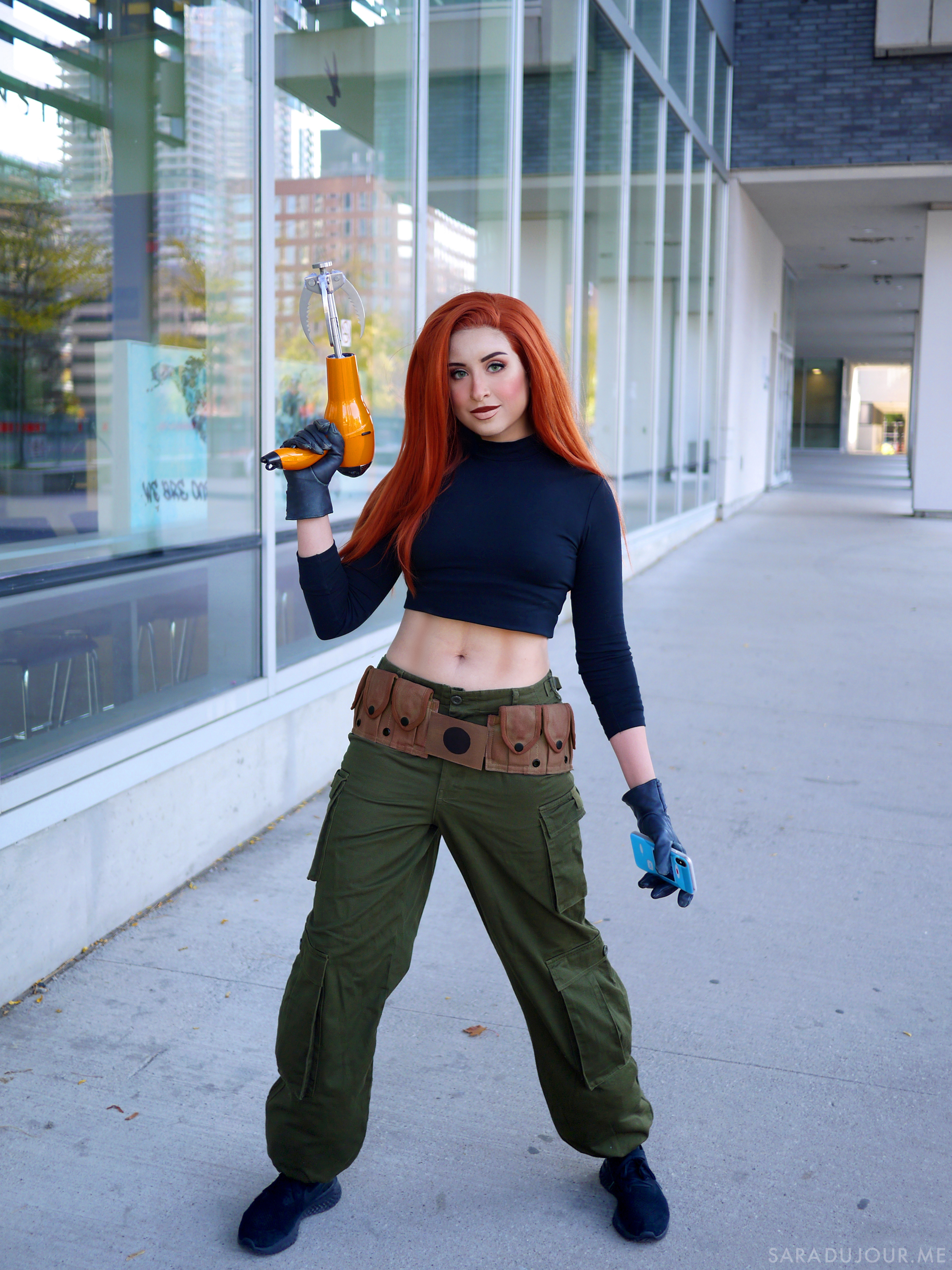 If you're celebrating Halloween tonight or this weekend – have an amazing time!
Thanks for reading,
– Sara
Stay updated with Facebook • Twitter / Instagram (@saradujour) • Pinterest