Elsa Cosplay + Makeup from Frozen

Felt cute, might freeze the town later. Idk.
I didn't exactly plan to do an Elsa cosplay, but found a great platinum blonde wig on sale and the ideas started flying, so I hope you like it. And if you're not a fan of Frozen, I hope you can let it go. *ba-dum-tss*
(I linked the sing-a-long version. You're welcome.)
Elsa and I have just about nothing in common (except angst, I guess?). She's a big sister, I'm an only child. She thrives in ice and snow, and I'm perpetually cold and loathe winter. And unlike Elsa, the cold always bothered me [anyway].
I'm also not a Scandinavian-looking blonde with fair skin and blue eyes. So there's that.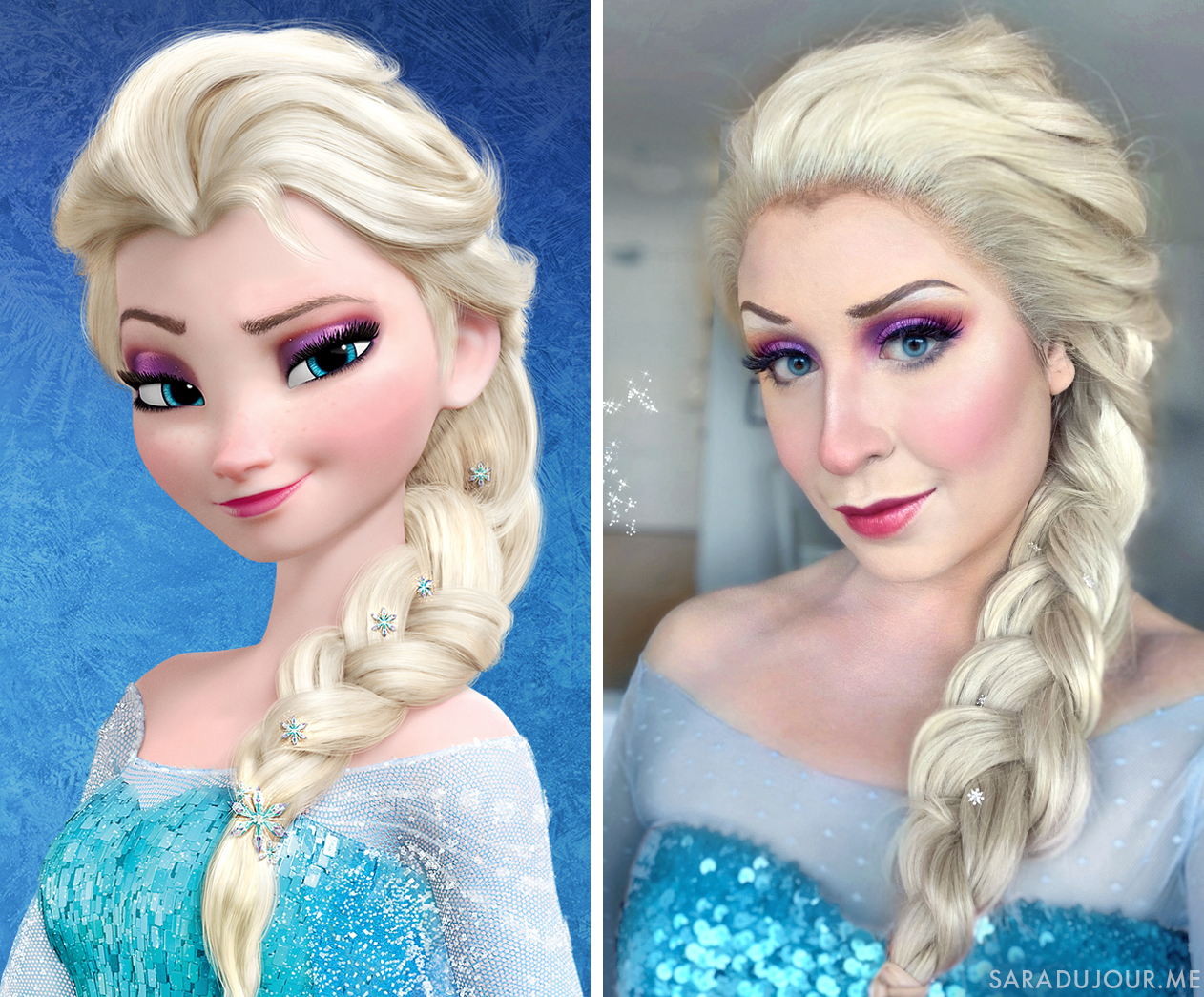 But despite our differences, for one shining moment, I got to be Frozen's Queen Elsa for this cosplay. In summer.
So how did I go from looking like myself to this iconic animated Disney character? Well for starters, it involved bright blue coloured contacts, and a LOT of foundation and concealer. I basically painted my entire face, neck, chest, and earlobes to match Elsa's wintry pallor.
Here's a rare behind-the-scenes peek of what it takes to get into full drag/cosplay.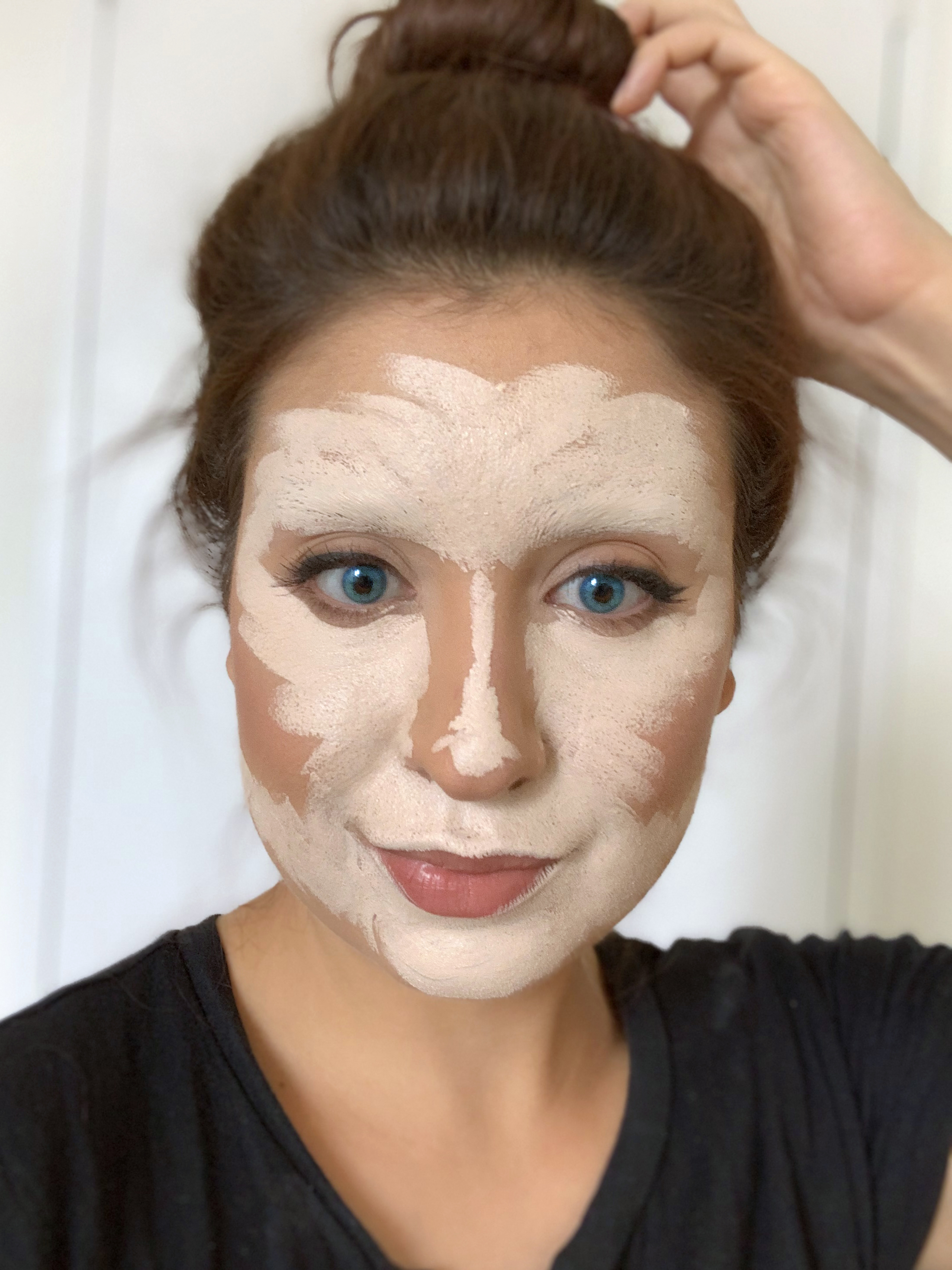 When Elsa sang "conceal don't feel", do you think this is what she meant?
I always put contacts in first, if I'm changing my eye colour for a cosplay. These contacts took roughly 17 attempts per eye – it was rough. I do contacts as the first step so I don't mess up my makeup with fingerprints on my face and tears streaming down later.
Then I glue down my brows, powder them, and apply a full coverage foundation allll over. My pores really love this part.
Elsa Cosplay Makeup
Since it's the height of summer, I'm currently the darkest I get. The foundation shade I'm using for Elsa is roughly two shades lighter than my winter shade, which is quite fair. I used Hourglass's foundation stick, in their lightest shade, Blanc. It has pink undertones which is exactly what I needed for my Elsa cosplay.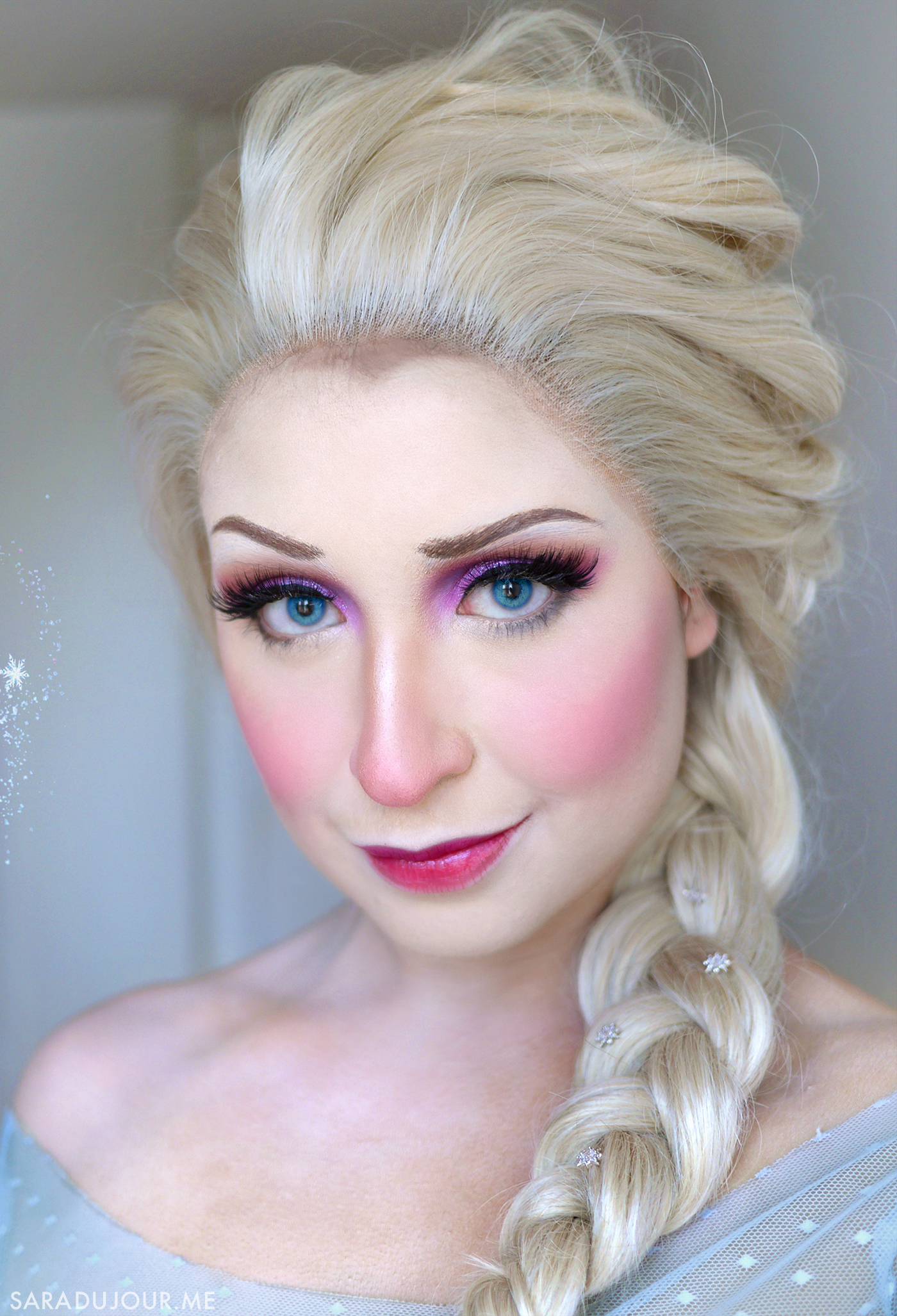 The stuff ain't cheap, so I didn't want to waste it painting my whole neck and chest. Instead, I used a more affordable white paint stick to cover that area. I noticed immediately the difference in coverage, colour, and blendability – my chest came out a lot patchier and more sheer than my face did. But, #worthit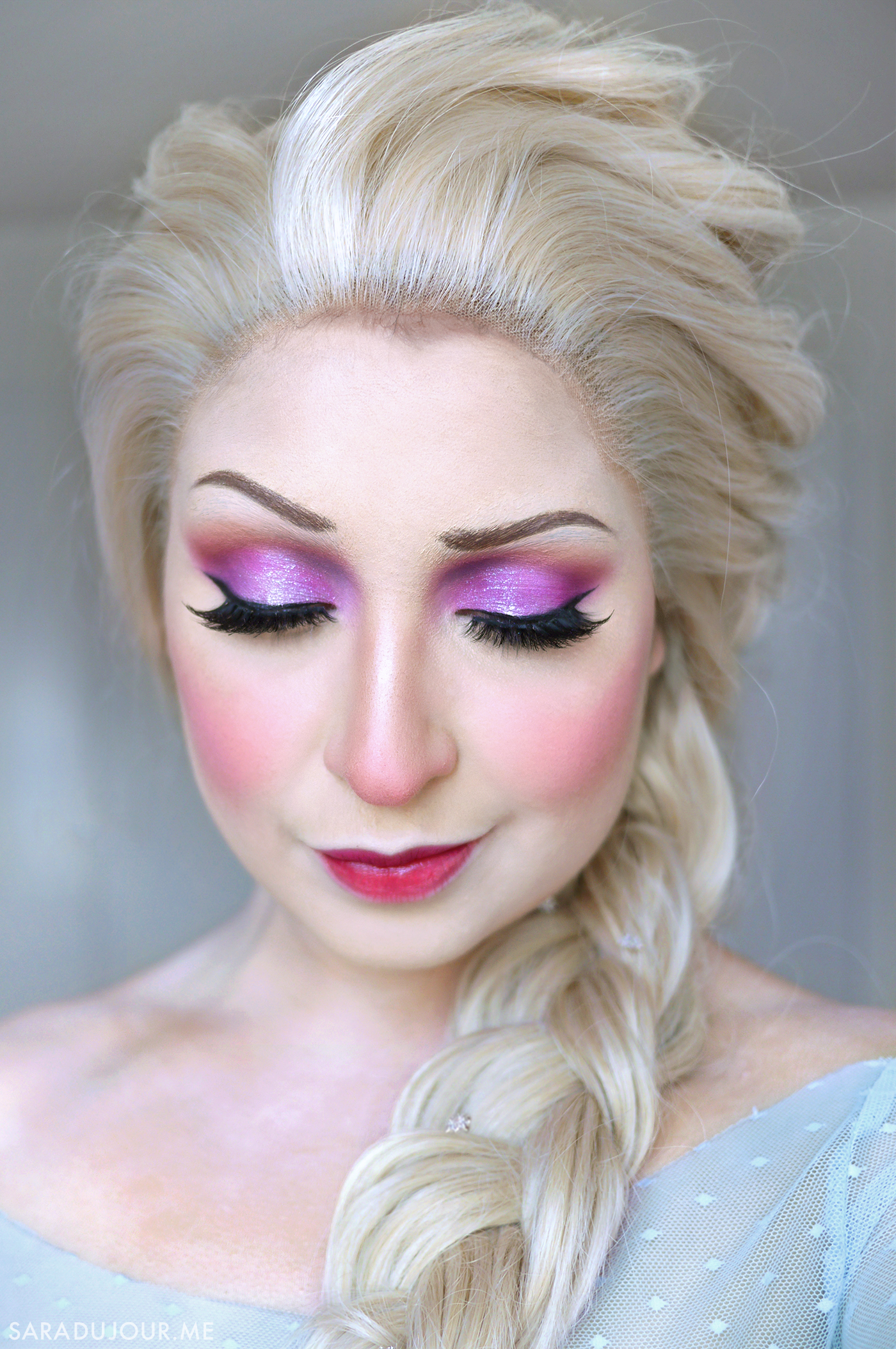 Since Elsa is meant to look flushed from the cold, she's animated with extremely rosy cheeks (where the blush nearly meets her eyes) and flushed pink nose.
Now, I don't have a Disney Pixar-style petite, upturned nose, but I did my best with what I've got. I contoured and highlighted my nose a bit, and applied the same blush I used on my cheeks onto the tip of my nose to mimic Elsa's look.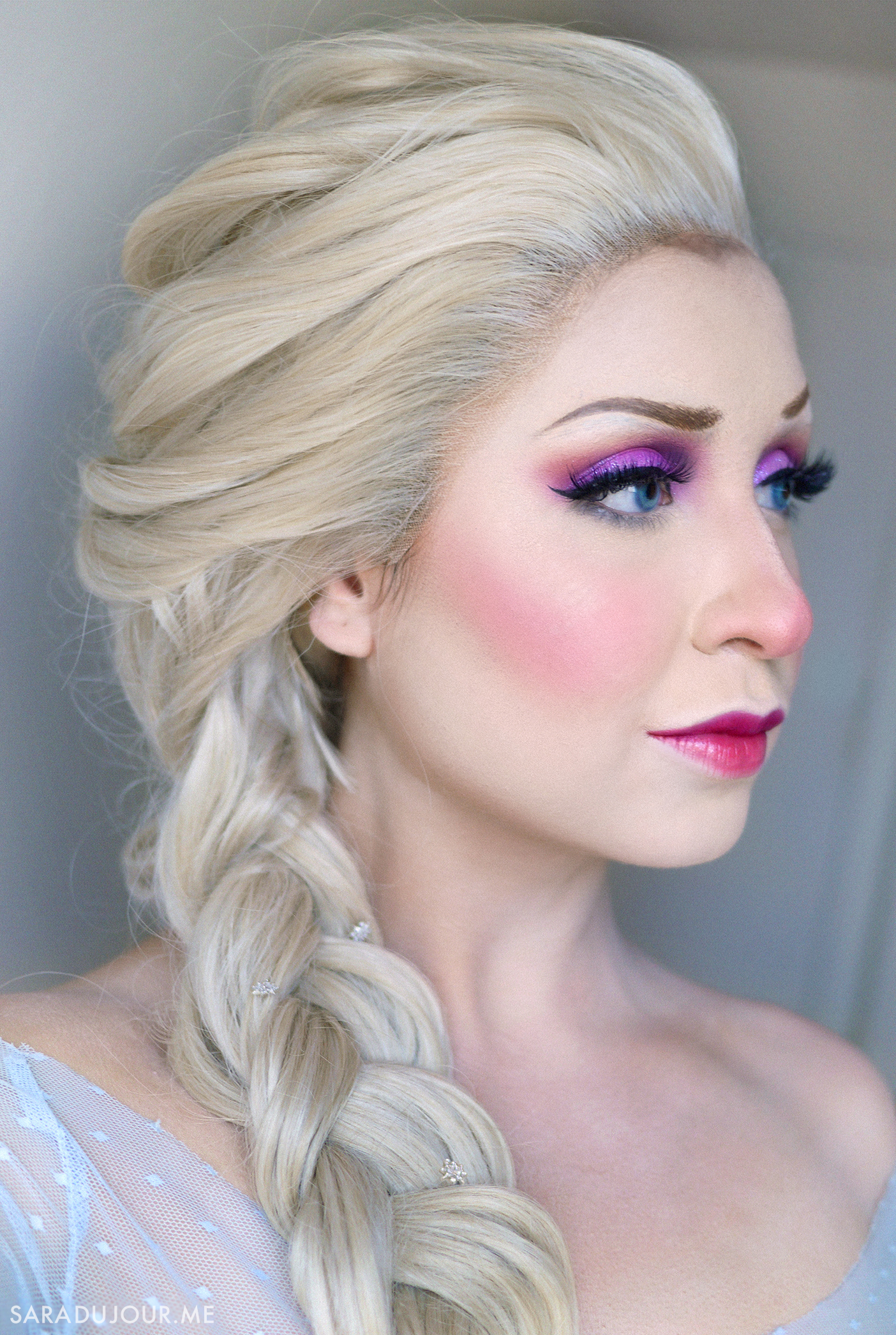 I added a bit of frosty white highlight on the top of my cheekbones to give some glow, and reshaped my lips with concealer to make them thinner.
In Frozen, if you look closely, Elsa's top lip is a slightly darker shade of berry pink than her bottom lip, so I mimicked that and added a light touch of gloss on the bottom lip to match her lip's slight shine.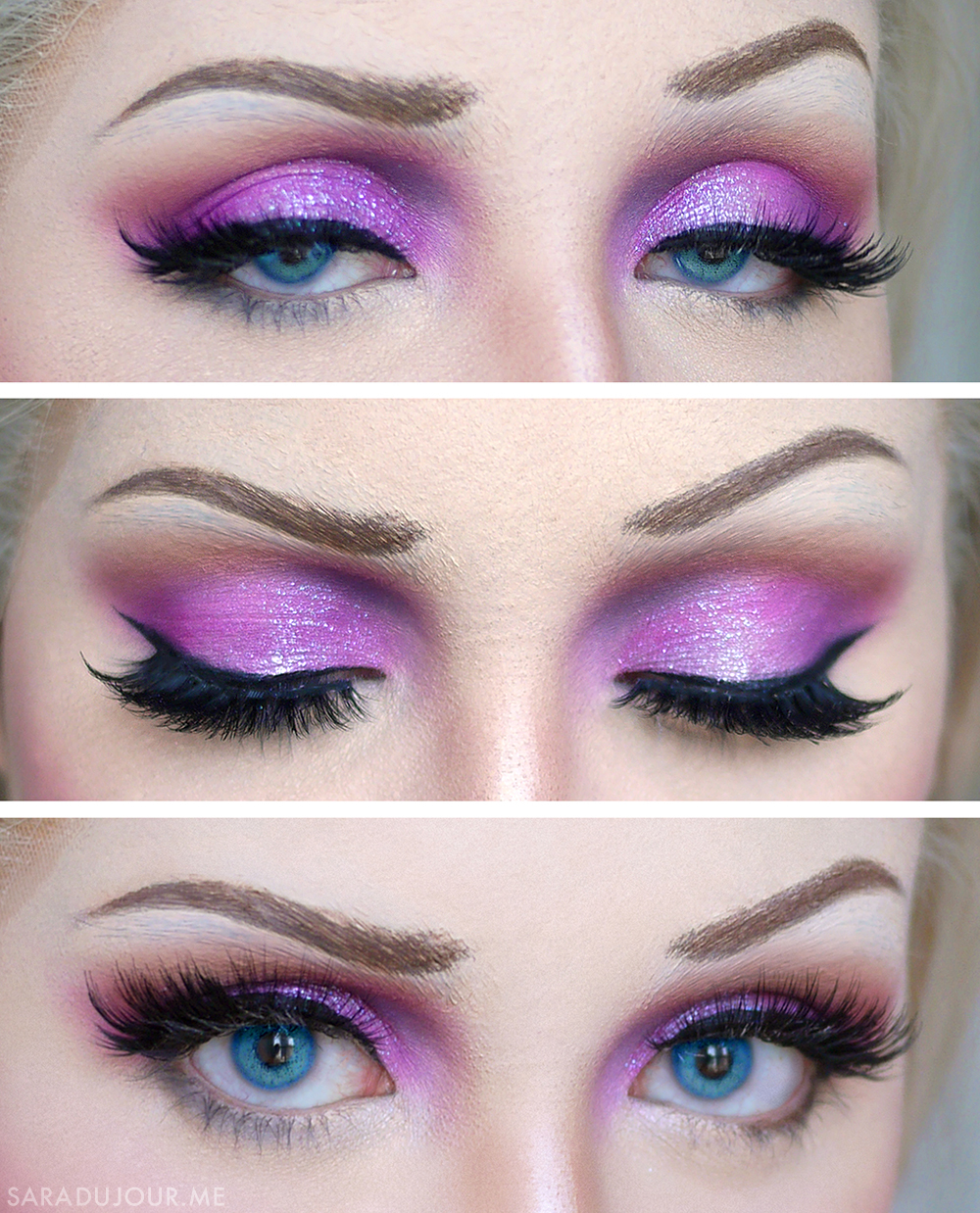 Let's talk about Elsa's eyeshadow and eyebrows.
Since I completely concealed my brows, I drew on new ones to match Elsa's exactly. She has thin, warm-toned, light brown brows, with one quizzically arched, so that's the shape I drew them. Conveniently, the texture of my glued down brows helped to provide a bit of a brush stroke/brow hair effect in my new brows.
Though everyone knows Elsa wears purple frosted eyeshadow, what I noticed by studying her makeup more closely is that she has a warm, orangey-brown shade in her crease. I used: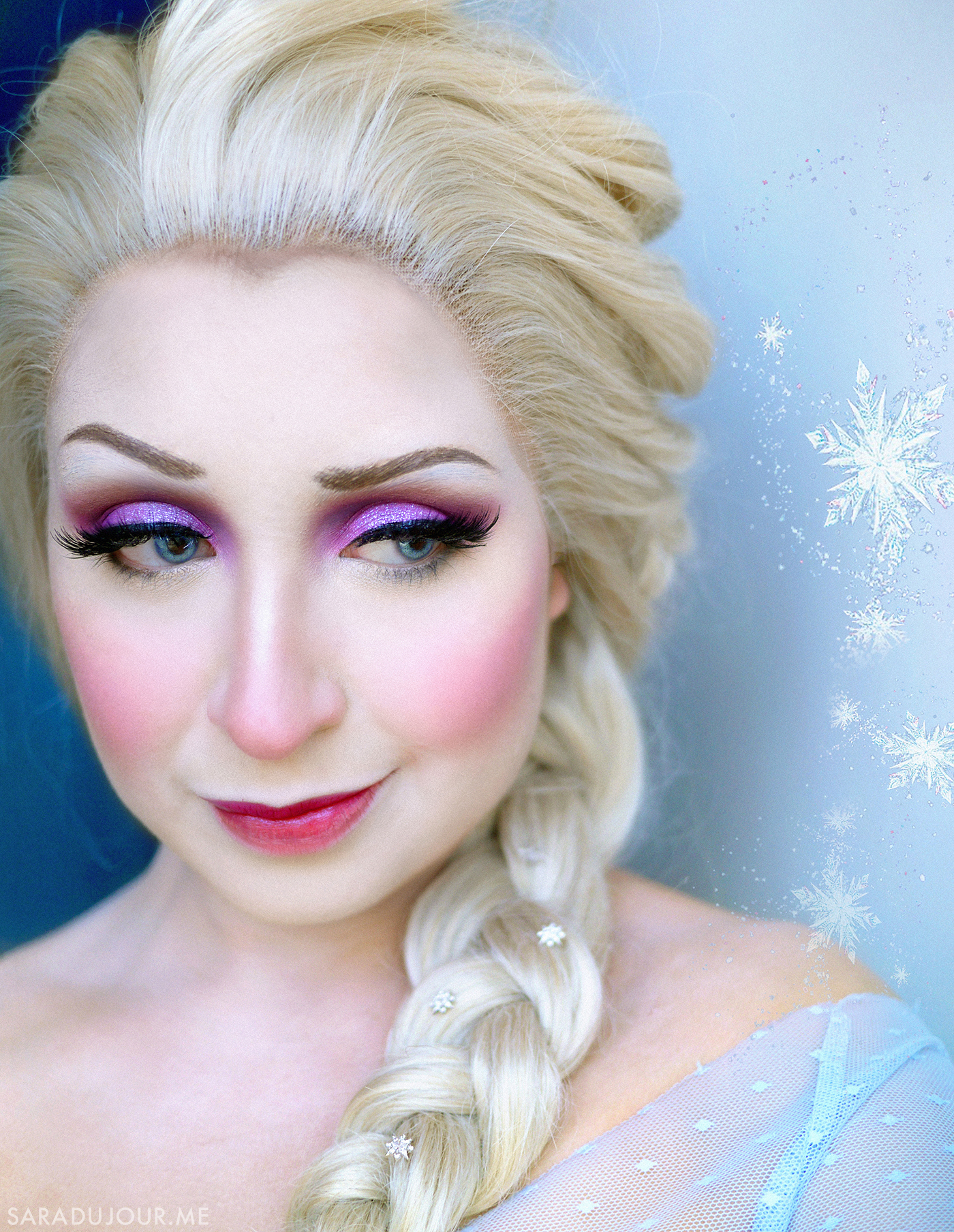 Elsa Cosplay Hair / Wig
I bought this long, platinum blonde wavy wig on sale, and it turned out to be SO perfect for an Elsa cosplay. It's extremely high quality despite being synthetic, and very dense and voluminous. It was clearly designed for Daenerys cosplayers, as it's her style completely (worn loose and down).
I didn't have to do much to the wig since it was already in great condition and the length and texture I needed. All I did was section a few small pieces on the top and side, and pin them in the back so they stood out a little, the way Elsa's hair does. Then I braided the hair loosely down the side. Since the wig is so dense, it wasn't difficult to get the size of braid Elsa has in Frozen, which I was thrilled about.
For finishing touches, I shaded in a darker widow's peak and stuck some cheap, Forever 21 stud earrings that kind of looked like snowflakes into the braid. They were just $5 a pair.

Elsa Cosplay Outfit
Since I wasn't planning to go out in this look, just needed a few portrait shots for this post, I could get away with cheating the outfit a little and saving a lot of money.
I had no desire to spend $100+ on an Elsa dress, so instead I searched for an inexpensive light blue, long sleeve sheer top. I found this one at Forever 21 for just $15 (I really am a Forever 21 drag queen), and cut the neckline myself to create the off-the shoulder boat neck that Elsa's dress had.
For the shimmering corset of Elsa's "dress", I repurposed the sequin tube top I bought and customized for my Jessica Rabbit cosplay. You'll have to forgive me, but I turned it from red to turquoise in photoshop. A dolla makes me holla, y'all.
But if you don't already own a sequin tube top, you can buy yourself a turquoise one here.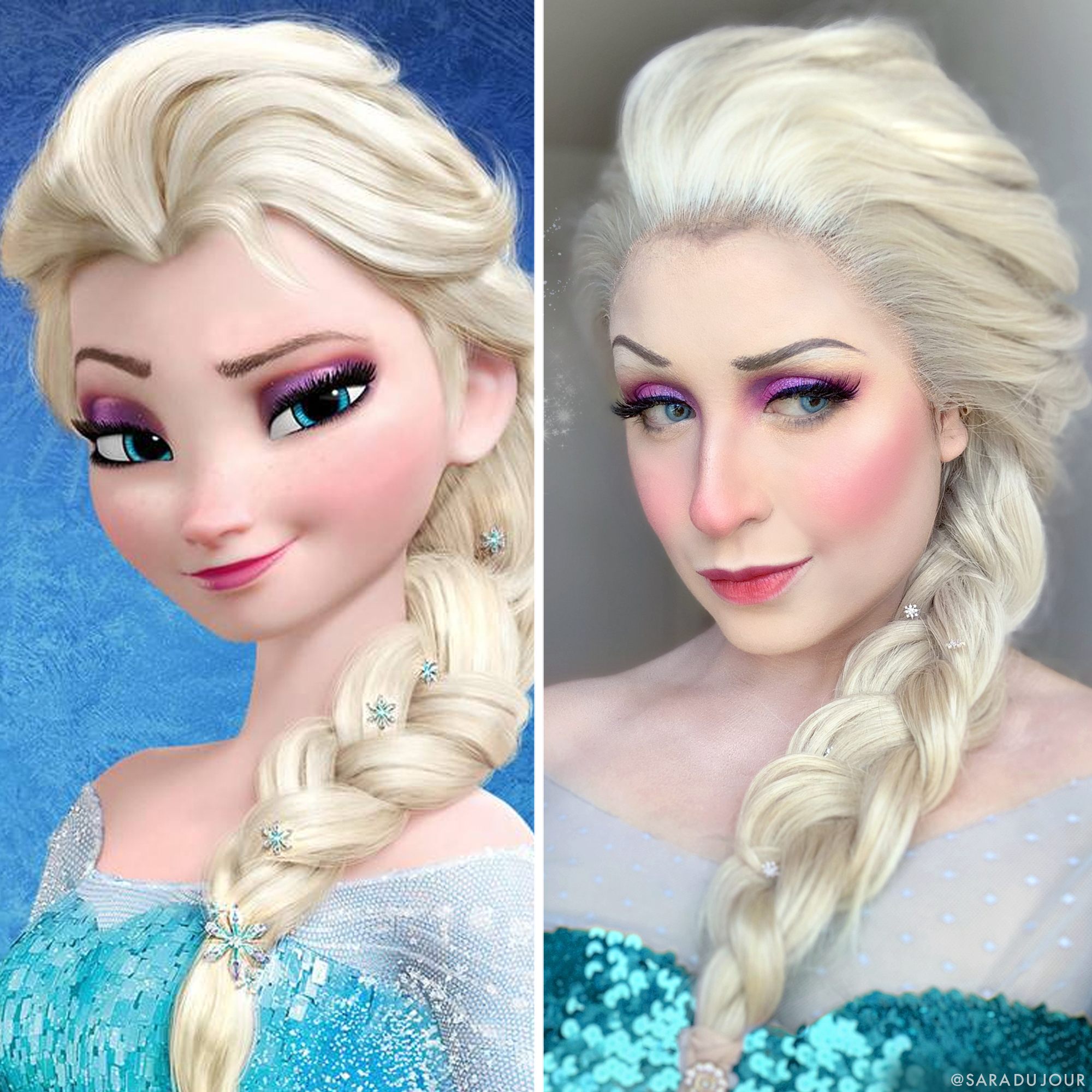 And that's everything I did for this Elsa cosplay! Let me know which Disney character you'd like to see me attempt next. Hero? Villain? Comment below.
Thanks for reading,
– Sara
Stay updated with Facebook • Twitter • Instagram • Pinterest • Bloglovin