Vegan Spicy Tofu Poke Bowls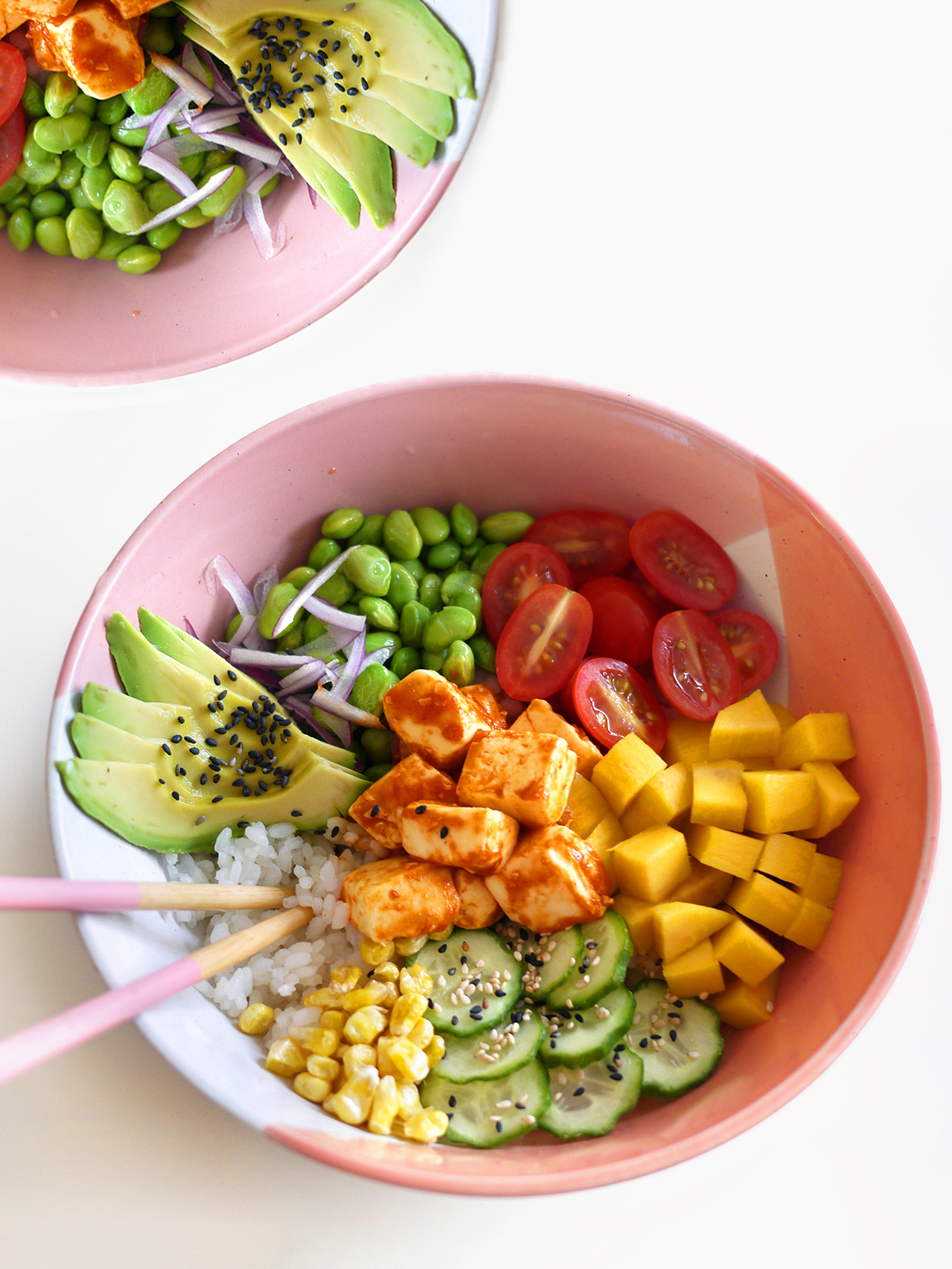 I'm obsessed with poke bowls, and I order them all the time. However, what I'm not obsessed with are the tofu poke bowls most restaurants offer. See, raw salmon and tuna have an inherent flavour, so those bowls are tasty even without the fish being marinated or drenched in a sauce. But when tofu is served up that same way – plain – it's bland as hell. And we don't do bland in this household.
So I decided to create my own version of a tofu poke bowl. It's packed full of protein and tasty as heck, so it's a delicious healthy option whether or not you're into vegan/plant-based food. The sriracha the tofu is sautéed in gives it a spicy kick, without it being overwhelming. (Scroll down for the recipe!)
For this recipe, I opted for soft tofu rather than the firm tofu poke bowls are typically made with. I felt it more closely resembled the texture and creaminess of a salmon or tuna poke bowl. Here's what you'll need to create these vegan spicy tofu poke bowls.
Make sure to pin this recipe for later!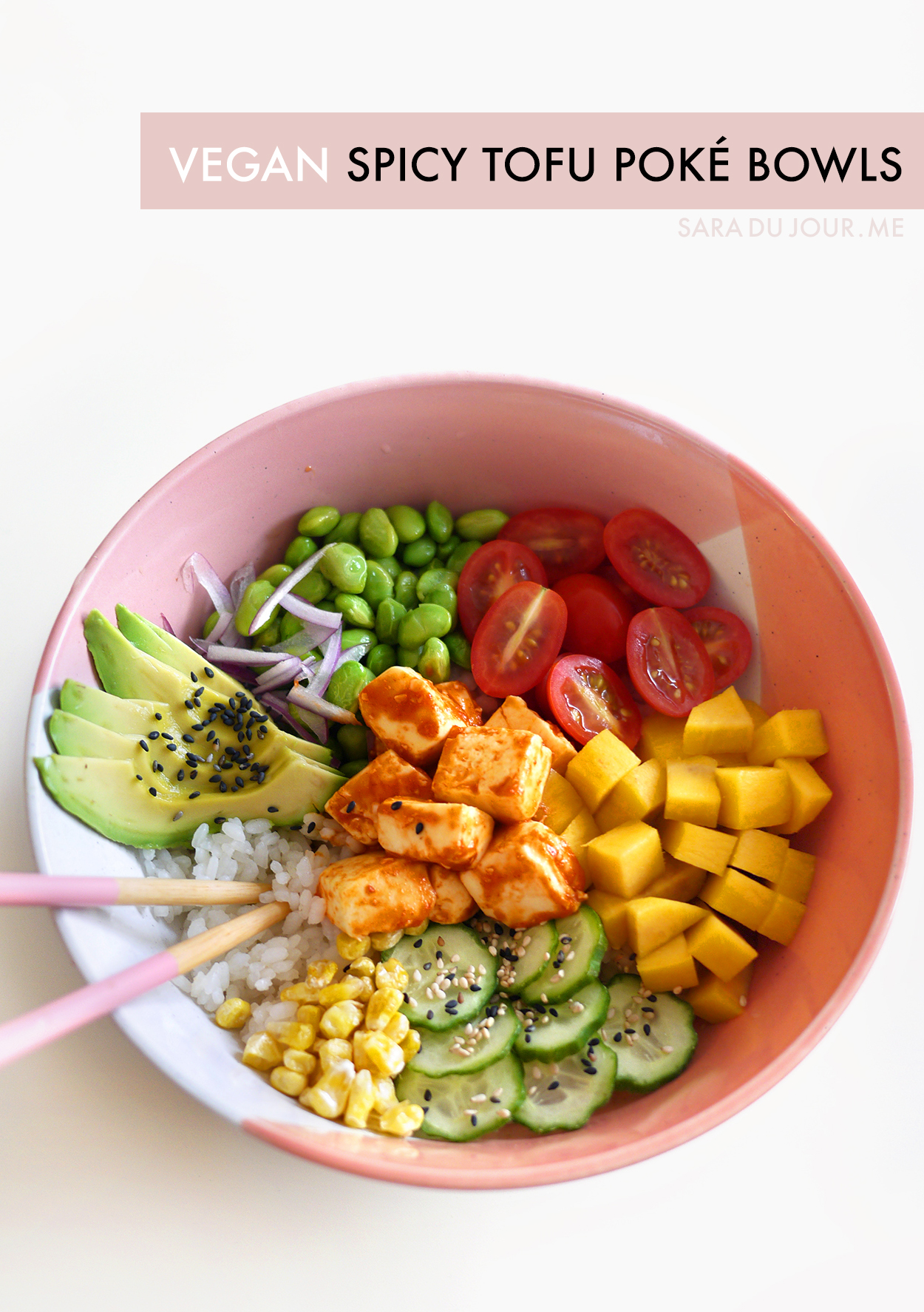 Spicy tofu poke bowls
RECIPE
For 1 large poké bowl or 2 small poké bowls, you'll need:
1/2 package soft tofu
1/2 cup sushi rice (3/4 cup cooked)
1/3 cup frozen edamame, shelled
5-8 cherry tomatoes, halved
1/3 ripe mango
1 baby cucumber
1/3 cup frozen or fresh corn
1/4 avocado (because we're not made of money, okay?)
thinly sliced red onion, to taste
Sriracha
Sesame oil (optional)
Toasted black and white sesame seeds (optional)
Salt (optional)
For the poké bowl ponzu sauce:
2 Tbsp soy sauce
2 Tbsp mirin (Japanese rice wine)
A squeeze of fresh orange juice
DIRECTIONS
Cook the sushi rice on the stovetop. If using 1/2 cup sushi rice, combine with 2/3 cup water.
While the rice is cooking, slice up your mango, cucumber, cherry tomatoes, and red onion. Set that aside for when you're ready to put together your poké bowls.
Microwave your frozen edamame and frozen corn to defrost them, if you're lazy (I prefer to say efficient) like me.
(Optional) Mix in a pinch of salt and a drizzle of sesame oil to your edamame, then set aside.
Cube your soft tofu and add to a non-stick pan with a generous amount of sriracha. Mix together and sautée, flipping the tofu a few times.
Your rice is now cooked. Fluff it and add to a bowl. NOW is a good time to slice your avocado, to minimize the time it has to go brown on you.
(Avengers) assemble all your ingredients in a bowl. Sprinkle toasted sesame seeds on there if you want. I put them on almost everything, they add such a nice flavour and a little bit of crunch!
Create your ponzu sauce by combining the soy sauce, mirin, and a squeeze of orange juice for a sweet citrusy punch. If you only have soy sauce on hand, honestly that's fine too. It'll still taste good. Drizzle that over your bowl, and enjoy!
Well, I've gone and made myself hungry again. Good thing I have leftovers! :)
Are you going to try this tofu poke bowl recipe? Let me know below!
– Sara
Stay updated with Facebook • Twitter • Instagram • Pinterest • Bloglovin