Ariana Grande Costume + Makeup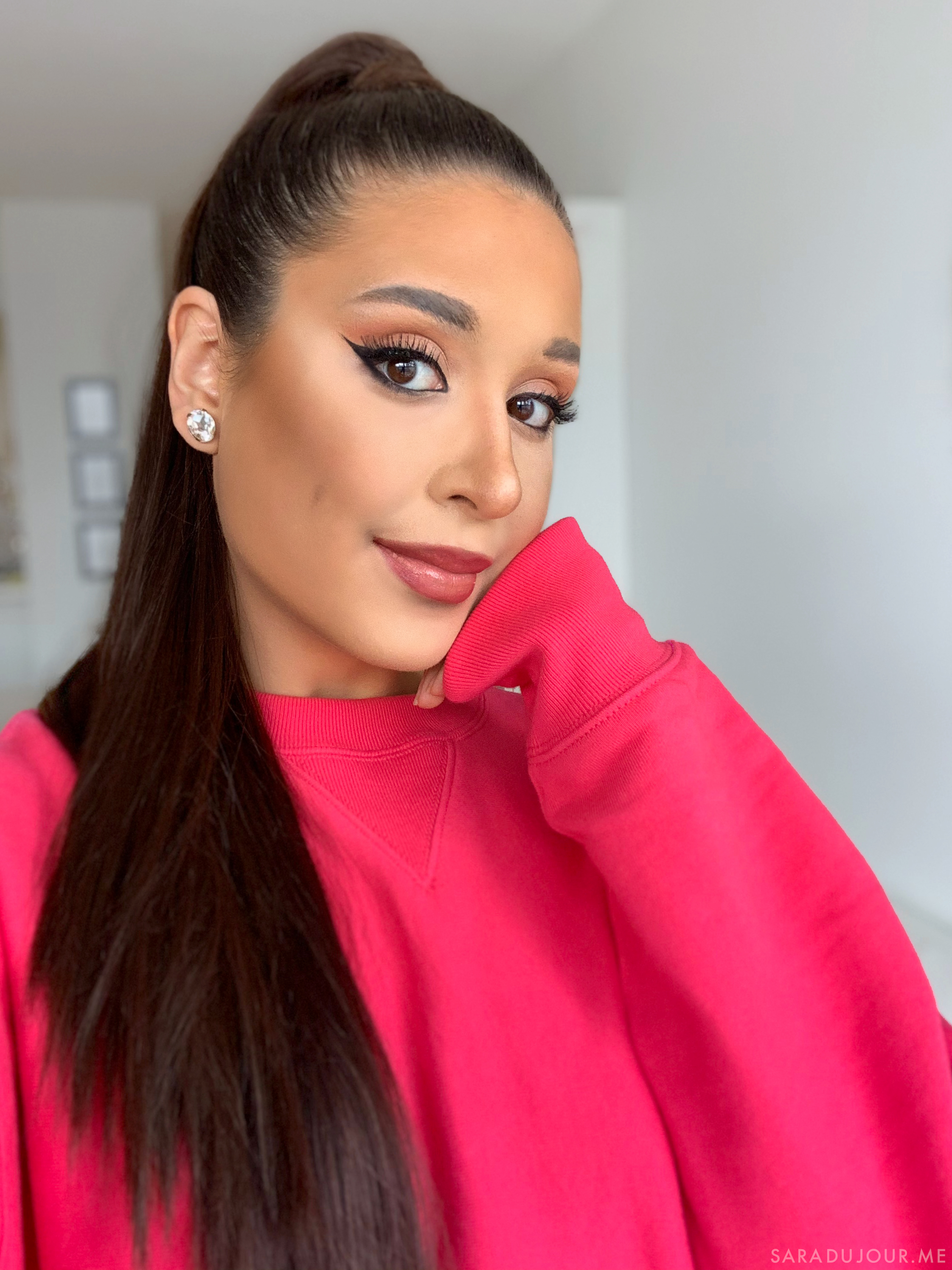 I'm back, wearing all the bronzer I own for this Ariana Grande costume and makeup transformation. I promise this is the closest I'll ever get to blackfishing. 👀Aside from her occasional bouts of cultural appropriation, I'm a fan of Ariana Grande, especially this more recent chapter of her musical and style evolution.
But that's not why I did this Ariana Grande costume. What happened was this. I ordered a pink oversized sweatshirt to lounge in during quarantine, and when I tried it on, the thought struck me to do a full Ariana Grande look, since she often wears oversized sweatshirts and thigh-high boots. Once the idea took root in my brain, there was no going back. Classic me.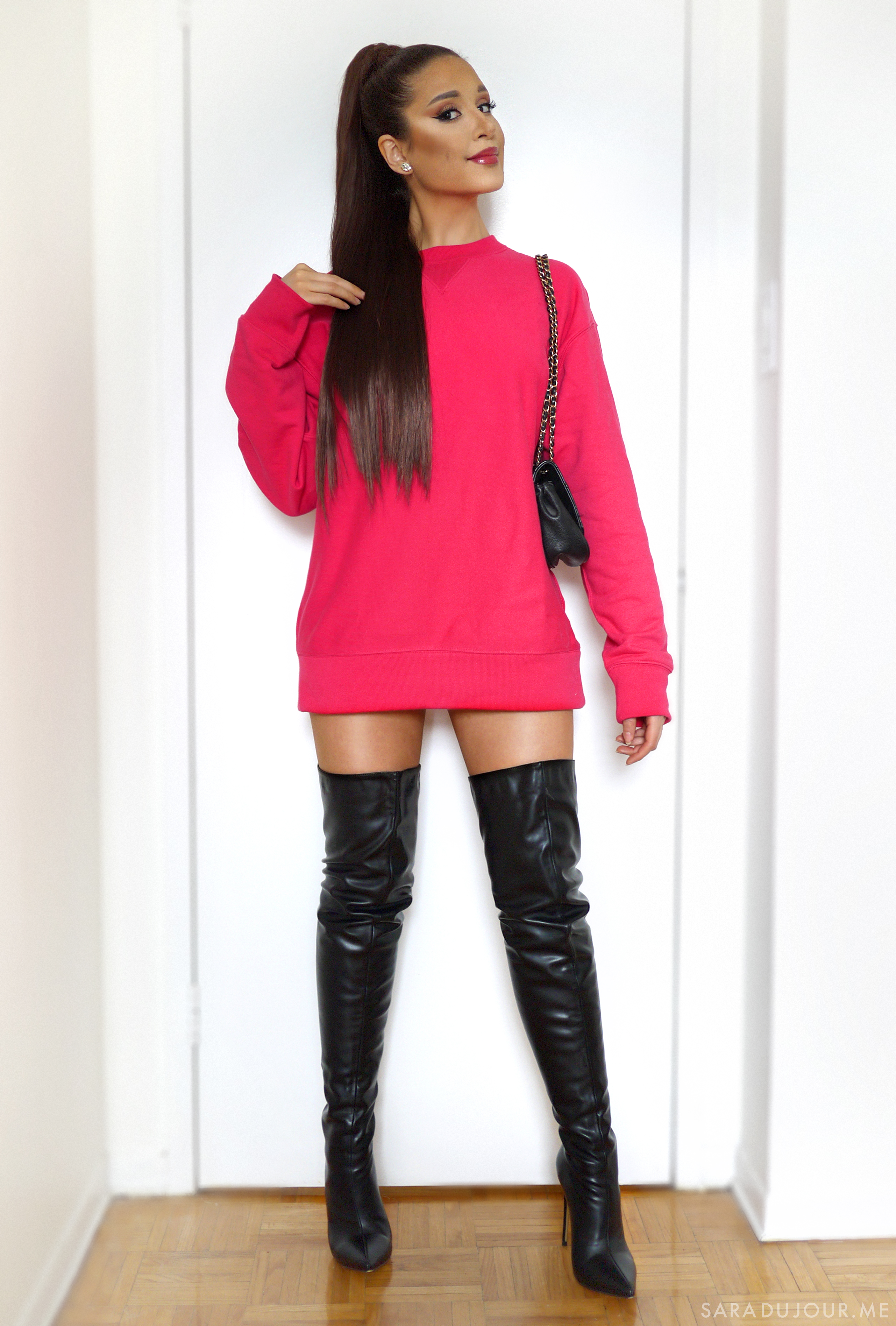 Conveniently I already owned everything I needed to style this Ariana Grande costume. Here's the breakdown.
Ariana Grande costume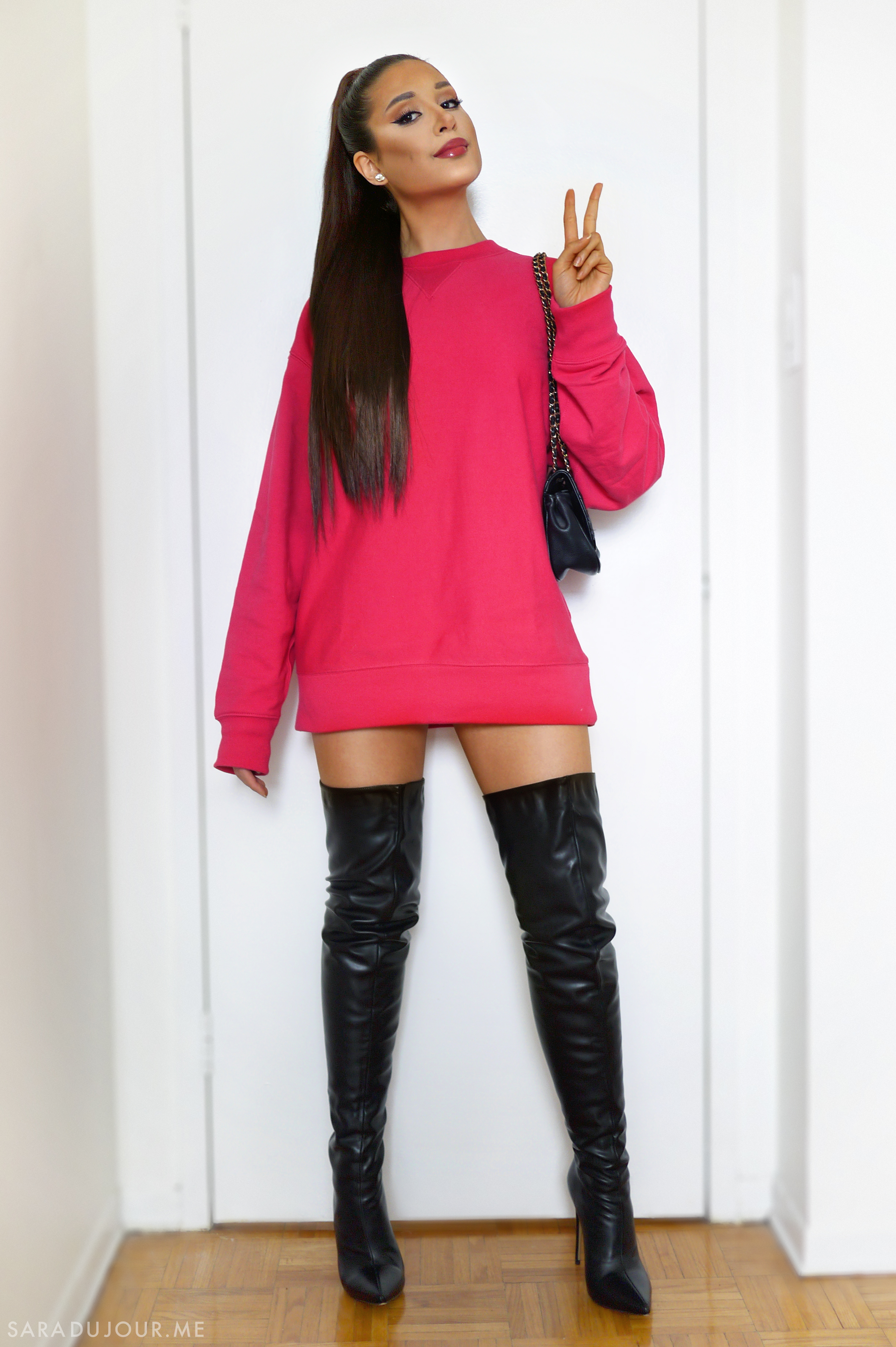 How to get Ariana Grande's ponytail
To recreate Ariana Grande's signature sleek high-pony on a budget, I combined my real hair with some hair extensions I bought last year for another cosplay (that I've yet to do). They're super affordable and more suited to a costume/fun night out than everyday wear since they're synthetic, but I'll link them below in case you're interested.
I straightened all my real hair then pulled it into an extremely tight high ponytail, being careful to smooth out any bumps first and slicking it down with hair gel to avoid rogue flyaways. On top of my real ponytail, I added a clip-in ponytail hairpiece, which I straightened quickly first. (Be careful when straightening synthetic hair – it's very easy to melt it!)
Then I used a section of my real hair (from the ponytail) to wrap around the base of the pony, pinning that in place. For extra length and volume, I added clip-in hair extensions at the back of my head, which were seamlessly concealed by the ponytail on top.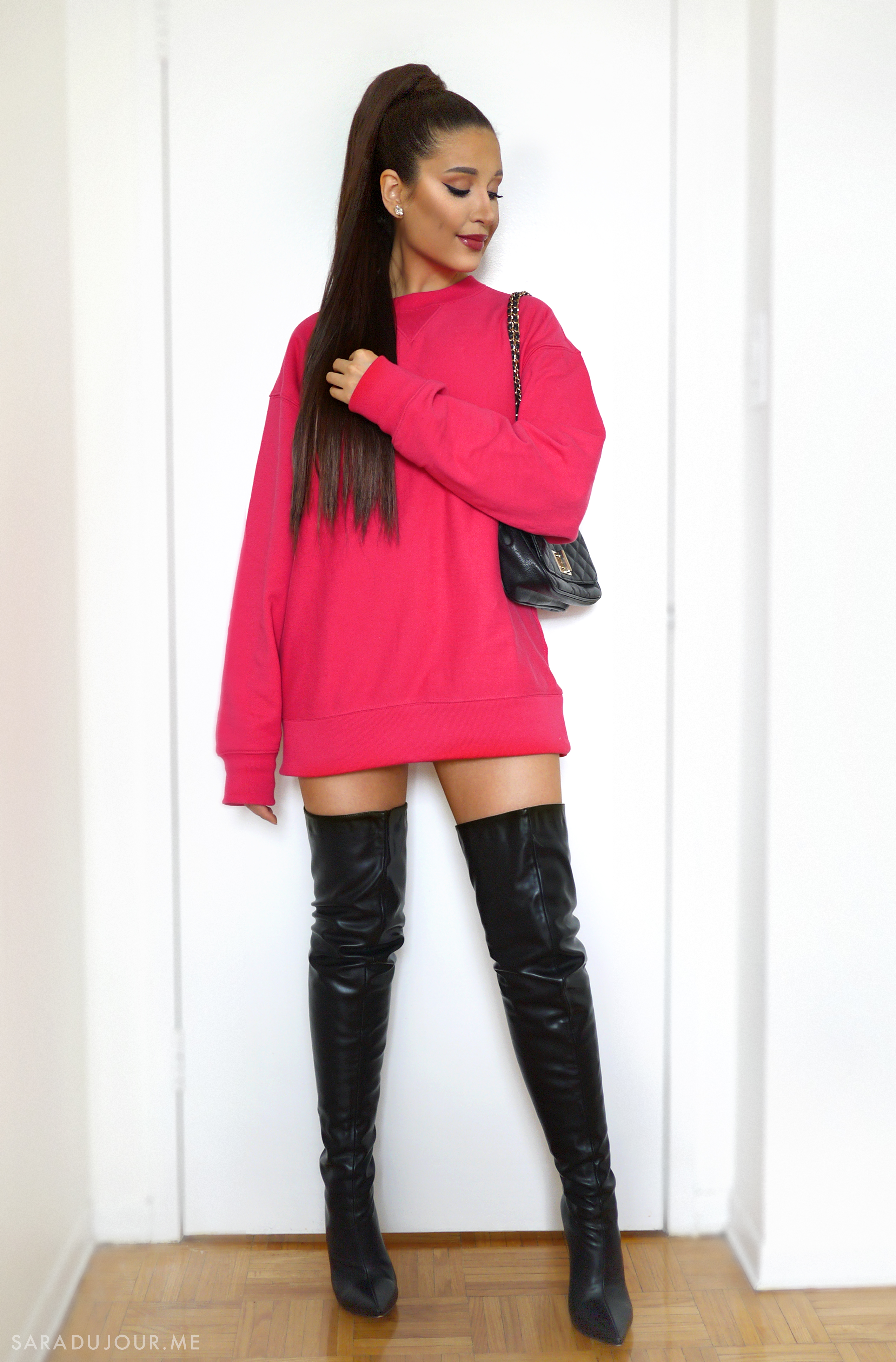 Ariana Grande costume makeup
This Ariana Grande makeup transformation was probably my most challenging to date, because our face shapes are so different. I have a wider, more square-shaped jaw, whereas hers is much narrower and more triangular. So I had to get really clever with contouring and highlighting my face to resemble hers.
As with most of my makeup transformations and costumes, I start by covering my real brows using the typical drag method of glue stick, powder, and concealer/foundation. Once they were hidden, I applied foundation over everything and since I neither use fake tan nor have a foundation shade darker than I am, I used many different bronzers to create her tanned skin tone.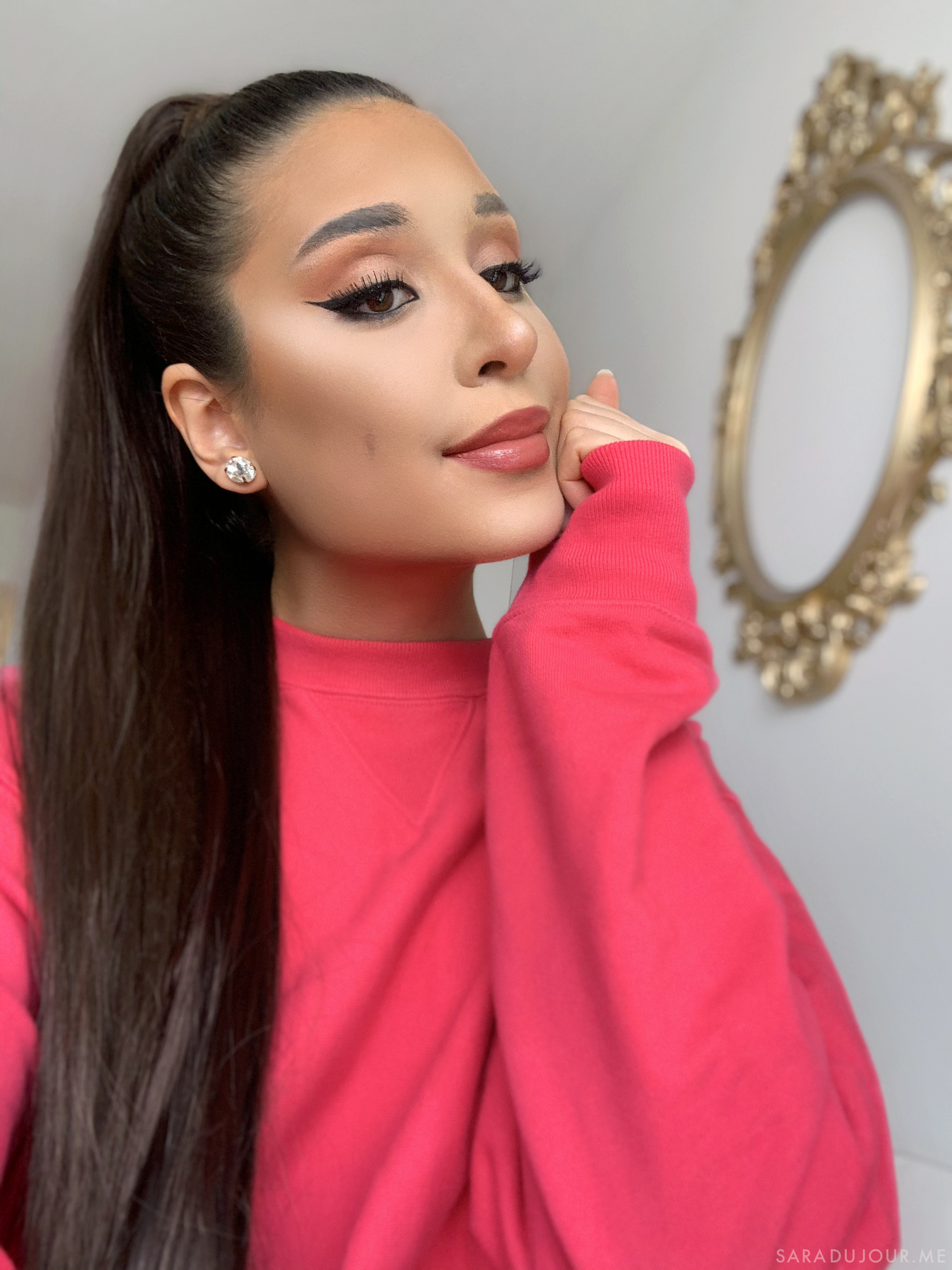 FACE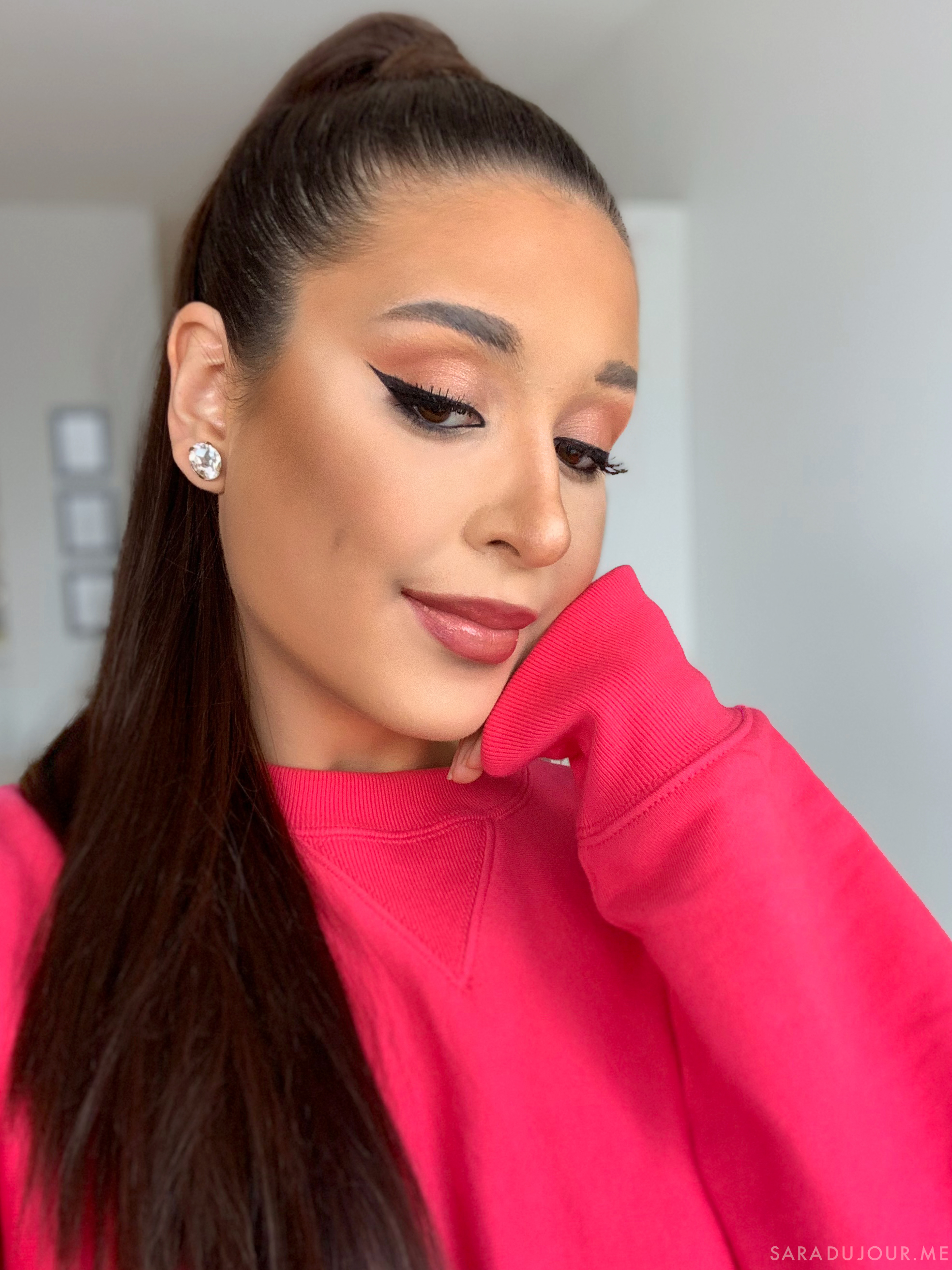 With any celebrity makeup transformation, you have to pay attention to the features that are distinctly, recognizably theirs, and recreate them. For this Ariana Grande costume, those are her eyebrows, dimples, eyeliner, and lip shape. Interestingly, she doesn't seem to wear any blush – just bronzer and a LOT of highlight.
BROWS + EYES
I drew on new Ariana eyebrows in a lighter shade than my hair, and in a slightly grey tone like hers. Her brows start further apart and higher on the brow bone than mine, curving gently downwards.
I created a subtle but pretty rose-gold eyeshadow look, then tight-lined my eyes all the way around with a black eye pencil. Next, I drew a dramatic cat eye with liquid liner, angling upwards, put on mascara, and added natural-looking strip lashes that I trimmed to be shorter and more stumpy.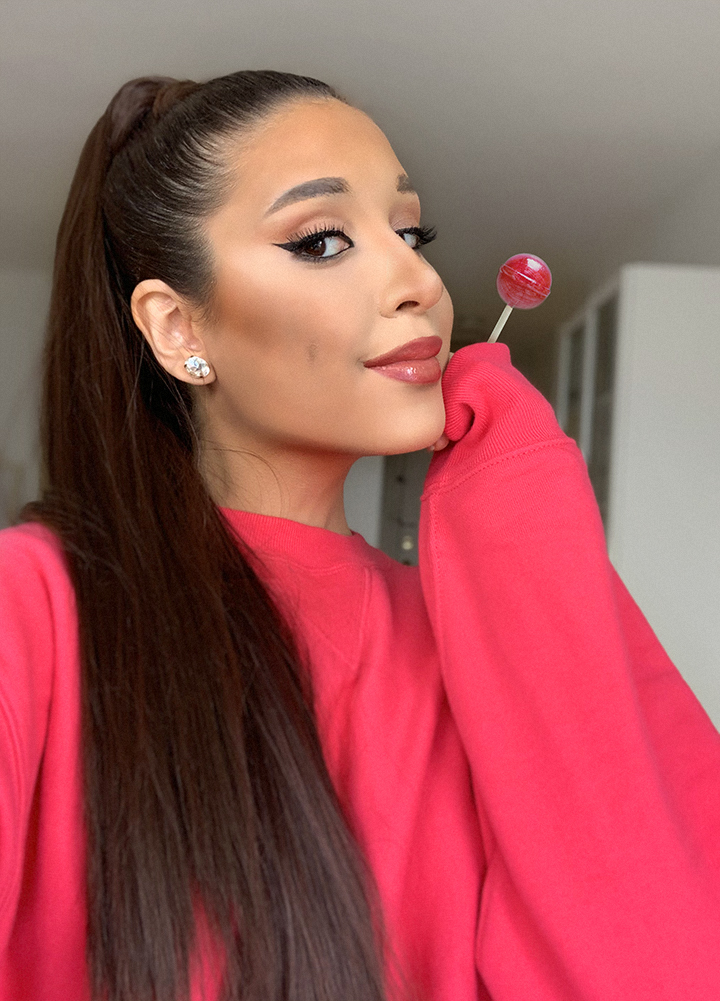 LIPS
I overdrew my top lip with lip liner, eliminating my naturally pronounced cupid's bow, and lined my lower lip normally. Then I filled that in with a slightly lighter shade of lipstick, and finished with some clear gloss on the bottom lip only. (When reshaping your natural features, anything shiny will bounce light off your face's real contours and give you away. That's why I kept the top lip matte.)
DIMPLES + OTHER DETAILS
To recreate Ariana Grande's dimple, I used the same matte brown shade I contoured with, and drew a little line on my cheek with an angled brush where a dimple would be, blending that out slightly with my fingertip.
I used this same technique to add shadows to the outer corners of my lips, to mimic her lips/cheeks, and added a shadow below my lower lip, to give the effect of a fuller lower lip.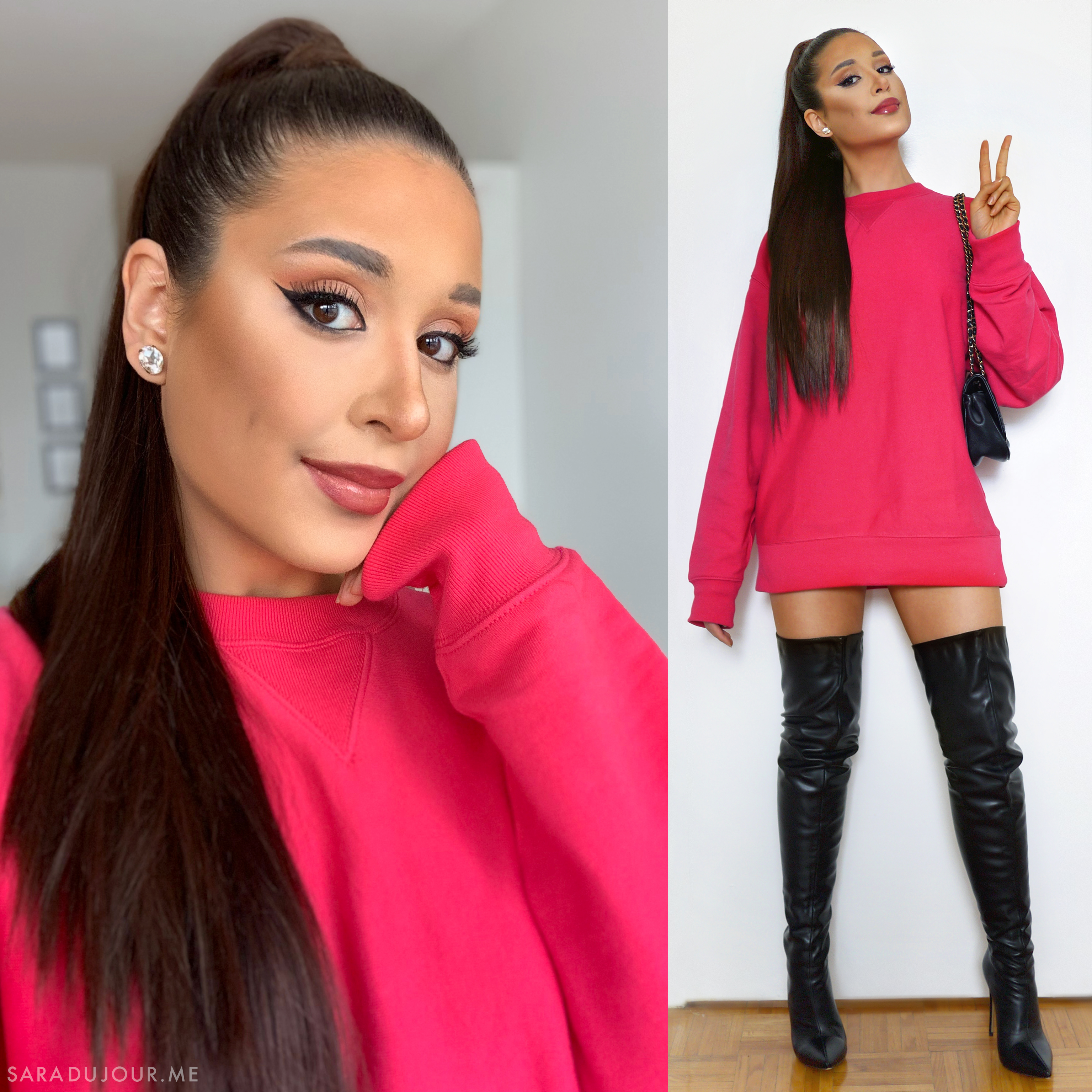 It's nearly 4am as I write this, so I'm going to say goodnight n go. I hope you enjoyed this Ariana Grande costume and makeup look!
Thanks for reading,
– Sara
Stay updated with Facebook • Twitter / Instagram (@saradujour) • Pinterest