Rare Beauty: What to Get and What to Skip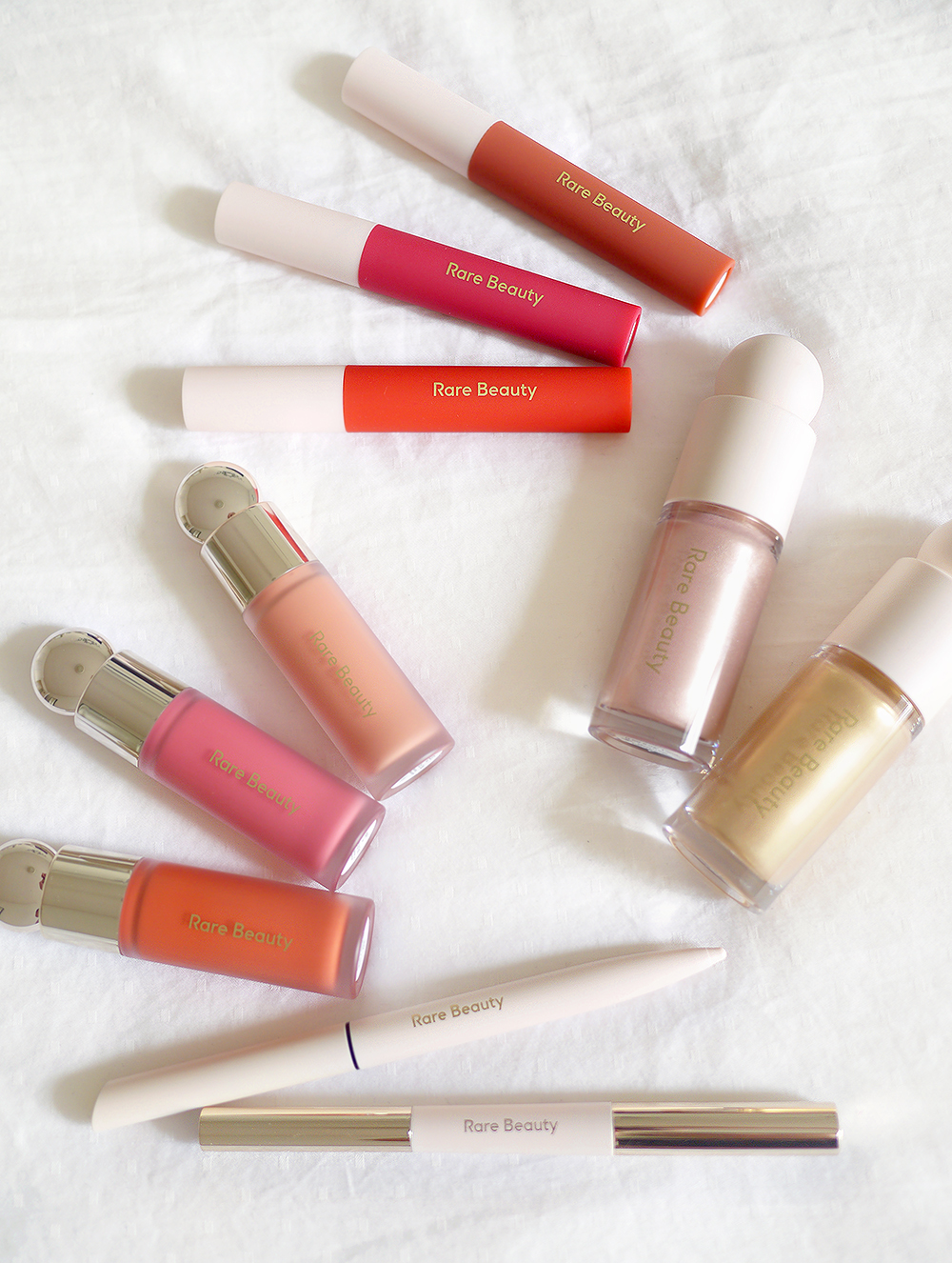 So: Rare Beauty launched at the beginning of September, and despite the initial assumption that this would be just another cash grab by a celebrity slapping their name on some mediocre makeup products (catered to preteens), it turned out to be pretty awesome and very fairly priced. I've gotta hand it to Selena Gomez and her team – I didn't think I'd be purchasing anything from this launch, but after watching a bunch of Youtuber reviews, well, here we are. I've taken just over a week to test everything out myself, including wearing the products for a whole day to see how they last.
Some of these items I'm keeping, and some are getting returned. So let's break down the good, the bad, and the…meh of Rare Beauty.
(I didn't buy the Rare Beauty foundation or concealer. The foundation looks pretty great from all the reviews I've seen, but until I've used up my much-loved Fenty foundation, there's just no reason for me to buy another. The concealer on the other hand I don't think I'll ever buy, since it seems to have less coverage than my tried and true NARS Radiant Creamy concealer. Onwards to the review!)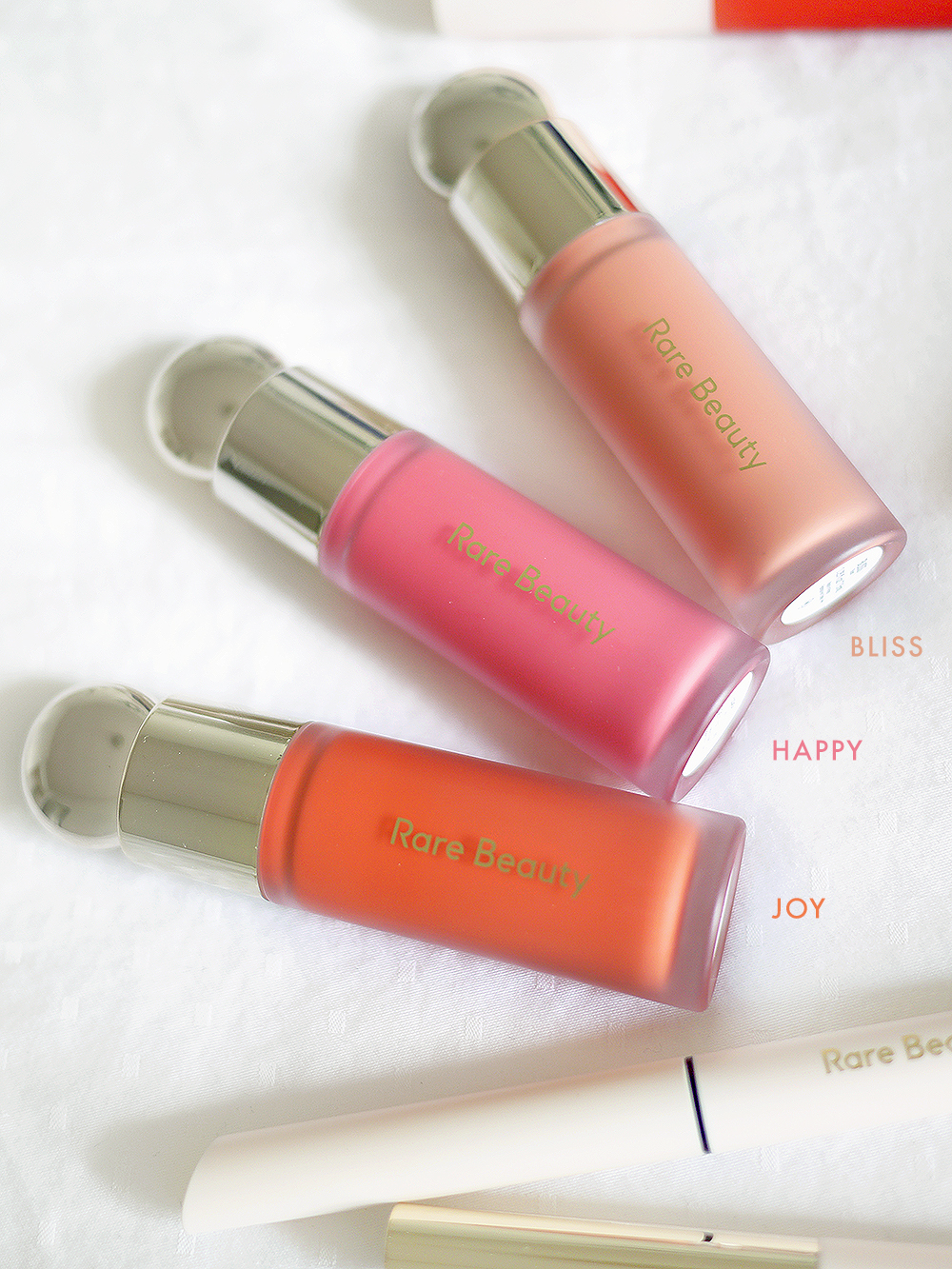 These Rare Beauty Liquid Blushes come in two formulas: matte and radiant. I picked up Bliss (matte), Happy (Radiant), and Joy (Radiant).
Bliss is a beautiful peachy pink, a great natural blush colour for light skin tones. Happy is quite a bright cool pink, giving you a I-just-worked-out flush. I personally wish Happy was slightly warmer, I think it would be more wearable. In fact, Bliss and Happy combined create my ideal blush colour. (I'm a Fenty 190/230 or MAC C30 for reference, and have neutral/olive undertones).
Joy sits somewhere between tomato red and peach, and looks lovely on light, medium, or tanned complexions with warm or neutral undertones. If you have cool undertones, I'd stick with the pink and berry hues.
THE GOOD:
These are super pigmented, so a little goes a long way, and this amount of product will last you a LONG time. That's great value! They blend really nicely, and come in a beautiful range of colours to suit any skin tone. They last on the skin too – I've tested them on bare skin and over liquid foundation. Finally, and importantly, they dry down completely. I have no tolerance for sticky skin that hair, dust, and dirt adheres to.
THE BAD:
The different shades have different pigmentation levels, which means they take some getting used to in order to figure out how much product of each shade you should apply. For example, I can use a swipe of Bliss on each cheek and look cute. But if I use a swipe of Happy on each cheek, I look like a clown because you need the *smallest* dot of Happy. Joy is also super pigmented so you only need a tiny bit. But that's hardly a strike against them, just a learning curve.
THE VERDICT:
I'm keeping at least one of these. Definitely keeping Bliss, and debating between Joy and Happy.
From the entire launch, I was probably most excited to try these matte cream lipsticks from Rare. I picked up Inspire (the bright orange-red shade Selena is wearing in all the Rare Beauty photoshoots), Ascend (a hot pink), and Brave (a peachy-brown neutral).
THE GOOD:
These have such a pleasant texture on the lips. They're not drying or sticky, and they don't feel like a typical liquid lipstick at all. They also don't dry down like one. With the more pigmented shades, especially Ascend, they stain your lips, so even when the product has completely worn off after a meal or many hours, you've still got some nice colour on your lips. (Magenta pigment is well-known to be the most staining.)
THE BAD:
If you're looking for transfer-proof liquid lipstick, this isn't it. This will transfer or blot off somewhat, but for me, the non-drying texture and the way it wears off more naturally than a typical liquid lipstick (no flaking off!) makes it worth it for me.
THE VERDICT:
I'll only be keeping Ascend out of these three, and wearing it as more of a lip stain than a lipstick. I wanted Brave to be more of a brick shade, but it's lighter and more peachy on my skin tone than I thought. Inspire isn't the hot red I hoped for either, it's more orange and neon than it seemed, and it's not flattering on me at all.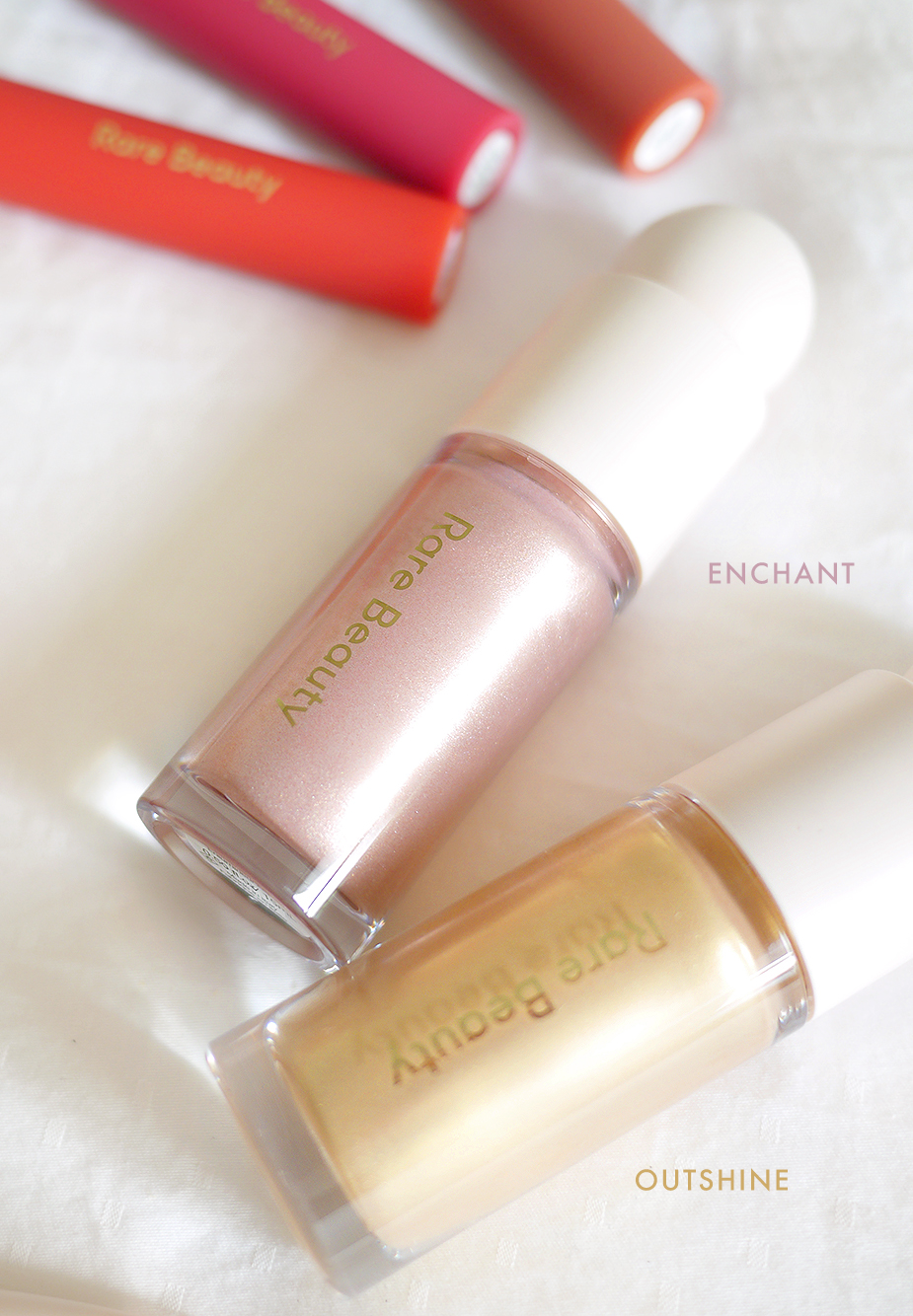 Let me start by saying I'm not a liquid highlight person at all. Glossier's Haloscope is so dang pretty but leaves my cheeks sticky and I'm not about that life. Again, I loathe tacky skin and in general I find powder products faster to apply and easier to control placement.
So I picked up Enchant and Outshine only because I heard they dry down completely, and I wanted to see if they'd change my mind. Plus since they dry down, I bought them mostly to apply to my collarbones and shoulders for a special occasion to add extra glow, rather than on my face.
THE GOOD:
The shade range is fantastic, and there's a highlight to suit the palest skin tone to the deepest, with any undertone. (Props to Rare Beauty for always keeping in mind the wide breadth of shades skin comes in!) They also add a really beautiful shine, without being too obvious or glittery. And yes – they dry down completely, so you've got to blend them in fairly quickly.
And you get BANG for your buck! Given the amount of product you get (0.5 oz.) for $29, it's better value than almost any other Sephora-level liquid highlight.
THE BAD:
Once again, I don't really have anything bad to say about these products. At worst I'll say that the shade Enchant is sliiightly more silvery than I would have preferred. Mezmerize is a warmer pink, but a touch too dark for me, especially in the winter.
THE VERDICT:
I'm keeping Outshine. The light gold suits my skin tone better, and looks absolutely gorgeous on the collarbone area, as if lit by candlelight. Enchant is pretty too, but didn't wow me enough to keep it.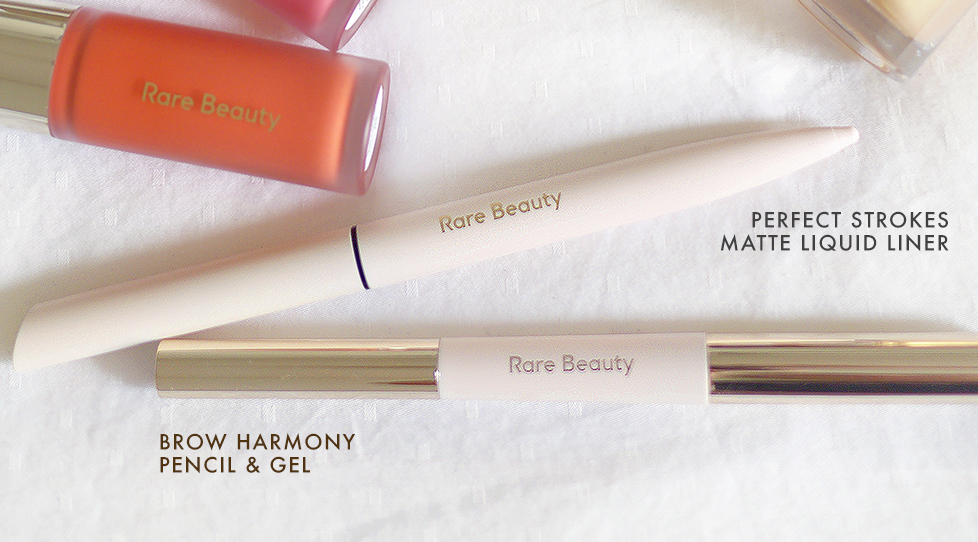 My favourite black liquid liner to date is Stila Stay All Day Waterproof Liquid Liner. Over the years I've repurchased it god knows how many times. I bought the Rare Beauty liquid liner to see if it could compare to (and replace!) my holy grail – because it's much more affordable. Let me break it down real quick.
Are you picking up what I'm putting down? RARE BEAUTY'S LIQUID LINER IS NEARLY HALF THE PRICE OF STILA'S AND FENTY'S. This is not a drill.
Lots of people are talking about the performance of Rare Beauty products, but almost no one I've seen is really talking about value. So now you know! And in terms of performance, Rare Beauty's liner applies like a dream, is super black, and lasts remarkably well. Even put up a bit of a fight when it came to washing my face, which is impressive. So yes, it is now my new go-to liquid liner. Thank you, Selena.
Y'all I wanted to love this so much. Once again, the affordability of this vs. Anastasia Beverley Hills and similar brands is off the charts.
Rare Beauty – $29 for 0.21g brow pencil PLUS TINTED BROW GEL INCLUDED
Anastasia Brow Wiz – $23 for 0.085g brow pencil (you get much less pencil and no gel)
THE GOOD:
The brow gel is AMAZING. Literally the best I've ever used. Glossier Boy Brow couldn't hold my brow hairs in place but this can! (I was using ultra-hold hair gel on my brow hairs before discovering this, lmao.)
THE BAD:
The brow pencil side is not or me. It's super creamy, which in itself isn't a bad thing, but the tip isn't fine enough for me, making it hard to control. Yes it's chiseled which is supposed to give you a fine edge on one side and a wider edge on another, but after one use the fine part wears down and the whole thing becomes thicc. I'll probably use the pencil side as eyeliner instead.
THE VERDICT:
I'm keeping this product just because of the brow gel, which makes it worth it for me.
In summary: I'm a fan of Rare Beauty, and actually pretty excited to try the foundation one day. Plus the entire Rare Beauty line is vegan and cruelty-free, and a portion of sales is donated to support mental health causes. What more can you really ask for from a brand? Selena did good.
Did you pick up anything from this launch? What are your thoughts? Let me know below.
Thanks for reading,
– Sara
Stay updated with Facebook • Twitter / Instagram (@saradujour) • Pinterest