The Girl with the Drag(on) Tattoo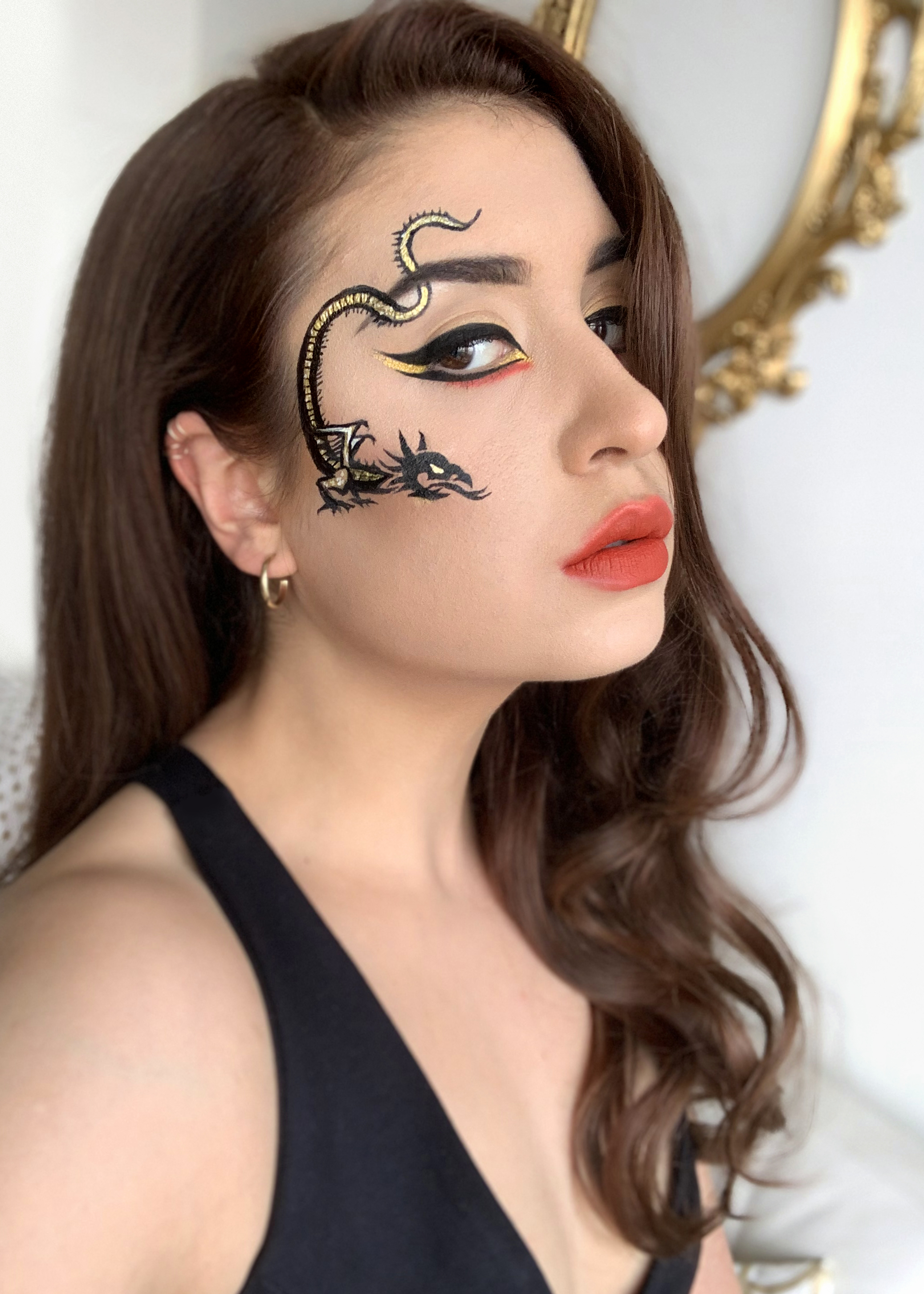 If you thought regular winged liner was hard, welcome to expert mode. As I've said before, I enjoy getting creative with makeup, and once the idea to draw a dragon tattoo in liquid liner entered my head, there was no getting rid of it.
I knew it would be a challenge, but I didn't realize exactly how hard it would be. I guess I temporarily forgot that the dragon "tattoo" would extend to the side of my face, and that my eyeballs can't really…see there. In short, I almost went cross-eyed doing this, and pushed my peripheral vision to its absolute limits. But nobody said being the mother of drag(ons) was easy.
If you want to know what I used and how I did this "Girl with the Dragon Tattoo" makeup look, keep reading. If not, uh…thanks for stopping by, get back to your day or whatever.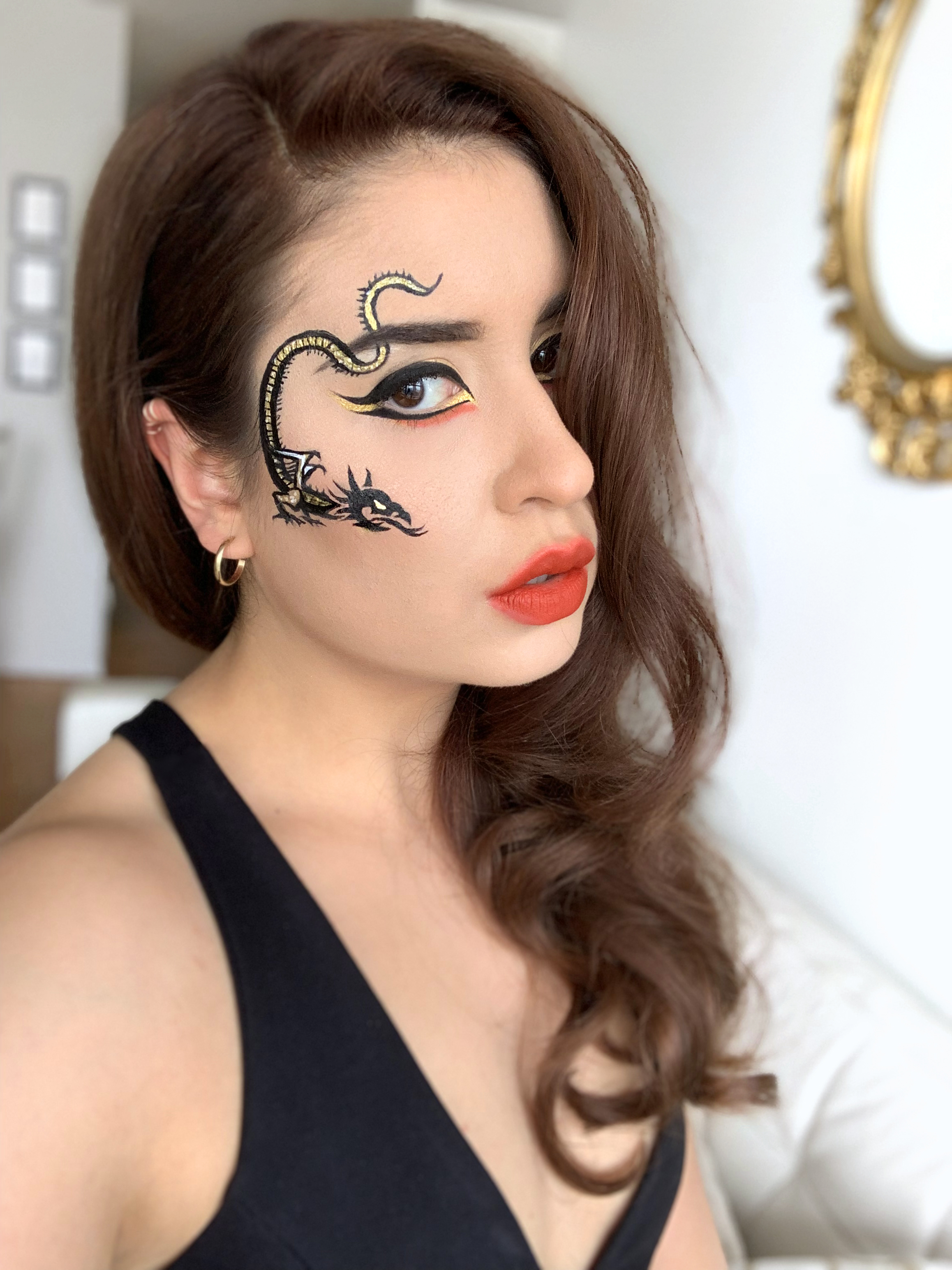 Drawing the dragon
I knew where I wanted to place the dragon on my face, and had a rough idea of the style I wanted. I wanted to look at a reference picture to get the details just right, but all the designs I could find were either far too detailed to draw with liquid eyeliner, or not detailed enough for what I was going for. So I ended up creating my own dragon tattoo design.
First I lightly penciled in the basic design with an eyebrow pencil, so that I could get the placement right (and adjust it if needed) before I went in with a bold, black liquid liner. I bought drugstore liquid eyeliners to do this dragon makeup look, because I didn't want to waste my expensive Stila liquid liner on an Art Attack project. (Does anyone remember Art Attack?)
For the black, I used: Quo Art of Liner Vinyl Liner (Quo is the store brand of Shoppers Drug Mart, a Canadian icon.) It had the finest tip of all the liquid liners I swatched there, and that was crucial for the detailed work I needed. And for just $12, I'm really impressed with how it performed.
For the gold, I used: Rimmel Wonder'Proof 24hr Waterproof Color Eyeliner – also a liquid eyeliner. What's up with beauty products having 14 words in the name, yet none of them say what the product actually is? Anyway.
For the white highlights, I used Urban Decay Razor Sharp Longwear Liquid Liner in "Bump".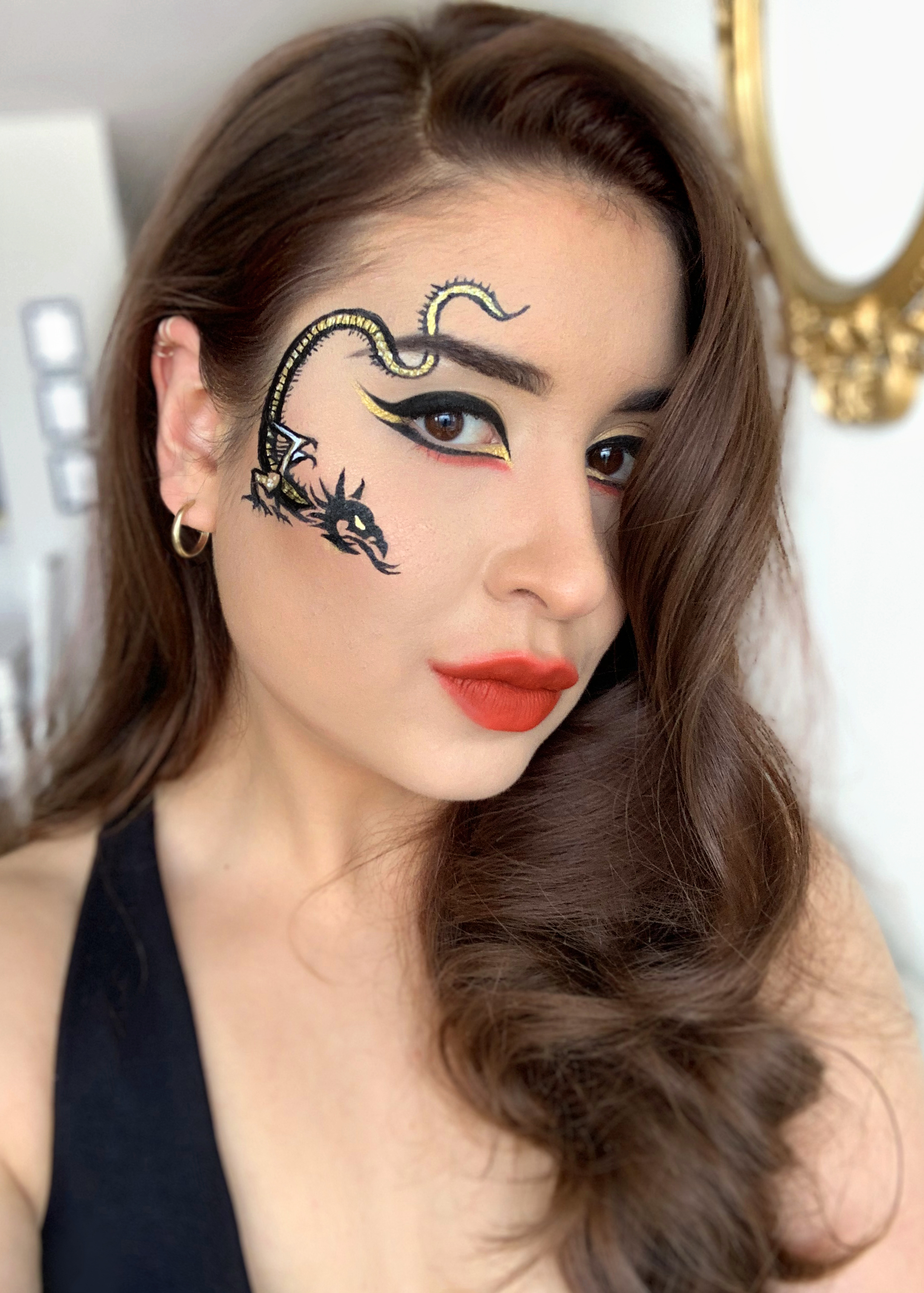 I thought it would be fun for the tail of the dragon to wrap around my eyebrow seemingly in 3D, so I drew it going behind my eyebrow in one place, and painted over my eyebrow in another place, so that it would be "in front" of my brow.
After outlining the dragon with my black liquid liner, I filled it in with the gold liner, adding dots with the white liquid liner to give the effect of glittering scales. To make the dragon's eye really pop, I used the white first, then the gold on top of that once it had dried.
Eyes
On my eyes, I left my lids bare, and used black liquid liner to draw a thick, bold winged eye on the top lid, and a thinner winged flick along my bottom lash line – almost but not quite meeting at my inner corner. Where I left space between the two wings, at my inner and outer corners, I applied the same gold liquid eyeliner I used on the dragon.
And lastly, as an unexpected jolt of colour, I used a orange-red lipstick on a cotton swab, blending it just below the liquid eyeliner line.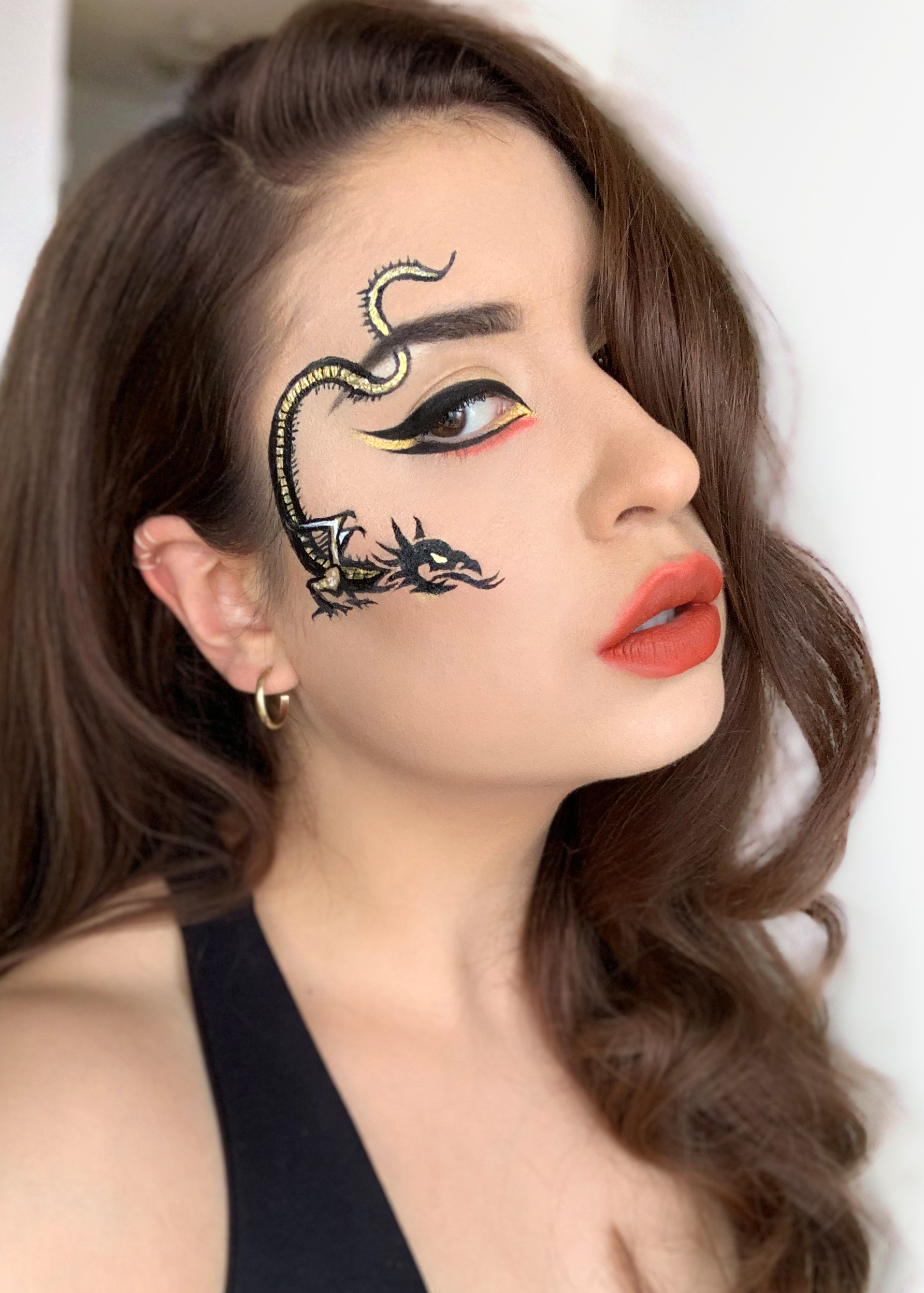 Lips
I used two lipsticks to create this colour: MAC's "Lady Danger", a bright orange-red, darkened a bit with Fenty's "Shawty", a deep burgundy-brown. I blended them together using my fingertip, blotting until I had the desired colour and matte finish I wanted.
(I used MAC's "Lady Danger" under my eyes, too.)
This dragon tattoo look was so much fun to do, despite the strain on my eyes and the anxiety caused by the near-surgical precision required. My eyeballs really took one for the team on this.
After all that work, it felt like a shame to wash the dragon off – but it was either that or take him to the gym with me. #Choices
In exciting news, I'll be sharing my first cosplay of the year very soon, and I can't wait. Any guesses?
– Sara
Stay updated with Facebook • Twitter • Instagram • Pinterest • Bloglovin