Office Holiday Party Dress: Winter Whites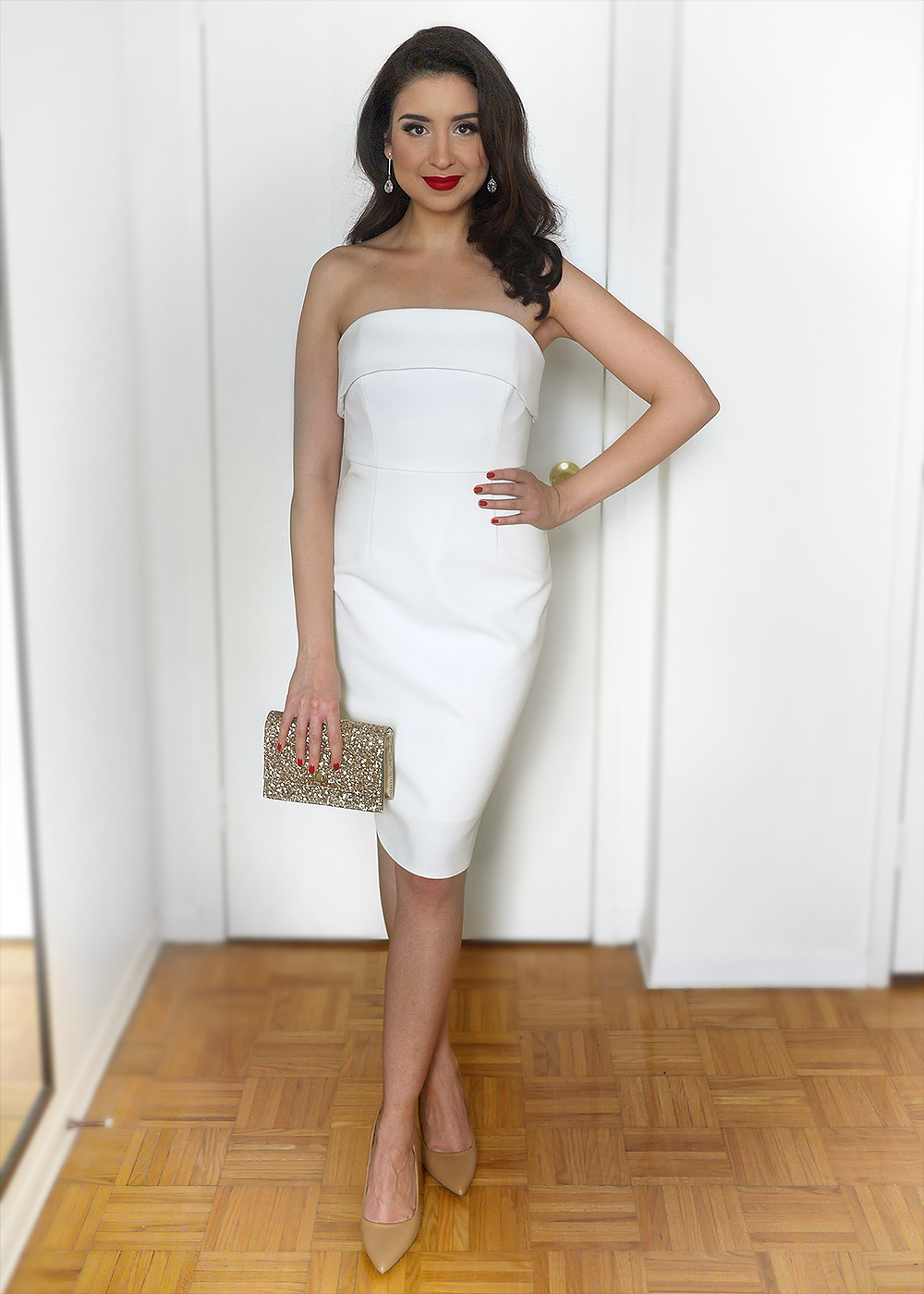 Quick links: Ever New Dress | Nine West Anndi Clutch | Aldo Earrings
I love party season. Mid-November until the first of January is a dazzling whirlwind of holiday parties, my birthday, Christmas, and New Year's Eve. So many reasons to dress up! And as anyone who knows me knows – I'll take any excuse.
Almost two months ago I started a new job at a different company, which meant that this year I had two office holiday parties to go to: my new job's and my previous job's. Lucky me!
This is what I wore to my previous office's Christmas party, where I got to dance the night away with people I've loved for the three years I worked there. I plan to post my other office holiday party dress soon, too. Stay tuned!
I'd never bought or worn a strapless dress before, because I don't usually find them flattering, but this one from Ever New (currently on sale, hurry!) was love at first sight, so I took the plunge. Because the fabric is thick, and the bust area is structured, it hugs the body elegantly while keeping your cleavage covered. Plus, the structured bust and the way it's cut (sloping down on the sides) means it doesn't need to tightly squeeze you to stay up, and therefore doesn't create armpit bulges. #Blessed.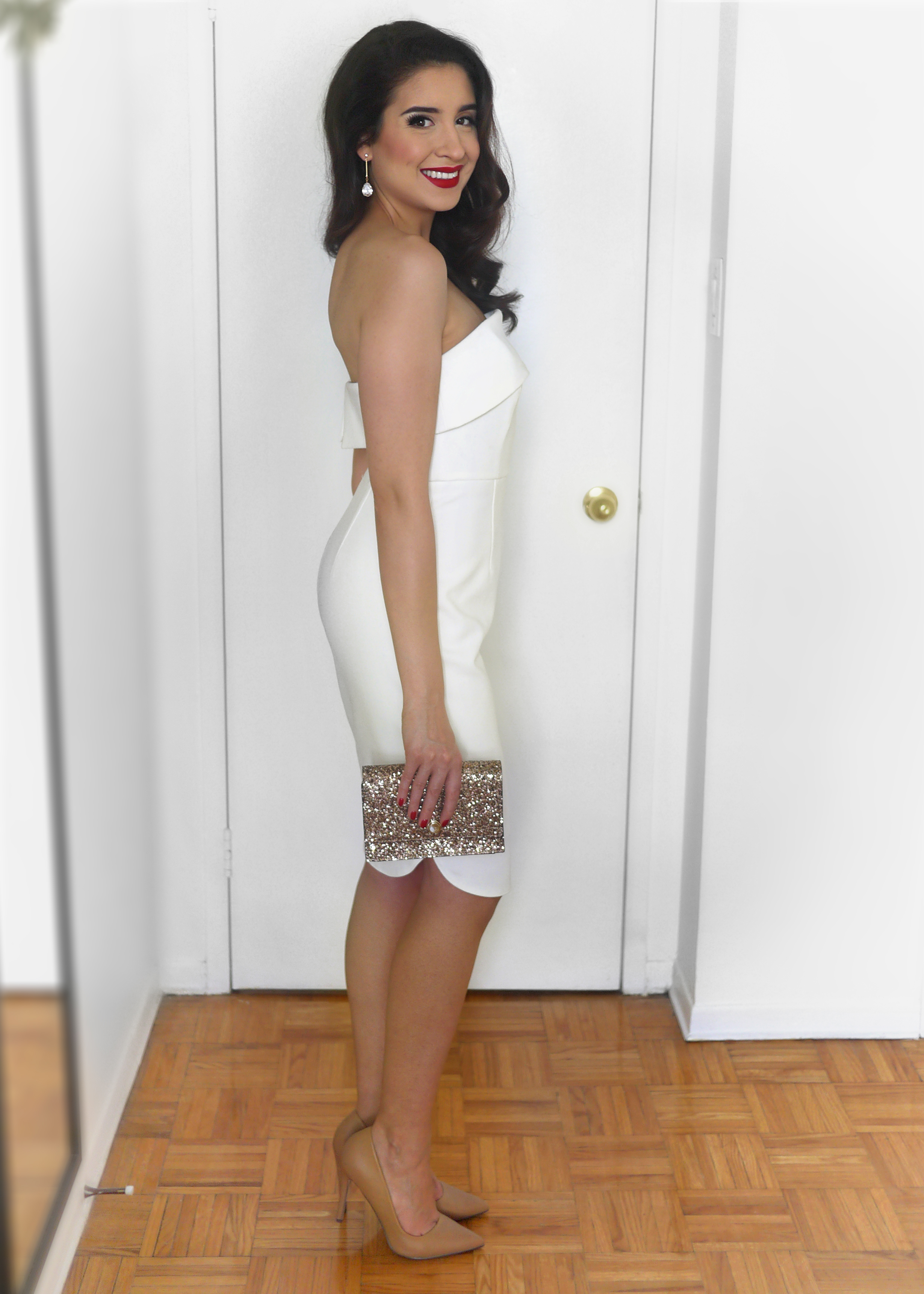 Since the dress itself is such a statement, I didn't want to over accessorize, wearing neutral nude heels, simple drop earrings, and pulling it all together with a sparkly clutch and red lipstick. Because guacamole is extra and so am I. ;)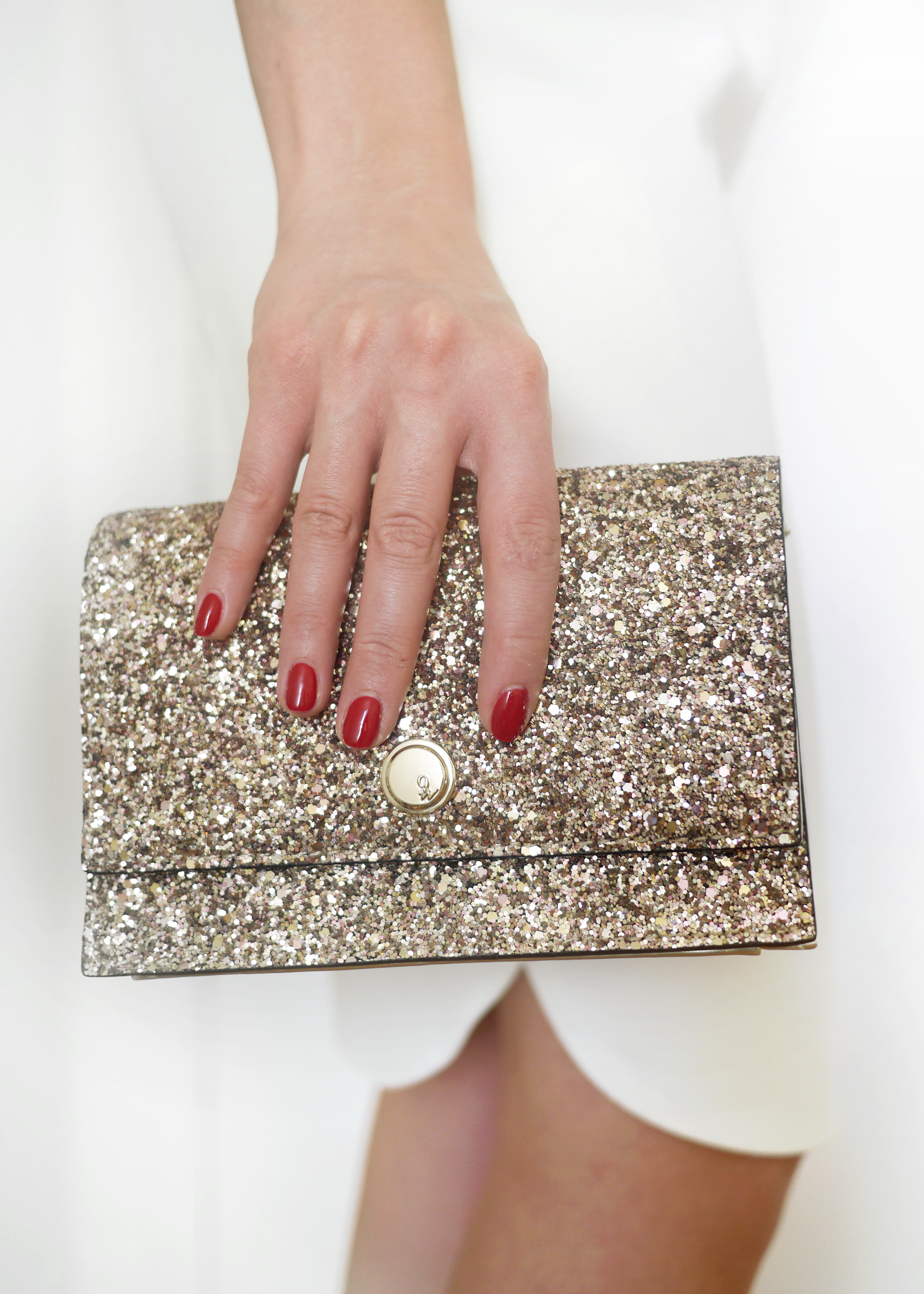 This glittery Nine West clutch is also on sale right this moment, and comes with a long, gold chain I opted to leave at home, to make dancing easier.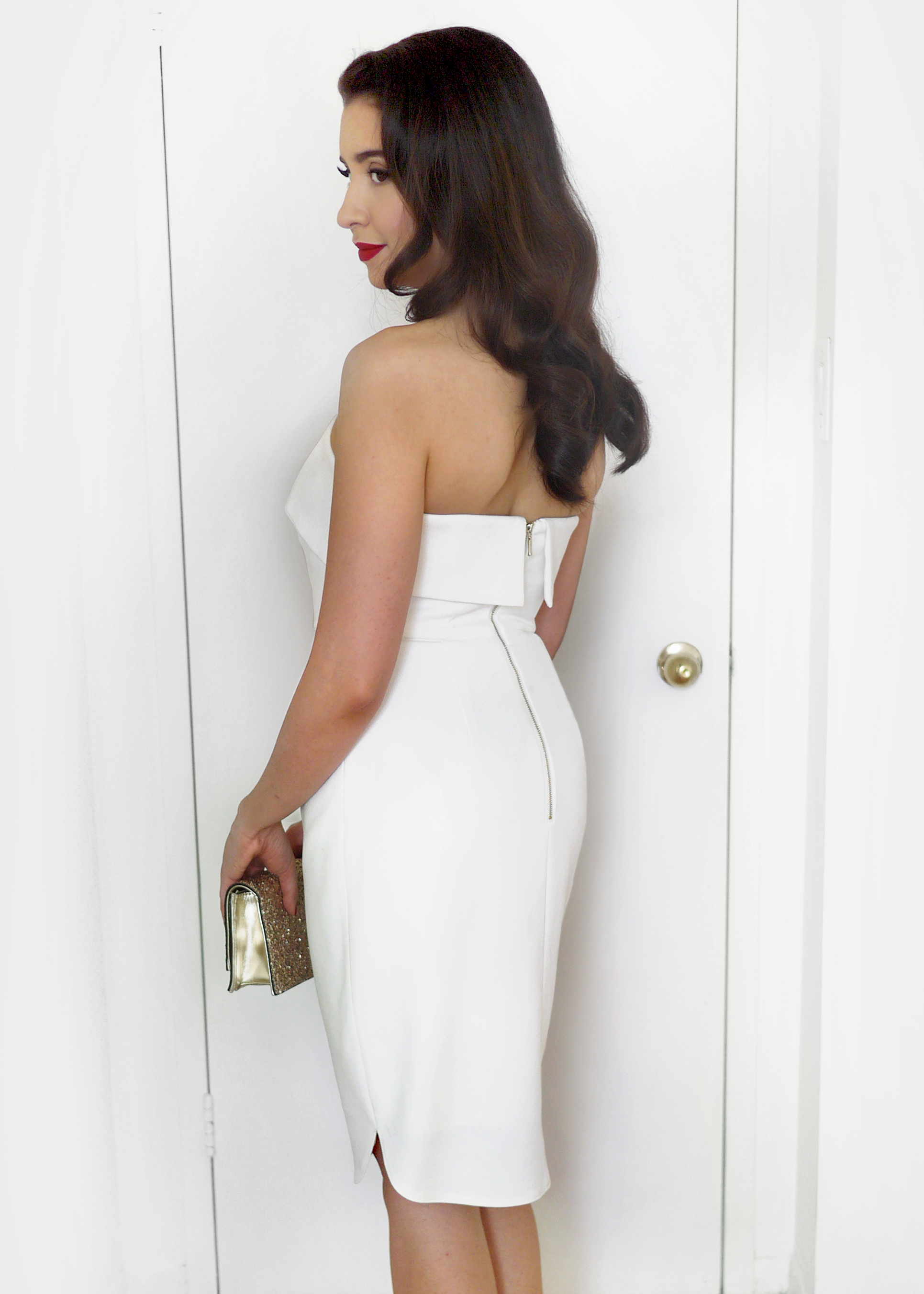 I went with red lips, red shellac nails, big lashes, and loose waves, because I love me some retro 1940s/1950s glam. I combined two red liquid lipsticks for this look: Sephora Collection Cream Lip Stain Liquid Lipstick "01 – Always Red", and Hourglass Opaque Rouge Liquid Lipstick in the colour "Icon".
These pretty earrings were an absolute steal at $12! They also come in a few other colour variations.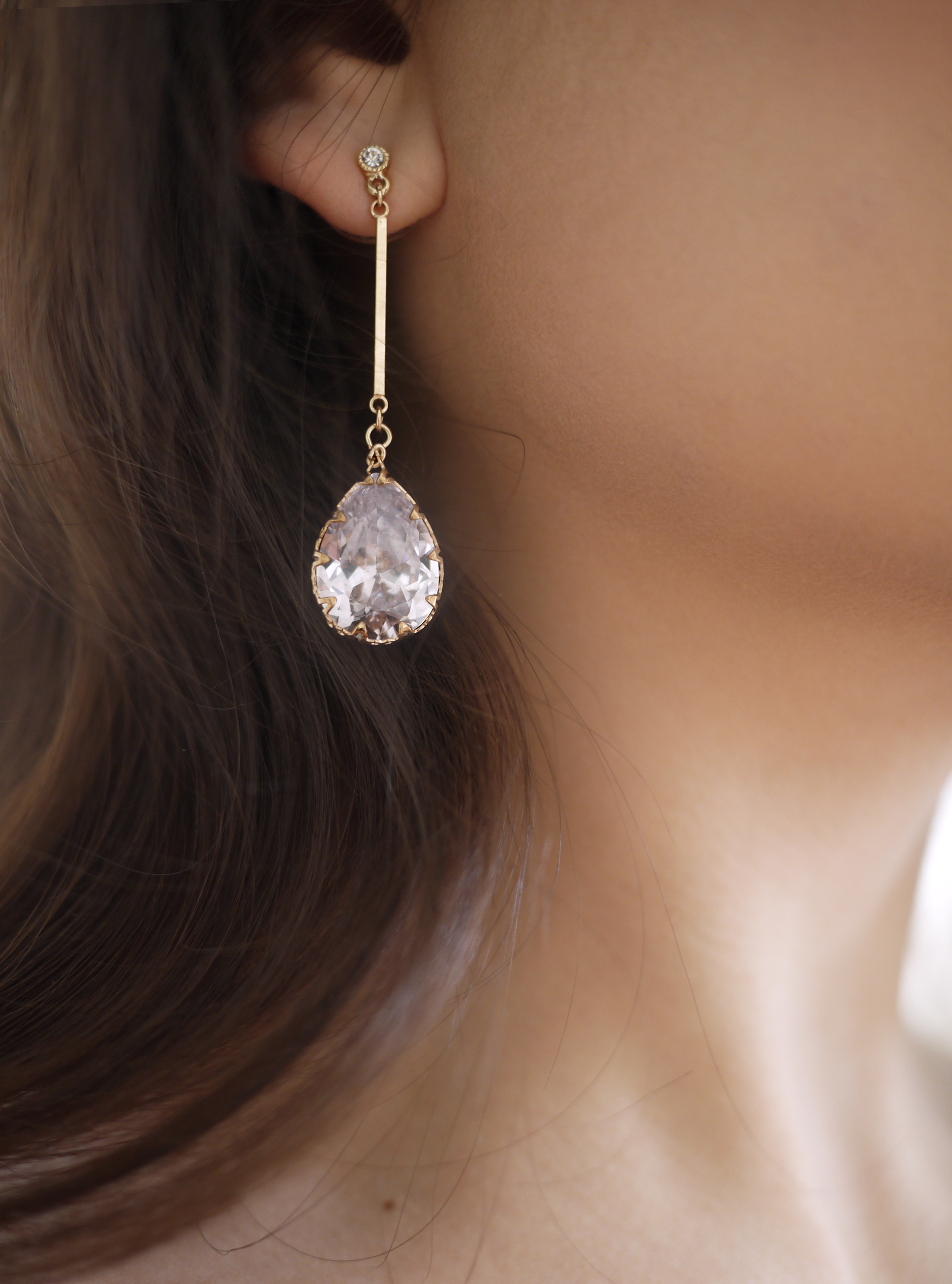 There's something magical about office holiday parties. It's so special to see all your coworkers in a completely different context, dressed up, relaxed and having fun. I had the best time and was one of the last to leave.
I'm so grateful that I was still able to be part of the event, though I no longer work there. It felt like coming home again!
I'll be posting my second office holiday party dress OOTD soon, so stick around for that in a few days, and thanks for reading!
– Sara
Stay updated with Facebook • Twitter • Instagram • Pinterest • Bloglovin