Sparkling New Year's Eve Outfit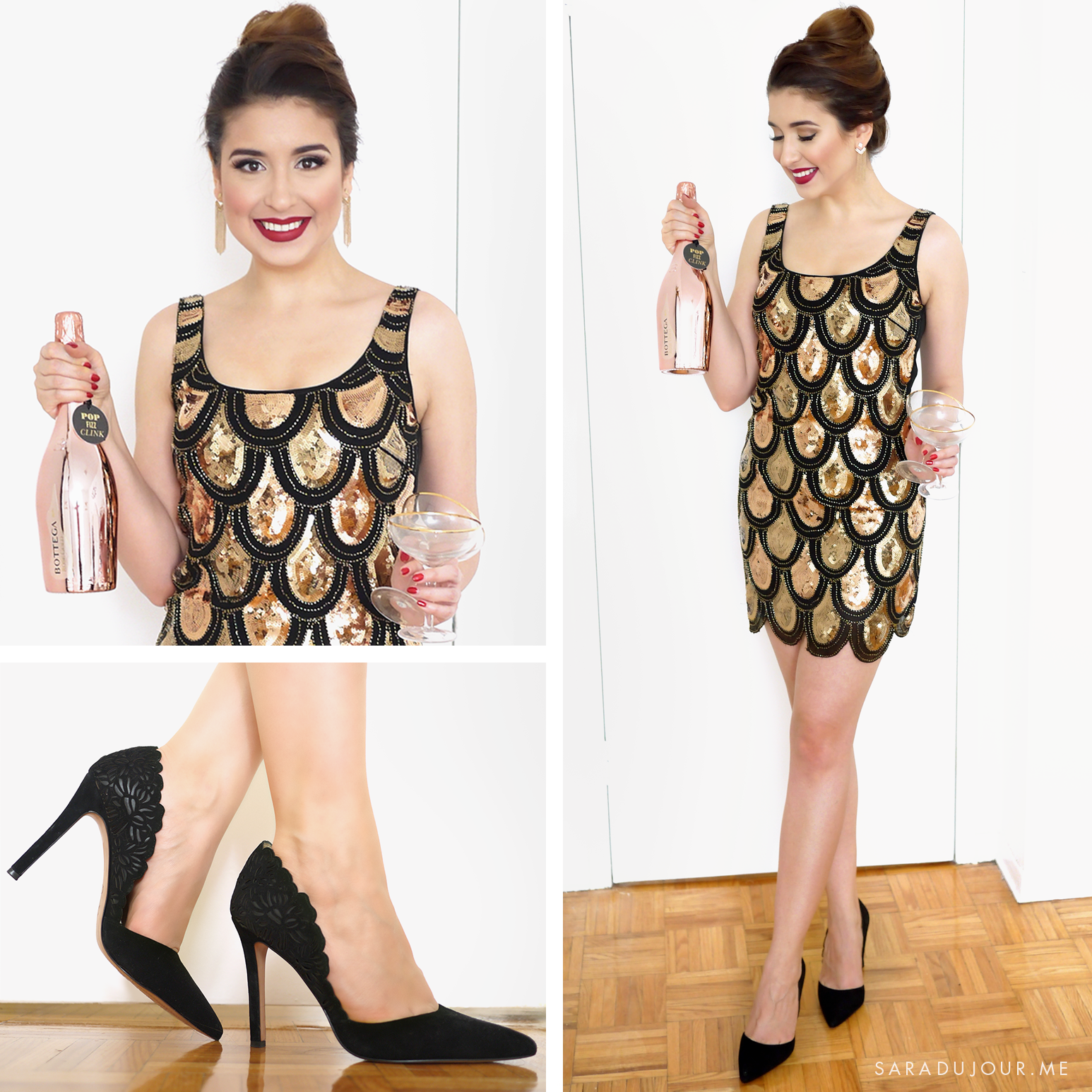 Happy New Year! I hope you all had a smashing time ringing in 2016 with your friends or loves last night. Now that we're all in bed, browsing the internet and nursing our collective hangovers, let's talk about fashion.
New Year's Eve is both one of my favourite nights of the year and one of my favourite nights to dress for. It is without a doubt the sparkliest holiday, and I try to take full advantage.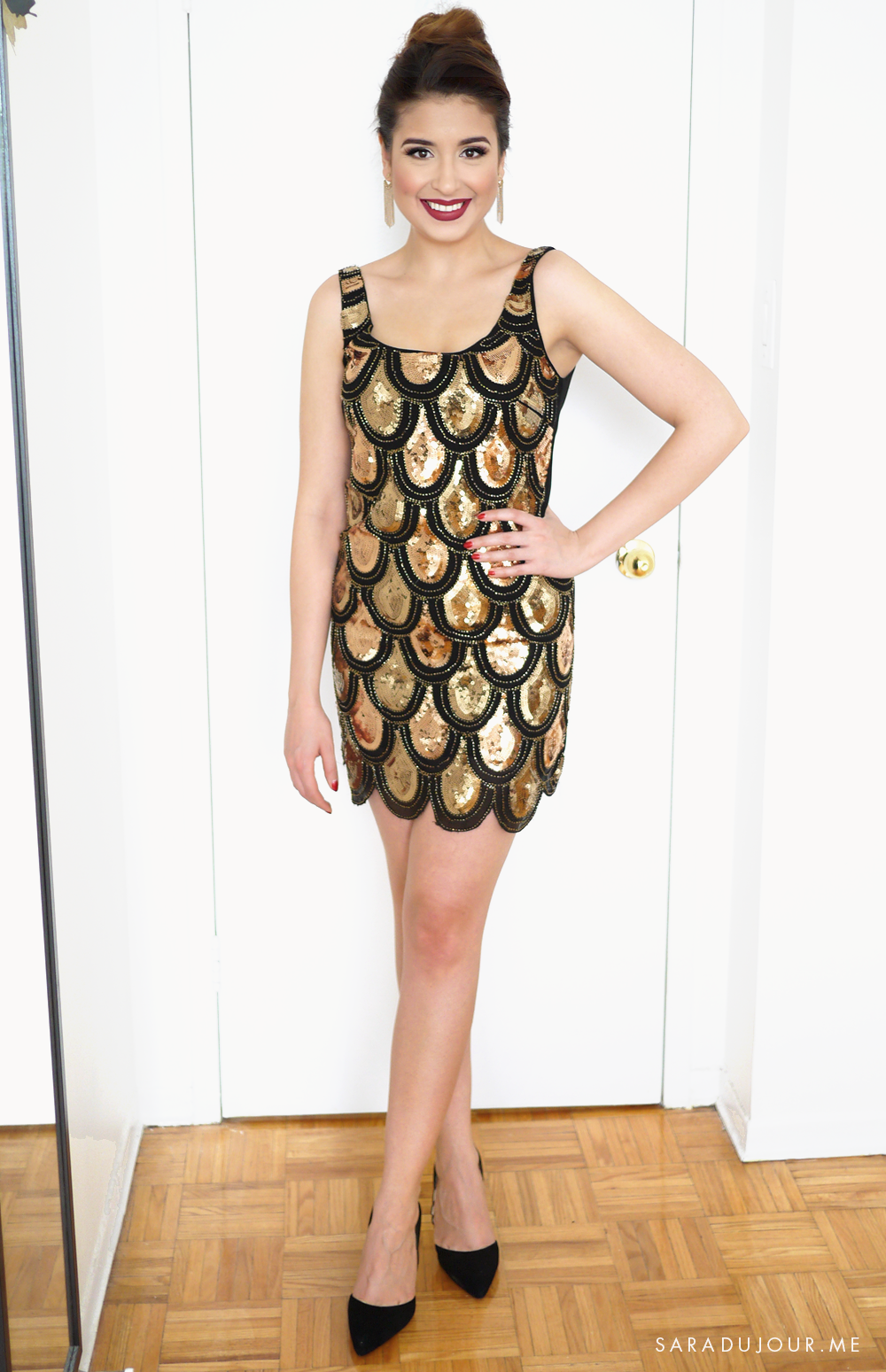 Sequin Dress (similar 1 | 2 | 3 | 4 | 5 | 6) | Heels | Earrings (similar) | Lipstick
I love New Year's Eve, because it's always a wonderfully fun night spent with friends I've known forever. Each year someone in our group hosts, and the boys spend the day cooking up a fantastic spread. We all dress to the nines and spend the evening leading up to midnight eating, drinking, and playing party games.
I'm sentimental by nature, so I enjoy reflecting on the highs and lows of the year past, and ringing in the New Year with all the bubbling hope of what it will bring. There's something nice in the idea of leaving the year behind – both the good in it and the bad – and being faced with a completely clean slate with which to strive to be the person you want, and build a life for yourself you love. You never know which new people are waiting just around the corner, about to change your life forever.
I can't believe how much has happened in my life since exactly a year ago. For one thing, I took up boxing, which is something I never would have thought myself capable of. I made a group of new friends who I've become unexpectedly close with, and feel very lucky to know. I had the opportunity to go to New York to see Cabaret on Broadway, and got to meet and speak with Alan Cumming, one of my favourite actors. This year I also got to experience being in love, which was sublime, and having my heart completely obliterated, which was less so. Ah, life. I look forward to seeing what I'll be reflecting on a year from now.
As with every year, there were moments of both exultation and devastation. I'm hoping for a little more of the former and a little less of the latter in 2016, and I wish the same for all of you.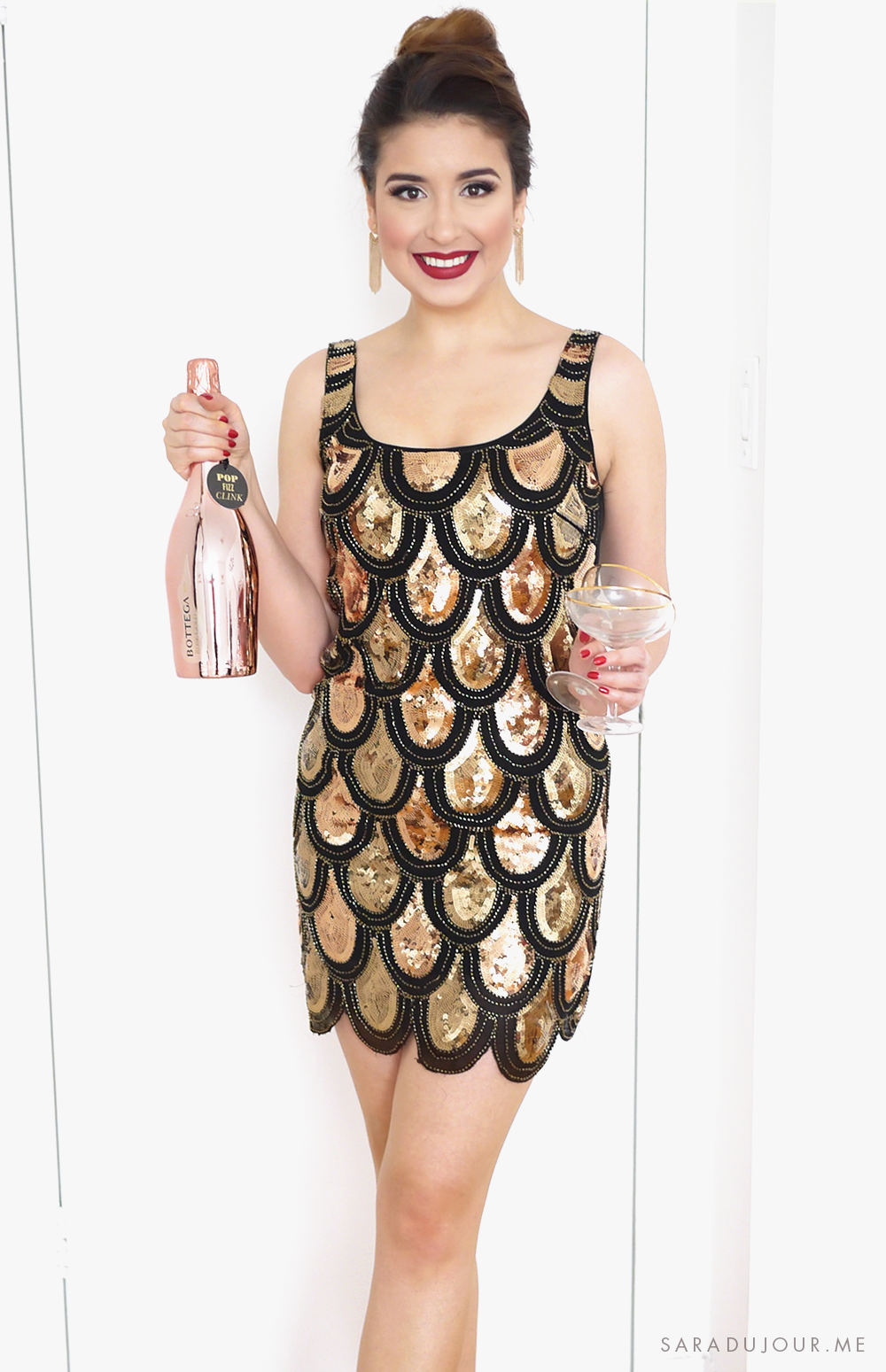 Enough musing, back to sequins. What's New Year's Eve without something sparkling to wear and drink?
For my New Year's Eve outfit this year, I went for a 1920s-meets-1960s look with this scalloped gold and black sequin shift dress from Ruche, gold drop earrings, and ornate black suede pointed-toe pumps with cut-out detailing.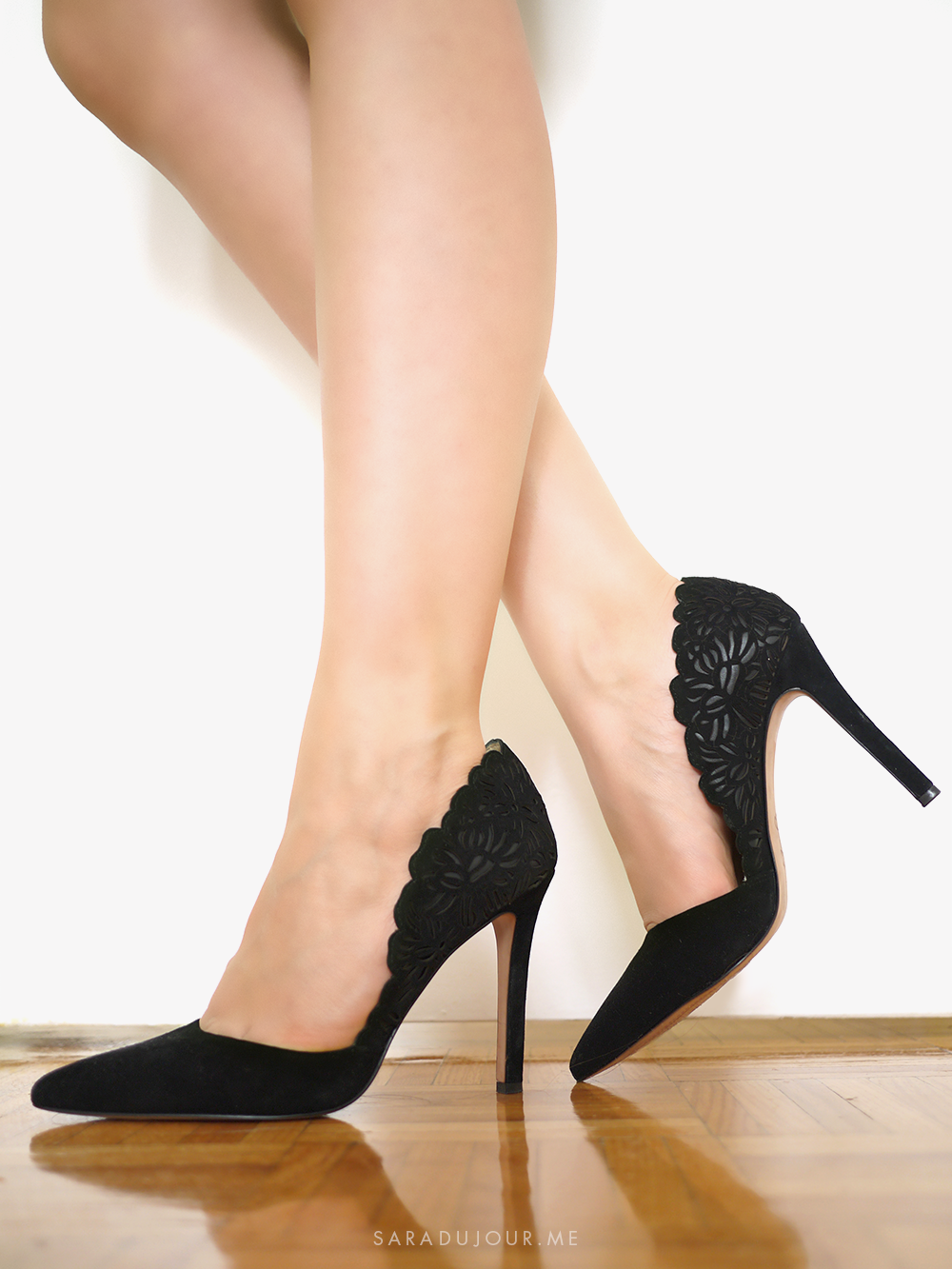 I'm absolutely head over heels with these shoes and have every intention on doing a proper haul post on them, so stay tuned for that soon. Plus, I snagged them during an incredible sale. Victory! (They're on sale right now, too!)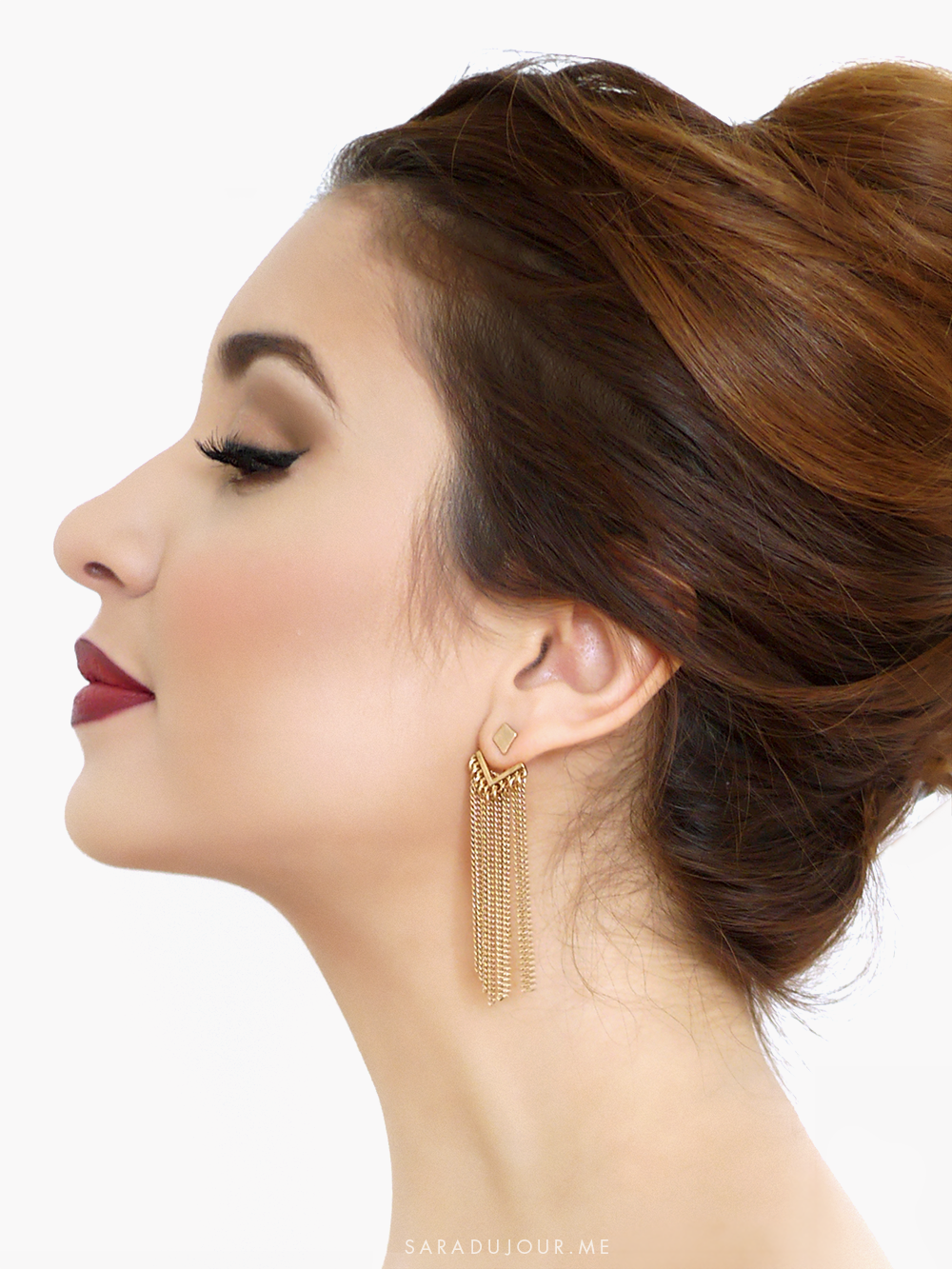 I threw my hair into an effortless updo, and went for more dramatic makeup instead. Ear jackets have become quite popular lately, and I ventured into the trend with these gold chain fringe ones from Forever 21. (Similar 1 | 2 | 3)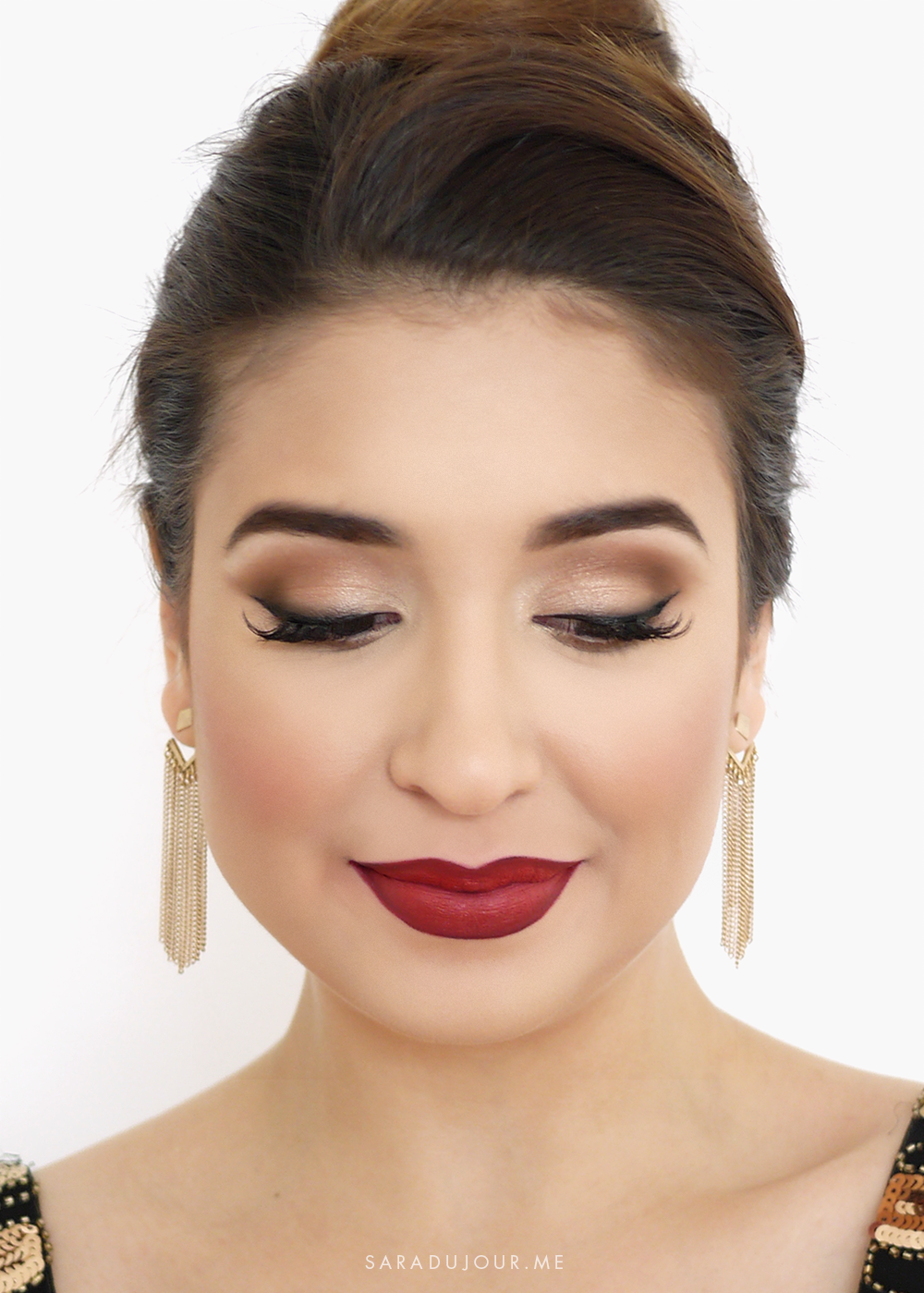 You didn't think I'd leave you hanging without talking about the makeup, did you? For this New Year's Eve makeup look I did a bronze smokey eye with a vampy burgundy lip. I used the Too Faced Chocolate Bar eyeshadow palette (that I've talked about lots of times) and MAC's Viva Glam I lipstick, combined with a little Nightmoth lip liner around the edges to deepen the lips further.

As I've done throughout this year's party season, I completed the eye look with House of Lashes "Siren" lashes, that I DIY-d by cutting them in halves and using them only in the outer corners of my eyes. I love how wispy and natural looking these are, and they have an invisible band, which further adds to the natural effect, while still giving you a flirty cat eye.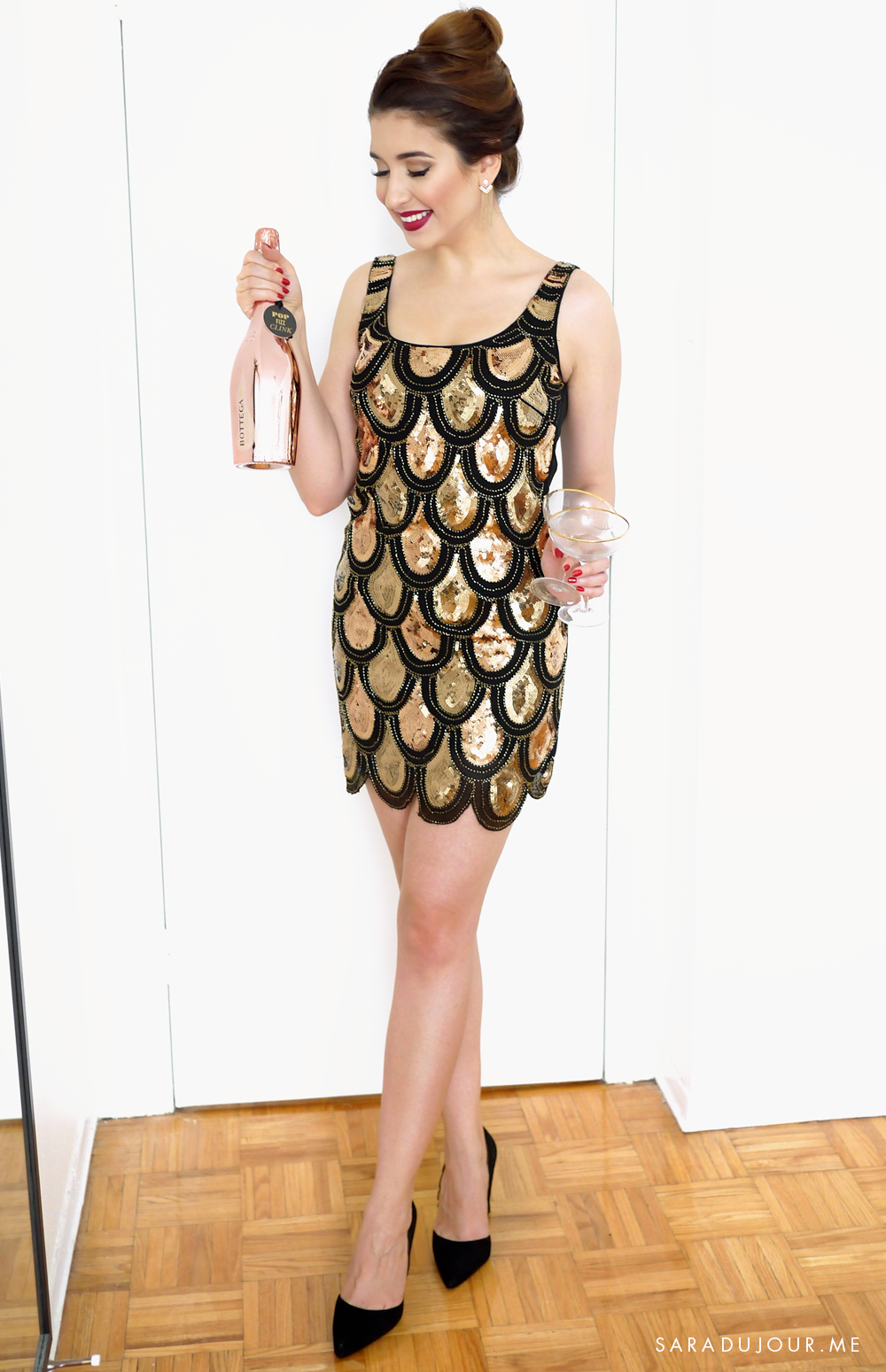 What are your New Year's resolutions for 2016? Leave them in the comments for me to read. One of mine is to try to do more frequent outfit posts, as you guys seem to like them. Here's hoping! x
– Sara
Stay updated with Facebook • Twitter • Instagram • Pinterest • Bloglovin