Book Review: Not My Father's Son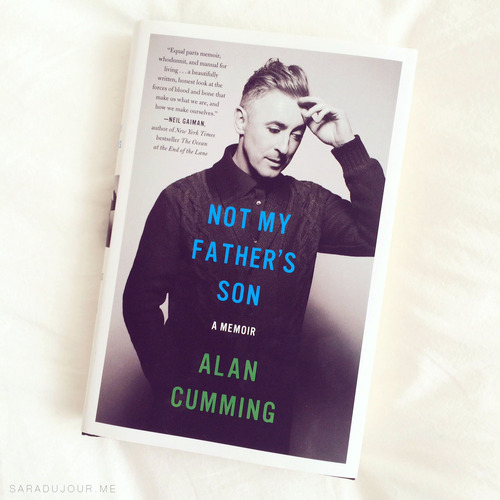 I'm not one for celebrity memoirs. They tend to be self-indulgent money grabs which aren't even written by the celebrity 99.9999% of the time – they're ghost written.
Alan Cumming's memoir, Not My Father's Son, is the complete opposite. It's raw, beautiful, brave, and honest. I really can't say enough good things about it.
I suppose I should preface this by explaining who Alan Cumming is, for those who may not know. I discovered the Scottish actor about a month and half ago, when I fell head-first into the perfectly marvellous musical that is Cabaret (for which he won a Tony for his role as the Emcee). You may recognize him as Eli Gold from The Good Wife, Nightcrawler from the X-Men films, Floop from Spy Kids, Mr. Elton from Emma, or even as the host of PBS's Masterpiece Mystery.
Okay, now back to the book. First of all, the writing style is remarkably good. And I don't mean 'good, for an actor', I mean good, period. I'm always dubious when about to read a book written by someone whose main job isn't writing, but Alan Cumming writes with the same nuance, thoughtfulness, and natural ability that he acts with. (It seems the powers that be were feeling very generous the day they were doling out talents – he is a talented singer and songwriter, too.) He's also written a novel, Tommy's Tale, that is listed as fiction but is largely based on his own life and experiences.
Though Alan Cumming leads a vibrant life, rubbing elbows and partying with the glitziest of them, Not My Father's Son explores the more personal and lesser-known side of his life, particularly that of his relationship with his family, and how that shaped him growing up.
His story is told through three timelines: the first, called "Then", gives us a window into his childhood, and the horrible abuse he suffered at the hands of his violent, volatile father.
I found these passages painful to read. They are so raw and personal and awful that it feels a bit like sticking your finger into someone else's open wound. You feel like you shouldn't be there – it feels voyeuristic, somehow.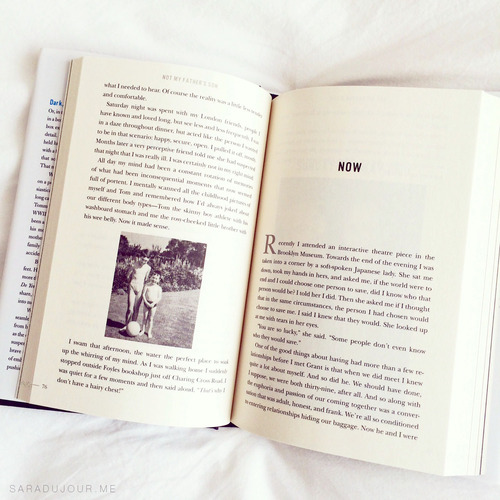 The second timeline, called "Now", fast-forwards us to the present day, and shows in sharp contrast just how different things are for him currently. What is so beautiful about this structure is how masterfully everything is threaded.
As just one example, the book opens on one of many traumatic events that happened to Alan as a child – that of his father taking out his rage on his innocent son by holding him down and brutally shaving his head with a pair of sheep clippers in the family's shed. The "Now" section immediately afterwards details how the actor has worn his hair in a multitude of styles, colours, and lengths over the years, and how he has come to view his hair as a symbol of his freedom.
The third and final timeline the story is told through is that of the spring and summer of 2010, when Alan signed up to feature in the TV program Who Do You Think You Are?, a reality show that researches the genealogy of various celebrities.
He set out to learn what happened to Tommy Darling, his grandfather on his mother's side who fought in the war and died a few years after it ended under mysterious circumstances. What he didn't expect was for his father to tell him right before he began filming (after years of not speaking) that he was in fact, not his son.
I won't spoil whether he is or isn't here, nor will I spoil the fate of Tommy Darling. (However, the episode is available to watch on Youtube.)
Through learning who his grandfather was, and how he lived his life, Alan learns about himself, too.
All in all, this is a beautiful book. I was brought to tears multiple times, and by the end I was sobbing in earnest. It is honest in a way that few writers (or people in general) are capable of, but my favourite thing about it is that Alan Cumming is one of those rare people that can see the poetry in the seemingly ordinary.
I highly recommend this book, whether or not you are familiar with Alan Cumming or his work. Not My Father's Son is a story about family, identity, and how the past and present are inexorably weaved – how we are created and how we create ourselves. xx
Not My Father's Son, by Alan Cumming – My Rating: 5/5
– Sara
Stay updated with Facebook • Twitter • Instagram • Pinterest • Bloglovin