Summer Scalloped Style Haul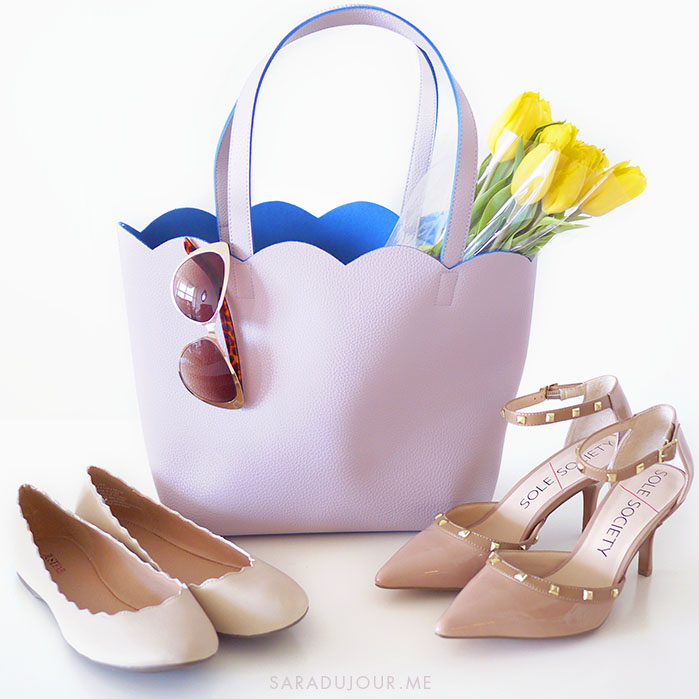 lilac tote bag | scalloped flats | studded pumps
Happy first day of summer! This is the happiest I've been on a Monday for a while, because I've taken a vacation day, and thus have my own, private long weekend. (So #blessed.) I'm happily still lazing about in bed, snacking on grapes and watching a few Youtube videos on my iPad while I put together this blog post. Later tonight, I'm grabbing a bottle of wine and popping over to a friend's place for a sangria-infused Bachelorette viewing party. All in all, it's going to be a great day for me. Probably not so much for you. (Sorry.)
Anyway, let's talk about this haul. I've been slightly obsessed with scallops, and not the raw kind Gordon Ramsay yells about on Hell's Kitchen. 
First of all: this bag. I'm in love. While I'm generally a cross-body bag gal, in the summer it's nice to have a bigger bag, where you can throw in a pair of sunglasses, a bottle of water, some sunscreen, a comfortable change of shoes, and whatever else you may want or need.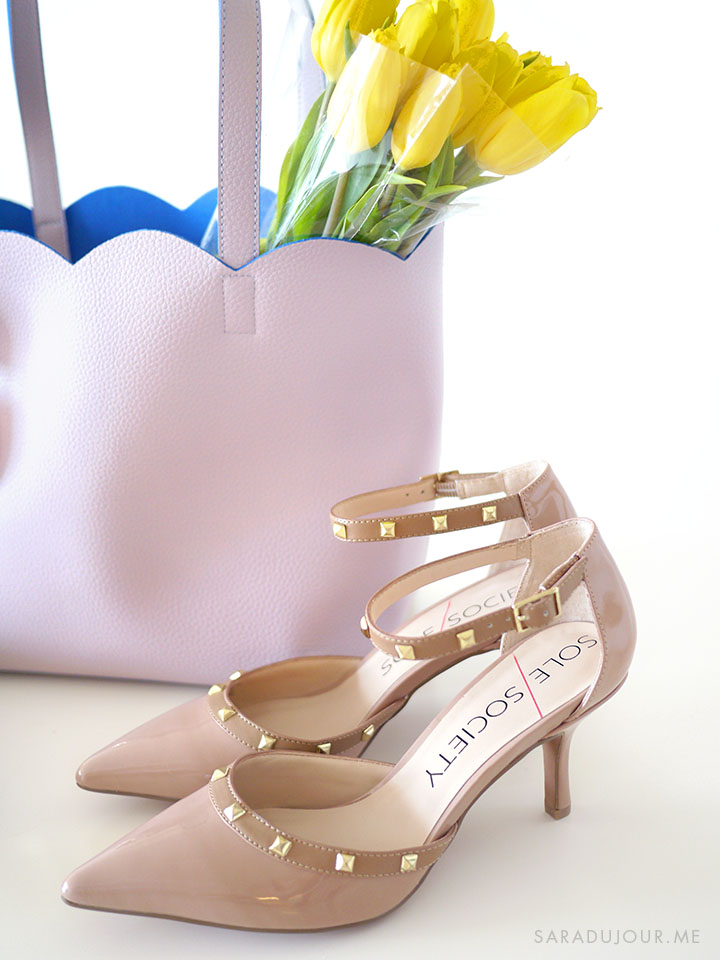 I bought this Deux Lux Leyla Small Tote from Shopbop, but they're out of stock, so you can shop this bag (in mint, lilac, neon yellow, navy, and rose gold) directly from Deux Lux. You can even have the bag monogrammed! If you hurry, you can grab the Leyla tote while it's still on sale.
It's really spacious, and the handle drop is the perfect length (8″) to be worn either on your shoulder or on the crook of your arm. The first time I wore this bag out, a woman stopped me in my tracks to ask where I'd gotten it from. The leather is buttery-soft, and the bright blue pop of colour inside is an unexpected surprise.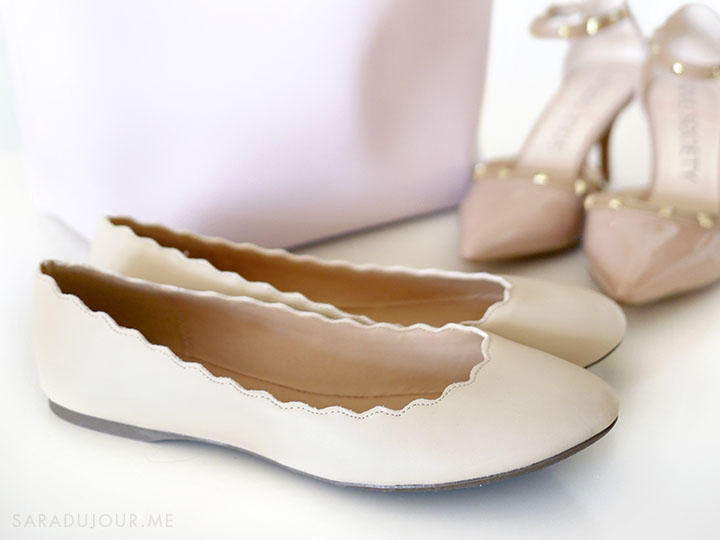 Sticking with the scalloped theme are these JustFab Clara flats. I have long coveted the scalloped Chloe Lauren flats, and these are a great similar style at a much lower price-point. They're quite comfortable and mold to your feet, and while the site describes this colour "blush", I think it would be much more accurately described as "bone".
I love that they're simple but that the scalloped detailing gives them a little something special, making them easy to be worn with both casual and dressy outfits.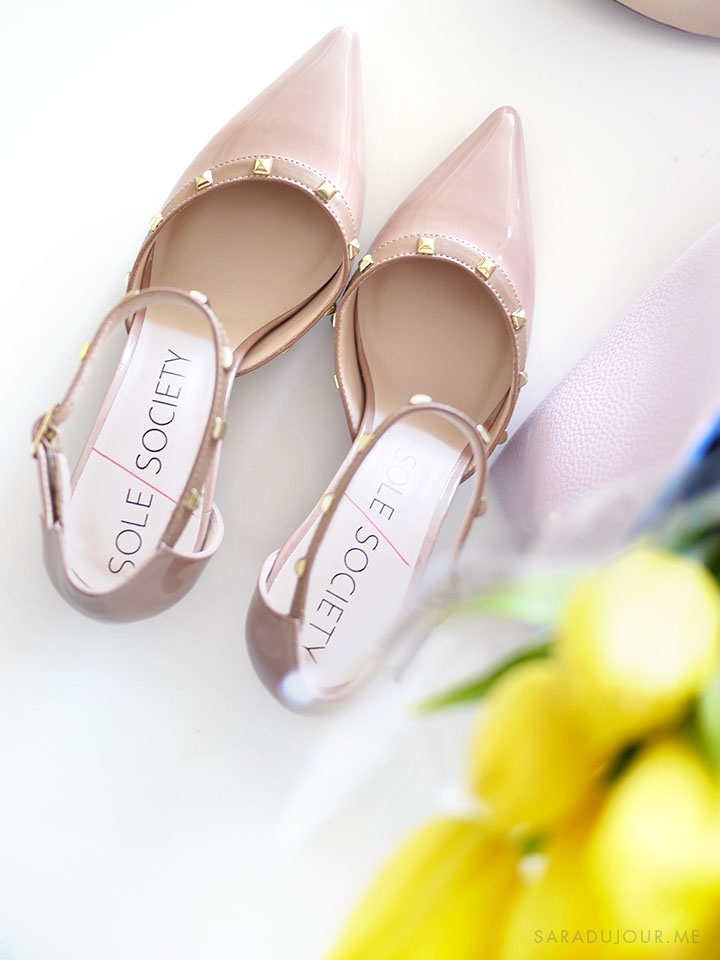 Last but possibly my favourite thing of the bunch are these nude Sole Society Anneke pumps. (The colour listed on the site is "Adobe".) I couldn't be happier with them. I was looking for a comfortable nude pump that I could wear all day, and after doing thorough research and reading endless reviews, I finally found these babies.
They have a very-walkable 3″ heel, and get this: the first time I wore them, I wore them for over 12 hours, non-stop. Zero pain, zero blisters. Honestly, my feet are so sensitive I get blisters from anything, particularly the first few wears. So this is a miracle. I couldn't recommend them enough!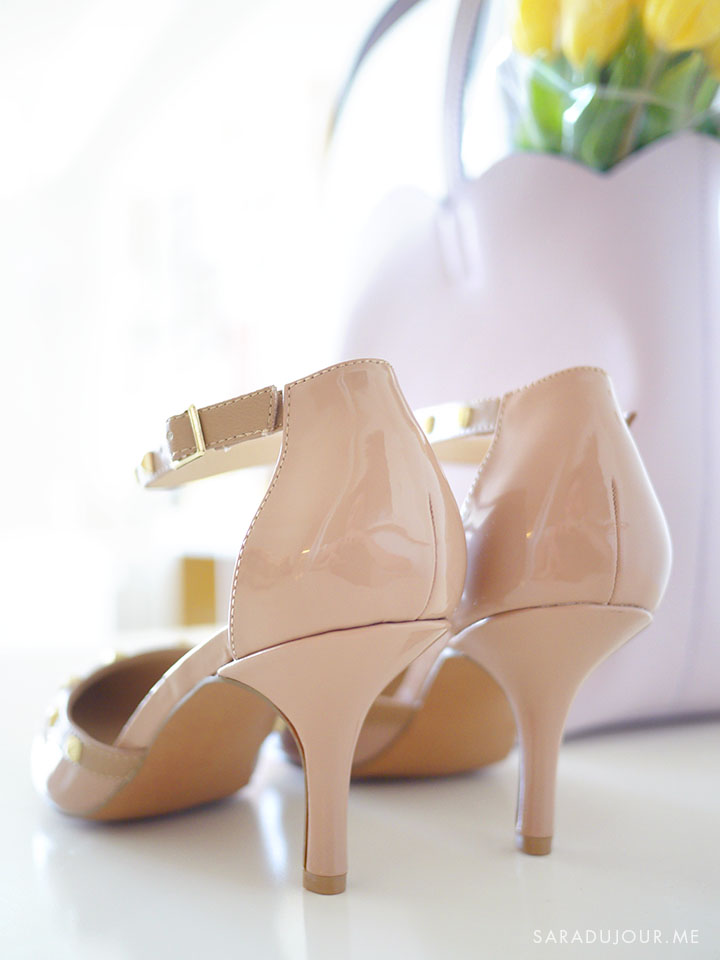 I also really like the colour, because they are similar to my natural skin tone, which helps to visually elongate the legs. The style reminds me a bit of a pared-down version of Valentino Rockstud kitten heels, but with more subtle studding and fewer ankle straps. I much prefer this more classic design.
I love them so much I'm tempted to buy more colours. You can get them at either Sole Society or Nordstrom – I got them from Nordstrom because shipping to Canada was less expensive.
Look out for these heels styled in upcoming outfit posts! If you've read all the way through, leave me a comment! They make my day. x
– Sara
Stay updated with Facebook • Twitter • Instagram • Pinterest • Bloglovin