An Honest Glossier Review + Swatches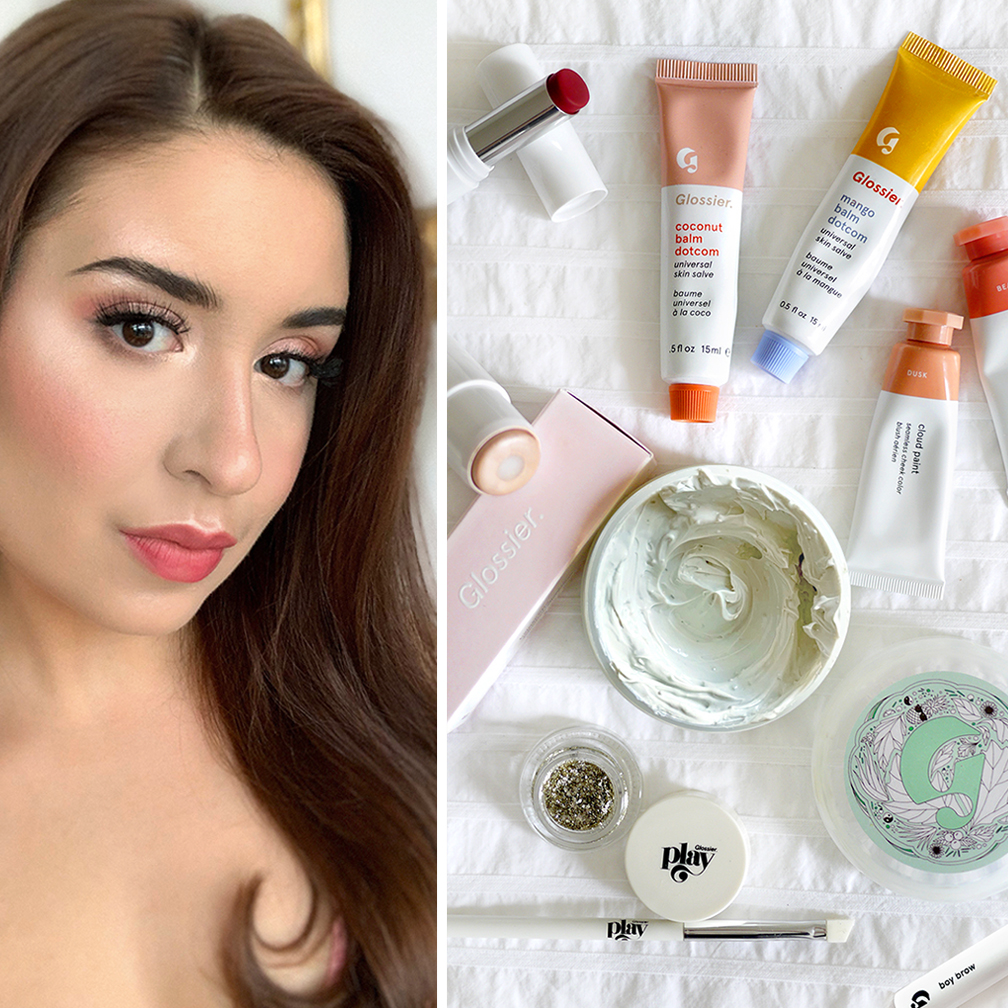 This Glossier review would have been called "I Spent All My Money on Glossier So You Don't Have To", but SEO doesn't want me to be cute. When I shared on my insta stories that I bought some goodies from Glossier (yes, your girl fell for yet another Instagram ad), many of you reached out to ask for my review. I've thoroughly tested out all these Glossier products for about a month, so that I could give each a really fair chance. And I have a lot to say.
Some of the products I loved, some I found massively overhyped. So if you've been considering making a purchase at Glossier, you'll want to read this first. And use my link to get 10% off your order!
Here are the Glossier products I'm reviewing:

The Glossier look is very fresh-faced, minimal makeup. The "no-makeup makeup look". Their skin tint is just about invisible, as is the coverage, and their concealer is very light coverage, too. There are tons of people to whom this appeals, but I'm just not one of them. I either want to enjoy being bare-faced, or be in full glam. There's no in-between.
So for that reason I skipped their skin tint, concealer, and mascara, and hit up some of their more fun makeup products, that I combined with my tried-and-true full-coverage faves like Fenty foundation and NARS Radiant Creamy Concealer.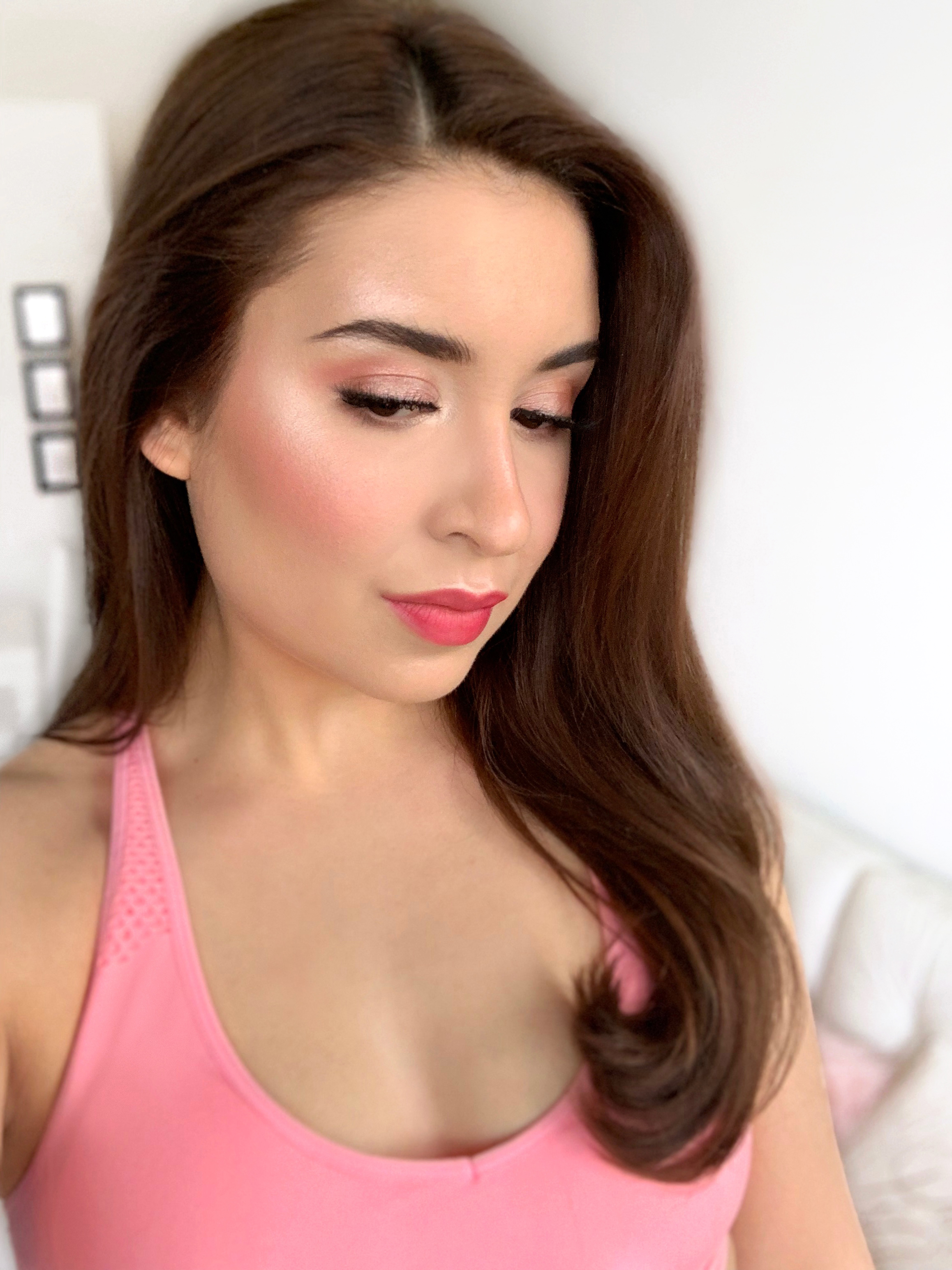 Here's the Glossier look I put together using their Cloud Paint in Beam, Generation G lipstick in Crush, Haloscope in Quartz, and Boy Brow.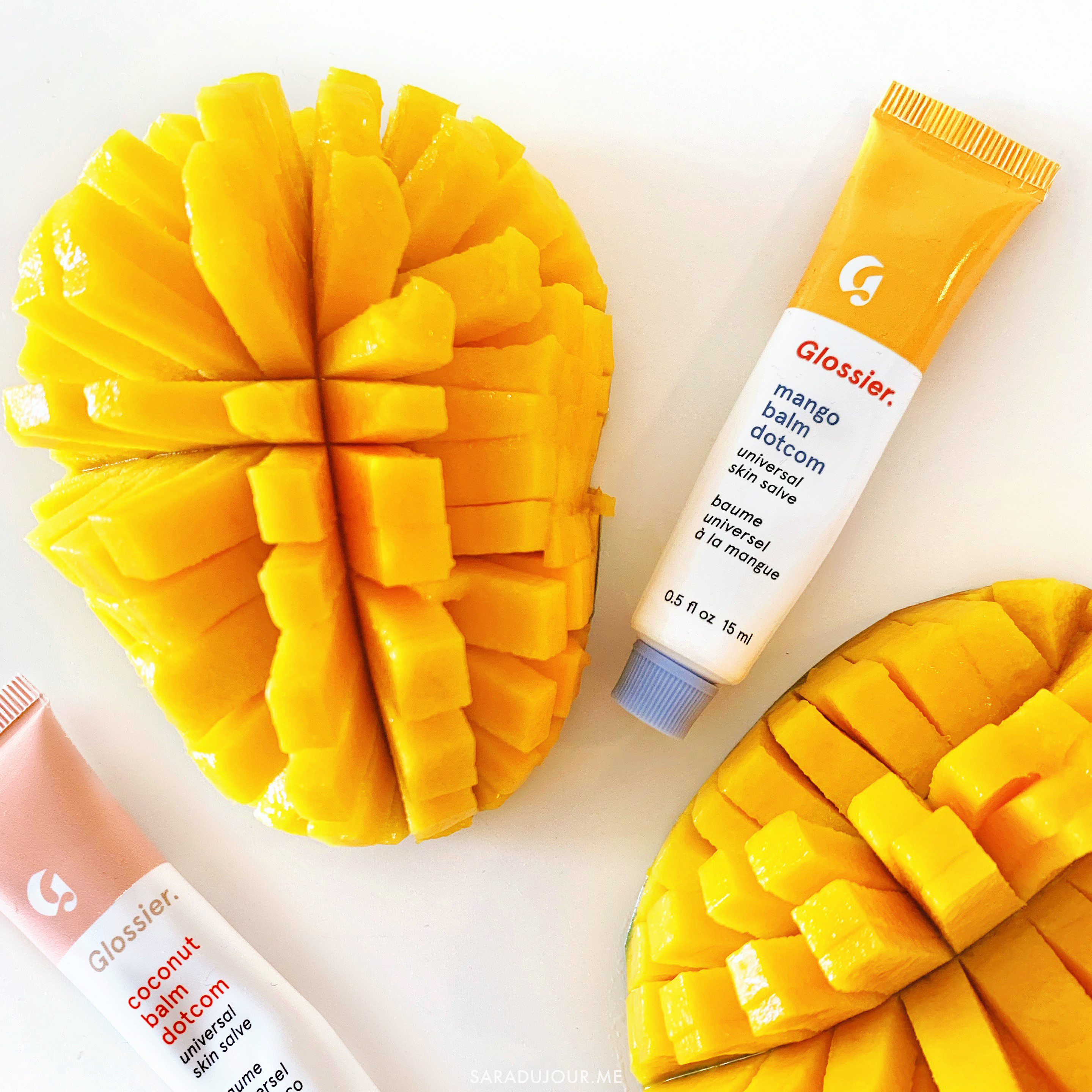 Balm Dotcom
Onto my Glossier review! Let's start with their lip balms, called Balm Dotcoms.
The Good
Super cute packaging and fun scents. (Tbh they don't smell like what they're meant to, but they smell delicious. Coconut smells more like brown sugar/vanilla, and Mango smells more like mango candy than the actual fruit. But that's fine.)
The Bad
You know how some lip balms sink into your lips and hydrate them, and some just kind of sit on top? These just sit on top. I always put a generous amount of lip balm on before bed, and am used to waking up with plump, moisturized lips. Not so with these guys. Honestly, the cheap Nivea lip balms are better imo.
The formula is really thick. Like, surprisingly so. Both my friend and I were shocked at how hard you had to squeeze the tube to get some to come out, and even then it's in a little bead that you have to swipe onto your lips with your finger. Not super hygienic since your fingers aren't clean when you're on the go.
The Verdict
These are not horrible by any means, but they're pass from me. You can get a better lip balm for much cheaper. Would I buy them again? Probably not.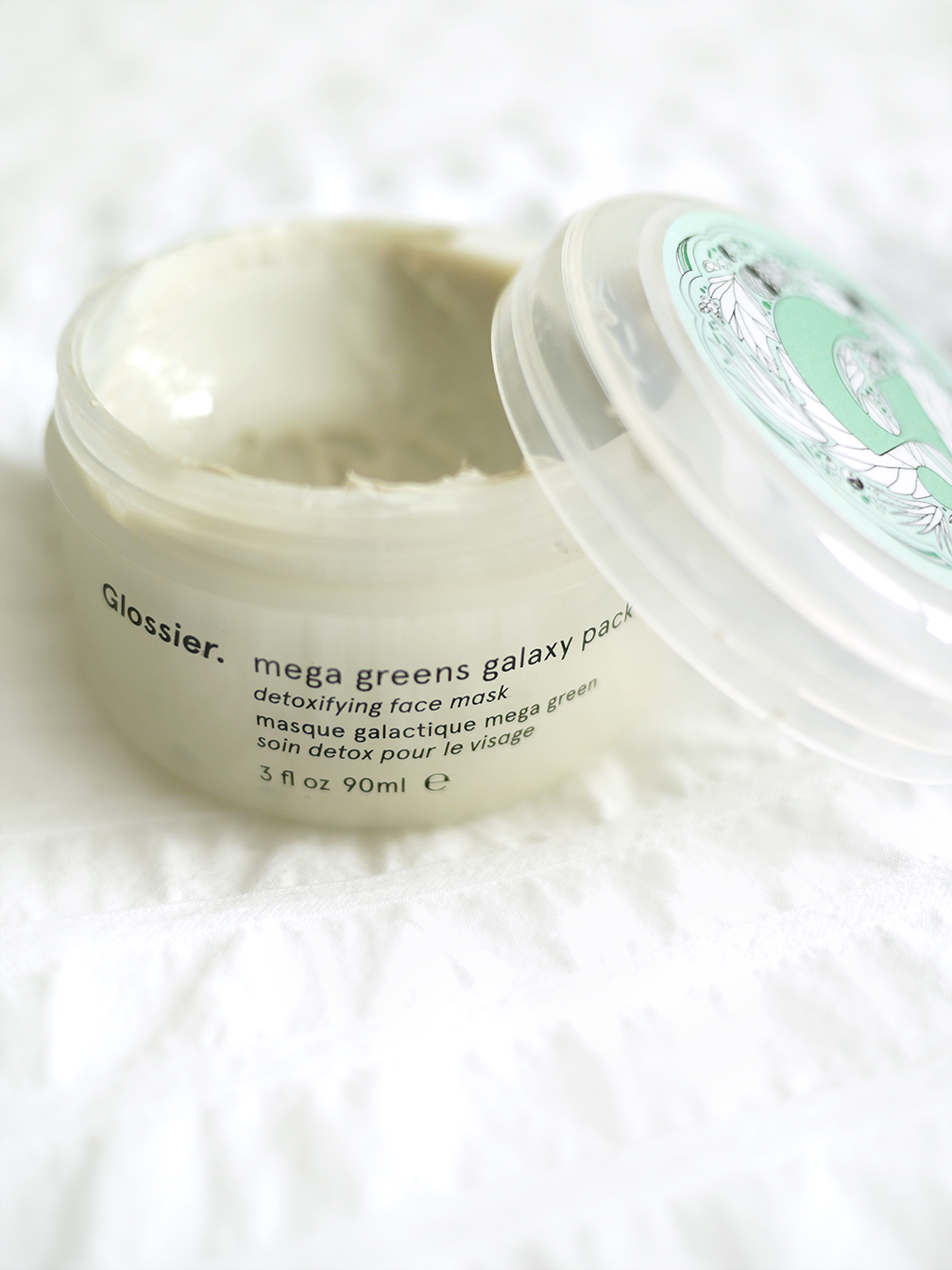 Mega Greens Galaxy Pack
Next up, the Mega Greens Galaxy Pack. This strangely-named detoxifying face mask is one of my favourite products from this Glossier haul.
The Good
This mask feels instantly soothing and cooling when applied. Seems to help calm my skin down a bit on an angry skin day, and overall just feels super luxurious to have on. Ingredients like aloe and avocado moisturize and keep sensitive skin like mine happy.
My skin did seem noticeably brighter right after, and didn't feel tight, red, or dry like after some clay masks. This might be because it's made from kaolin (white) clay, which is the gentlest type.
It also contains little gritty pieces of bitter orange peel, which naturally exfoliate your skin as you rinse it off with warm water.
The Bad
The directions say to apply a thick layer all over your face – I did this the first time I used it, and realized I used up a significant amount of the jar in just one use. Since then, I've been using it more sparingly, and focusing more on my problem areas and t-zone.
I'm not sure if a thick layer is actually needed for best results, or if this is just a way to get more of our money faster. (Read the directions on a pack of gum next time, and you'll see they "recommend" you chew 2 pieces, 4 times a day lmao. #capitalism)
The Verdict
I dig it. Would I buy it again? You betcha.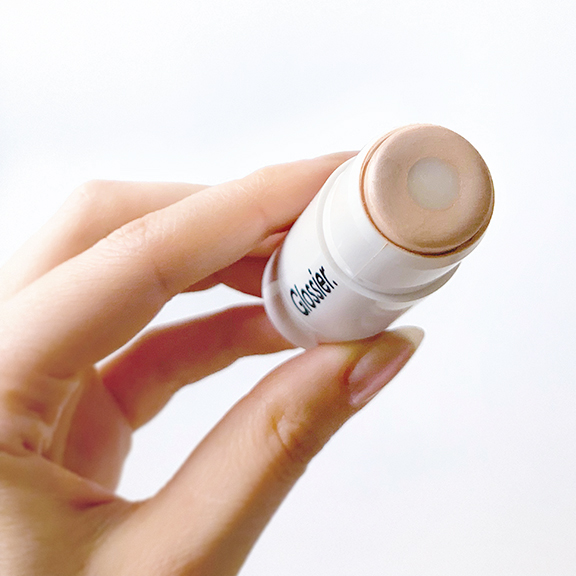 Haloscope
Onto Glossier's dewy highlighter stick: Haloscope. It comes in 3 shades – this is the middle one, a pinky-pearl called "Quartz".
The Good
I was extreeeemely hesitant to purchase this, because cream highlighters and I mostly don't get along. As someone who likes a full-coverage beat, cream products tend to shift the foundation and concealer layer underneath, ruining the masterpiece I just created. But Haloscope really impressed me.
I found it better to warm the product up on my fingertips and use my fingers to lightly apply it to my highlight areas, to both reduce tugging on my face and reduce dragging my foundation around. It performed well on bare skin, on top of foundation/concealer, and EVEN on top of foundation that was set with powder, which really surprised me. (Tip: always apply cream products in the direction your peach fuzz grows for less cakeyness.)
I found this highlight to be really beautiful and natural-looking. Very glowy and not at all glittery, which is my favourite kind of highlight. (See it swatched later in this post.) However, if you prefer a "blinding highlight", Haloscope may not be for you.
I think Quartz would suit a wide range of skin tones, from very fair to a medium tan. For deeper skin tones, Glossier has another shade called "Topaz" that is more gold-based than pink. I love applying a touch of it on my cheekbones, bridge of the nose, inner corner of my eyes, cupids bow, and just above the eyebrow arch for a dewy glow.
The Bad
I have nothing really bad to say about this. It's a really nice, subtle highlight. I can see your halo (halo) (haloscope)!
The Verdict
She's cute, but not a must-have, to me. Would I buy it again? Maybe.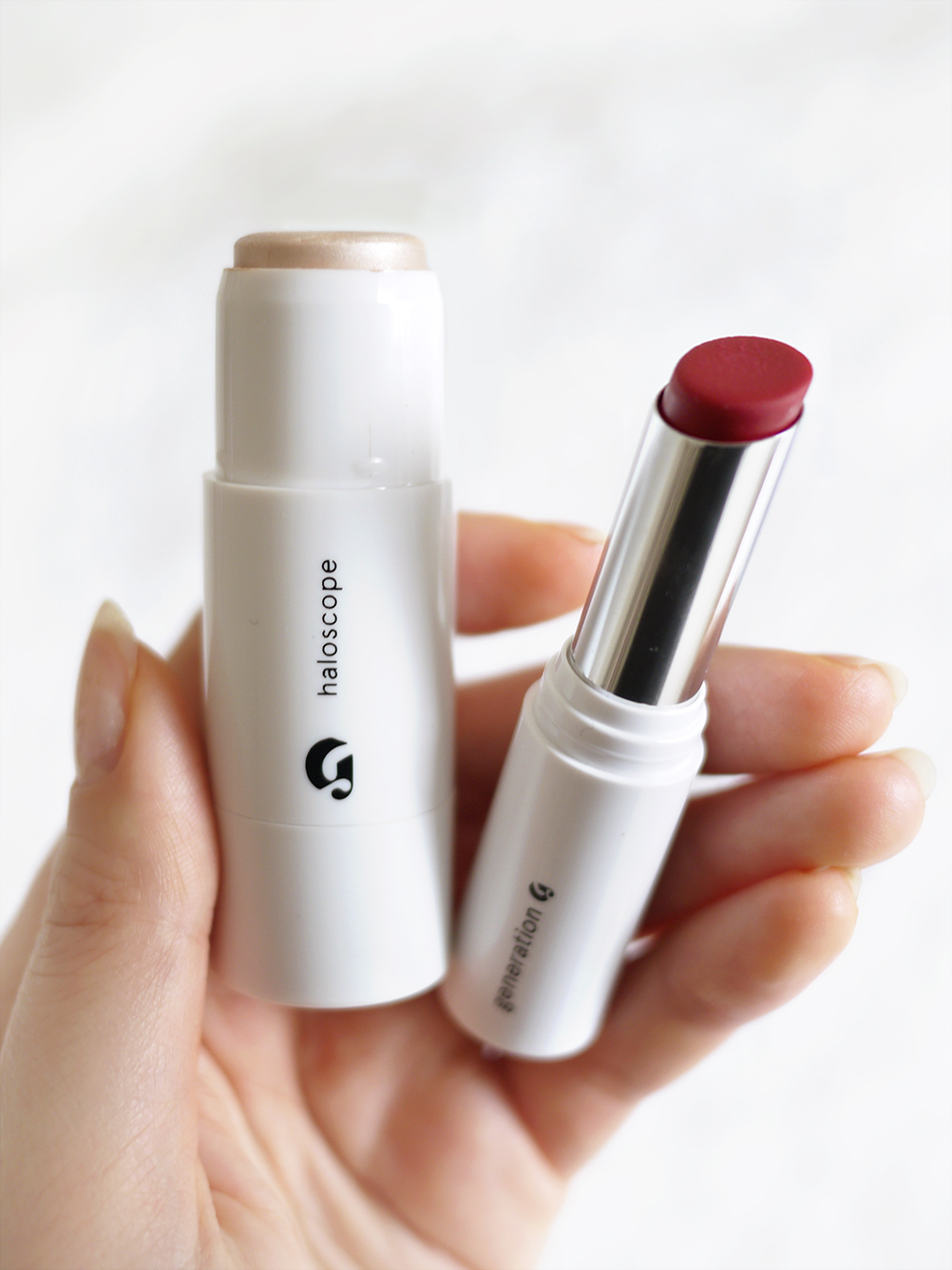 Generation G
Okay, let's talk about Glossier's Generation G lipsticks. I got the shade "Crush".
The Good
Oh my god, I liked this so much more than I expected. "Crush" is such a cute colour – a very natural pink flush with one swipe, and with a few more swipes, your lips look like you just finished a cherry popsicle in the summertime. (See a swatch below, and me wearing it near the start of this post.)
It kind of looks more like a lip stain than a lipstick, which is very on-brand for Glossier's "no-makeup makeup" thing. However, the texture is more like a balm-lipstick than a stain, so it glides on nicely without sticking and creating patches on your lips.
The Bad
Because it's not actually a stain, it lacks the staying power of a lip stain. So, expect to reapply. I put it on right before a meal to test it out, and afterwards only the border remained. But because it's such a sheer, natural-looking lip colour, having just the edges left over isn't so much of a problem. It is what it is: it doesn't claim to stay on all day.
The Verdict
I really like this??? It's so simple, but I just feel so pretty and healthy-looking when I wear it. Would I buy it again? Yes, and I might have to try another shade or two…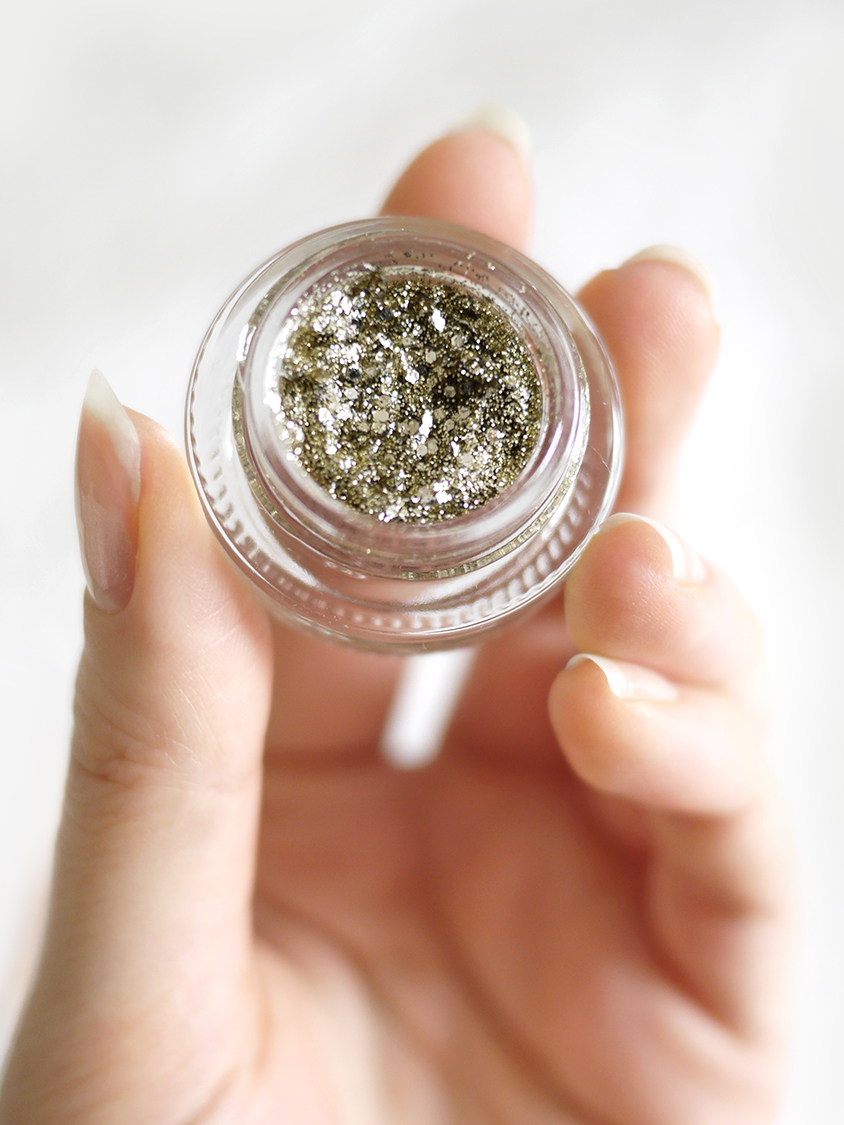 Glitter Gelée
IT'S TIME TO TALK ABOUT GLITTER. I am a magpie in human form and am very drawn to anything sparkly. This also explains my love for drag queens. So when I saw that Glossier Play (their sister brand for fun makeup that isn't invisible) had Glitter Gelées, they had me.
My use of glitter is reckless and out of control. I have more than once ruined something by going way too far with glitter. There are two things that should be more strictly regulated: guns in America, and me around glitter.
The Good
Anyone who has ever worked with loose cosmetic glitter before knows the struggle of it getting absolutely everywhere. All over your carefully applied face makeup, and popping up in your hairline for weeks. You wanted to be glamourous for one special night, but now you're permanently Tinkerbell.
So putting the glitter in a gel is pretty f*cking genius. You get to apply it exactly where you want with ZERO fallout. A miracle. I love that it's a mix of fine glitter and big round glitter – it catches the light beautifully and is super fun. The gel dries down completely and didn't move or crease – even after a long night out. Very impressive.
It also gives you the ability to layer it to get the density of glitter you want, without lifting up the previous layer (of glitter or an eyeshadow beneath it). The Detailer brush isn't essential to purchase with it, but it's a handy tool that's perfectly designed for the task. Plus, the fact that it's a silicone tip instead of brush hairs makes it really easy to clean.
The Bad
It's considered socially unacceptable to put this all over my body, apparently.
The Verdict
This is hands-down a perfect product, and to me a must-have from Glossier if you like glitter. I have never tried anything comparable, let alone better. Would I buy it again? It'll likely take me years and years to finish the pot, but if I ever do run out: absolutely.
There are 3 more shades of glitter available and honestly? I'm tempted.
"Bijoux Bijoux" is described as "gunmetal with flecks of platinum", but if you ask me it looks silver on the eyes. You can change up how it appears by layering it over different colour eyeshadows, like I did here. (I'm wearing a champagne eyeshadow + Fenty's bright gold Trophy Wife highlighter, so it makes the glitter appear much warmer).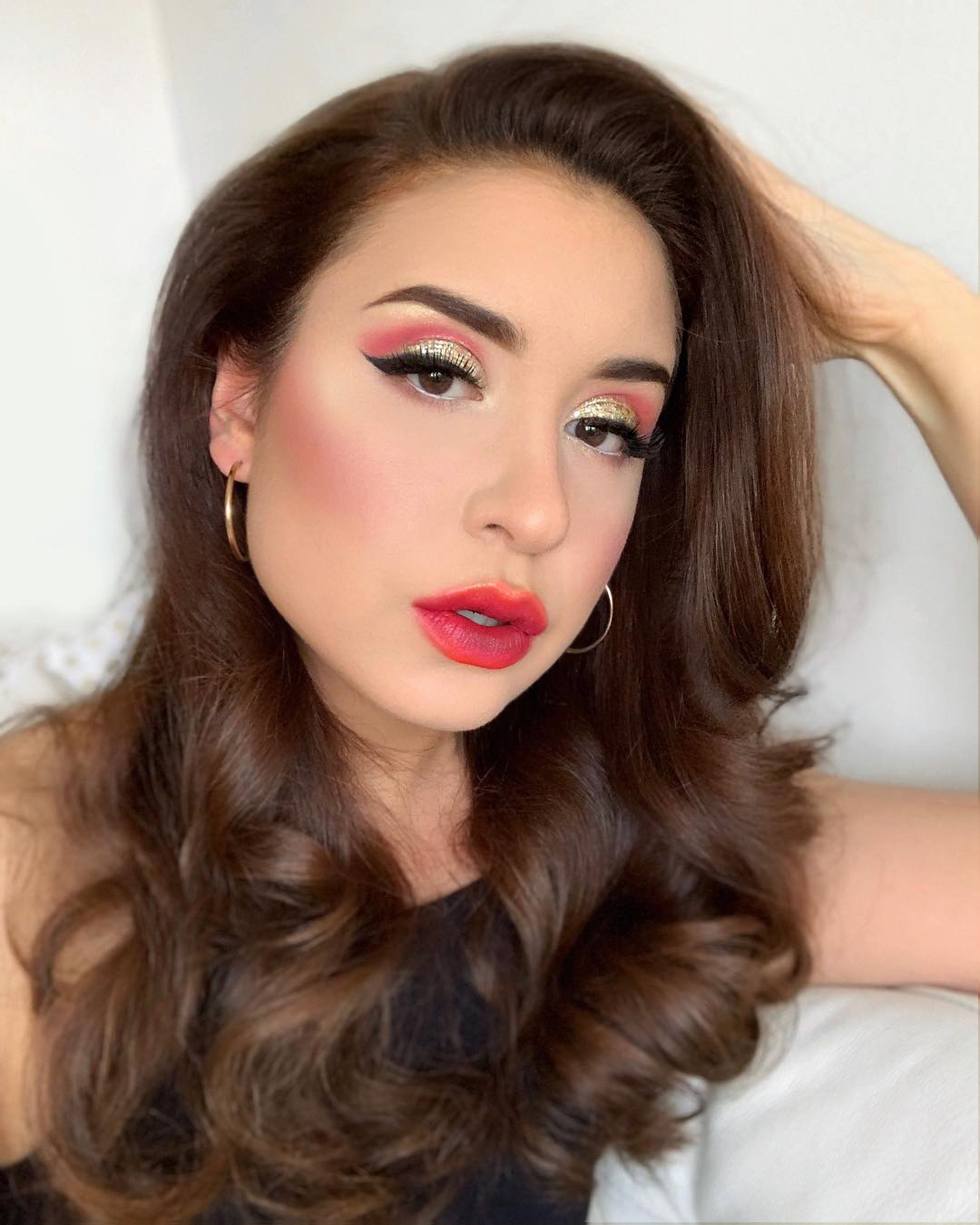 Boy Brow
Next up is their much-beloved brow product: Boy Brow. So many people swear by this stuff, so I pushed past my skepticism and had to try it, in the colour "brown".
The Good
It's probably great for people with sparse brows or light-coloured eyebrows because it helps make them look fuller – but that is not my situation so it didn't do a whole lot for me. At best it kind of held my brow hairs in place – but I would have preferred a more firm hold.
The Bad
Again, it just didn't do anything at all for me. What I typically do with my brows is fill them in with a powder or pencil slightly to clean up their shape, but I'm never really trying make them look fuller or bushier. That's just my personal preference, so no hate to the product – I just shouldn't have bothered with it.
The Verdict
If you have full brows already, pass on this one. Would I buy this again? Definitely not.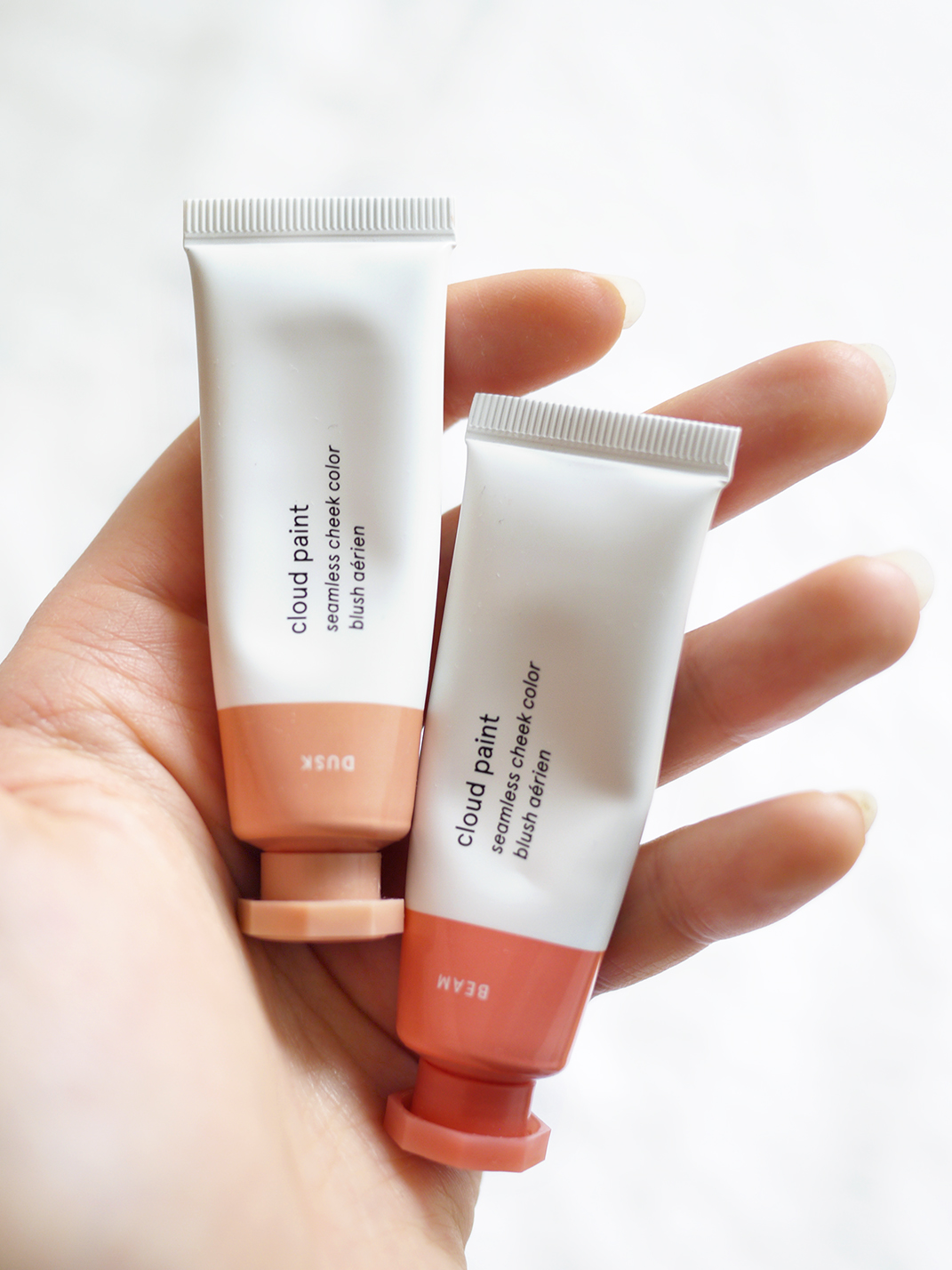 Cloud Paint
And last but not least, probably Glossier's most iconic product after Boy Brow: their Cloud Paints.
These are their gel-cream blushes, and probably the item I was most curious to try of the whole batch. Like I said earlier, me and cream blushes/highlights usually aren't friends. But I picked up "Beam" and "Dusk" to give them a shot – everyone whose review I watched looked so pretty wearing them!
The Good
The packaging is incredibly cute and reminiscent of actual paint tubes.
Because these are a gel-cream formula, they're a lot lighter than most cream blushes. Which means they spread easier, blend easier, and don't move around the foundation/concealer you have underneath as much because less dragging is needed to blend them.
They also REALLY last. I put this blush through its paces – wore it over 12 hours, wore it through a vigorous workout, and they didn't budge or bleed at all. Waterproof, sweat-proof, life-proof.
I tried them on bare skin and on top of my regular foundation, and both methods blended out and lasted beautifully. And a little goes a long way! You only need a few touches of the product on each cheek to get a lovely, natural-looking flush of colour.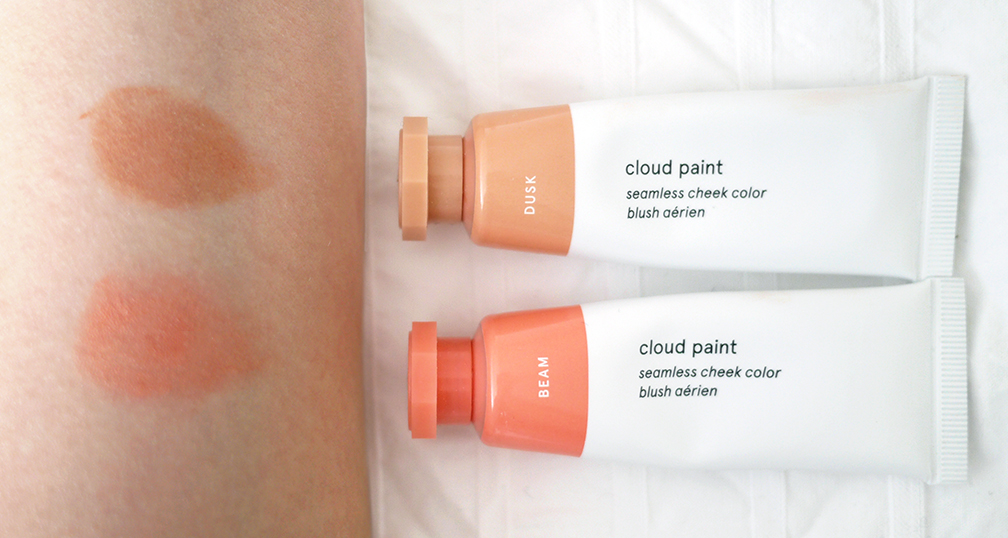 The Bad
Oh my god. Girl. This particular product in this particular packaging is a goddamn nightmare. Knowing that a little goes a long way, I would always use the gentlest squeeze on the tube to get just a little bit out. But no – even with the lightest pressure this stuff squirts out like Free Willy. Do you know how I found out it was waterproof the first time? I gently squeezed the tube (holding it tip facing up to prevent it pouring out), it overshot my waiting fingertip, arched into the air, and landed on my white vanity table.
I panicked, tried to get as much of the product back in the tube as I could, and went to wipe it off. But the colour remained on my table! Scrubbing with water wasn't doing it – luckily makeup remover did the job.
Lawd. It's too damn expensive to be shooting out like a geiser!! Anyway, after many failed attempts I finally found that the best method for me was to lightly squeeze it against my cheek, so that only a little bit can come out and none is wasted. You're welcome.
The Verdict
Dusk was too neutral on me – almost a contour colour. I suspect it would work better on a more tan/golden complexion. Beam is a very pretty peach, and if I were to do it again, I'd order Beam and Puff (a powder pink) for my skin tone instead. I still find powder blushes easier to control overall – I can place and blend them EXACTLY where I want, in a more precise way than a gel or cream can allow. Would I buy it again? Not sure.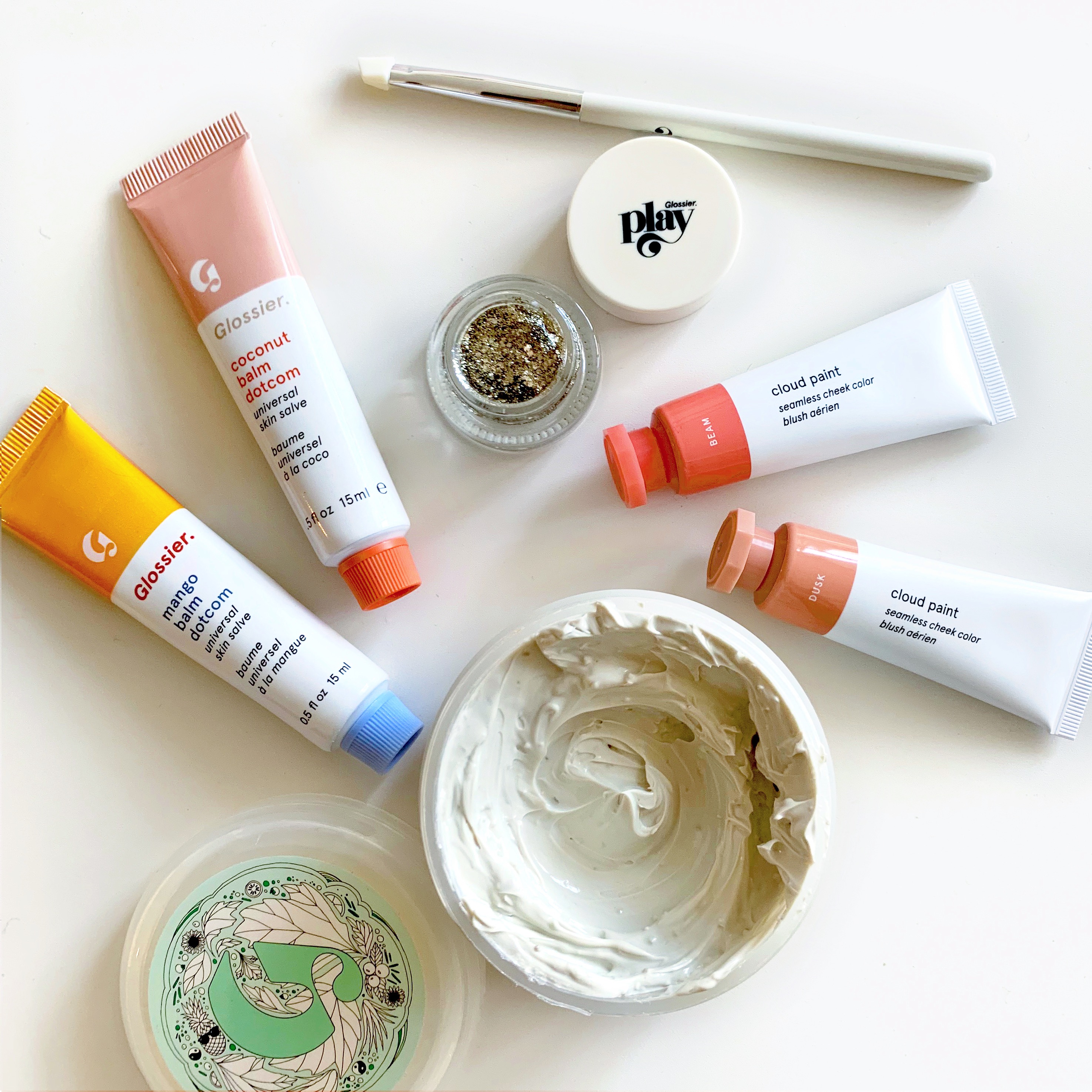 Overall thoughts on Glossier
Glossier doesn't care about your savings plan, that vacation you want to go on, or your ability to one day retire. Glossier has come for all your coins.
All of their products are cruelty-free, and many of them are also vegan. So that's pretty rad.
I love the diversity of Glossier's models, both on their site, in their swatches, and on social media/ads. I've seen every skin tone and a variety of ages represented. Way to go Glossier, the world needs more of that.
I like that they offer savings with product bundles. For example, you save $8 if you get a Cloud Paint duo, and you save $5 for buying Boy Brow and Generation G lipstick together. I wish more sites did that!
Overall, I think they make really high quality products. With the exception of the lip balms, I was impressed at how each item performed.
My favourites were the Mega Greens Galaxy Pack face mask, Generation G lipstick, and Glitter Gelée.
A note to my fellow Canadians: you won't have to deal with duties. Phew!
I'm glad I finally took the plunge on Glossier and quenched my curiosity on the brand. How about you? Do you plan to try any of their stuff?
(Don't forget to use my link to save 10% if you do!)
If you read this extremely comprehensive Glossier review all the way through, let me know in the comments, and thanks!
– Sara
Stay updated with Facebook • Twitter • Instagram • Pinterest • Bloglovin