Breakfast at Tiffany's Halloween Costume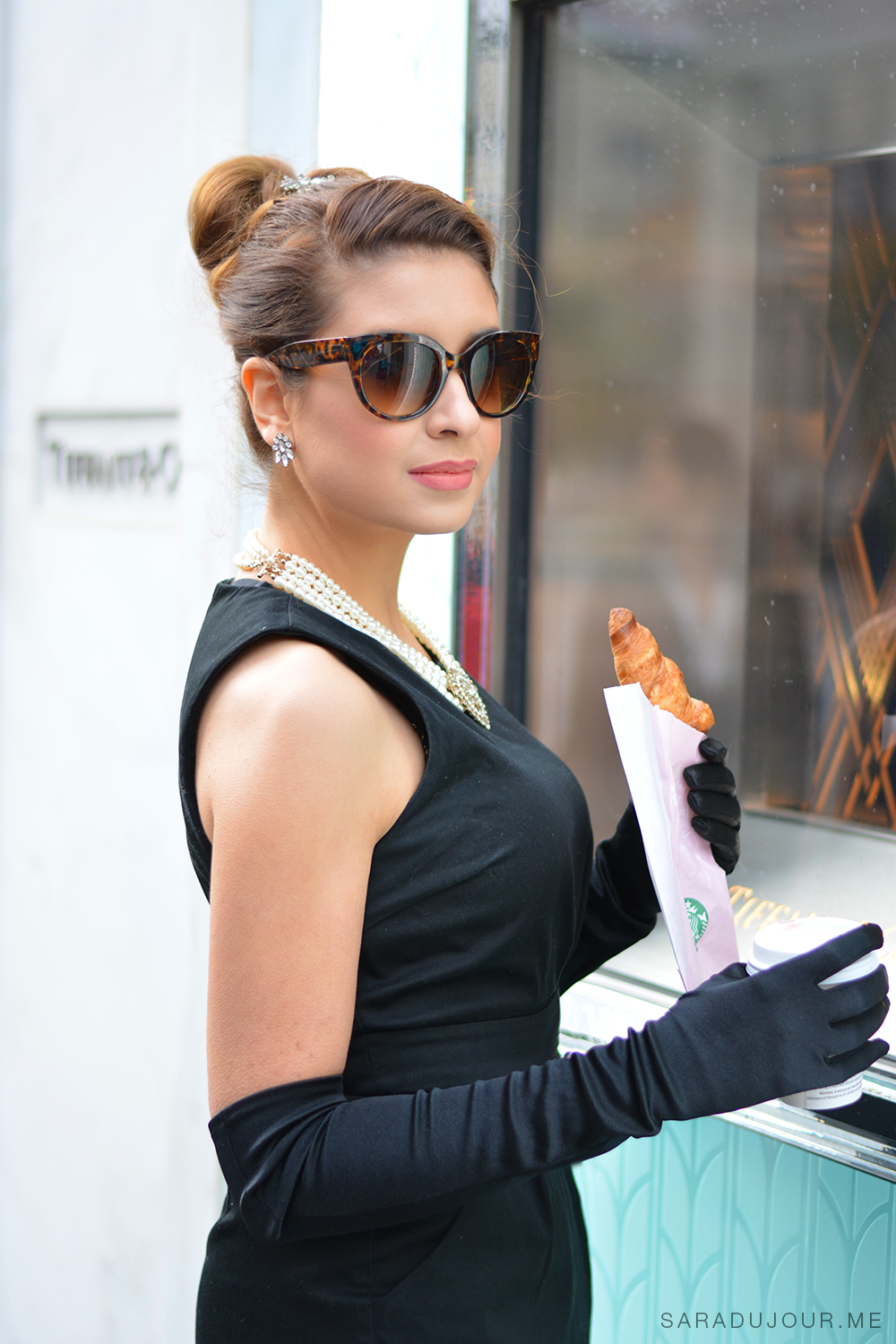 Halloween is one of the holidays I look forward to most each year. While many people like to embrace all things spooky and dark, I pretty much just love the excuse to dress up as one of my favourite characters. So, maybe that's not quite the essence of Halloween, but…

The macabre just isn't my style.
Typically, I spend a good part of the year dreaming up the perfect costume, and scouring every corning of the internet for the necessary pieces to complete it. This year, life threw me for a few unexpected loops, and Halloween planning kind of fell to the wayside. As such, I ended up reprising a costume I did for Halloween two years ago: Audrey Hepburn as Holly Golightly from the classic 1961 film Breakfast at Tiffany's. 
The great thing about re-doing a costume is that you get to improve upon it, and correct all the little things you wish you had done differently the first time around. If you want to compare the first iteration of this costume to this year's, go ahead!
I gathered a few new props in the weeks leading up to Halloween and set to work.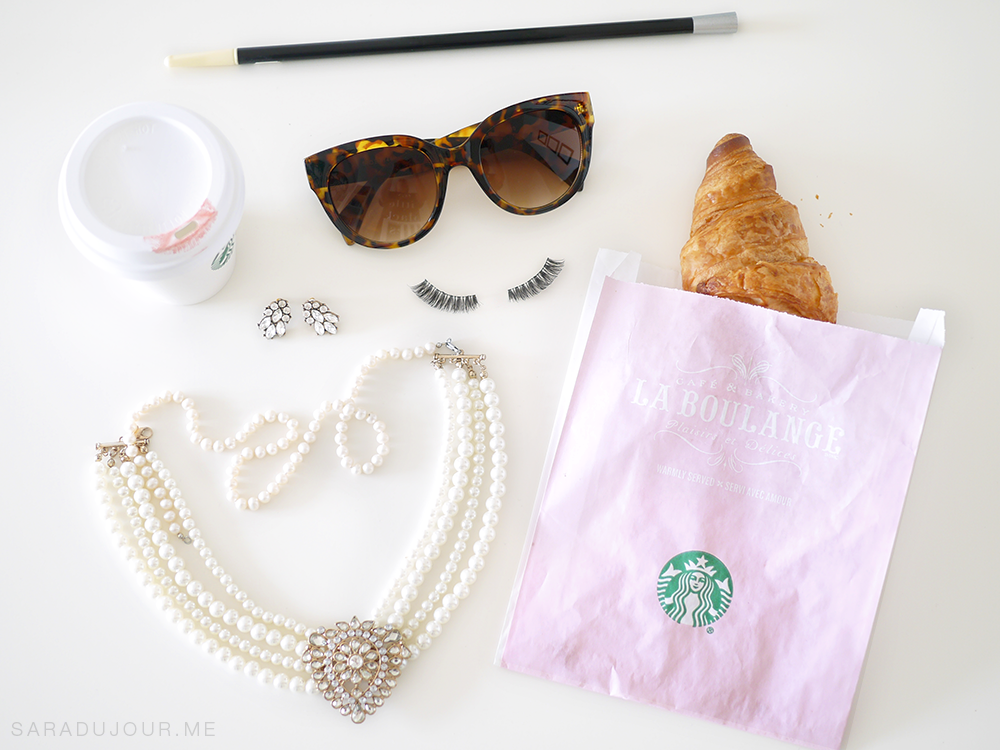 The necklace and the cigarette holder were props I had from the first time around. As with the first year, I DIY'd the necklace by combining two necklaces – a four strand faux pearl choker with rhinestone centerpiece, plus a genuine single strand pearl necklace.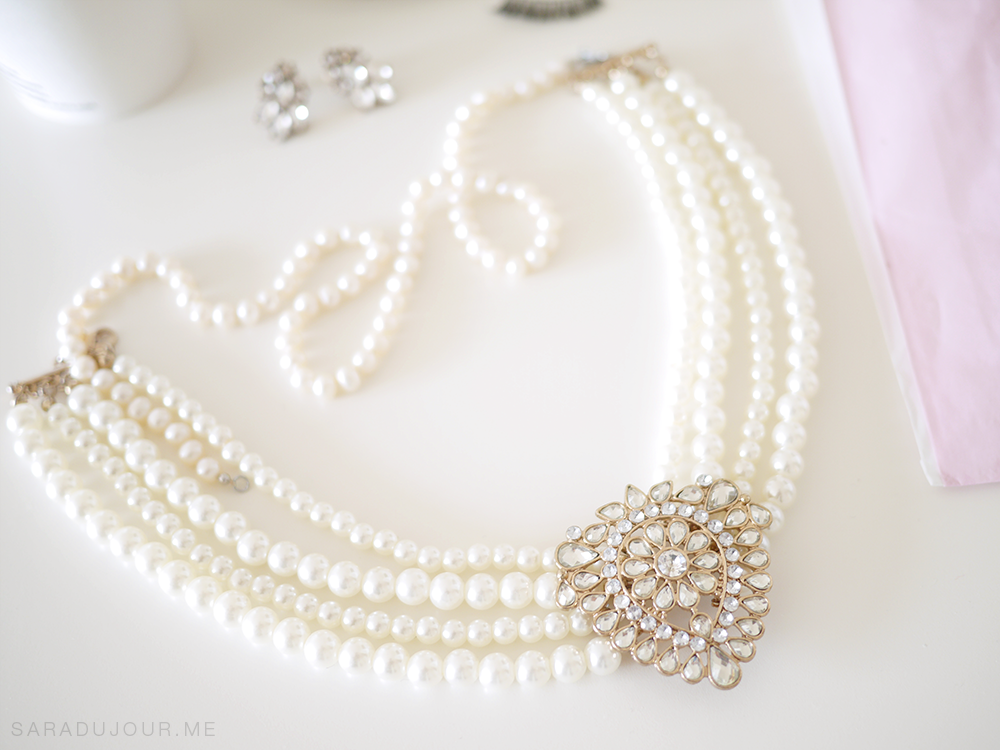 I attached the two necklaces together by hooking together the clasps, and looped the genuine pearl necklace through the other three times to most closely duplicate Audrey's multi-strand pearl necklace in the film.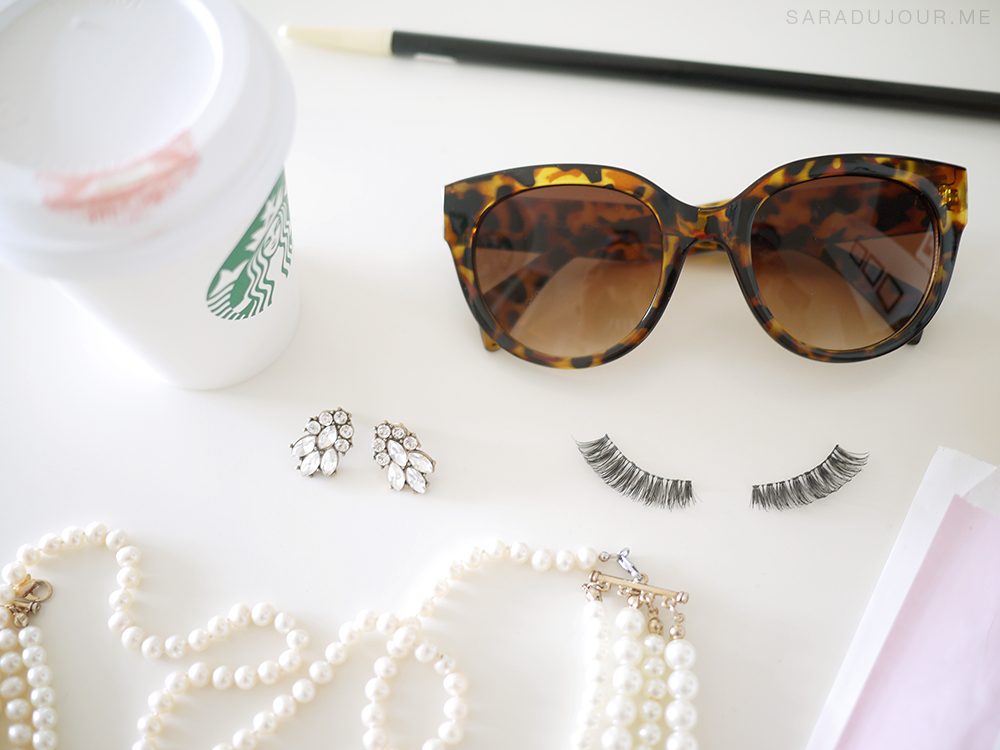 Some new additions to props and accessories were these sunglasses and rhinestone earrings (which you can learn more about in my recent Forever 21 Haul post), plus a cup of coffee and a croissant, since I was replicating the actual breakfast scene for which the film was named. Watch the opening scene here.
I'll get more into the makeup, including the lashes I used, later.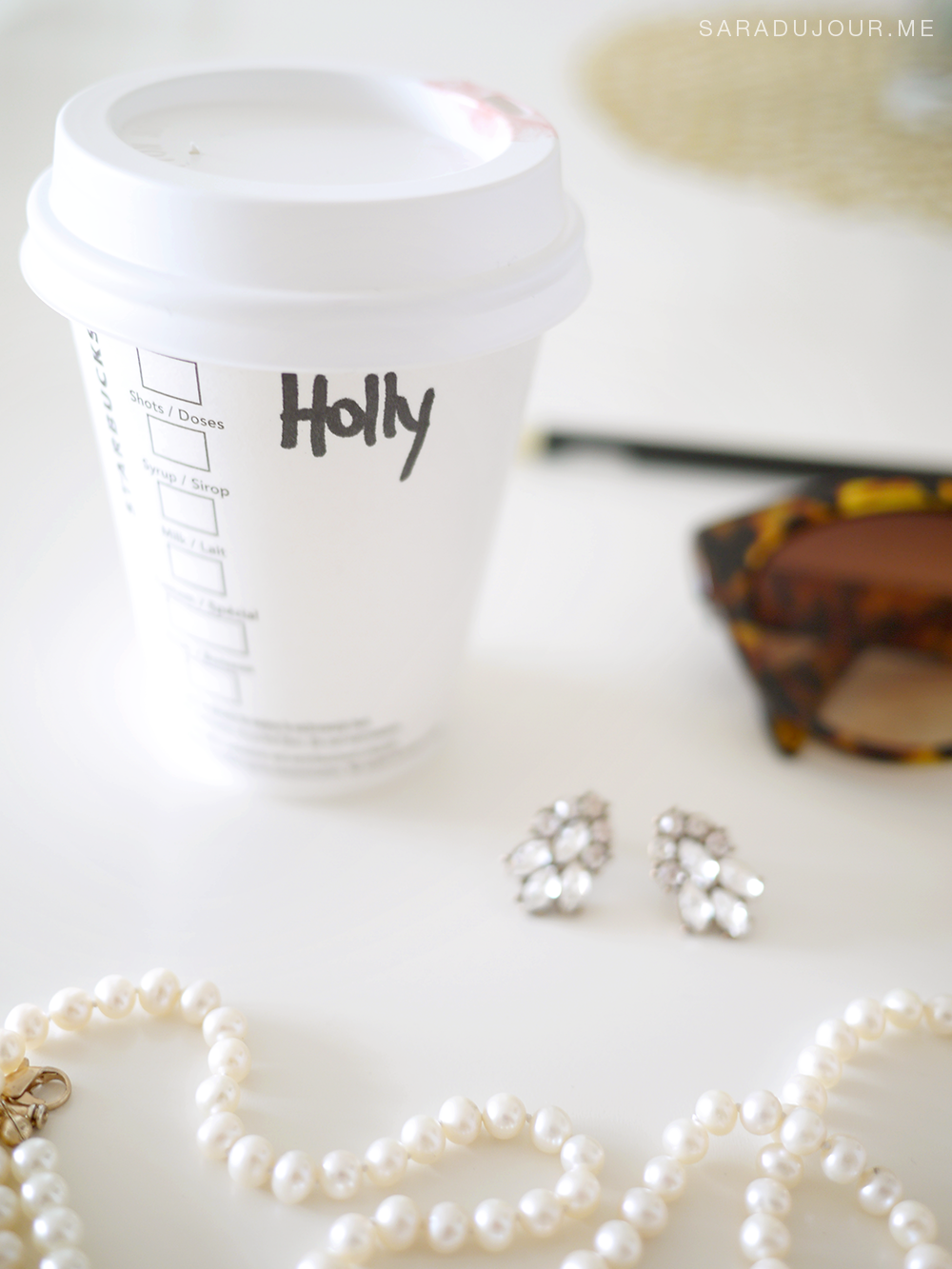 If Holly Golightly lived in the present day, she'd likely get her morning coffee from Starbucks, and given their hilarious tendency for butchering even the simplest of names, they'd probably misspell her name as "Hali" on her cup. But I digress.


In case you're not familiar with Breakfast at Tiffany's, or Audrey Hepburn, this is the scene with the look I was aiming to replicate. Except, somehow, without the benefit of a custom Givenchy gown, and a rather limited budget for diamonds and pearls.


Here's my attempt, round 2: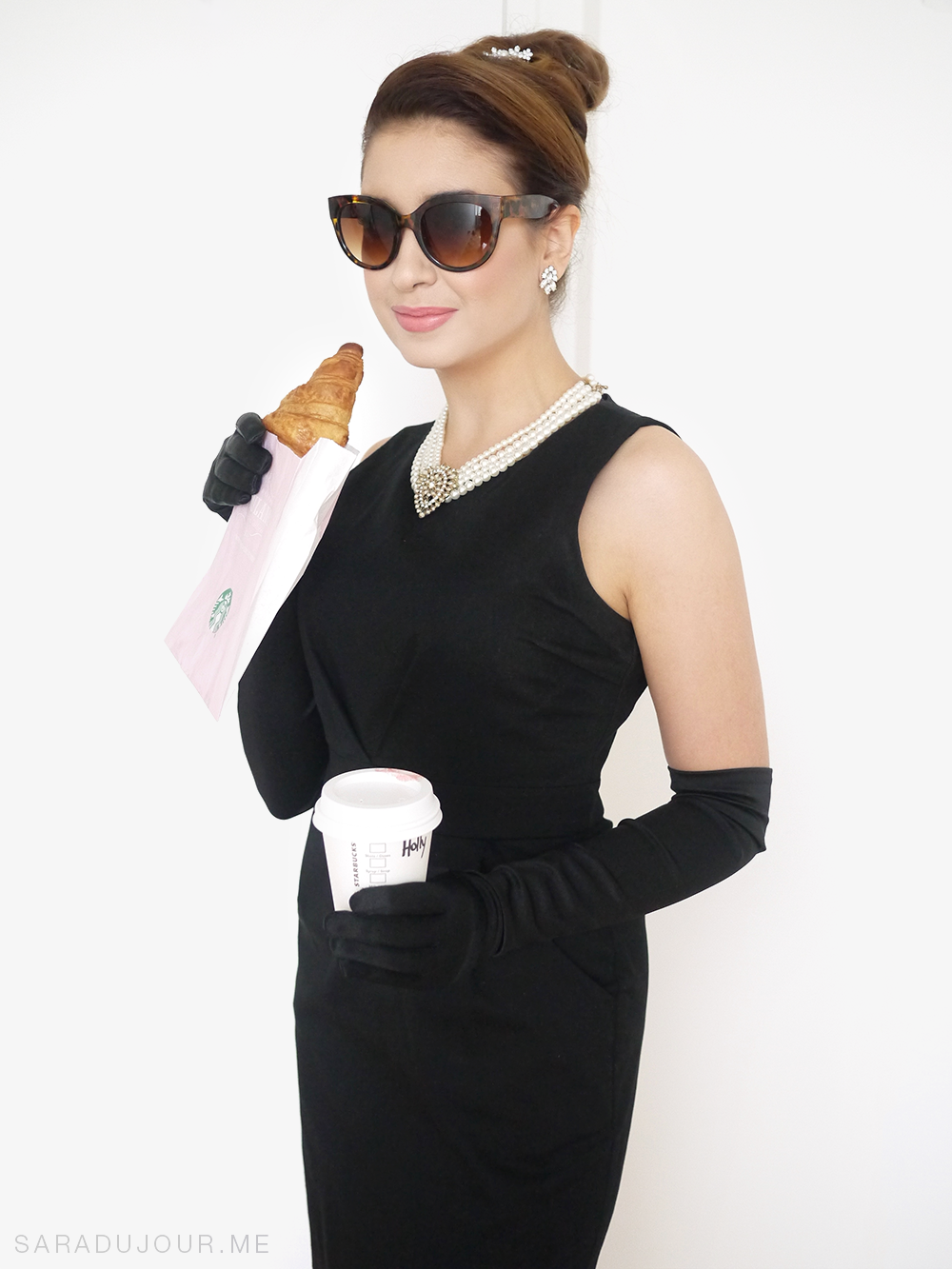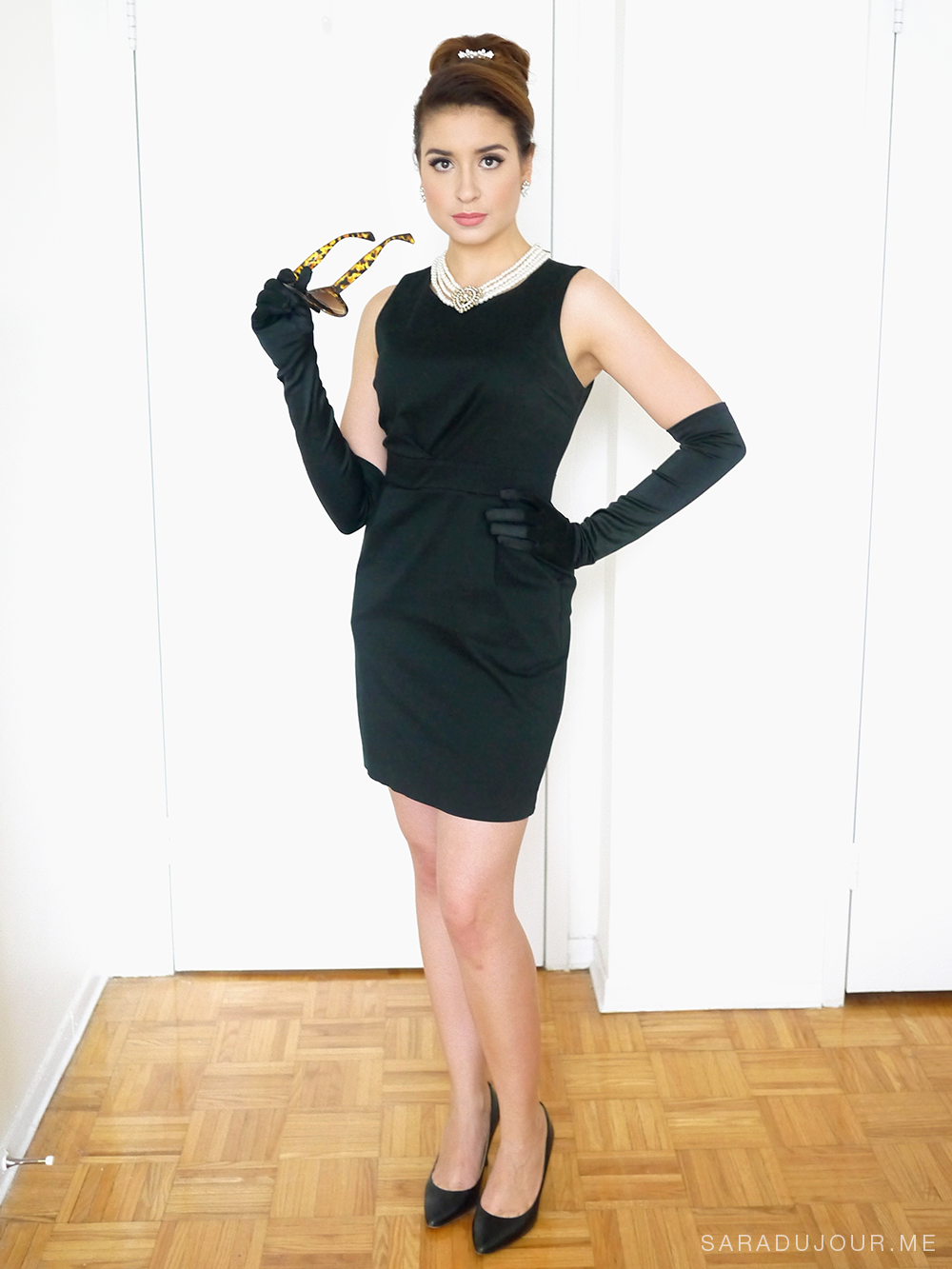 I bought this dress from Forever 21 Canada a few years ago, but any basic sleeveless little black dress will allow you to recreate Audrey Hepburn's most iconic look.
Audrey Hepburn was 5'7″ (the same height as me!) and unusually tall for a leading lady at that time. Always a bit insecure about her height, she preferred kitten heels over stilettos, and is wearing kitten heels throughout Breakfast at Tiffany's. You can thank her for allowing you to stay comfortable come Halloween night!
Links: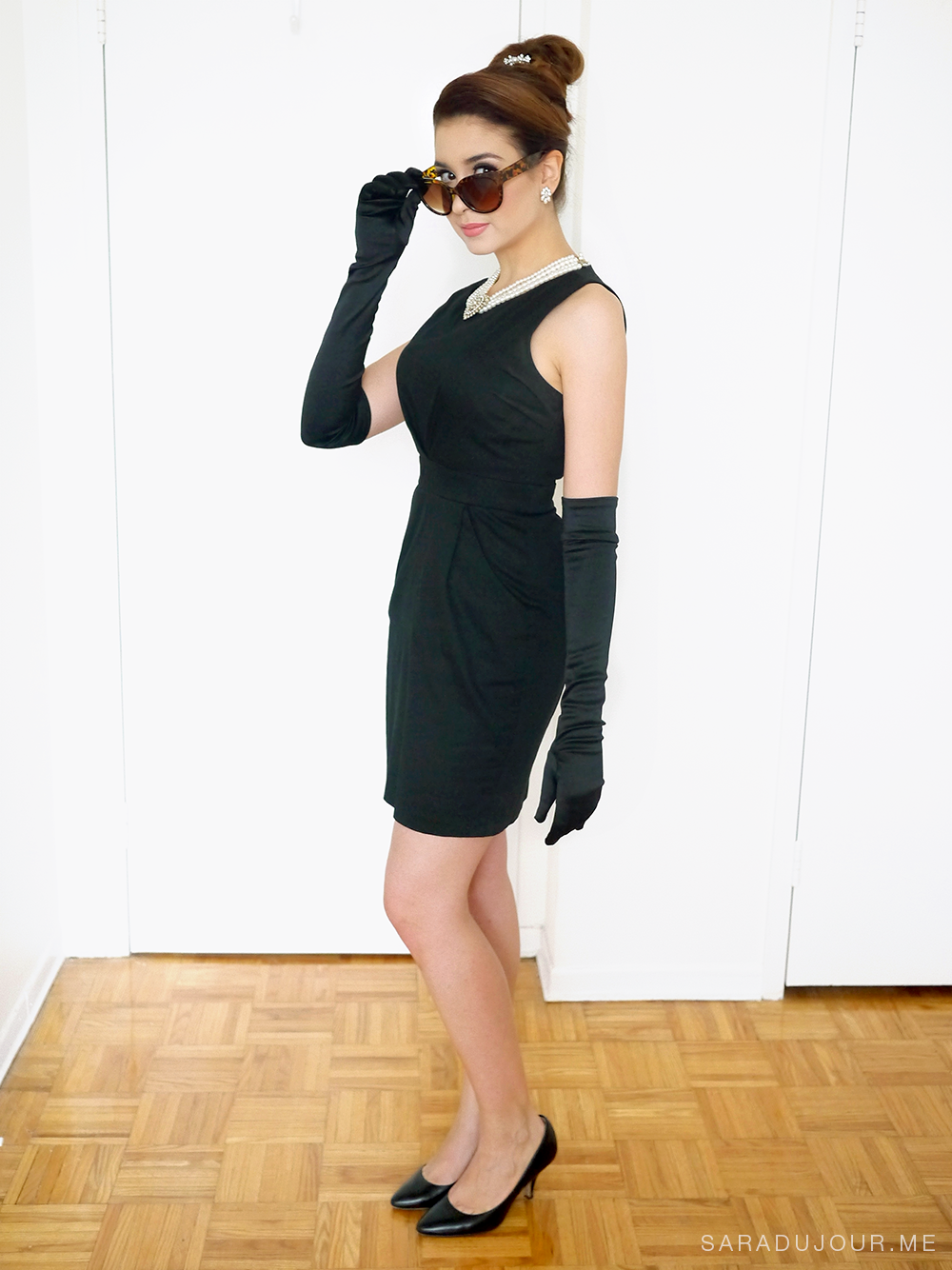 I wore this costume to work on Friday, as well as last night, on actual Halloween. I woke up long before the sun to do my hair and makeup, before hopping into an Uber to the office. Typing all day with opera gloves on was no easy feat, but it was worth it to see everyone in their amazing costumes. Some notable ones at work were Miss Piggy, Karl Lagerfeld, Mickey Mouse, Hunter S. Thompson, a witch, some minions, and Bob, from Bob's Burgers.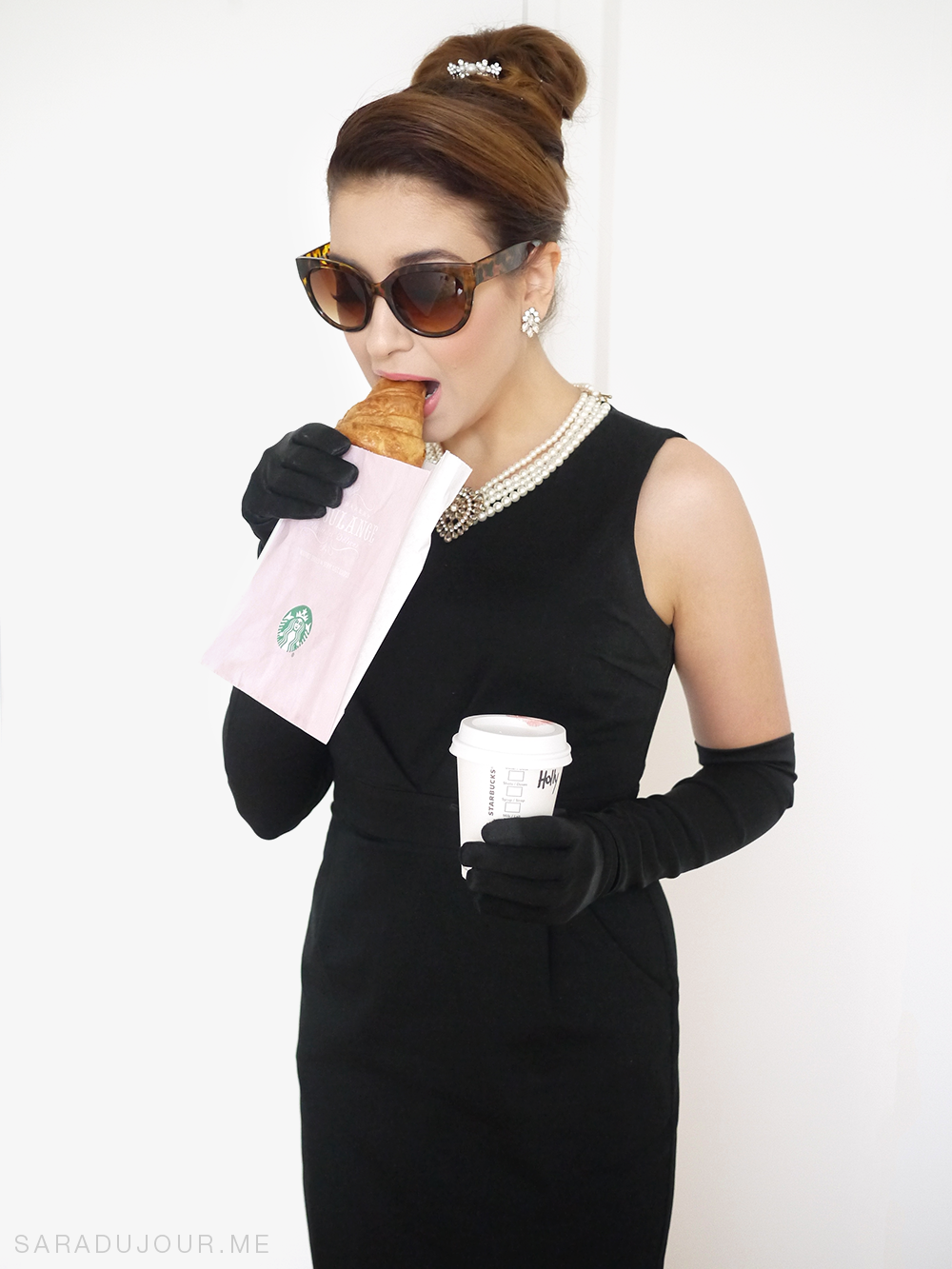 Pretending to eat a croissant and drink an empty coffee cup for the duration of a photo shoot is certainly one of the weirdest parts of the job. #bloggerlife
I did gobble up the croissant as soon as the shoot was done – it was a bit stale by then, but I was starving. (It also fell on the floor once, but 5 second rule!…don't tell anyone.)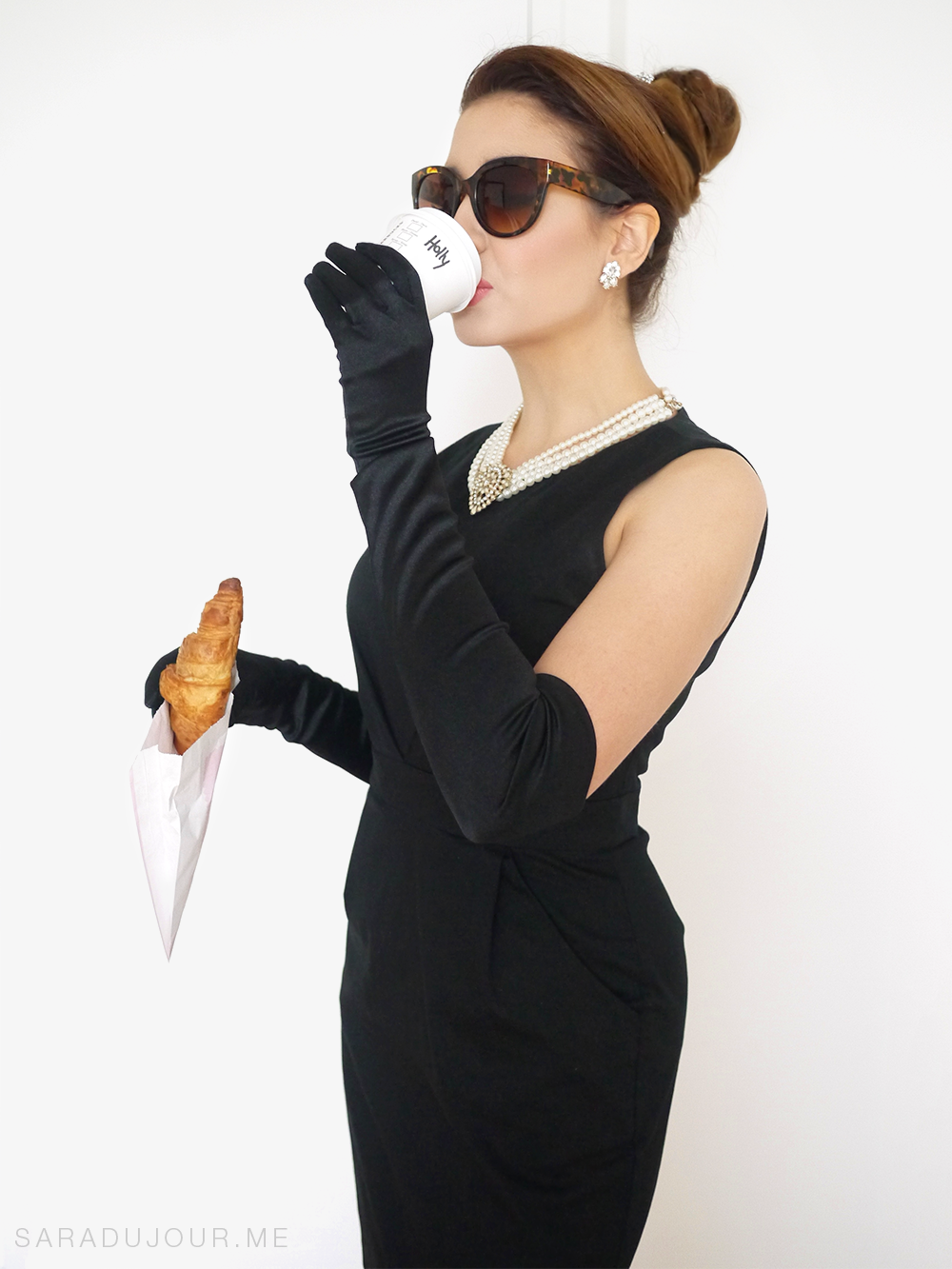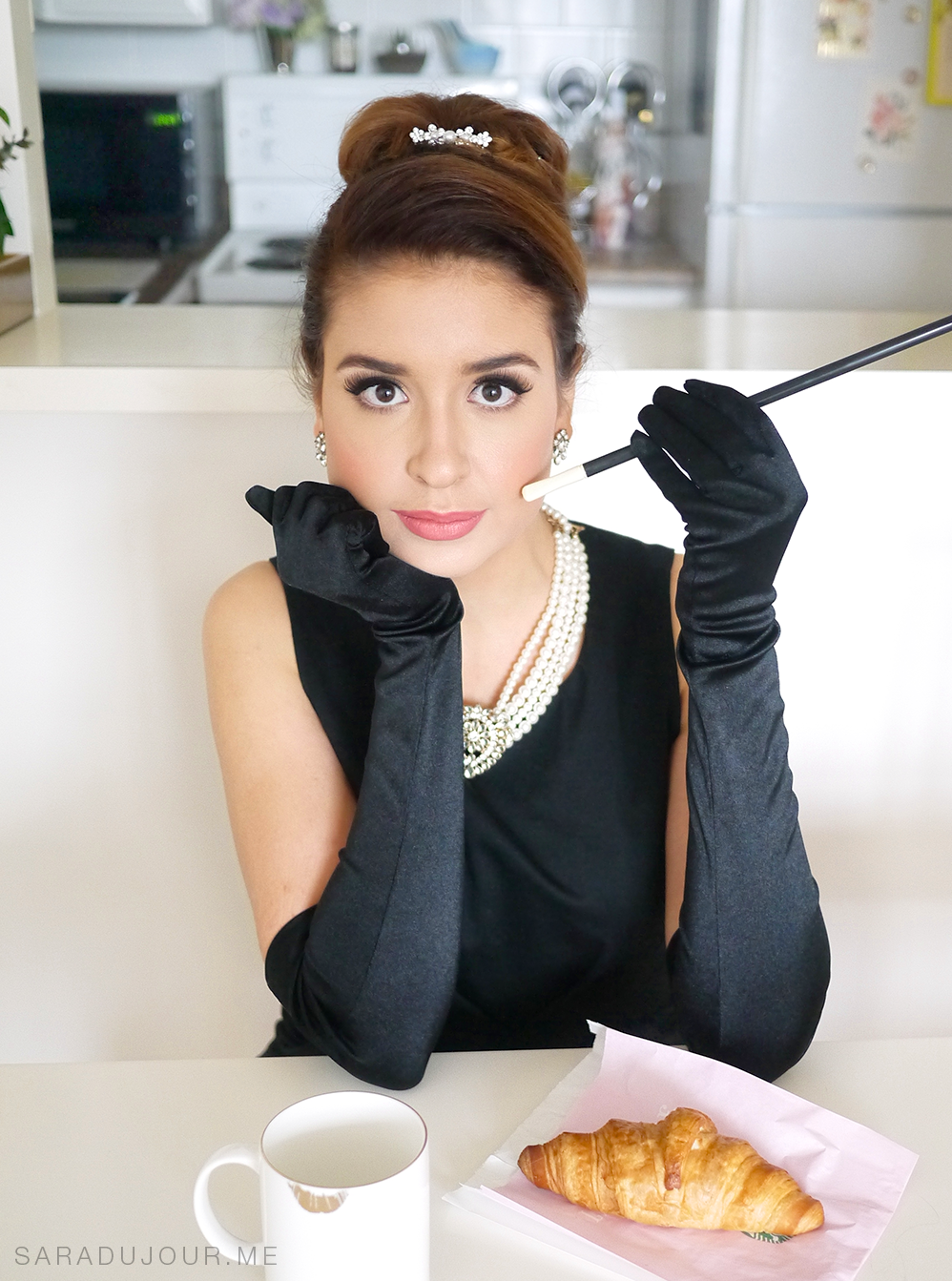 Before we get into the makeup, let's talk about hair! The first time around, I decided to splurge and get my hair done professionally. While it was a lovely updo, it wasn't quite as accurate to Audrey Hepburn's hairstyle in the film as I would have liked, so this year I attempted to do it myself.
I separated the front section of my hair from the rest, and tied the remainder up into a big bun at the crown of my head. I parted the front section and wrapped each side around my head, concealing the ends by winding them around the bun, and sticking roughly a billion bobby pins in there to hold everything together. It wasn't perfect, but I was happy enough with it. To finish, I added a sparkly rhinestone and pearl pin at the front of the bun, to emulate her bejewelled tiara.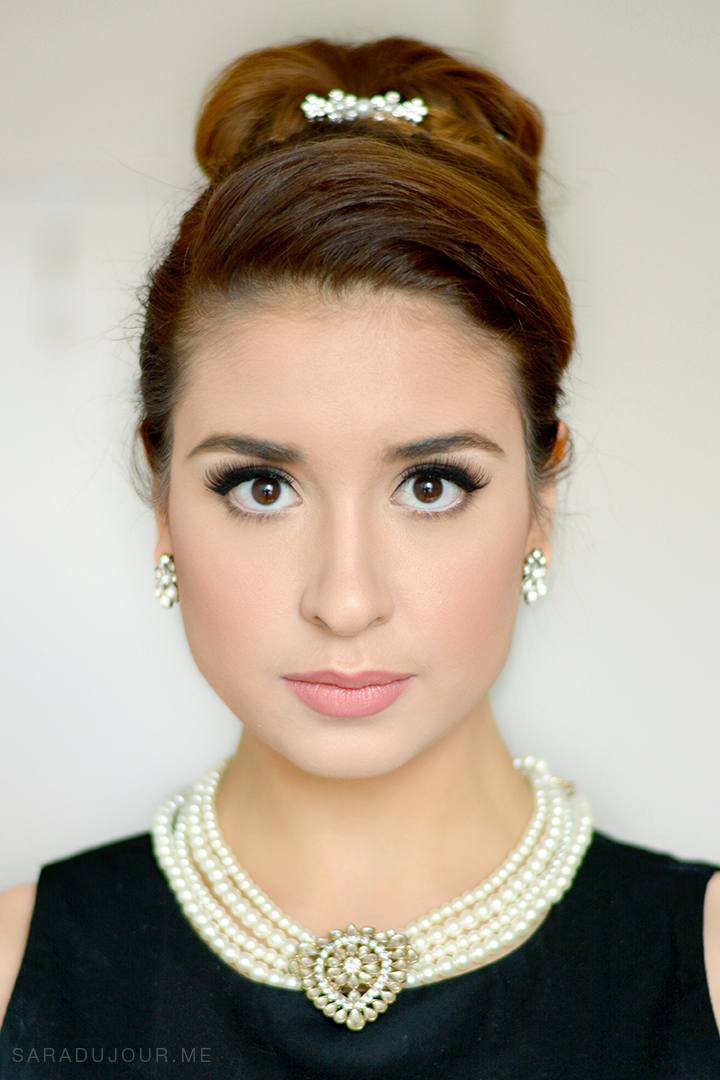 Okay, let's get into the fun part: the makeup. Audrey Hepburn's makeup in Breakfast at Tiffany's is very modern, in stark contrast from her previous 1950s look, with bold blocky brows and a dark lip. Holly Golightly's makeup is extremely fresh-faced, with big fluttery lashes, imperfect, bushy brows, flushed cheeks, and a pale peachy-pink lip.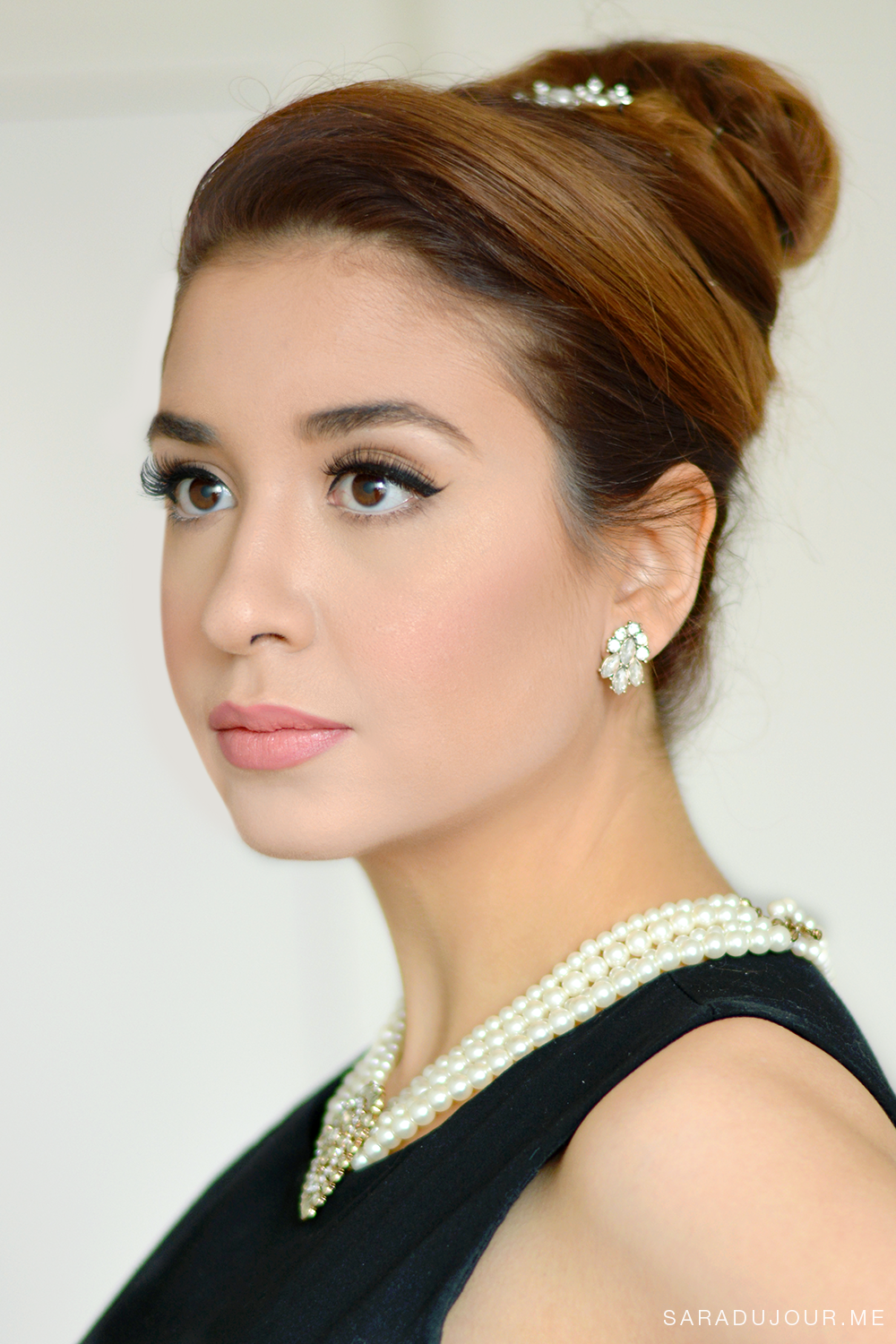 To replicate Audrey Hepburn's makeup in the film, I looked carefully at her makeup in multiple scenes from the film, and studied images and gifs – like this one.
If you're completely lost with the makeup, the wonderful Lisa Eldridge's tutorial is a great place to start. Here's a breakdown of some of the main products I used.
Audrey Hepburn's Breakfast at Tiffany's Makeup:
---
FACE
Estee Lauder Doublewear Foundation (for a flawless base)
NARS Radiant Creamy Concealer (to brighten the under-eye area)
Bare Minerals "Well Rested" powder (to set the concealer)
MAC Mineralize Skinfinish Natural (to set the foundation)
Too Faced Candlelight (for highlighting the high planes of the face)
TheBalm Mary Lou Manizer (for highlighting the cheekbones)
Too Faced Chocolate Soleil (for carving out your cheekbones and jawline)
---
CHEEKS
Guerlain Terracotta Bronzer (to provide subtle contouring)
MAC "Peaches" blush (for the Holly Golightly flush)
TheBalm "Down Boy!" blush (just on the apples of the cheeks)
---
BROWS
---
EYES
Too Faced Chocolate Bar eye palette (for a neutral eye shadow base and a subtle matte brown crease colour)
Stila Stay All Day Waterproof liquid eye liner (for the perfect Audrey cat eye flick)
MAC "Carbon" eye shadow (to soften the edges of the liquid liner)
Maybelline Lash Sensational waterproof mascara
Quo Full Lashes #819 (flirty) – similar linked
---
LIPS
Annabelle "Natural Rose" lip liner (#010)
Urban Decay "Naked" glide-on lip pencil
YSL Rouge Volupte lipstick #13 "Peach Passion"
YSL Rouge Volupte lipstick #1 "Nude Beige"
With hair, makeup, and mean muggin' aplenty done, it was time to make a pilgrimage to…where else? Tiffany's of course!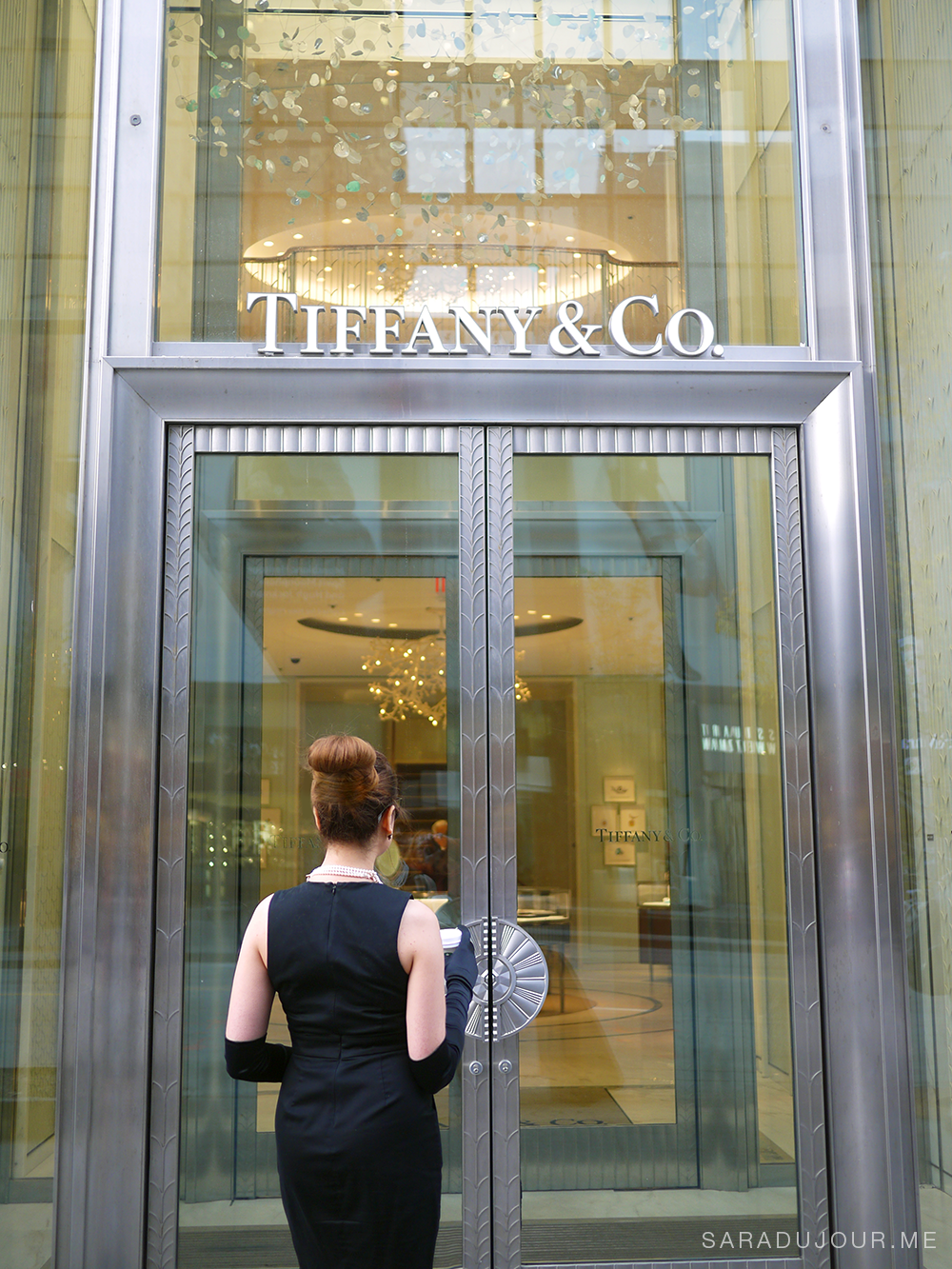 Times may have changed since the sixties, but Tiffany's is as grand as ever.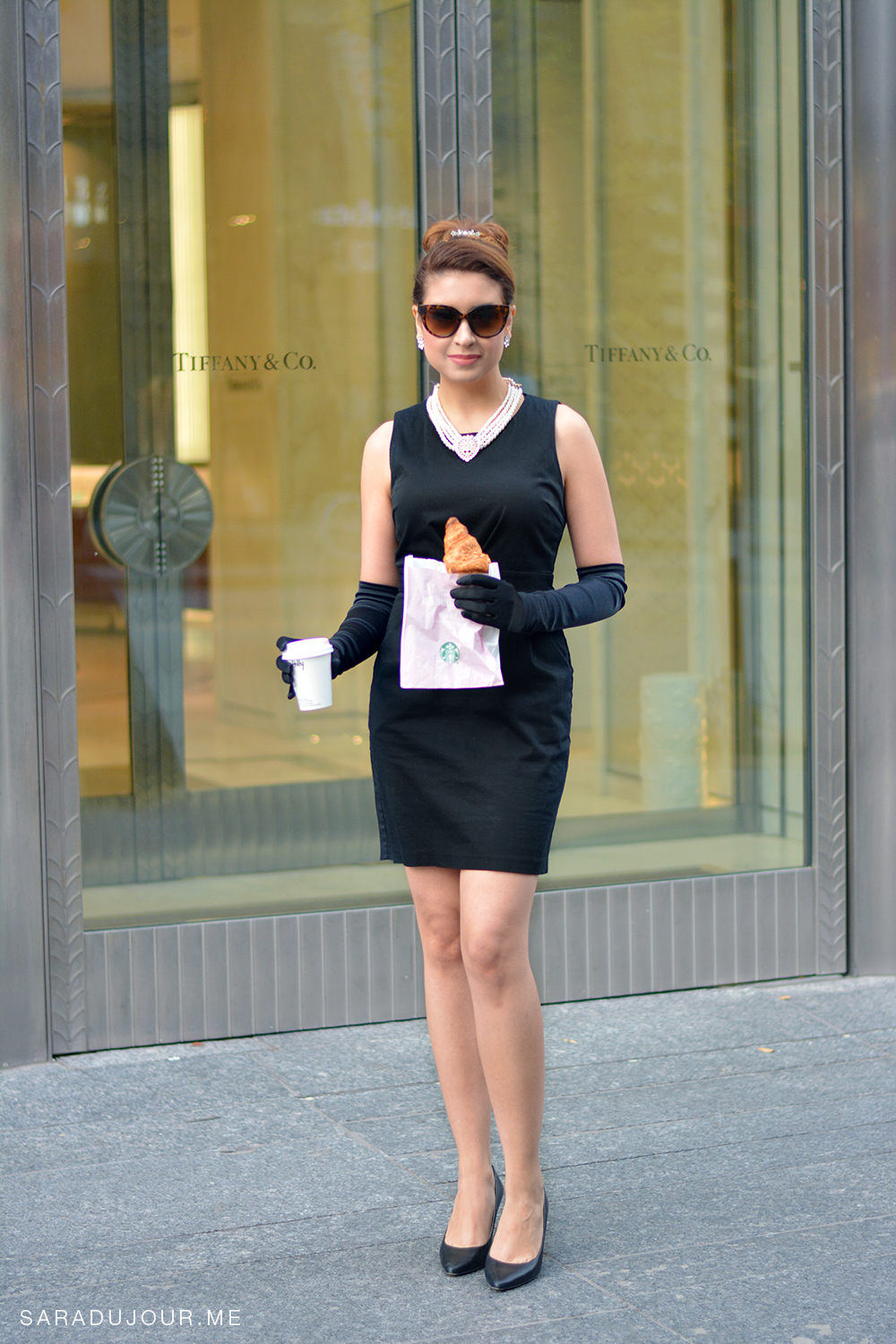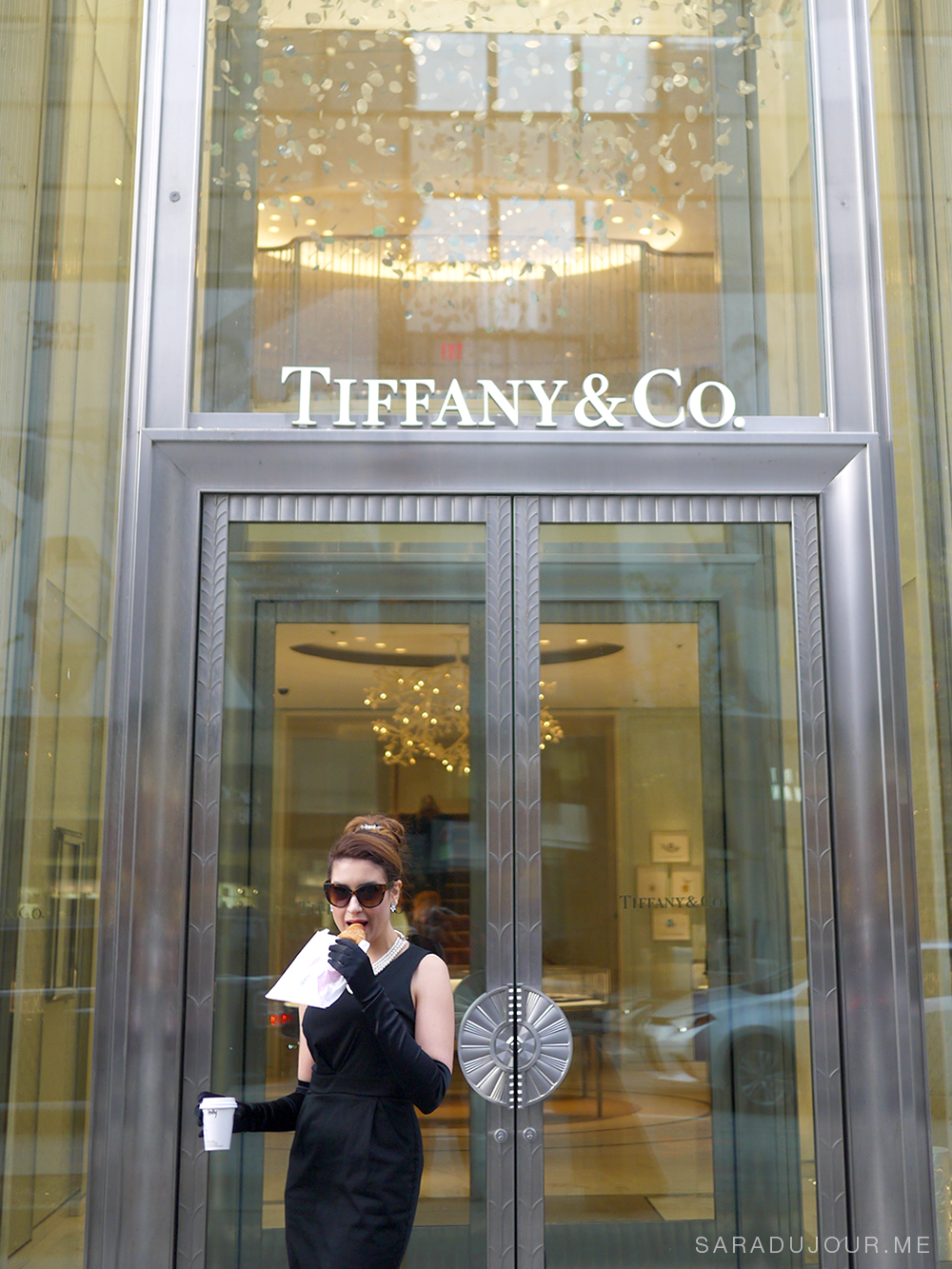 Much like Holly Golightly did in the film, I stuck to window shopping, and then went on my merry way.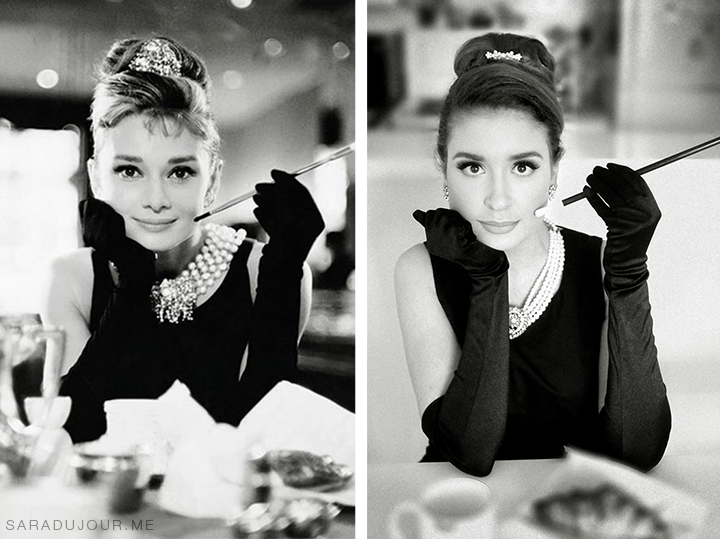 This costume was a lot of fun, but I think I'm ready to put Holly to rest. It's November first, which means it's the first day of thinking about next year's (brand new) Halloween costume. I can't wait.
I hope you had a marvellous Halloween. What (or who) did you go as this year? Let me know in the comments. x