Snow White Halloween Costume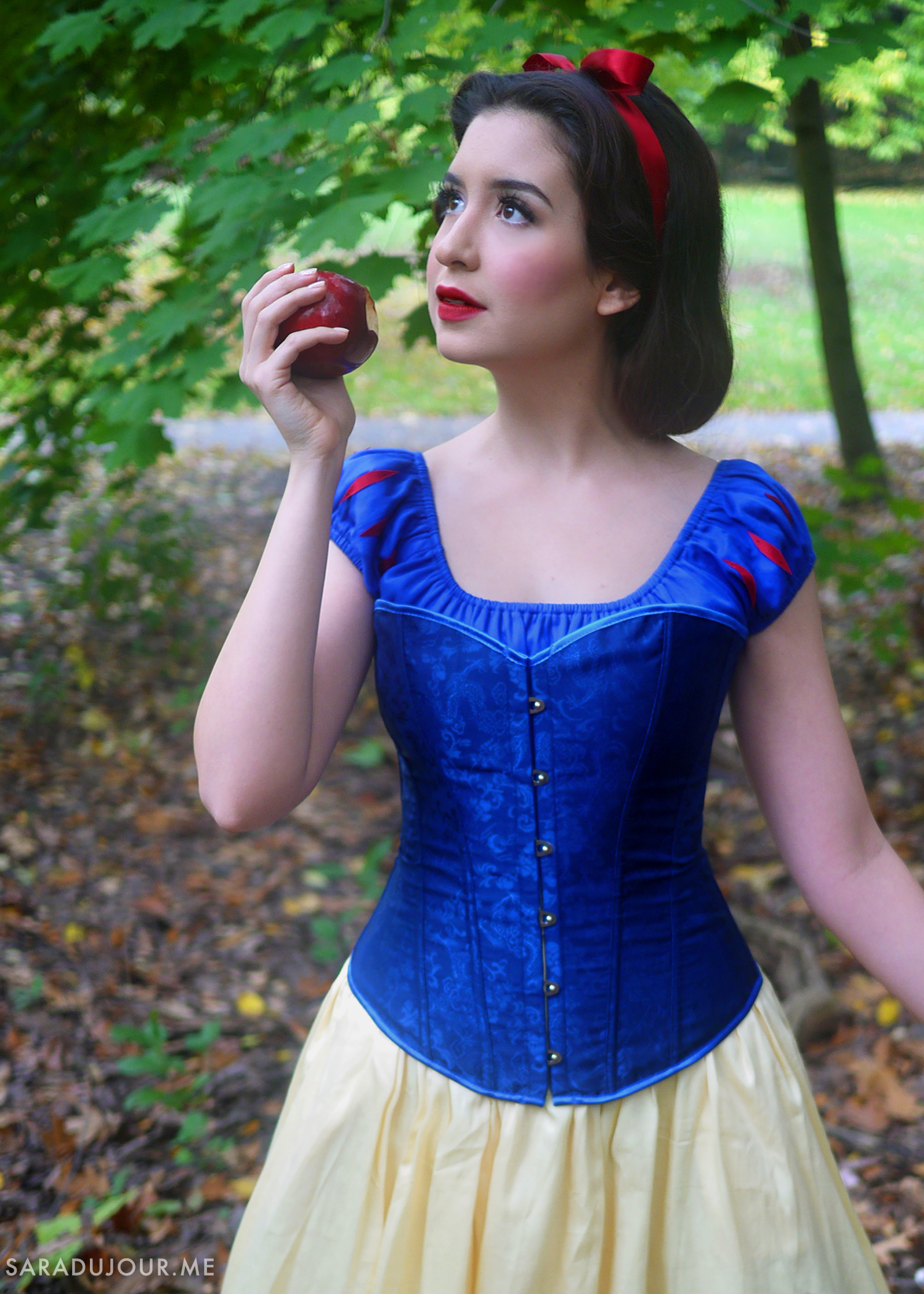 I'm baaaaack! And just in time for Halloween. You didn't think I'd miss an opportunity to play dress up, did you? I've dressed up as many iconic fictional females, from Holly Golightly to Lara Croft to Hermione Granger to Belle. This year, I went for the original Disney princess: Snow White.
Now, Snow White and I don't have a great deal in common. I'm not prone to breaking and entering into strangers' homes; I have no great love for baking or cleaning the house (let alone whistling while doing so!); I'm not apt to rely on men; and I prefer my apples organic.
As a feminist, I have to address the problematic nature of this fairy tale in particular. Apart from the whole falling-into-a-coma-and-waiting-for-a-prince's-non-consensual-kiss thing, the basis of Snow White is one of female competition, and women's value being entirely based on their beauty. Then add the layer of  Western (read: white – it's literally in the name) ideals of beauty. Skin as white as snow, lips as red as blood… Yeah, you get the picture. Snow White is riddled with problems, and I'm happy to say the world has come a long way since 1937. Since I'm of mixed decent (half white, half Arabic), I'm going to call this costume "Snow Mixed Race". Suck it, Grimm Brothers and Walt Disney.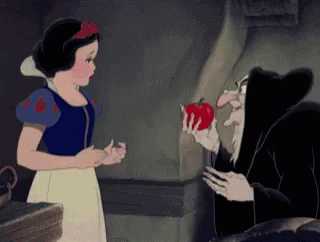 On the other hand, Snow White was a big deal in the history of cinema. It was the first animated feature-length film, and the main character was a young woman! A not-so-fun fact about the movie is that Walt Disney wanted Snow's voice to be unique, so he made the 19-year-old actress, Adriana Caselotti, sign a contract preventing her from ever performing on stage or film again. Dick move, Walt.
Snow White was never one of my favourite Disney movies. As a child I didn't find her inspiring or particularly admirable, though she was delightfully sweet and kind to all. So why did I pick Snow White for Halloween? Truthfully, because I'm not a fan of wigs, and I knew I had the hair colour to pull it off. Plus, her look is completely iconic, and after doing Belle, it was kind of a bucket list item for me. So on to the costume breakdown!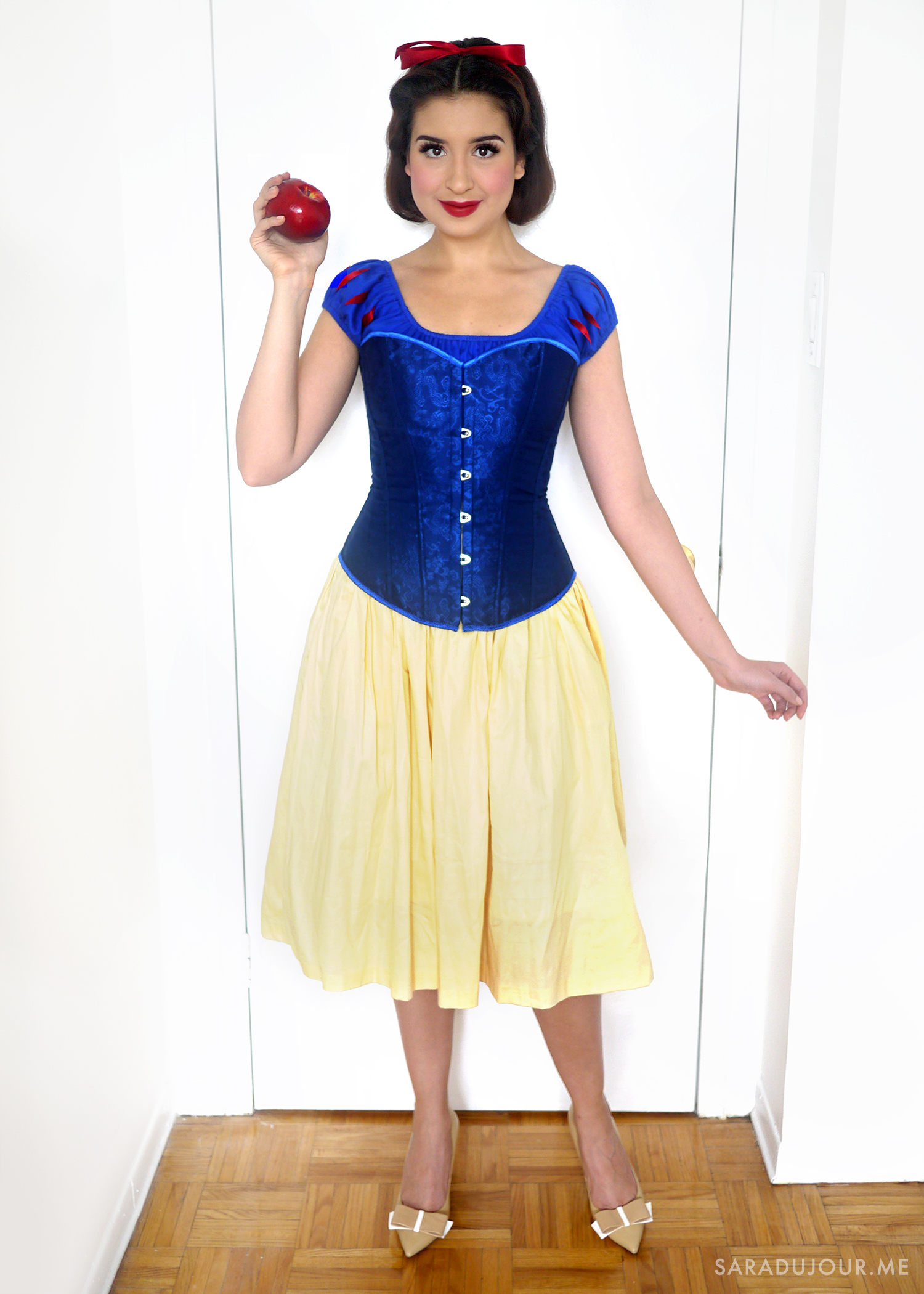 Like every year, this costume was a labour of love. I decided I'd be Snow White exactly a year ago, which gave me plenty of time to plan the costume and source all the pieces I needed. And as is my style, I prefer to buy actual clothing pieces I can wear again and again independently, rather than invest in a 1-piece costume I'll likely never wear again. Plus, from an authenticity standpoint, I prefer a costume that looks like something the character might have actually worn in real life, made of quality fabrics.
Here are the pieces that brought this halloween costume together: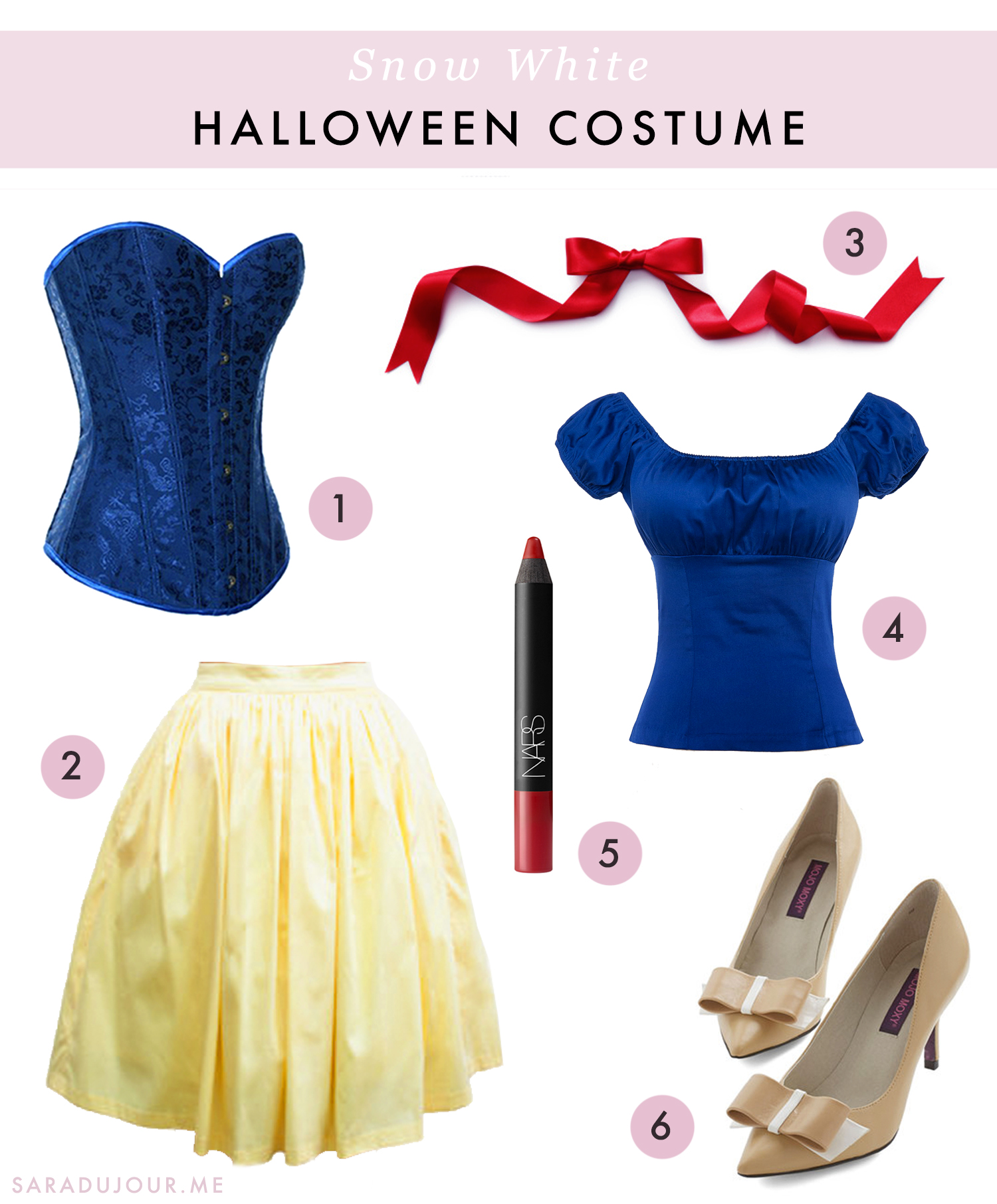 And of course, the most perfect-looking red apple you can find.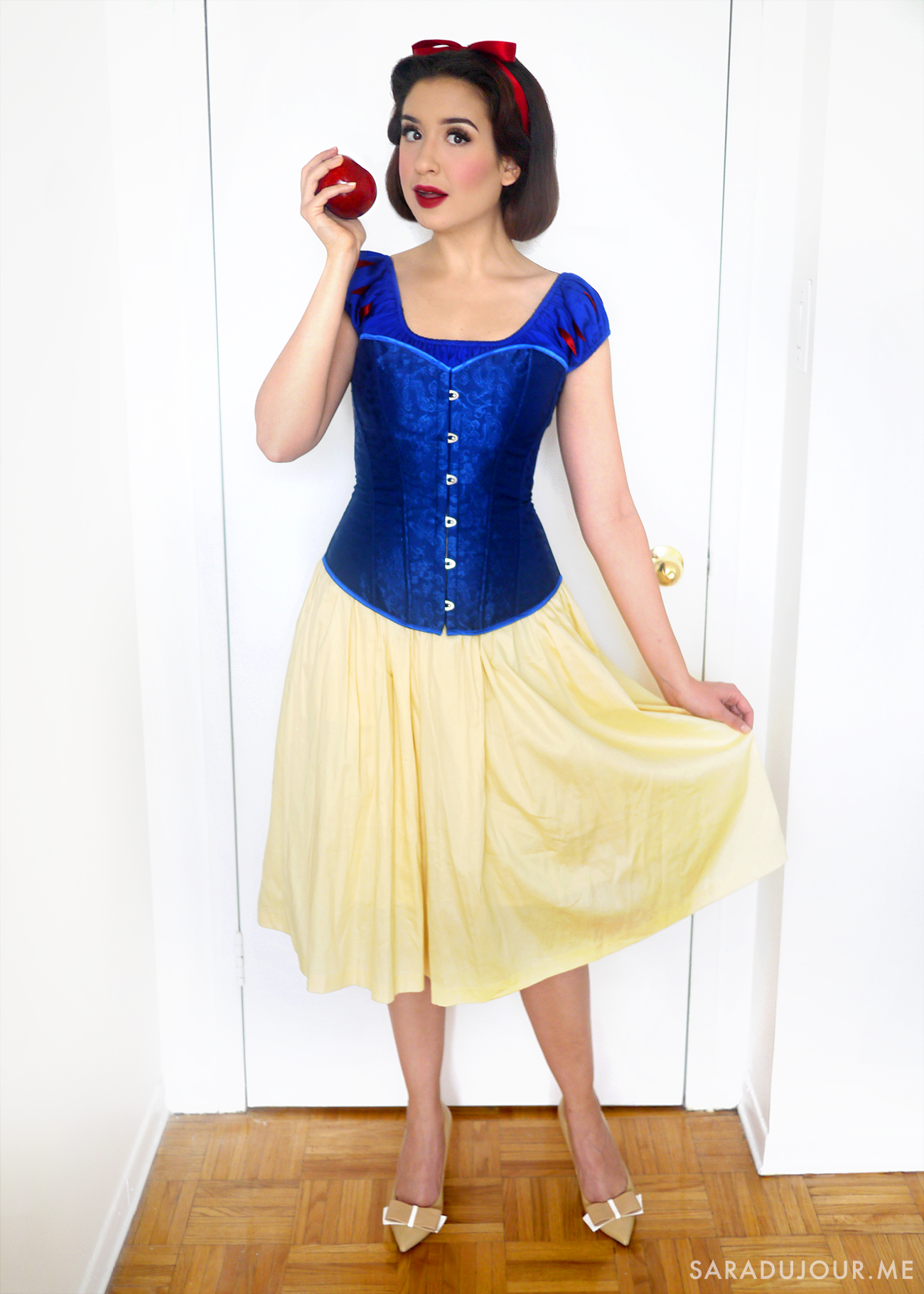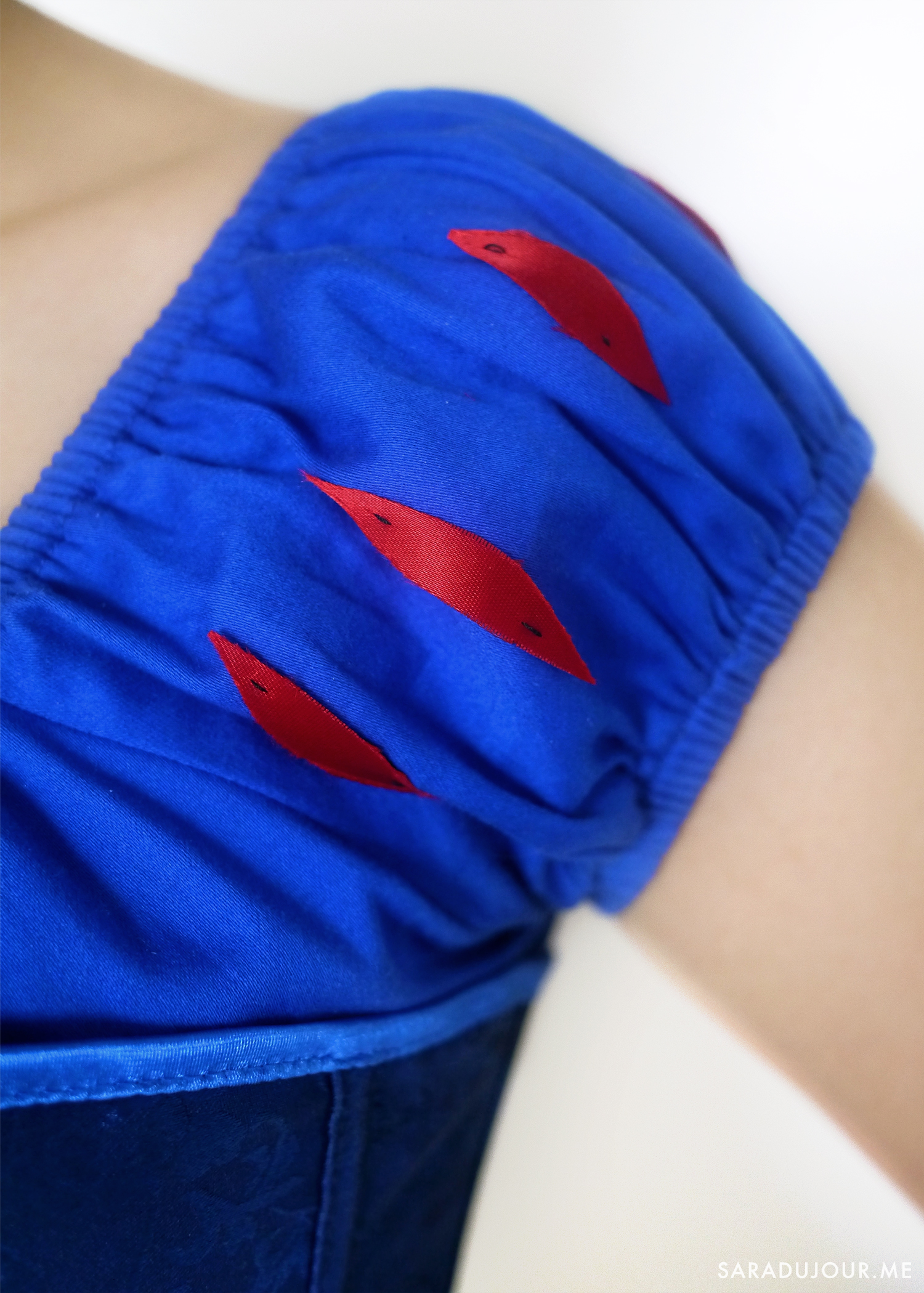 To get the Snow White sleeve effect, I had to get a little DIY with it. When I bought red satin ribbon from my local fabric store, I bought enough to tie up my hair, plus a little extra to cut into rounded diamond shapes and stitch onto the sleeves. (I realized too late that I didn't have red thread, oops.)
With just two loose stitches to secure each shape, they held on for both days I wore this costume and were easy to remove without damaging one of my favourite blouses.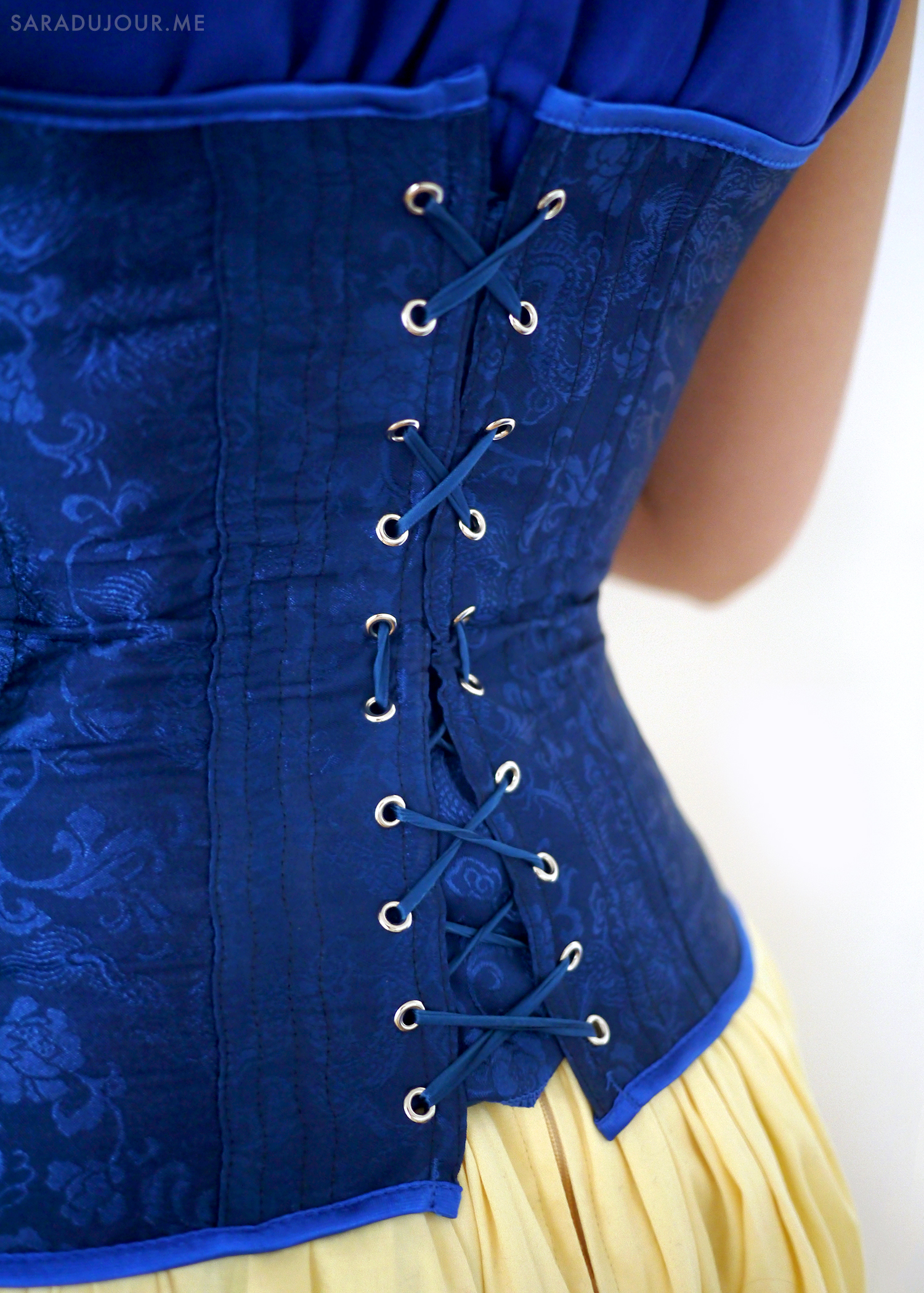 Because the corset was so affordable, I was skeptical about the quality, or whether it would arrive at all! I was thoroughly impressed to find that it was beautifully made and really did lace up well enough to give the desired fairytale shape. Hope you don't like breathing much!
I'm starting to think it wasn't the apple that made Snow White fall into a coma…possibly oxygen deprivation.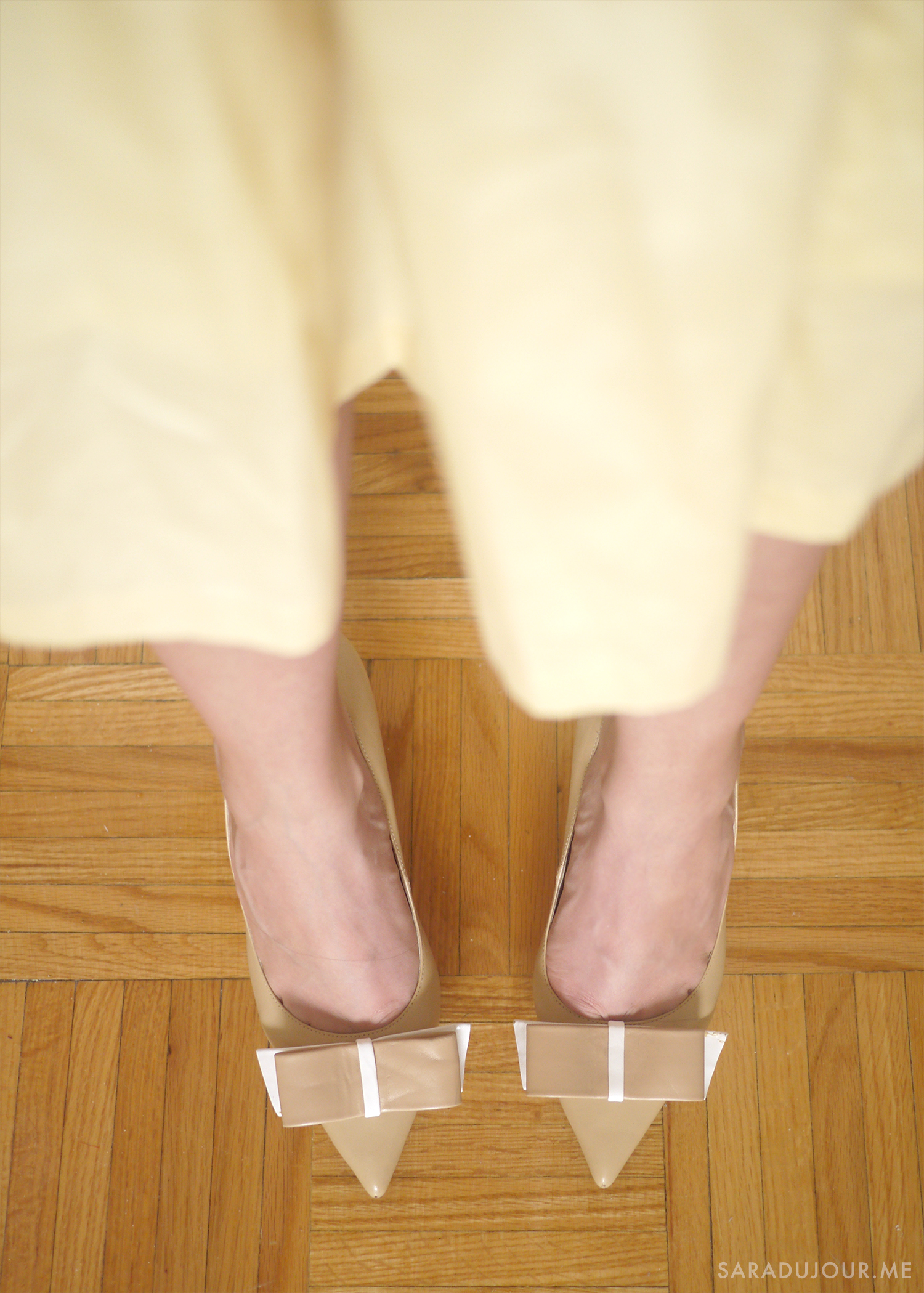 Snow White wore nude heels with bows on them, and I already had the perfect pair. I actually bought these from Modcloth a few years ago (and hauled them here!) because they reminded me of her shoes. Little did I know how handy they would come in soon! I've worn them many times with many outfits, as they're cute as can be and a reasonable height.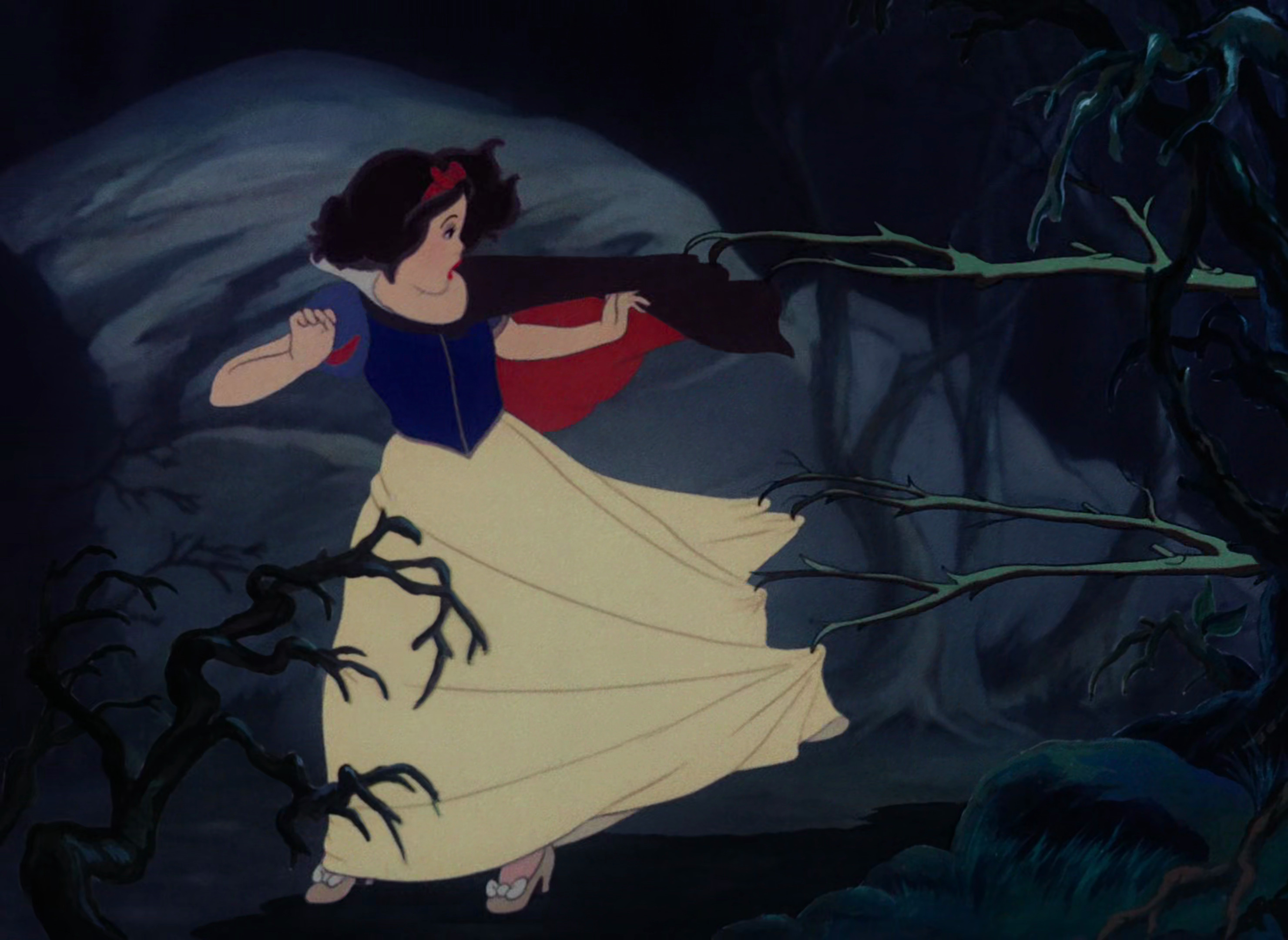 Unfortunately these exact ones are no longer available, but I've found some similar pairs at affordable prices here, here, and here!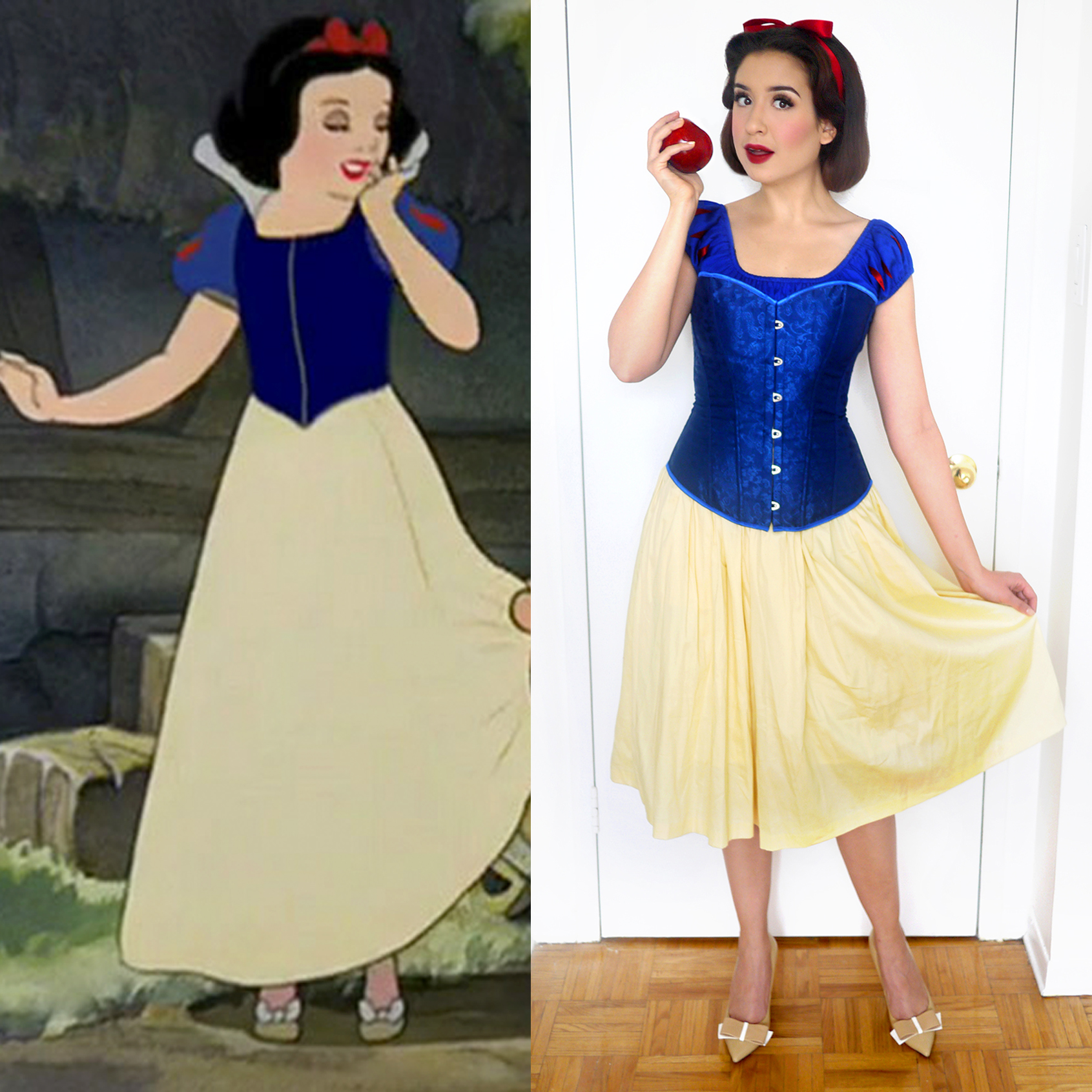 Here's the outfit side-by-side. How'd I do? (I decided to skip her white stand-up collar thing. Hard pass on constructing that.)
Okay, let's talk hair and makeup.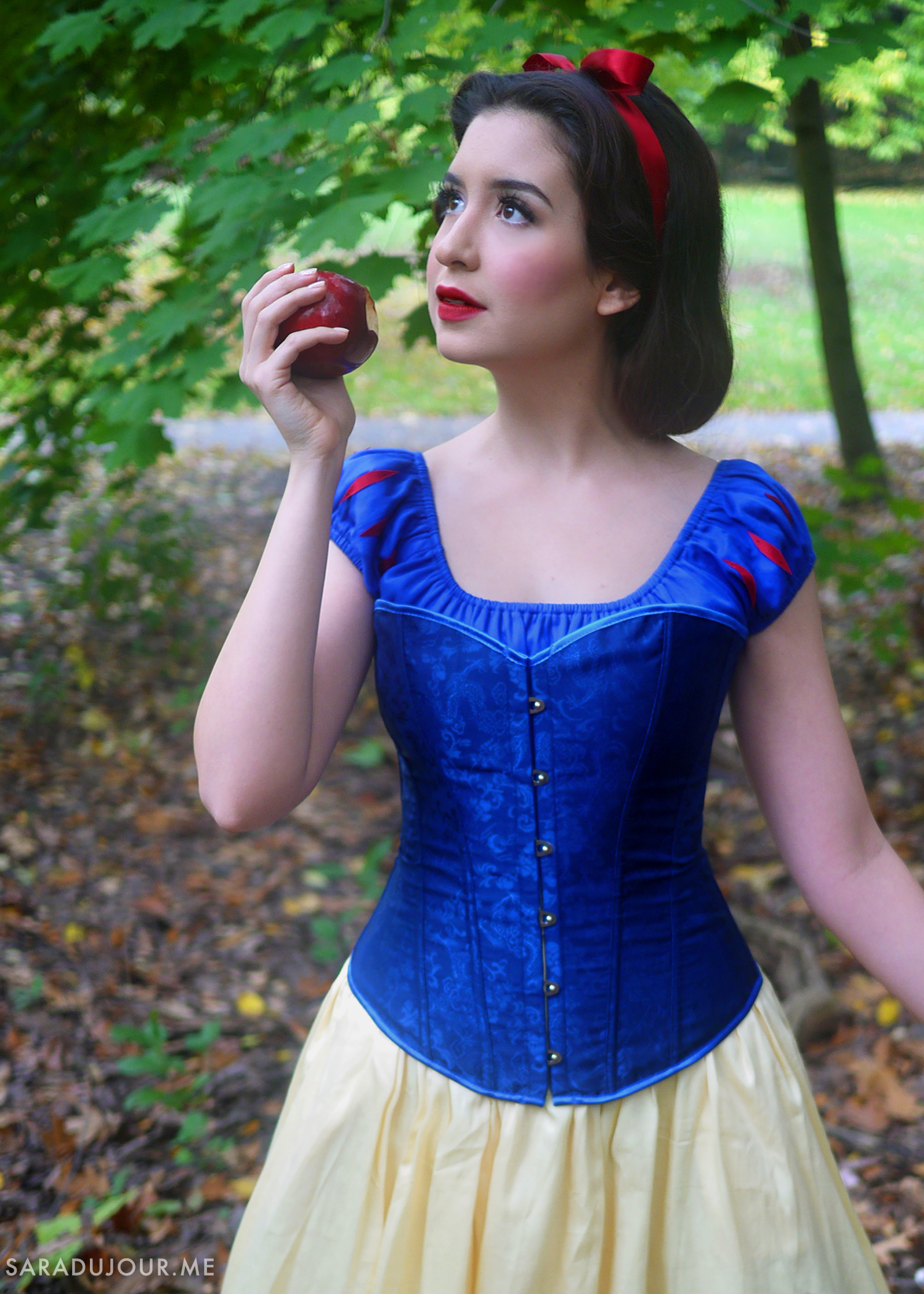 The makeup wasn't a huge departure from my usual, though I did have to abandon my everyday cat eye. I started by using my favourite foundation, Estée Lauder Double Wear, to get Disney-perfect skin.
After studying the makeup she had in the movie, I added quite a bit of pink blush to the apples of my cheek, and blended that upwards. To mimic her eye look I used shades of matte brown eyeshadow to do a subtle smokey eye, covering the lid and defining the crease. I then drew a thin black line along my upper lashes with liquid eyeliner, and added big, fluttery lashes.
I'm wearing Siren lashes, from House of Lashes. I filled my brows in subtly, creating more of a rounded curve than I typically do, and focused my attention on the middle of the brows outwards, extending them slightly.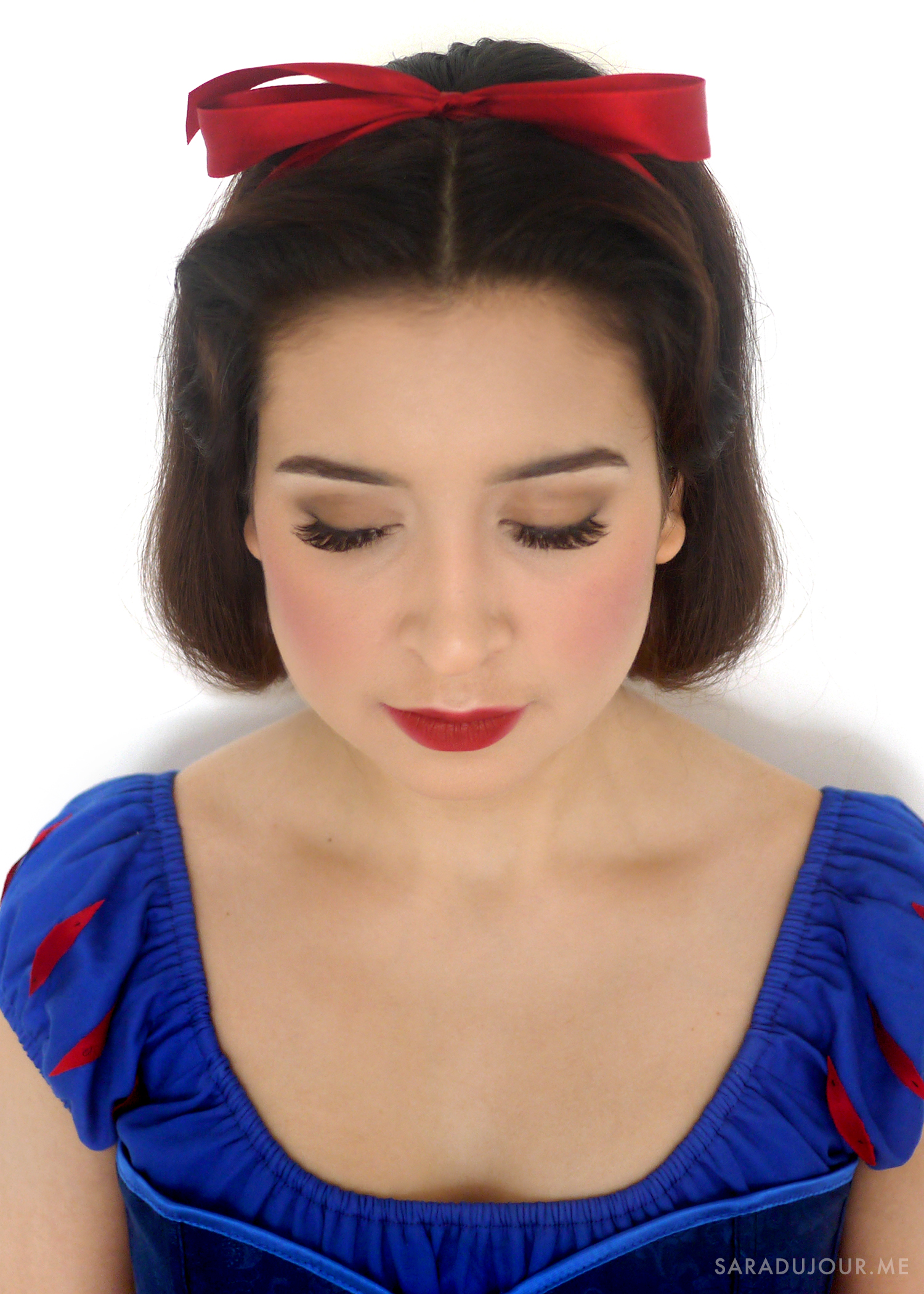 I wanted blood red lips, to stay true to the fairy tale, but I wanted them to look more natural and flushed rather than a glamorous pinup lip. To do this, I used a deep red matte lip pencil and my fingertip to soften the edges.
Onto hair. No, I didn't cut all my long hair off!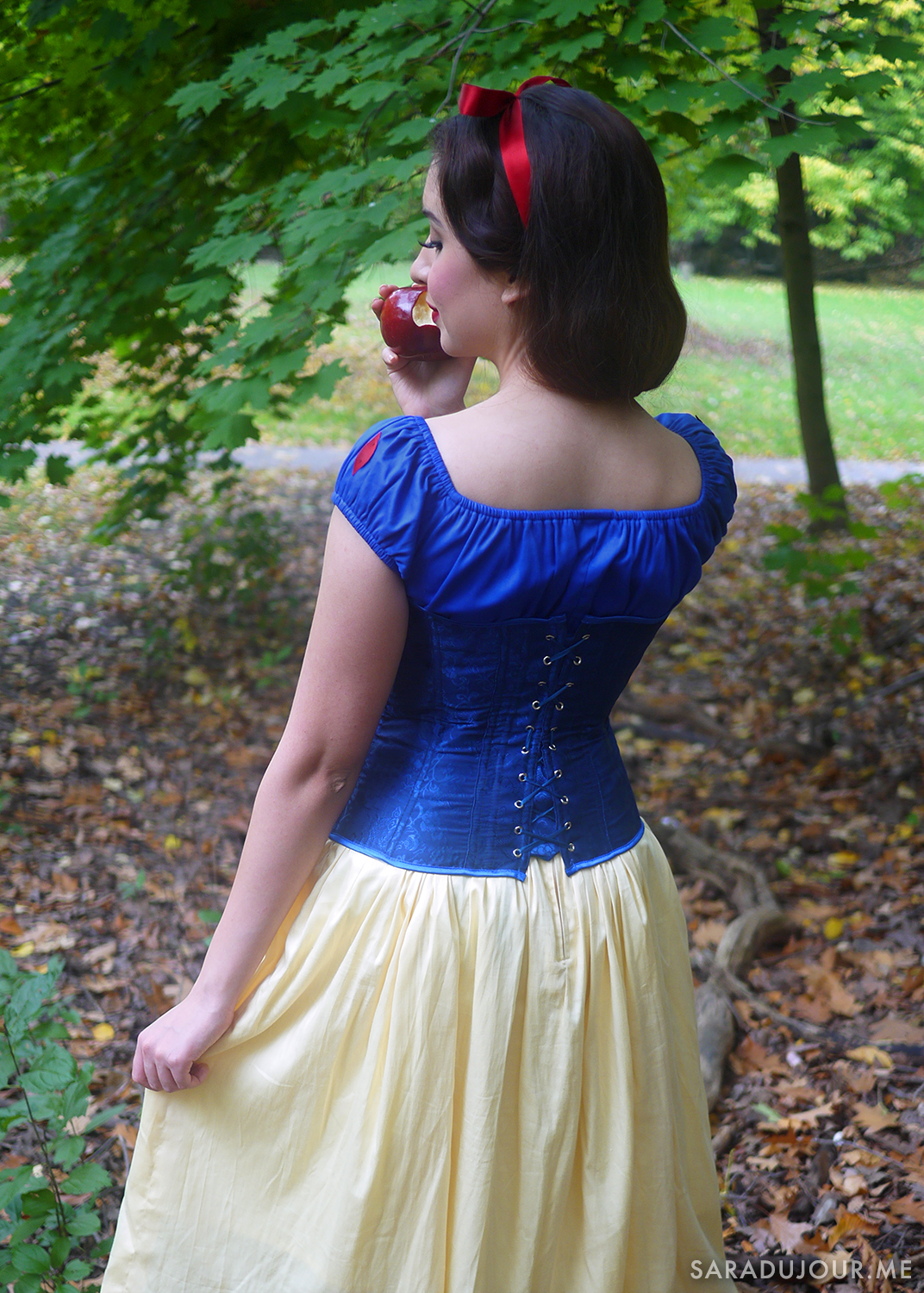 This faux-bob was actually surprisingly easy to do, and held up through my entire work day and through a party the following night. I center-parted my hair, and separated the two pieces in the front which I curled, brushed, and pinned into loose finger waves on each side.
I tied the rest of my hair into a low ponytail, then pulled the elastic down an inch or two. I rolled the ponytail inwards at the nape of my neck, and stuck a bunch of bobby pins in until it held. (If your hair is too silky for that to hold, add hairspray and tease the heck out of it to add texture.) For the final touch, I added the ribbon and tied it into a pretty bow. Voila!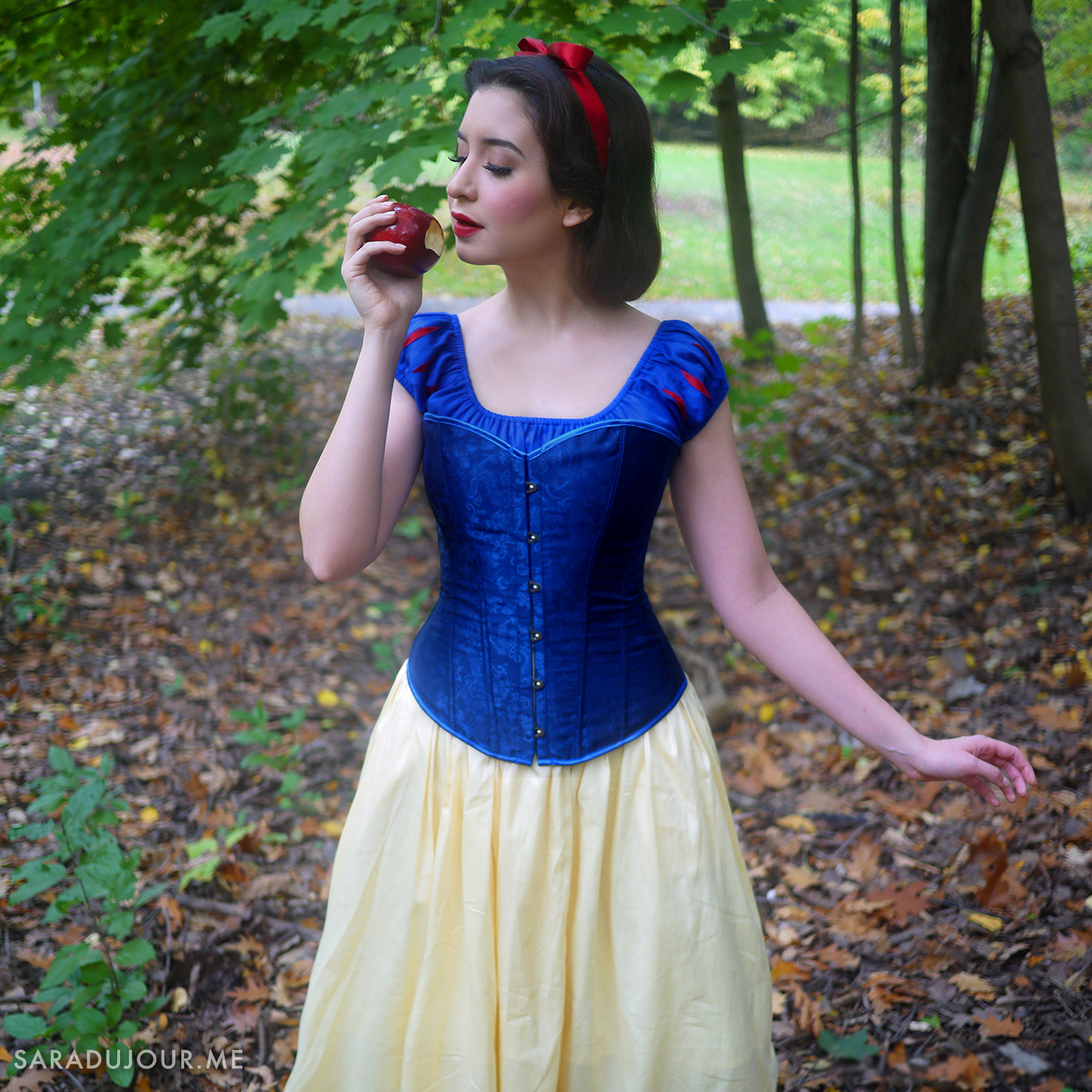 I had a lot of fun putting this costume together, and I'm quite happy with how everything turned out. The best part is, I can use every piece of this Halloween costume throughout the year! I hope you have the spookiest of (safe) Halloweens, and I'd love it if you left a comment telling me what you went as this year. Or better yet, leave a photo and show me!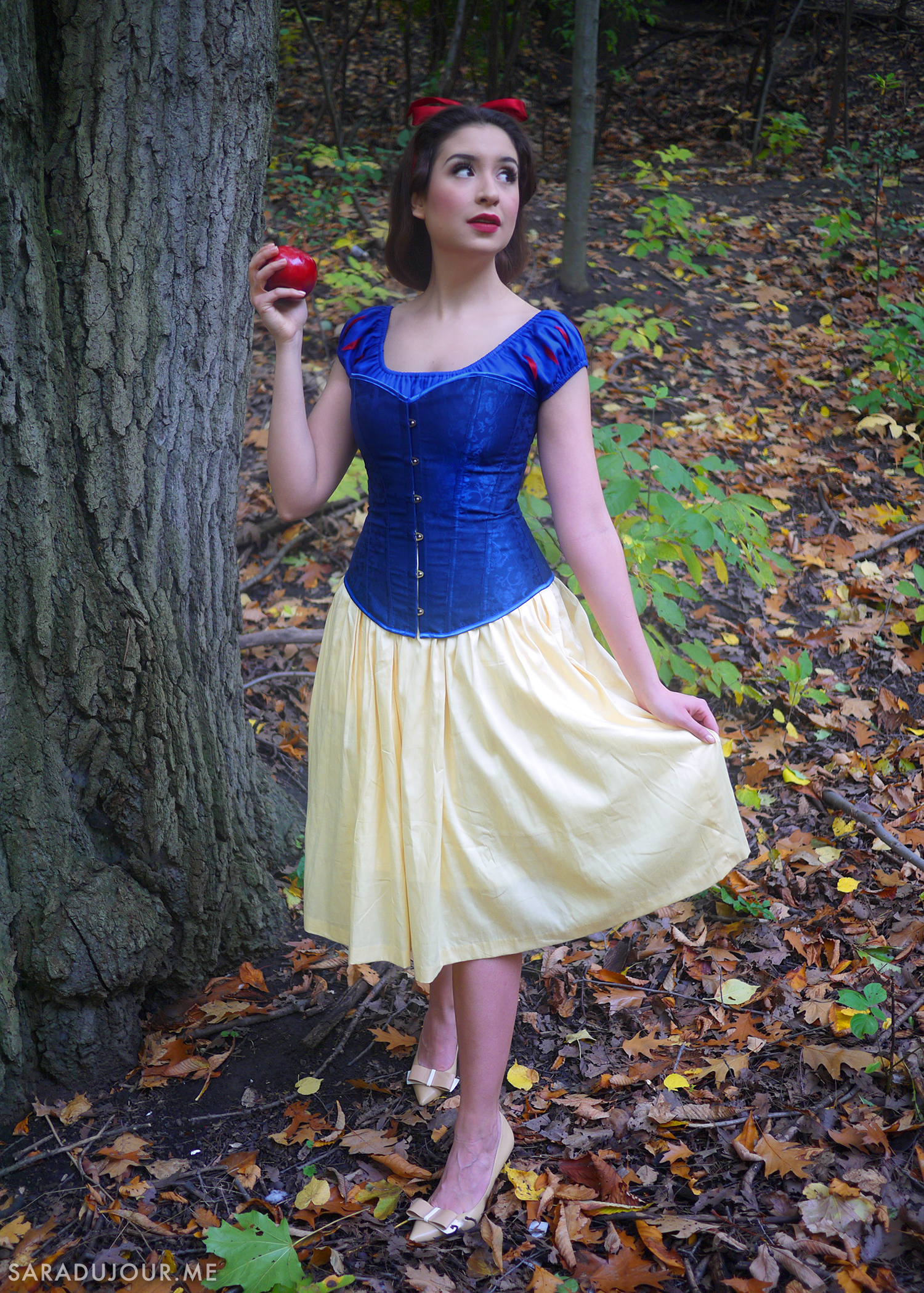 As for me, I'll be roaming a forest, apple in hand, and brainstorming next year's costume.
– Sara
Stay updated with Facebook • Twitter • Instagram • Pinterest • Bloglovin